Why Hiking Camelback Mountain in Phoenix Should Be on Your Travel Bucket List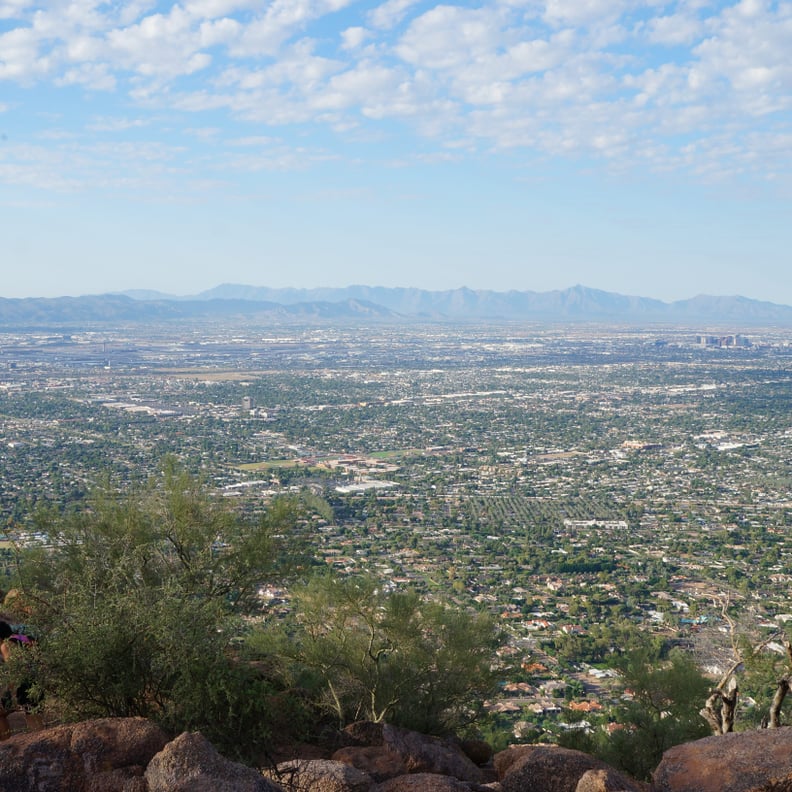 Kristin Conard
Kristin Conard
"It's going to be a hard route. It's vertical at times."
I smiled, thinking these locals were exaggerating, trying to scare off a tourist as they described a trail that was less than 1.5 miles up Camelback Mountain, the iconic peak towering over Phoenix. But 1.3 miles in the middle of an urban area? How difficult could it really be? I was a hiker and a runner, so something under a mile and a half? It would be a breeze, and it's one of those trails that every hiker and outdoors-lover should put on their bucket list.
Cut to me halfway up the mountain, grasping on to the handrails installed in the mountainside. I would have laughed at my yesterday self if I had the breath to waste. Here's what I learned about climbing the iconic Camelback.
Camelback Mountain Basics
The mountain has been considered a sacred site by local Native American tribes, and its name comes from its silhouette, which looks like a kneeling camel's head and hump. As you head up the trail, you're climbing along a colorful mix of granite, conglomerate rock, and sandstone with barrel cactus, creosote, and saguaro cactus around. You're joining the company of about 700,000 people each year who take on the Cholla or Echo Canyon trails up Camelback Mountain to stand at the summit and overlook the Salt River Valley.
Views Along the Hike of Camelback Mountain
Both the Echo Canyon and Cholla trails are difficult and take you up to the 2,707-foot summit. Echo Canyon is slightly shorter, around 1.3 miles, though the more demanding scrambling portions and handrails are also along this trail. It starts out easy, like any regular hike, at a trailhead complete with plenty of parking, bathrooms, and water. Along the start are quite a few signs that warn you about the dangers of hiking the mountain, which remind you of some of hiking basics on a steep trail in a state where temperatures can top 110 degrees. It can get dangerously hot up there, so make sure you have water, stay on the trail, and beware that it's a much harder hike from here on out.

There Are Different Levels of Difficulty
Shortly after the warning signs, the trail lurches upward and all of the warnings make sense, going from a happy green diamond to a double-black-diamond-rated trail which includes the occasional bout of rock scrambling. The railroad tie section is the first big steep one. Then there's another marginally less steep section with handrails. Then you get to scramble over boulders on your way up to the top.
Scrambling on Camelback Mountain
It really is a true scrambling experience to get to the top. You'll take on large boulders where you have to use hands and feet to propel you forward. On the way, take plenty of breaks to view the scenery and catch your breath, and know that a stunning panoramic view and sense of accomplishment will be waiting for you.
The Summit Views Are Stunning
Once you reach the summit, you feel on top of the world thanks to the fact that Camelback Mountain is the tallest in the area. And it makes for some fantastic photos. One of the fastest paces by any woman to get to this iconic summit via the Echo Canyon trail is 19 minutes and 51 seconds. It took me an hour or so to cover the same distance, but the time isn't as much the issue as it is the general accomplishment.
Heading Back Down Camelback Mountain
Don't forget that what goes up must come down. One of the best ways to go down the handrail sections is backward. You still have your handhold, don't get vertigo from having to look downward, and if you slip, you won't go headfirst. I realize that a lot of this sounds perhaps overwhelming or intense, and admittedly, at least for me, someone who is in average to good shape but also has the occasional and random anxiety attack, knowing to turn around to head down was helpful, and I'd highly recommend it. There's also no shame in what I call the "boot-scoot" — just sitting down on your booty and lowering yourself down the boulders.
Wine and Camelback Mountain
Breathe, drink plenty of water, know your limits, and remember to stop not only to take a break, but also to take in the beauty around you. And by all means, when you get done, enjoy a glass of wine. You have earned it!