I Plan to Take This Delsey Carry-On With Me on Every Trip This Summer
POPSUGAR Photography | Kyley Warren
POPSUGAR Photography | Kyley Warren
As POPSUGAR editors, we independently select and write about stuff we love and think you'll like too. If you buy a product we have recommended, we may receive affiliate commission, which in turn supports our work.
I've been fortunate enough to collect some pretty unique travel experiences in my life thus far. But for every great flying experience I've had, there are probably two or three equally terrible stories to counter — namely ones that involve lost luggage or broken suitcases (all frequent flyers can understand this struggle). As a result, I've become something of a luggage snob. While I'm fairly conservative in my spending habits, travel is the one space where I'm willing to dish out a little extra money — especially on luggage sets or personal carry-on items that I feel are durable enough to last for a long time.
My friends and family (and perhaps even POPSUGAR readers) are probably all too familiar with my love for Delsey, aka the travel brand behind — at least what I believe to be — some of the best hard-side luggage sets on the market. I've tested out dozens of different suitcases, and still, I always come back to this brand; I even reviewed the cult-favorite Chatelet Carry-On last fall after a trip through Europe.
Delsey's latest collection of soft-pocketed carry-ons immediately piqued my interest, and the brand was kind enough to send me the Delsey Turenne Hardside Soft Pocket Carry-On Spinner ($700) to test out firsthand (as if I couldn't love it more!). I brought the suitcase as my plus-one on a recent trip to Los Angeles and was pleasantly surprised by just how much the piece exceeded my expectations. Keep reading for the full product details and to see why I think this is the ultimate travel accessory for your summer adventures.
What I Like About This Delsey Carry-On
I'm probably one of the most stain-prone humans on the planet. Whether it's clothing or luggage, I seem to attract dirt and cause messes everywhere I go (hey, at least I can admit it). After years of relying on the same worn-out, dirtied fabric suitcases, I made the full switch to hard-shell luggage a few years back. It's been mostly a great decision, but I often still miss the front compartments and pockets that are provided with soft suitcases and carry-ons.
Much to my delight, Delsey has managed to combine the same pocketed convenience of a fabric suitcase into a hard-shell design; this particular piece has a zipper pocket on the front that features several interior compartments, including one large pocket, two small pockets that are great for holding items like tech cords or chargers, and even a zippered compartment with a built-in USB port. Not only do I love the extra organizational space, but I also appreciate the convenience it provides while I'm traveling. Rather than having to transfer my larger tech items and liquids back into my suitcase after going through airport security — usually having to fully open up my suitcase in the process — I can simply slip them into the external soft pocket and be on my merry way.
What's Worth Noting
The only downside of having a front zipper compartment is that the interior packing space is a bit more limited compared to some of Delsey's other models. In my other carry-on from the brand, there's a zippered interior compartment on both sides; that's not the case with this model. Instead, there's just one main packing compartment with a slim, zippered pocket on the other side. I still love the carry-on, though I'd recommend it more for people who are traveling with larger tech items that they might want to store in the front zipper or for those who just want easier access to packed-away products while flying.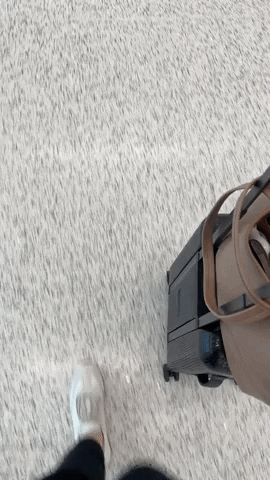 Who Is This Delsey Carry-On Best For?
I would say this carry-on is great for regular business travelers or those who frequently venture out on short-term trips. The luggage provides all the same convenience and functionality as a traditional carry-on, just in a more practical, user-friendly design. If you have large tech items like a laptop or iPad that you don't necessarily want to use during your flight, it's easy to stow your items away in the product's large front zipper compartment after going through security. Alternatively, if you need a snack, charger, or other packed-away item during your flight, it's easy to pull it out through the larger zipper compartment rather than having to open up your suitcase entirely.
The carry-on also boasts just enough interior space to hold the essentials and pack exactly what you need, making it a great buy for travelers jet-setting on weekend trips who want as little baggage as possible. And its hard-shell design is incredibly durable, so it's a worthwhile investment for frequent travelers who spend their weeks hopping on and off planes.
Where Is This Delsey Carry-On Available?
This carry-on spinner is available to shop at Delsey ($350) and Bloomingdale's, and similar Delsey carry-on models are also available to shop at Amazon ($342) and Macy's ($157, originally $420).
Additional Details
This carry-on has double spinner wheels, which give the product 360-degree rolling capabilities, meaning you can seamlessly transport it through any airport, hotel, or new city with ease.
The luggage is made from a durable polycarbonate material and features a TSA-accepted combination lock that allows you to program your own three-digit code for extra security while traveling.
Unlike other models, this particular Delsey carry-on has a built-in USB port, which allows users to charge their electronics while they're on the go, no wall outlet required.
Rating:
★★★★★