These 10 Hard-Side Luggage Pieces Are Equal Parts Practical and Stylish
Every editorial product is independently selected by our editors. If you buy something through our links, we may earn commission.
Your eyes (and social media feeds) aren't deceiving you — a record number of people are, indeed, hopping on airplanes and traveling abroad this summer, with some experts even calling it the year of "revenge travel," according to a Forbes article.
After the past few years of pandemic restrictions on flying, we completely sympathize with the desire to make up for lost travel time. But we also understand that with the added busyness of airports, it's arguably more important than ever that you have solid and durable luggage in tow to help make your next trip a breeze — even if you plan to check a bag. And when it comes to investing in a truly reliable suitcase, you can never go wrong with hard-side luggage — especially if it's from top travel apparel brands like Away, July, Delsey, Paravel, Monos, and more.
To help you in your search for the best hard-side luggage pieces and sets, our team of editors (and unofficial travel aficionados!) have rounded up some of the best hard-side luggage offerings on the market right now. Whether you're looking for a chic, celeb-approved style from Away; a budget-friendly set from Amazon; or even an ultraluxe suitcase from Rimowa, you can find the hard-side luggage piece that's just right for you and your next traveling excursion.
Shop our favorite luggage finds ahead!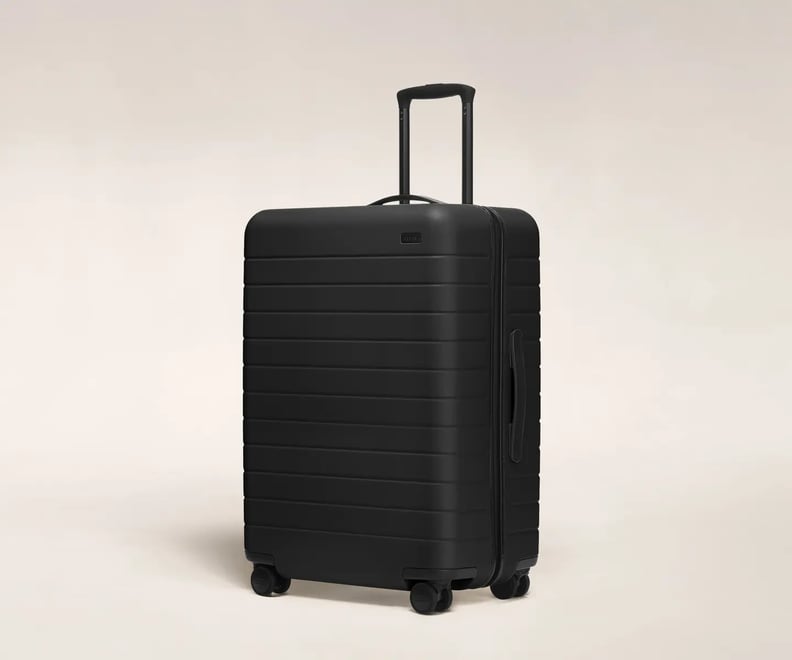 Most Chic: Away The Medium Suitcase
Away is one of the most popular luggage brands among flight attendants and celebrities alike — and for good reason. This particular Away The Medium Suitcase ($345) is a hard-side style that's built to last thanks to its polycarbonate shell. Users also appreciate the flexible movement of the suitcase, provided by its 360-degree spinning wheels.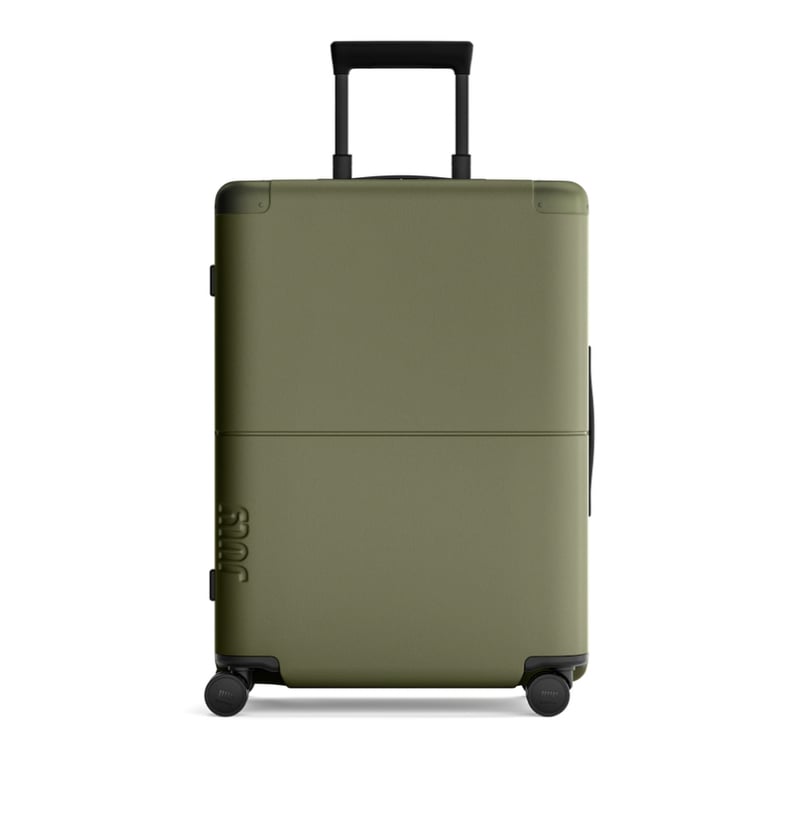 Best Checked Bag: July Checked Hard-Side Luggage
If you're looking to check a bag for your next domestic or international flight, then you'll love having this July Checked Hard-Side Luggage ($325) on hand for the adventure. Unlike other suitcases, this style is crafted with a crush-proof, eggshell design — making it extra durable. Best of all: it's available to shop in a wide range of vibrant colors, including moss green, ocean blue, magenta, and more!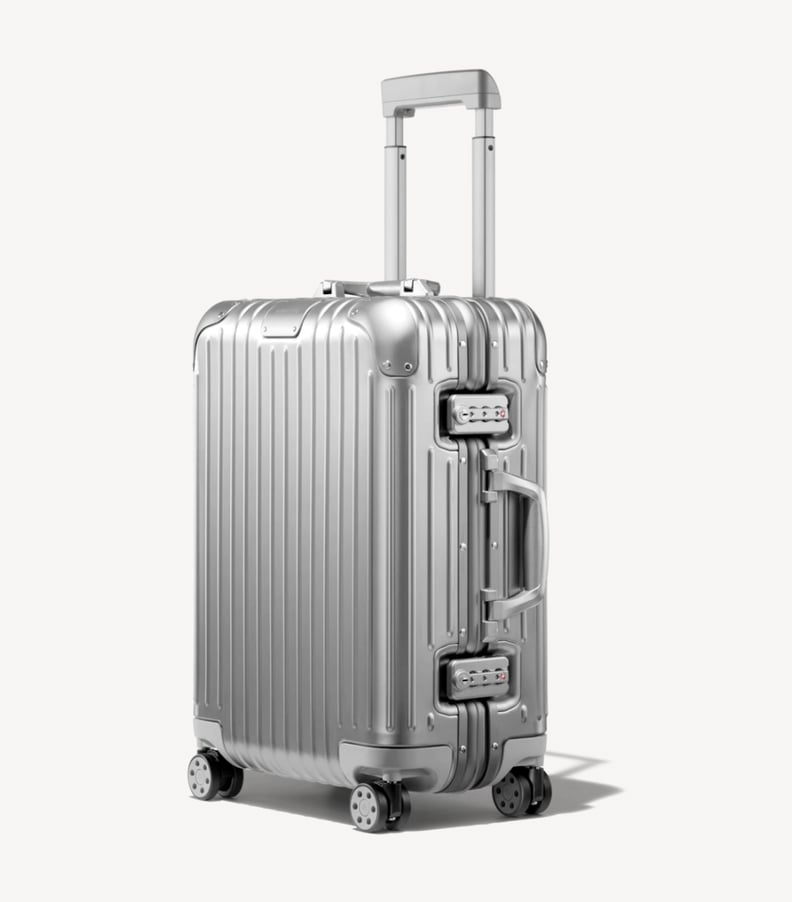 Most Luxe: Rimowa Original Cabin Aluminum Suitcase
Quality luggage is always a worthwhile splurge — especially if it's as luxe as this Rimowa Original Cabin Aluminum Suitcase ($1,200). While this piece certainly requires a bit more of an investment, rest assured it's worth it just for the durable, aluminum-composed base alone. The symmetric grooves on the exterior also provide the luggage with a more distinct look — making it super easy to find at baggage claim.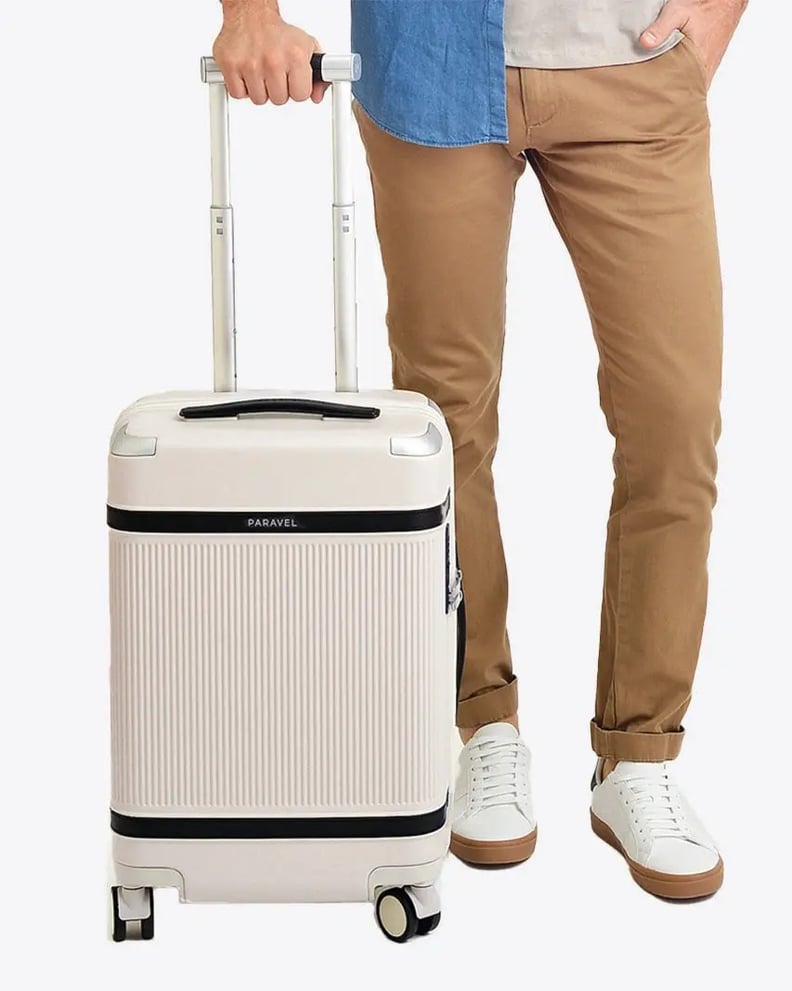 Best Carry-On: Paravel Aviator Carry-On Luggage
Paravel has a reputation for being one of the best brands for eco-friendly travel luggage. Now, you can travel the world in style and help protect it too with the Paravel Aviator Carry-On Luggage ($375). This specific model incorporates sustainable and recycled materials all throughout its polycarbonate shell casing.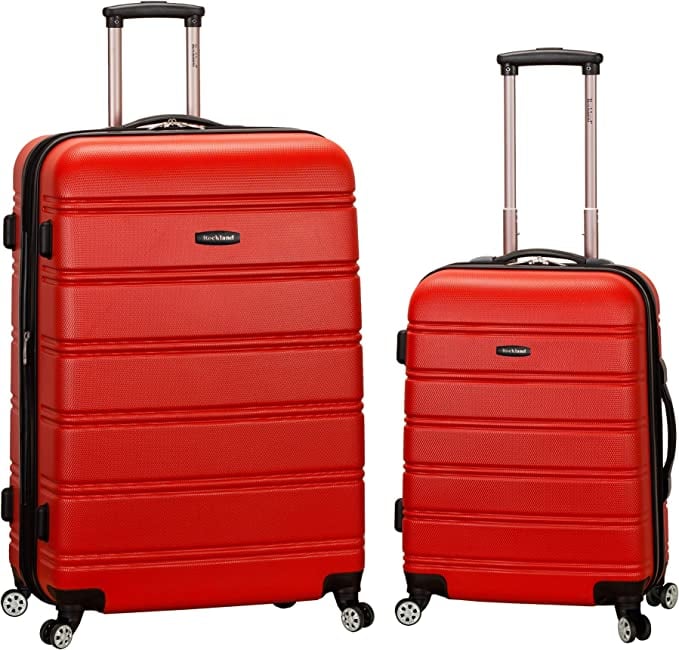 Best Budget-Friendly: Rockland Melbourne Hardside Expandable Luggage
They say the brighter the luggage, the better — especially because it helps to make a suitcase stand out and look distinctly your own at baggage claim. Tap into the traveling hack with this Rockland Melbourne Hardside Expandable Luggage ($122), which has over 20,000 five-star reviews on Amazon. Even with its hard-side casing, the luggage still boasts expandable properties for added packing convenience.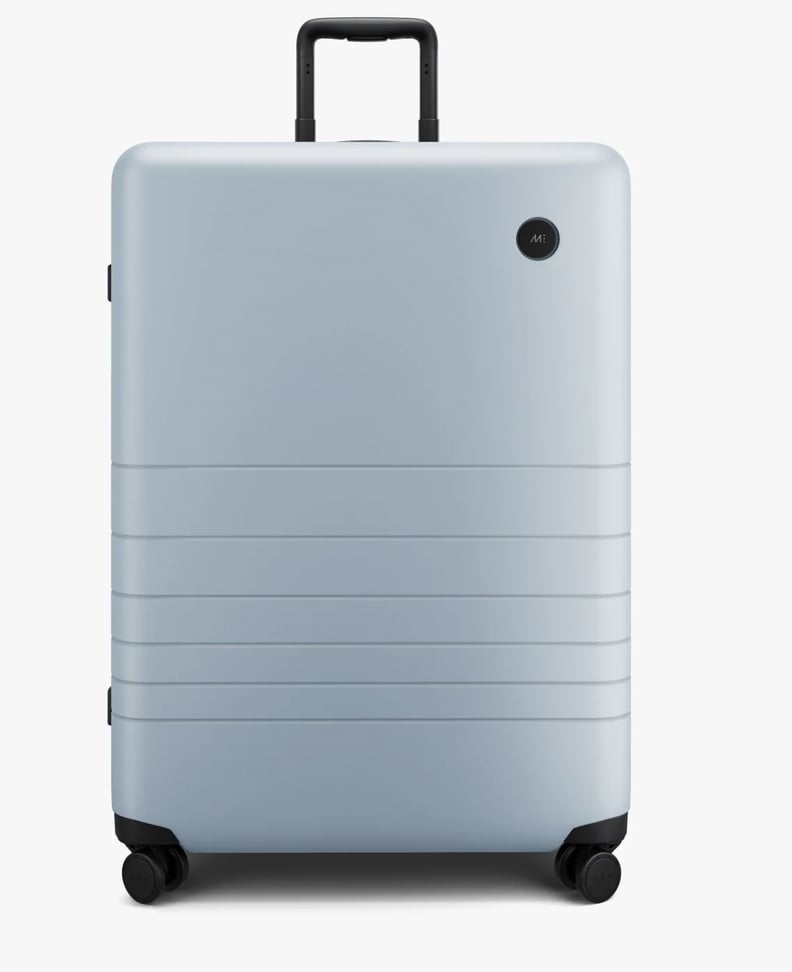 Most Practical: Monos Check-In Hard-Side Luggage
When it comes to truly special and eccentric suitcases, it doesn't get more unique than this Monos Check-In Hard-Side Luggage ($330, originally $367). The award-winning model has it all: vegan leather detailing, a TSA-approved lock, and a telescopic handle that's sturdy enough to navigate traveling for the long-term. Plus, it's available in serotonin-boosting colors like aqua blue, rose quartz, and olive green.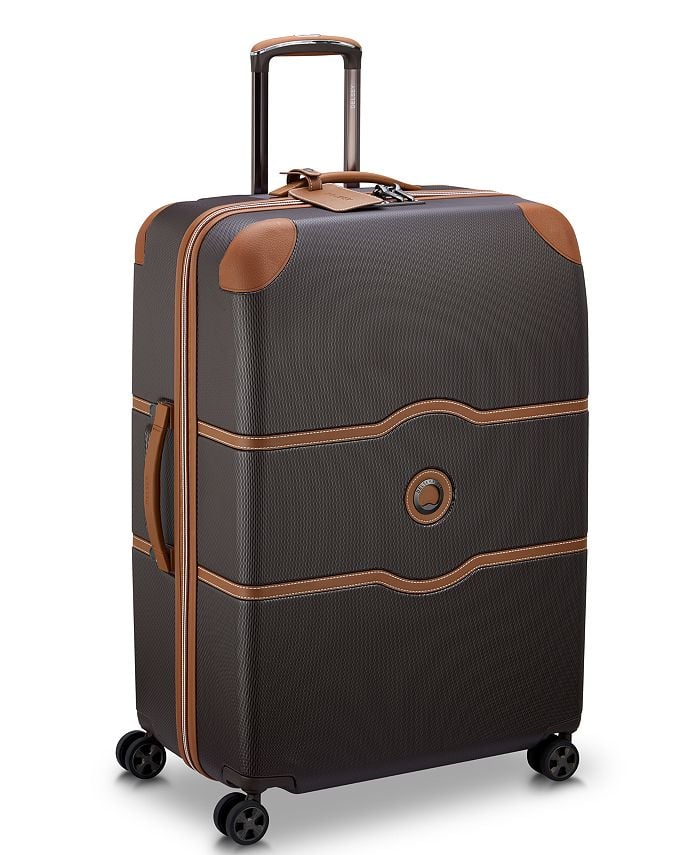 Most Protective: Delsey Chatelet Air Suitcase
Delsey is one of today's most beloved luggage brands that's used by avid travelers, celebrities, and editors (hi!) alike. Speaking from experience, one of the best parts of this Delsey Chatelet Air Suitcase ($336, originally $840) style is its added, protective qualities — which include a TSA-approved lock and resistant standard zipper. Best of all: the suitcase is also on major sale at Macy's right now.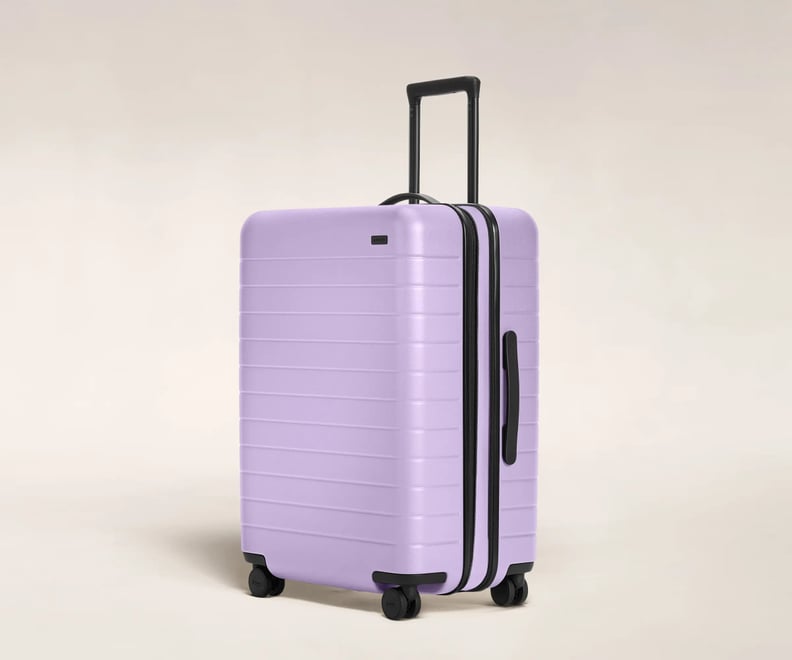 Best Color Pop: Away The Medium Flex Suitcase
Whether you are traveling abroad, are hopping on a quick flight, or need a sturdy suitcase to hit the road with, you can't go wrong with this Away The Medium Flex Suitcase ($395). Not only is the style equal parts practical and pretty, but it's also designed with the same famed properties of other Away luggage. Plus, with its midsize frame, it's easy to maneuver without all the bulk of other large suitcase sets.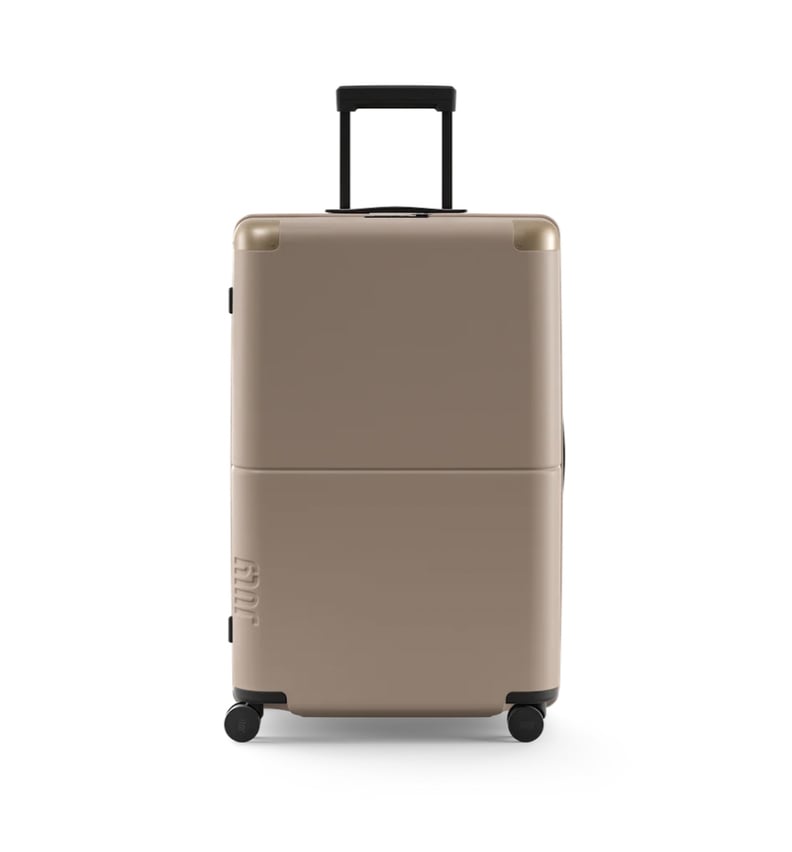 Most Durable: July Checked Plus Large Hardside Luggage
If you're a serious traveler, you'll definitely want to check out this July Checked Plus Large Hardside Luggage ($345). Not only does the suitcase boast enough interior space for longer trips, but it also comes with a lifetime warranty that will allow you to make this style your forever luggage. We love the wide variety of colorways that shoppers can choose from, too!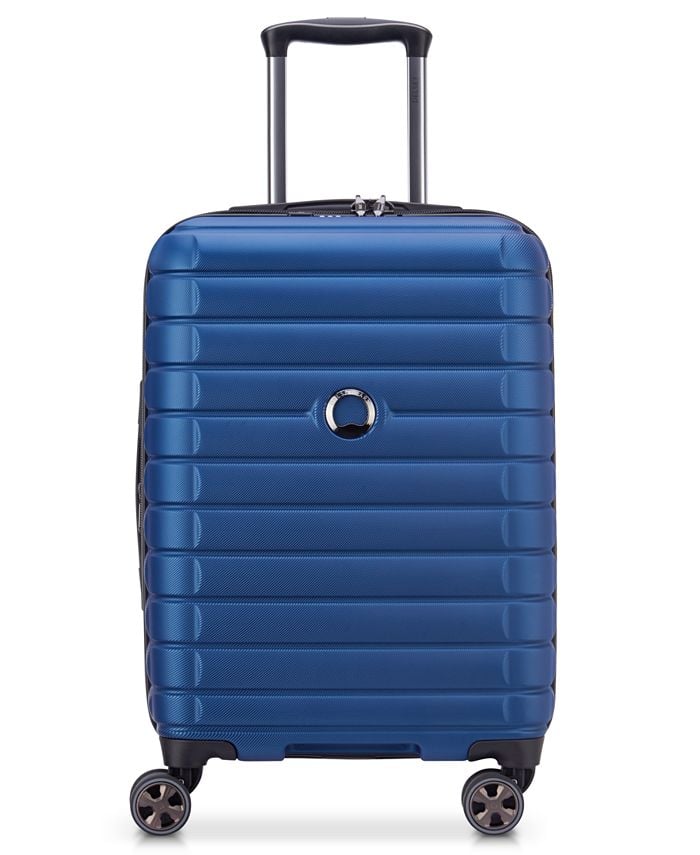 Best Deal: Delsey Shadow Luggage
Few carry-on bags come with more bells and whistles than this Delsey Shadow Luggage ($144, originally $360). From a built-in USB port and power bank to dual-density spinner wheels and a TSA-approved lock combination, this suitcase really comes equipped with it all. The cobalt-blue, polycarbonate shell also adds a sharp (and durable!) touch to an otherwise great suitcase style.