55 International Disney Park Differences Only Hardcore Fans Will Notice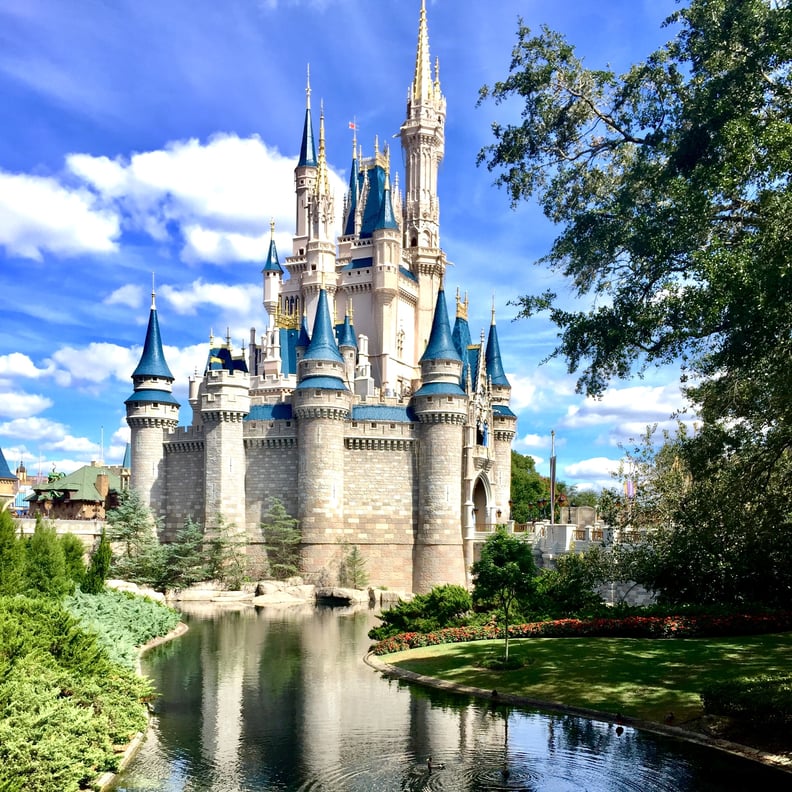 If you're a Disney fan, you've undoubtedly made the pilgrimage to Disneyland or Walt Disney World at some point in your life. Upon opening Disneyland (the original Disney park in Anaheim, CA) in 1955, the wildly successful mass-media corporation became a staple in more than just family movies — its theme park topped the bucket lists of travelers worldwide. Disney mania couldn't be contained when parks eventually opened in Florida, Japan, France, Hong Kong, and Shanghai. While every Disney park maintains a similar atmosphere, the magic feeling at each location is totally unique. Take a look at the features that make each Disney resort special, and then decide for yourself which is truly the "happiest place on earth."
— Additional reporting by Lauren Harano
01
Let's start with Tokyo Disneyland.
Tokyo Disneyland has the distinction of being the first international Disney resort and is the third most visited theme park (behind Orlando and Anaheim) in the world.
You won't believe some of the fun traits that are unique to this Japanese park:
02
Apparently, popcorn soda is a thing . . .
As can be expected in another country, the food at Tokyo Disney is different than snacks available in the other parks. Popcorn is a major favorite, and there are many unique flavors offered: caramel, sea salt, cappuccino, black pepper, soda, and soy sauce with butter are just a few.
03
Hollywood Tower = Hotel Hightower?
The Tower of Terror ride at Tokyo Disney goes by a different name, "Hotel Hightower," and looks different from the original US version.
04
When it comes to Disney fandom, it's the little things . . .
Cinderella's castle in Tokyo is extremely similar to its counterpart in Florida, aside from small architectural divergences (like shinier turrets and different stones) that stick out to hardcore fans. Based on this view alone, normal visitors might not even see the difference!
05
Rain, rain, you can stay!
Main Street is covered by glass at Tokyo Disneyland, allowing visitors to enjoy the magic even during bad weather.
06
The most expensive park EVER?!
In addition to Tokyo Disneyland, there is a second park: Tokyo DisneySea. The most expensive theme park ever constructed, DisneySea features water shows and a delightful boardwalk area for visitors. While other Disney parks offer water shows, the extravagant ones at DisneySea captivate audiences daily with boats and pyrotechnics.
07
Yes, you can have Venetian views in Japan.
DisneySea includes a boardwalk area that resembles Venetian waterways, setting it apart from the California-themed boardwalk in Anaheim and the Jersey Shore-themed one in Orlando.
08
Tokyo Disney is crafty with Club 33.
While many of the park's features look identical to the original Disneyland, there are some small differences. For example, the location of Club 33 (an extremely exclusive dining room in the Disney parks) is above the Blue Bayou restaurant in Anaheim but has a different hidden location in Tokyo.
09
Steamed dessert buns? What is this sorcery?
Other uniquely Japanese favorites offered to Tokyo Disneyland visitors include steamed dessert buns, shaped into characters and cartoon objects.
10
Tokyo seriously loves Stitch!
Japanese audiences are particularly crazy about Lilo & Stitch, so Stitch is incorporated into Tokyo Disney more than at other parks.
11
Japan has the coolest Disney costumes EVER.
The friendly cast members in Tokyo often don uniforms that are unique to that resort, like these cool and colorful ensembles. We dare you not to smile when surrounded by such cute costumes!
12
Now let's check out Disneyland Paris.
The second international Disney park was built in Paris in 1992. Sometimes called "Eurodisney," the park has enchanted European visitors by combining classic Disney magic with distinctive French features.
There are plenty of unique aspects of Disneyland Paris thanks to the strong cultural pride in France. Check them out:
13
The prettiest castle award goes to . . .
Sleeping Beauty's castle at Disneyland Paris has distinctly European features that set it apart from other Disney castles. In addition, it sits atop a small hill and is surrounded by cartoonishly trimmed trees.
14
Pepto-Bismol pink is a Parisian staple.
Intricate Disney landscaping is found throughout every resort, but the Paris park displays blooms to match its pink building facades. Even the Mickey Mouse flower bed is pink!
15
You can eat great food at Gusteau's.
Because the movie is set in Paris, Ratatouille is particularly popular with French audiences. The movie has a full ride and a themed restaurant within Eurodisney, while no other Disney park lets you taste Remy the rat's cooking.
16
Apparently, French people are lovin' it.
Disneyland Paris contains a huge McDonald's restaurant for hungry guests, while the burger chain only exists between parks at other resort locations.
17
See Disneyland through Belle's eyes.
The architecture throughout Eurodisney's Fantasyland resembles the buildings in Beauty and the Beast, another French-based Disney film.
18
You can go back to the future for breakfast.
One of Eurodisney's unique attractions is Videopolis, which contains a theater and restaurant with some seriously steampunk vibes.
19
Parlez-vous français?
While the other international Disney parks display signs in English with small translations beneath, Eurodisney has many signs exclusively written in French.
20
No Tom Sawyer in sight!
Instead of Tom Sawyer's Island (an attraction at the US Disney parks), Paris Disneyland offers a steamboat ride and island devoted to European greats, such as Leonardo da Vinci.
21
Paris's Haunted Mansion is SERIOUSLY spooky.
22
Now onto Hong Kong Disneyland.
Opened in 2005, Hong Kong Disneyland is the smallest Disney park. Its design incorporates feng shui elements, creating a soothing atmosphere at the magical resort.
This park may be small, but it's not short on special features. See what sets it apart:
23
The hills are alive at Hong Kong Disneyland!
The surrounding landscape of Hong Kong Disneyland lends it a different look from any other Disney park, with a scenic, hilly landscape behind the picturesque castle. Also, rather than Sleeping Beauty's, the park features Cinderella's castle.
24
Wait, that's not scary!
Dubbed "Mystic Manor" at Hong Kong Disneyland, the Haunted Mansion attraction is totally unique from other parks' respective versions of the ride. Instead of a scary facade, this ride is charming and bright.
25
HK Disney helps you kick your Chinese food craving.
The culinary offerings at Hong Kong Disneyland are distinctly Chinese, ranging from noodle dishes to barbecue.
26
Dim sum? Don't mind if we do!
A tasty treat unique to Hong Kong Disneyland is character dim sum, which includes steamed dumplings shaped like Disney characters.
27
Why can't every Disney park have a noodle shop?
Noodles are a major food staple in Hong Kong, even within Disneyland.
28
Get ready to practice Cantonese.
The signs at Disney in Hong Kong are written first in English, with a Cantonese translation beneath.
29
So that's why there is so much water . . .
Asian elements can be found throughout Hong Kong Disneyland, from unique architecture styles to symbolic water — which represents good fortune — flowing throughout the theme park.
30
Hong Kong Disney put a lid on the teapot.
Unlike the Mad Tea Party ride at the parks with better weather, there is rain-cover over the spinning dishes in Hong Kong.
The Disney parks in Orlando and Paris also have rain-covers, but because Hong Kong is the most newly constructed of the bunch, it appears the most modern.
31
Party in the Pooh pagoda!
Hong Kong Disneyland offers an attraction called The Fantasy Gardens, which exists purely for meeting and taking photos with Disney characters. Each major character has a unique pagoda for signing autographs and meeting guests.
32
We can't leave out Walt Disney World Orlando.
The largest Disney resort is located in Orlando, FL, and actually contains six unique parks: Magic Kingdom, Epcot, Hollywood Studios, Animal Kingdom, Typhoon Lagoon, and Blizzard Beach. Like Hong Kong, the castle featured in Orlando's Magic Kingdom is based on Cinderella, but at this park it's surrounded by a moat.
This theme park is the largest, so you know it's got tons of unique features! Find out what they are:
33
You can walk a mile in Cinderella's glass slipper at her castle suite.
Within Cinderella's castle at WDW, there is a luxurious suite designed for the princess herself. While you can't make reservations for the room, Disney sometimes surprises guests with a one night stay! Celebrities like Katy Perry, Neil Patrick Harris, and Nick Jonas have stayed in the Cinderella Suite, but nonfamous guests get lucky on occasion.
34
That's a ton of hotels . . .
Disney World has 33 separate hotels for visitors to choose from, including the brightly lit Dolphin Hotel shown above. The Orlando resort has more lodging than any other Disney property in the world.
35
Go swimming in a shipwreck!
Orlando is the only Disney resort that offers parks where visitors can swim. Typhoon Lagoon is a water park at Walt Disney World with a tropical shipwreck theme. The cool water is a great escape for visitors to escape Orlando's humid climate!
36
Who knew Florida got so cold?
Blizzard Beach is Disney World's other water park, inspired by Winter snowstorms. This park offers more extreme water-based attractions than Typhoon Lagoon, including tall water slides.
37
If you love The Lion King, Florida is the place for you.
The Animal Kingdom park at Disney World Orlando offers visitors the chance to encounter their favorite animals up close and is styled in a way reminiscent of The Lion King. No other Disney park includes a safari with live animals!
38
Orlando has some seriously scary rides.
Perhaps the spookiest of any Disney Haunted Mansion, the Orlando attraction is large and impressively creepy.
39
Pack your passport for a trip around the world!
The Epcot park is extremely unique because it has a cultural theme that transports visitors around the world. There are different park areas for different countries, and the food available within Epcot is international and delicious.
40
You can "go the distance" at a Disney World marathon.
Disney World hosts a weekend of marathon races for athletic Disney fans, running through all the resort's parks and finishing with a Mickey Mouse medal. Sign us up!
41
Back to where it all started . . . Disneyland.
The original Disney park, Disneyland is located in Anaheim, CA. Opened in 1955, this is the location that started it all!
Too see why the oldies are goodies, check out these fun things that make the original park unique:
42
Apparently, dead men DO tell tales.
In the original Pirates of the Caribbean ride, there is a real human skull! Look for it above the bed in the treasure room.
43
Soar over the Golden State!
The Disneyland Resort has two parks: Disneyland and California Adventure. California Adventure celebrates the state in a number of ways, and it even includes a ride called Soarin' Over California, which gives visitors a bird's-eye view of California's main attractions. The ride was replaced with Soarin' Around the World in 2016, but the original is currently back for a limited time during the 2020 Disney California Adventure Food & Wine Festival.
44
Practice your pin-up poses!
The original Disneyland is known for its themed days, such as Dapper Day. On this day every year, visitors don their fanciest clothes for fun in the park, often participating in "disneybounding" — dressing as modern versions of their favorite film characters.
45
Got goth? Disneyland sure does.
Another themed day at the California Disneyland is Bats Day, when the park encourages goth dress and large gatherings of gothic Disney fans.
46
Make the ultimate Disney pilgrimage in Anaheim.
Because it's the original Disney park, Disneyland has a lot of historical touches. The bench inside Great Moments With Mr. Lincoln is the actual bench where Walt Disney came up with the idea for Disneyland!
47
You can spot celebs at Disneyland!
While celebs are free to visit any Disney park, due to its proximity to Hollywood, they are frequently sighted at the original Anaheim location. There are celeb-sighting Instagram and Twitter accounts for any visitors hoping to spy their favorite famous Disney fans.
48
Keep your eyes peeled for famous felines!
Decades ago, Disneyland combatted a rat problem by releasing cats into the park at night. Even today, cats remain in the park to silently serve . . . and they've got quite a fan following! If you can't make it out to California, follow the frisky Disneyland cats on Instagram to get to know Lucian, Chloe, Bernice, and Francisco (who is shown above).
49
Beware of the "boo" bayou . . .
The Haunted Mansion ride at Disneyland transforms into a The Nightmare Before Christmas-themed attraction for Halloween and has inspired other Disney parks to do the same. The mansion in the Anaheim resort is styled after an ancient southern estate, setting it apart from other takes on the spooky ride.
50
It's easy to be colorful in California.
California Adventure has a boardwalk that boasts a large ferris wheel and a giant roller coaster, and there is a light show (World of Color) shown on the park's water at night. Because it's based on famous California boardwalks, this part of the park is unlike any other Disney attraction.
51
Size isn't everything!
Disneyland's Sleeping Beauty castle is an iconic sight, greeting every visitor who enters Disneyland. While smaller than any other resort's castle, this is the most famous.
52
How could we forget about the Shanghai Disney Resort?
The Shanghai Disney Resort opened in Pudong in 2015 and is the first Disney park resort in mainland China.
This theme park is the newest, so it has all kinds of modern features. Find out what they are:
53
Shanghai Disney is the most individualized park on the Disney roster.
The park took over five years to build and takes up 936 acres of land. It has 50 individual retailers on site and more than 1,200 hotel rooms.
54
It's a pirate's life for Shanghai.
The Shanghai park is the first to include an entirely pirate-themed land, called Treasure Cove. Fans of the Pirates of the Caribbean ride and film franchise love this exciting area of the park!
55
Shanghai has Tron AND Toy Story?! Jealous.
Other unique features of the Shanghai resort include a Tron light-cycle show and a Toy Story hotel.