A Theme Park Enthusiast Crammed Your Entire Summer Into 1 Day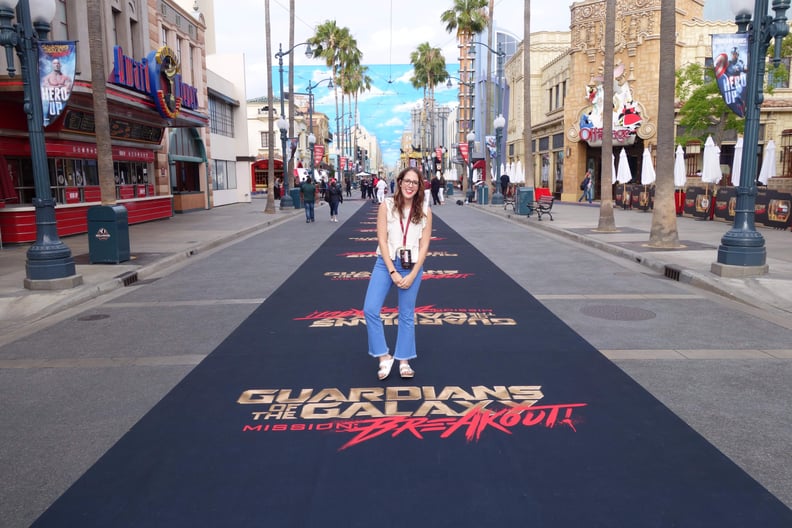 POPSUGAR Photography | Carlye Wisel
POPSUGAR Photography | Carlye Wisel
For most, a trip to Disneyland is a fun weekend getaway. For me, it's practically my office. As a theme park journalist, I regularly tour land expansions, try inventive park cuisine, and experience new thrill rides before they're open to the public. I love what I do, and it's a joy, but you can imagine my surprise when Disneyland, Walt Disney World, and Universal Orlando Resort all unveiled their big Memorial Day Weekend openings on the exact same day.
What is a ride-obsessed reporter to do when she has to be three places at once? Crisscross the country in the span of 24 hours, of course, flying between Florida and California to see, experience, and eat everything on both coasts that's coming your way at Disney and Universal this Summer.
I walked through Pandora — The World of Avatar, a newly themed land that pays homage to James Cameron's blockbuster film, at night; awoke to witness the grand opening of Volcano Bay water theme park at Universal Orlando Resort; and hopped a plane to Anaheim to ride Guardians of the Galaxy — Mission: Breakout! at Disney's California Adventure.
It was crazy and exciting and obviously tiring, but hey, it's not often you get to fly a banshee, stand at the foot of a volcano, and wave hello to Groot in a span of 24 hours.
Thankfully, everything is now officially open, so you can take your time experiencing these parks IRL. (Phew!) But until you make it there, here's what experiencing a Summer's worth of thrills in a single day was really like.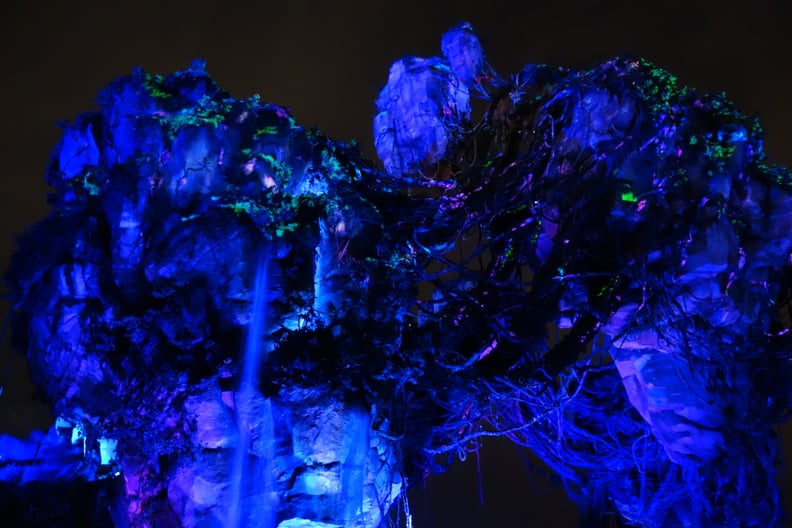 Wednesday, 9 p.m.
The rain overhead dried up, and the official evening reception for Pandora — The World of Avatar at Walt Disney World's Animal Kingdom was a go! We were the first to see the famed floating mountains illuminated at night, and it definitely feels like you're one with nature while beside them.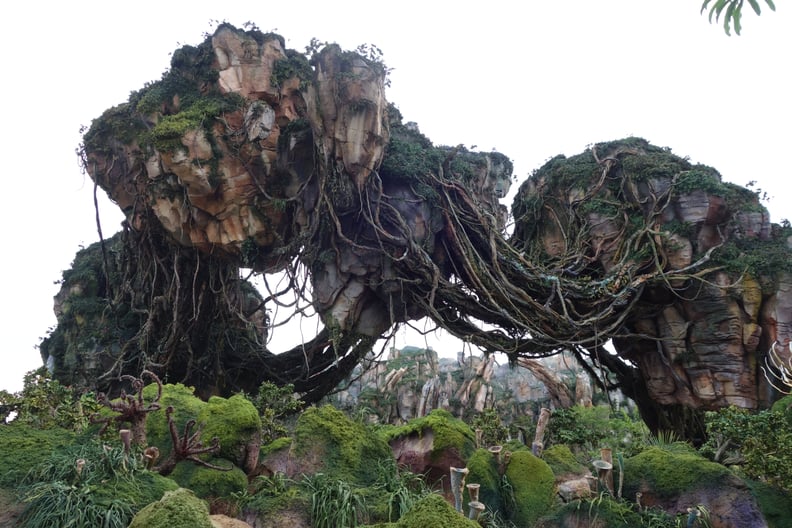 Here's what the same mountains looked like that afternoon. Crazy, right? The addition of waterfalls and vines is so cool; I love that you can stand underneath them!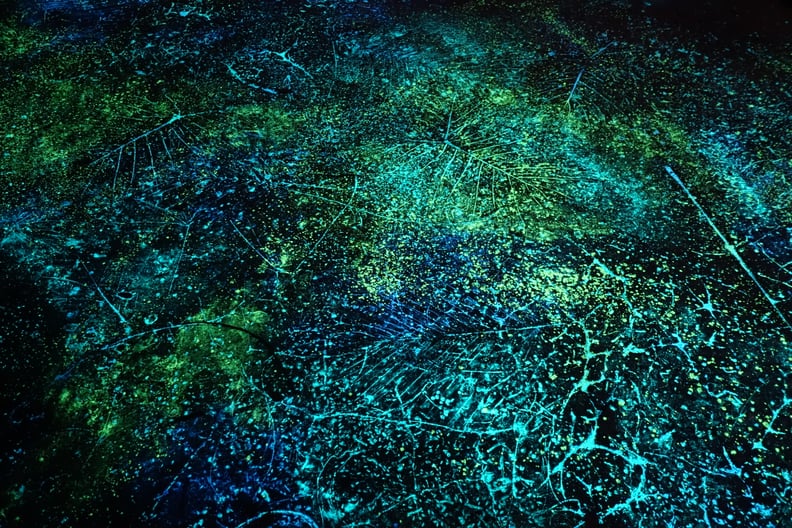 Behold: the illuminated walkways of Pandora. They're more blacklight than I expected — prepare for everyone to know if you've whitened your teeth! — but impossible to not snap a dozen photos of.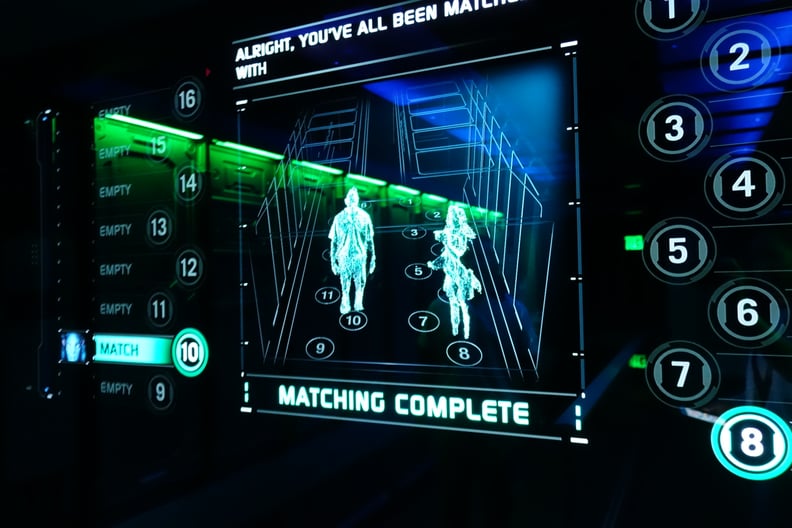 Knowing that I'd be in California in just a few hours, I couldn't resist hopping on the park's two new attractions for one final ride. First up was Flight of Passage, where you are paired with an Avatar and pilot your very own banshee.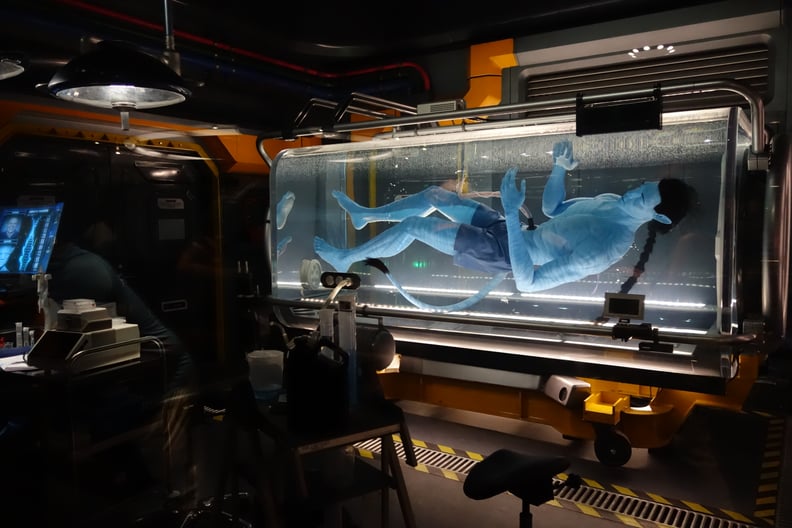 I don't want to give anything away, but this ride is spectacular and realistic, and so is the queue. This Avatar you'll see along the way is mind-boggling. He's huge!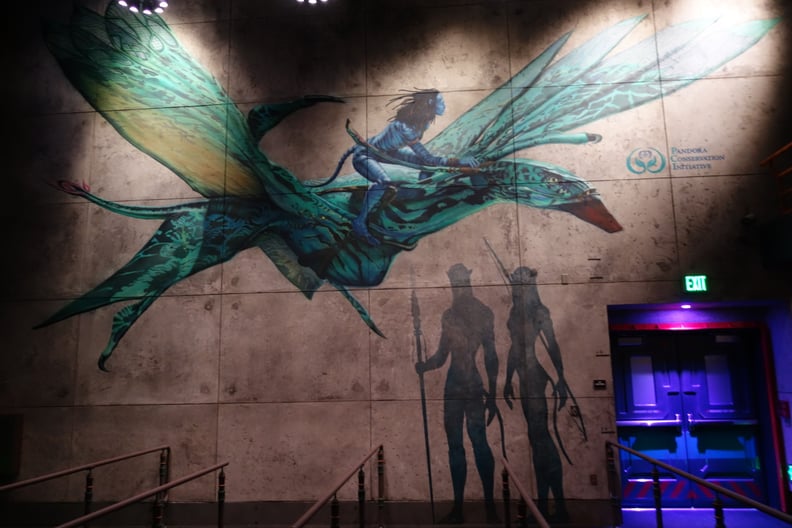 Oh, this? Just a 'gram of me cruising through Pandora on my way to pick up two Na'vi pals. (Kidding. I wish!)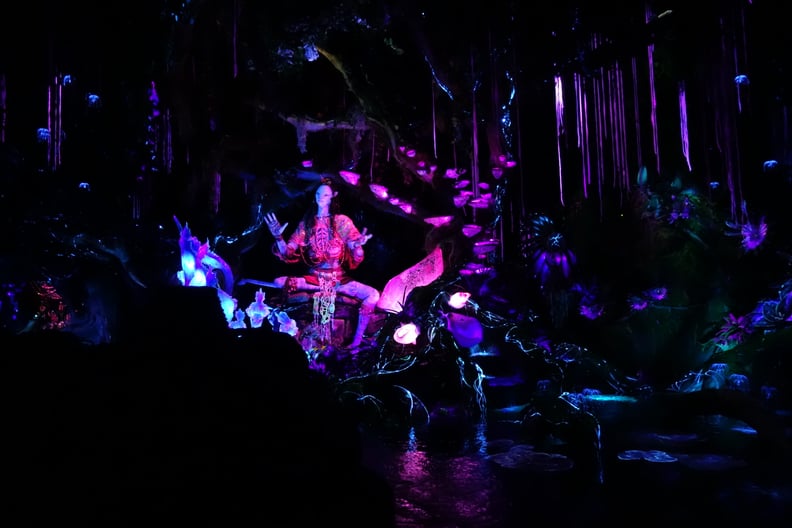 Next, I dashed over to ride Pandora's second ride, Na'vi River Journey. It's definitely more tame — picture Pirates of the Caribbean in a lush bioluminescent rainforest — but culminates with an up-close look at a Shaman of Songs, who gives good scale as to how large the Na'vi really are.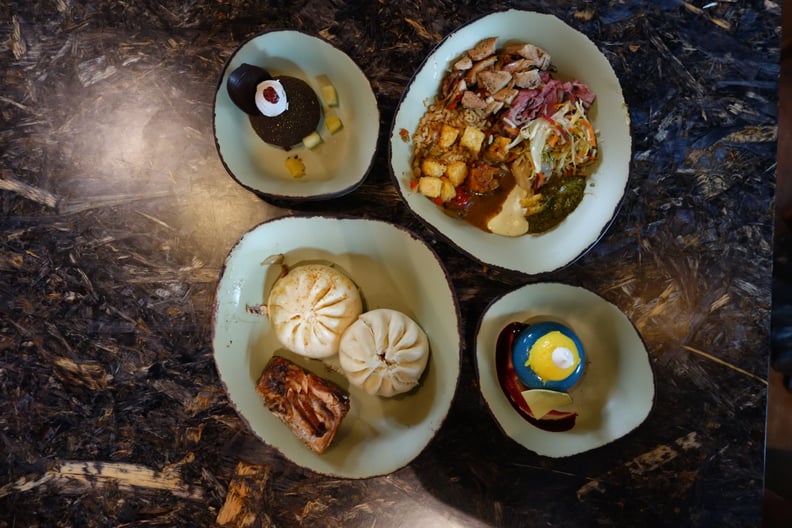 Wednesday, 11 p.m.
The evening drew to a close, and I'm not gonna lie, I was craving the Pandorian lunch I had earlier. Those buns are actually cheeseburger pods (!), and though they're intended for children, they taste like a McDonald's burger and I don't understand how. Can't Animal Kingdom have a late-night drive-through stand for these? Sigh.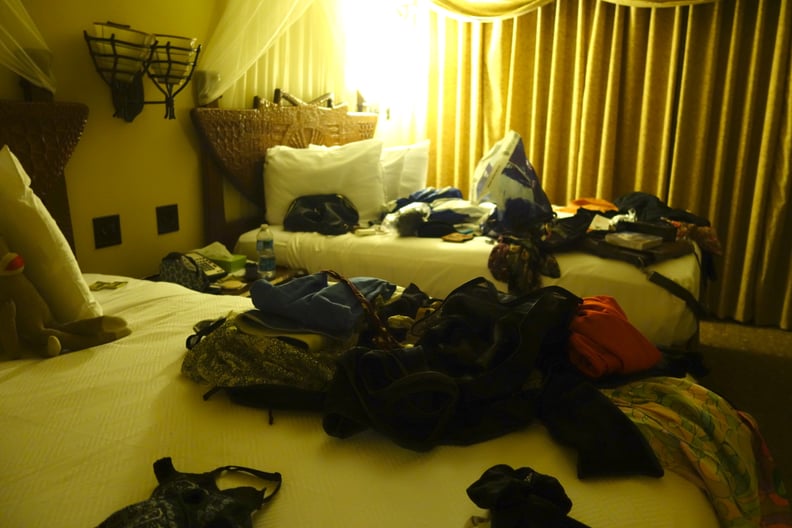 Thursday, 2 a.m.
As much fun as this gig can be, it's not all fireworks and castles and cotton candy. I'd been out of town for a week reporting stories and still had to back up files, pack, and prepare for the next day, so I had a long night ahead.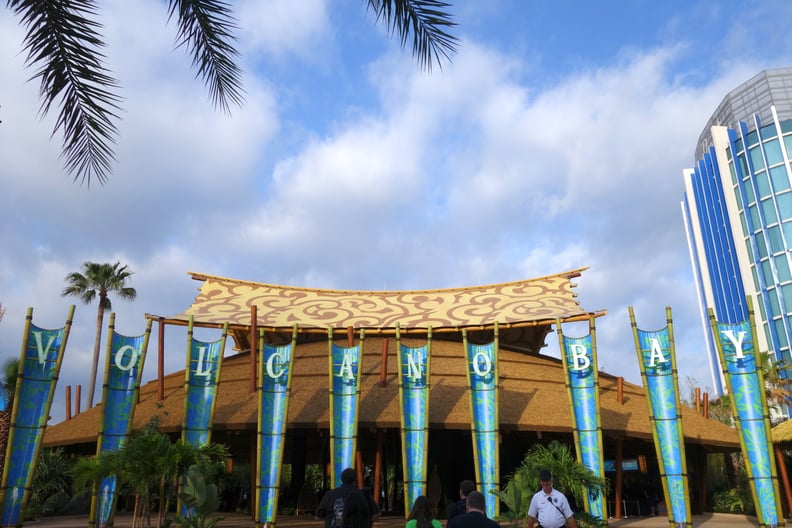 Thursday, 7:45 a.m.
It was opening day for Volcano Bay! I was half-alive, awake thanks to the latte I just chugged, and ready to see Universal Orlando Resort's new water theme park officially welcome its first guests.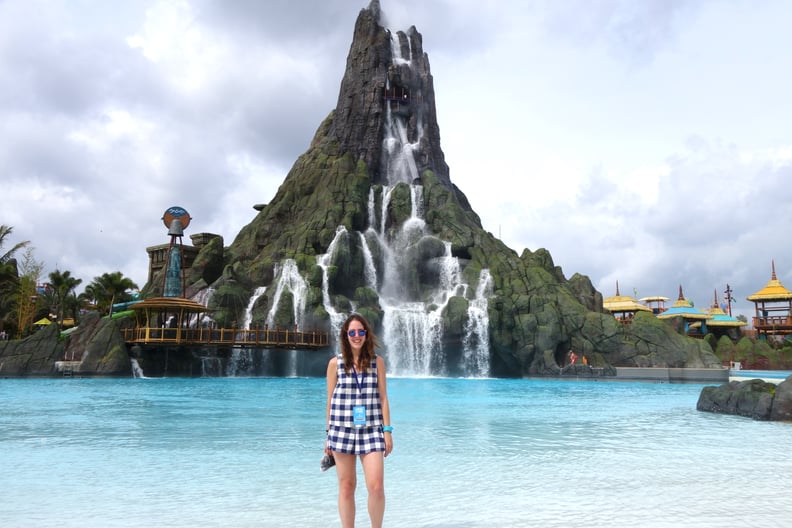 The volcano is no freaking joke. When you see this 200-foot mountain explode with waterfalls into the surrounding wave pool by day and feature lava effects at night, you can't help but be completely blown away.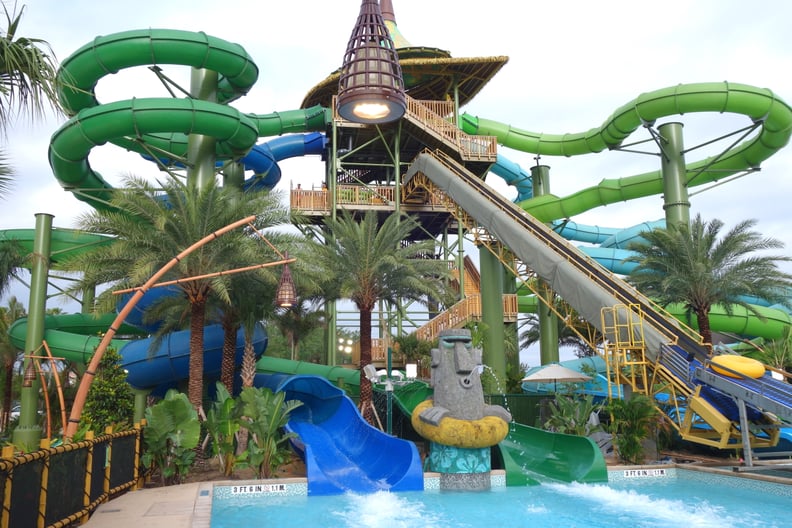 I was boarding a plane in two hours, so no water slides for me today, as I rode most the day before. Still, that didn't stop me from taking one last lap around Volcano Bay to soak it in.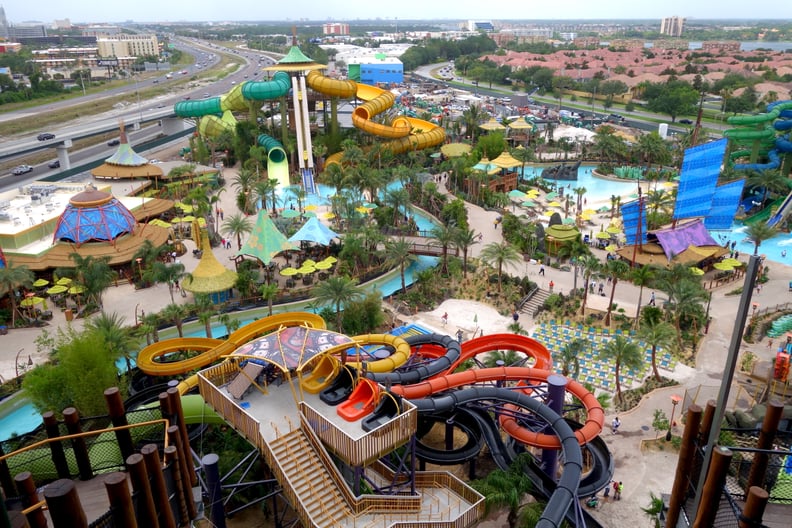 I was skeptical of Orlando calling Volcano Bay a "water theme park" at first, but holy cow, that's exactly what it is. It's massive, and it offers so many new types of slides to enjoy.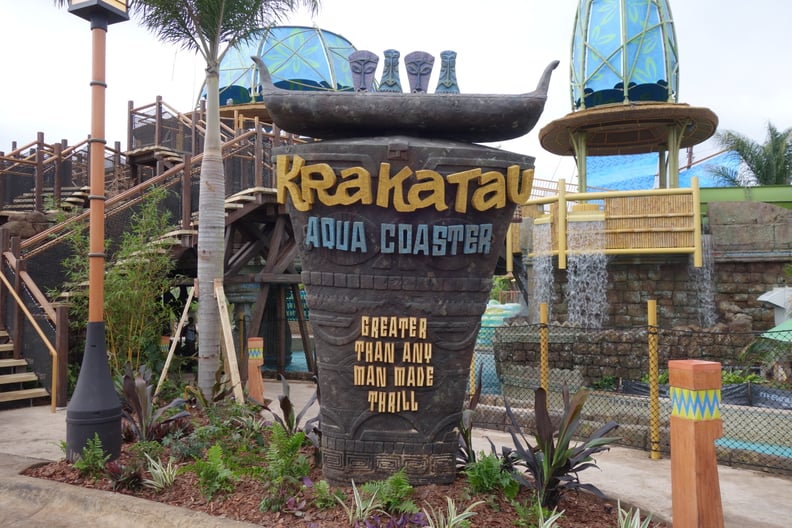 Volcano Bay is using a system where all attractions have "virtual lines," and already Krakatau Aqua Coaster is the most popular ride. It's a full-on water roller coaster through the volcano that's unlike anything you've experienced before.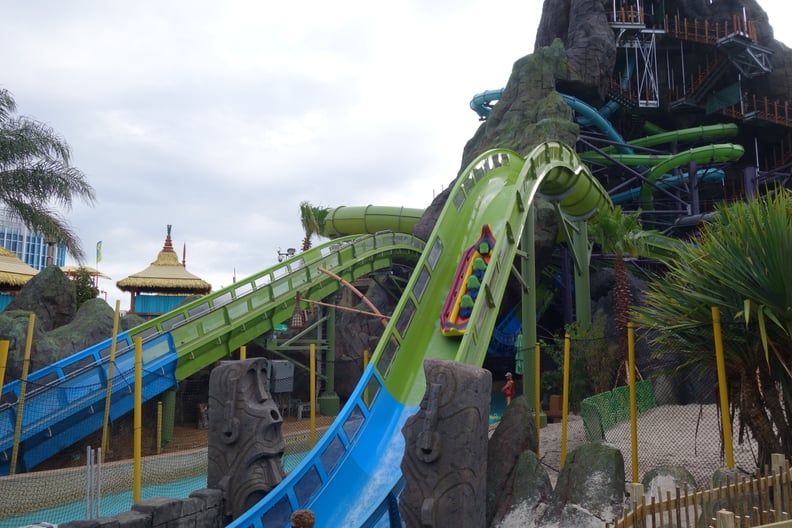 That Krakatau canoe's not going down a drop — it's going up. The technology used in this ride is really somethin' else. (Not to brag, but I was the very first guest to ever ride it! Right place, right time!)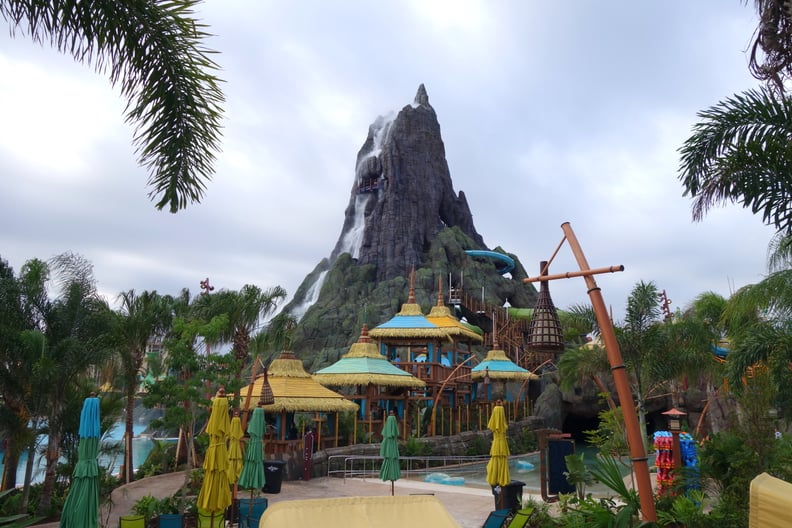 I love that you can see the volcano from everywhere in the park, even when you're floating into a pool at the end of a slide.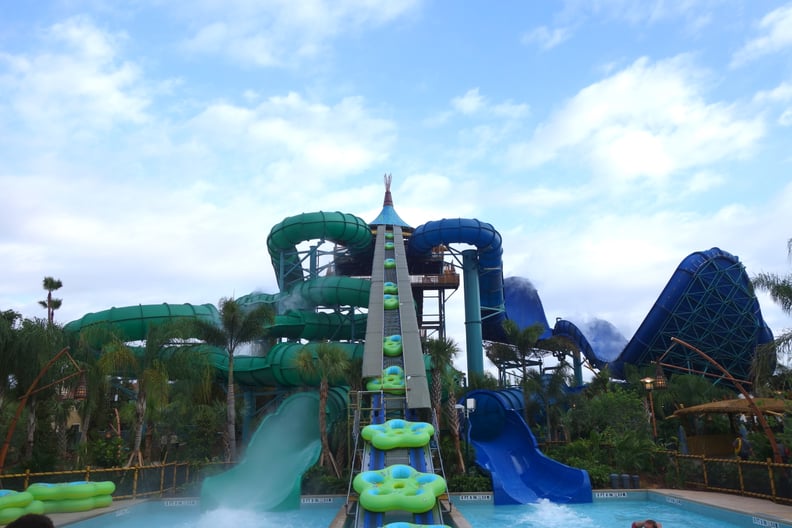 The slides here are wild. I was sad I couldn't stay for more — I conquered the terrifying blue one but still haven't been on that green slide — but I had to hop a plane to California ASAP!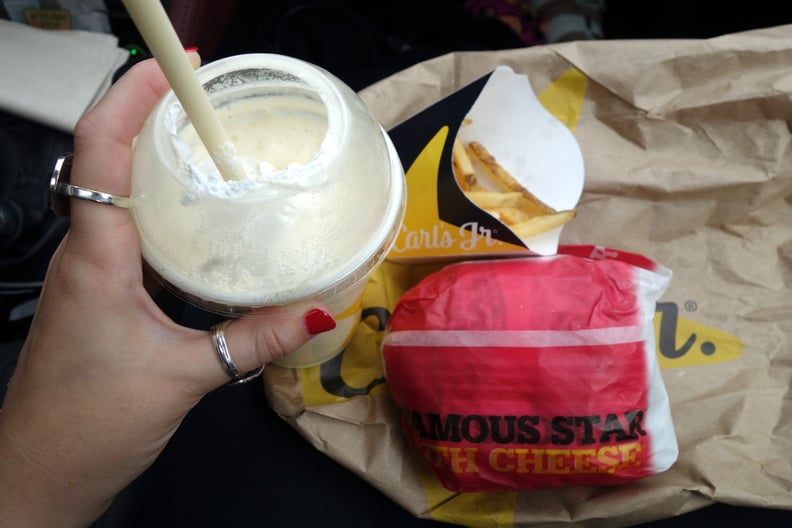 Thursday, 3 p.m.
It may be fun, but reporting three openings in one day ain't pretty. My brain and body felt so loopy from the lack of sleep and endlessly scribbled notes, but I just kept eating cheeseburgers to stay awake. (This is my second of the day. What did those Pandora pods awaken in me?!)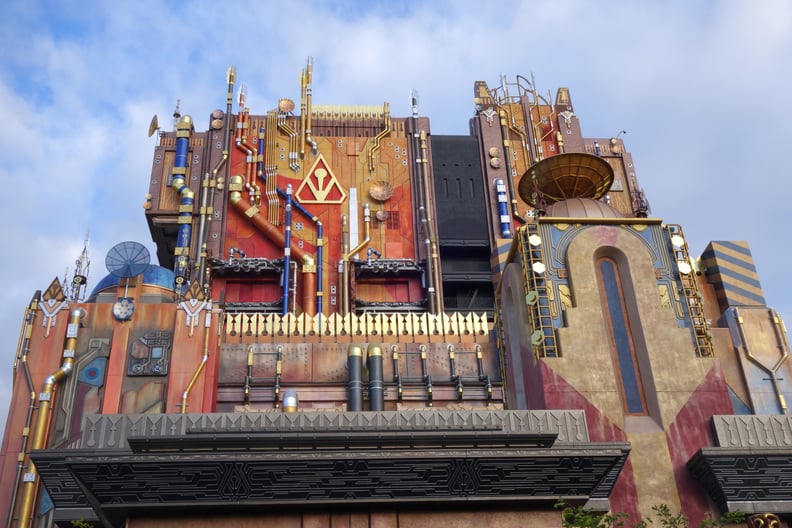 Thursday, 5 p.m.
I braved traffic and arrived at Disneyland Resort for Disney California Adventure's Guardians of the Galaxy — Mission: Breakout! opening reception. (If you're familiar with the park, it replaced The Twilight Zone Tower of Terror, which closed in January.) I took a tour of the building a few weeks back and saw the interiors, but I still had no idea what to expect!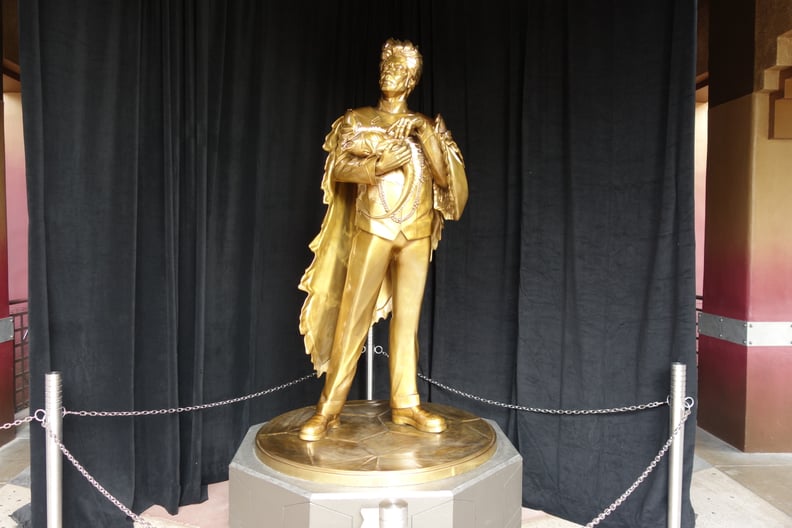 This statue out front is of Taneleer Tivan. You may recognize him as Benicio del Toro's character from the first film, but this ride takes place in his fortress, where he's added the Guardians of the Galaxy to his permanent collection.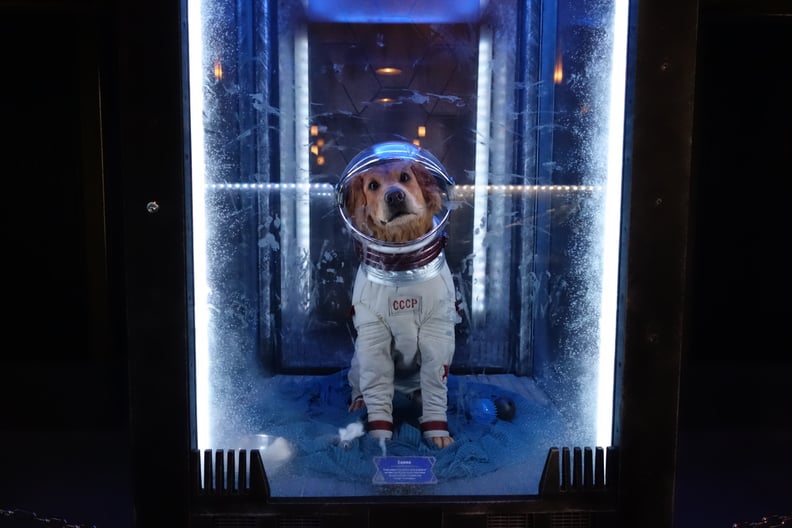 The queue is filled with tons of Marvel Easter eggs you may have seen in the comic books and films as well as hidden Disneyland references, but this audio-animatronic of Cosmo from the first Guardians film is just too cute.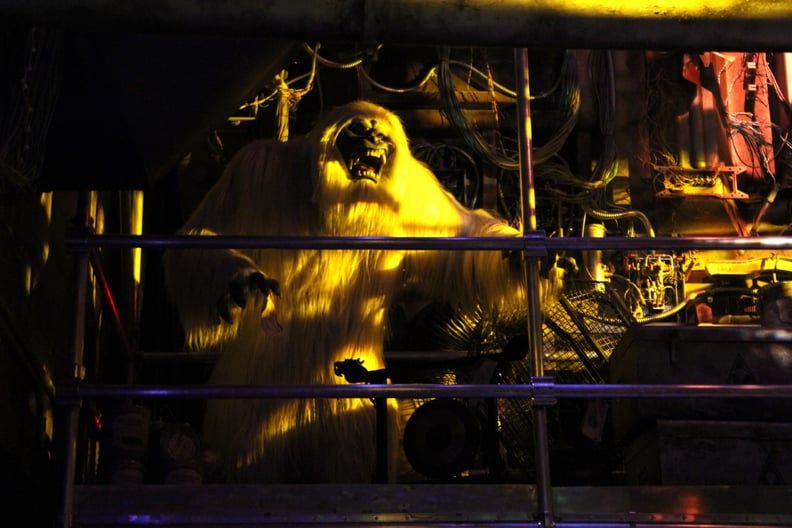 Disneyland fans will recognize this yeti — he's from the Matterhorn Bobsleds next door.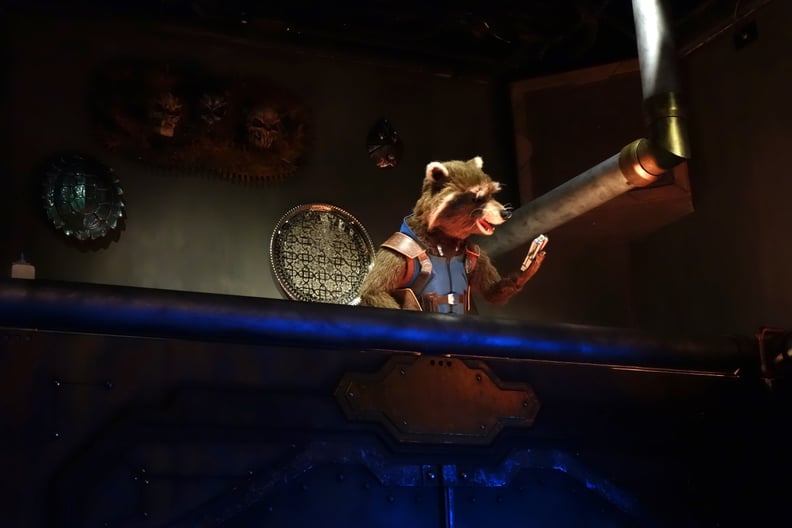 Not gonna lie, I may or may not have shrieked the first time I saw Rocket Raccoon in the attraction. He looks so real!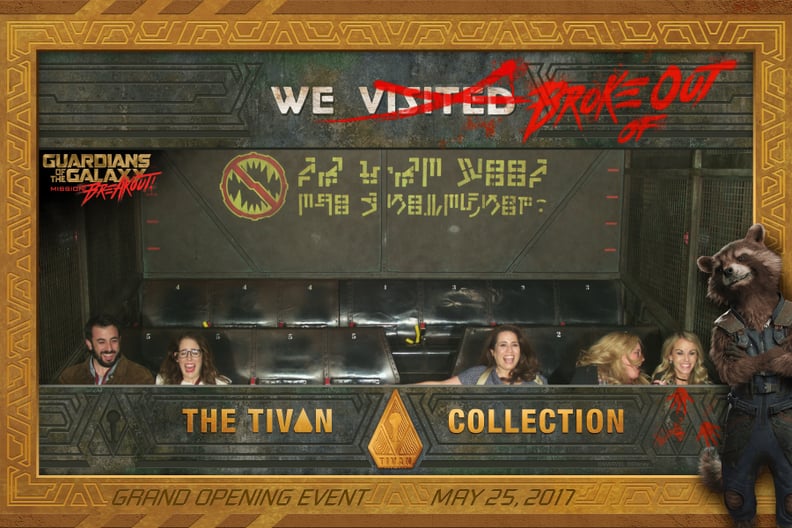 HOLY. WOW. I didn't expect that! I screamed so hard that I thought I'd lose my voice. I flew up in my chair! It was insane. This ride is way more intense than its predecessor!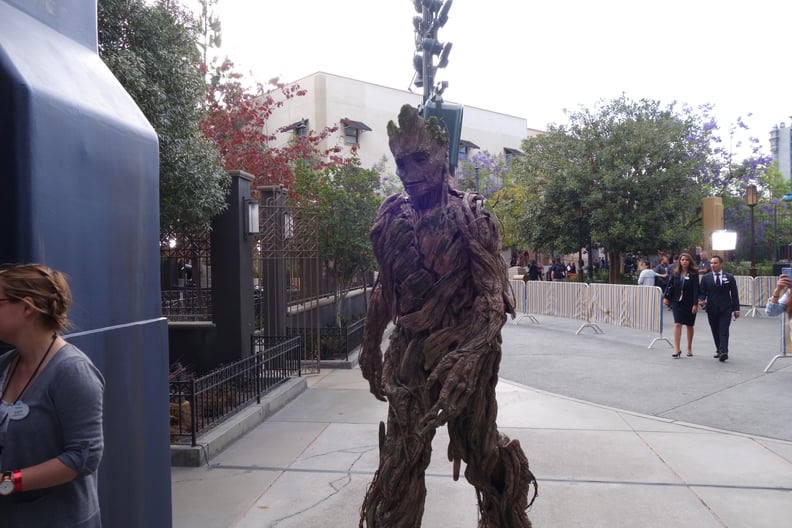 Well, well, well, who did I run into on the way out of the attraction? Groot! He's appearing at Disney's California Adventure this Summer, so prepare your Snapchat filters for best-ever selfies.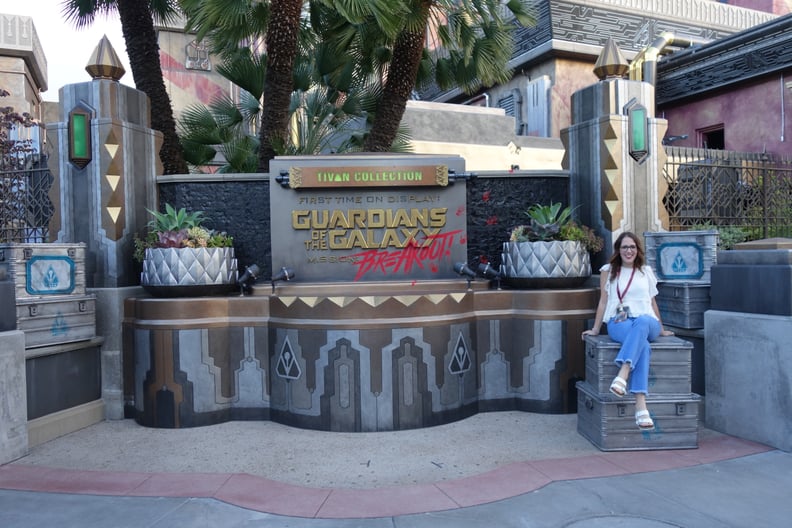 I couldn't believe it — I'd done it! Three parks, two coasts, and countless new rides and slides across the country. I'd be writing stories all weekend long, but for now, I took a load off, even if it was only for a second!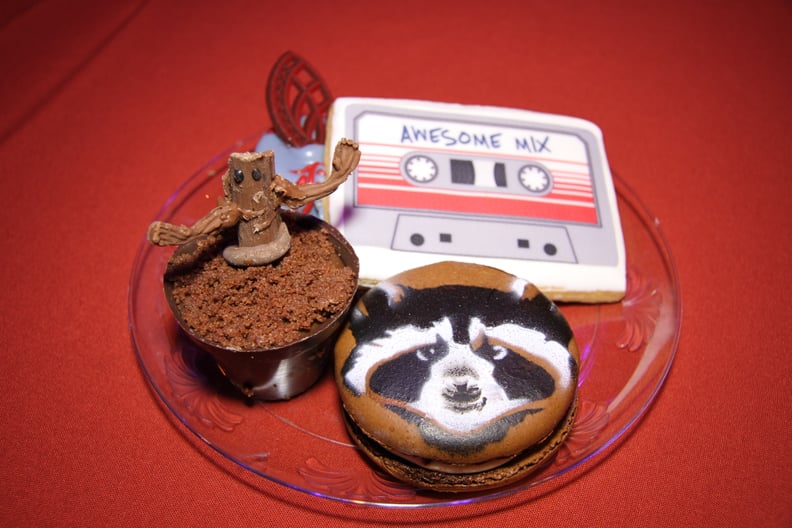 Thursday, 8:30 p.m.
After a cast appearance, a grand celebration, and a few fireworks, the ride was officially open to party guests, but first: dessert! I almost kept this Awesome Mix cookie but decided to eat it instead. (Don't tell Star-Lord, OK?) I should have headed back to bed after a sleepless week, but I couldn't help but ride one more time before the craziest day of my life came to an end!