50 Halloween Costumes That Look Good on Zoom, Because Welcome to 2020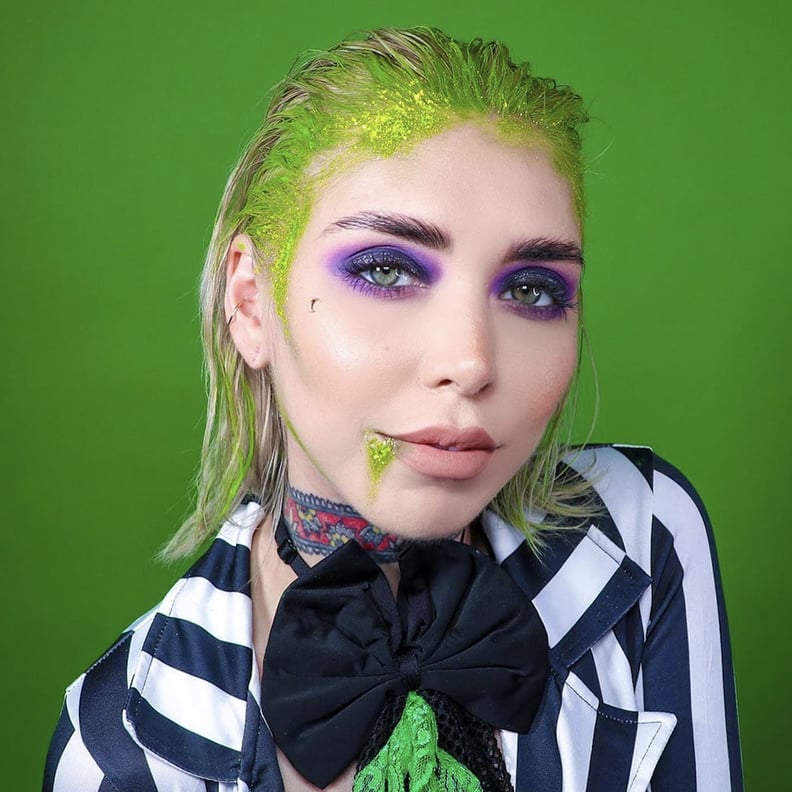 If Halloween 2020 had a tagline, it would be something along the lines of "while Halloween might look different this year . . ." And, we gotta admit, that saying is spot on. This year, things have proven to be most definitely different, with all signs pointing to the novel coronavirus. With social distancing orders in place and countries on lockdown, celebrating Halloween in the comfort of your own home has taken over the parties, trick-or0treating, and gatherings that we used to know and love. But, that doesn't mean Halloween is canceled. Thanks to Zoom and other video platforms, meeting up with your friends is just a couple clicks away. If you're still ready to dress up and win the costume contest, we curated a list of the best ideas that look better on screen. From iconic characters like Frankenstein and the Wicked Witch of the West to creative ideas like one of Taylor Swift's album covers and a pop art painting, these costume ideas will put you in first place for the costume contest, no matter how far away you might be from the judge. Take a look at the best Halloween costumes fit for Zoom, and get ready to celebrate the holiday like never before.
— Additional reporting by Haley Lyndes and Hilary White
01
Harley Quinn
A hot costume for the last couple years, the idea of being Harley Quinn isn't going anywhere any time soon. High pigtails (one colored blue and the other pink), distressed pinstripe shorts, and a long-sleeve shirt are all you need to become this iconic character. Wear a bold necklace, colorful gloves, and a black belt with a padlock. Now, you're ready to hit the town.
02
Beetlejuice
The name of the game for this movie-inspired costume is to look stone-cold dead. Pale face, green "mold," and dark eyes go perfectly with a striped top.
03
A Bad Case of Stripes
Adding rainbow makeup to your look is always fun, and this bookish costume makes it even better!
04
Taylor Swift's 1989 Album Cover
Sing along to your favorite songs this Halloween when you dress up as Taylor Swift's 1989 album cover. You'll need a blue and white long-sleeved shirt and red lipstick. Carry around a white cutout to make it look like you're a Polaroid picture.
05
Rapunzel From Tangled
Be the dreamiest princess of all when you dress up as Rapunzel. Wear a lavender dress and style your hair into a long braid or ponytail. Add little flowers in your hair to make the look more romantic.
06
Pop-Art Painting
If makeup is your thing, try this easy pop-art look! Cartoon features, white dots, and bright colors will make this look easy to replicate.
07
Doll
Want to be cute and creepy this year? Arkansas folks are dressing up as dolls, and wow, are these costumes creative. You can look like a doll by going all out with eye makeup — brightening white liner along the lower lash line is a must for achieving a doe-eyed effect, as are false lashes and multiple coats of mascara. Finish off your look with a big bow.
08
Sally From The Nightmare Before Christmas
09
Scientist
If you have a white coat and goggles, then consider being a scientist. This costume can get as creative as you want it to, so don't be afraid to add some crazy-cute makeup to go along with it.
10
Witch
Classic and traditional, you can't go wrong when you dress up as a witch. A black hat is the main accessory here, along with alluring makeup and enchanting jewelry. Carry around a spell book for emphasis.
11
Roxanne From A Goofy Movie
A green shirt, little brown nose, and stack of books will transform you into this cute Disney character in seconds flat.
12
Dinosaur
There are a ton of different ways to be a dinosaur, but we suggest going for scaly and colorful makeup.
13
Joker
Re-create the Joker's infamous look by dying your hair green or throwing on a wig. From there, apply white face paint to your whole face. Once that sets, you'll need to add the clown-like details. A large red smile that stretches from cheek to cheek and a red nose are essential, along with blue triangles above and below your eyes. Draw on red eyebrows on the top of your forehead, and get ready to spook all those around you.
14
Cowboy
Hey there, cowboy. No matter what you choose to wear, whether it be a cowhide vest or denim jeans, this costume will only be complete with a cowboy hat and boots. Now get out there and save a horse!
15
Spider
Being a spider is not only kind of creepy, but it's also kind of cute. Spiderweb eye makeup is the move here, along with spider jewelry and a mesh shirt. You'll be creepy (and crawly!) before you know it.
16
Ursula
As Ursula once said, "Life's full of tough choices, isn't it?" But being the baddest sea witch of them all is one choice that you don't even need to think twice about. You'll need to cover yourself in purple body paint (or just wear a purple and black dress), throw on your favorite conch shell necklace, and complete your look with blue eyeshadow and red lipstick. How does it feel to rule the seven seas?
18
Maleficent
Maleficent is the baddest of them all, and we're all about it. To be this Disney demon, you need to dress in head-to-toe black and pick up some horns. You can use dark makeup to contour your cheekbones and bright red lipstick for your lips.
19
Angel
If you've been nothing but good this year, you can dress up as an angel. Wear a white shirt, white pants, and a small halo. Top off your look with dreamy white wings.
20
Vampire
One word: fangtastic. A dollop of fake blood and a black or red outfit will turn you into the sexiest vampire Halloween has even seen.
21
Thing 1 or Thing 2
Pair a "Thing 1" or "Thing 2" shirt with the coziest red sweatsuit you have. After you bundle up, wear a blue wig and red lipstick to make your outfit a masterpiece.
23
Creepy Ballerina
This killer costume is all about the makeup. Create the illusion of a cracked face by using an eyeliner pencil to section off different areas of your skin. Then, use bronzer and foundation to fill them in. From there, throw on a dress and a tutu, and pull your hair up into a high bun. Your work is complete!
24
Clown
If you're into makeup, this clown look is for you. You can get as creative as you want with the eye makeup, but be sure to keep the pointy clown look in tack. Add fun details to your lips and nose to make it complete.
25
Sasha Bratz Doll
Etch the word "Bratz" into a white T-shirt, cut out the top, and throw your hair into a few pigtails to get the true Sasha Bratz doll look. Take it a step further and re-create Sasha's awesome makeup to complete the costume.
27
Wonder Woman
Wonder Woman: an icon in every way. Dress up as this superhero by wearing a red shirt, a gold headband, and gold accessories. If you're super at doing makeup, you can re-create this cute comic book look in no time.
28
Chucky
Tell us, is there anything creepier than Chucky? Re-create this scary character's look by wearing a rainbow shirt underneath overalls and pairing the outfit with sneakers. Then, draw cuts and scrapes all over your face and carry around a fake knife.
29
The Big Bad Wolf
Sorry, Grandma. If you want to be this Little Red Riding Hood character, you'll need to wear a fuzzy jacket and brown ears. Draw on a little nose and whiskers and tousle your hair to make it look mischievously messy.
30
Cat
Here kitty, kitty! One of the easiest Halloween costumes is a cat, so don't overlook it! Wear all black and then add a cat nose and whiskers with the help of some makeup. Done and done.
31
Wicked Witch of the West
Dress up as the Wicked Witch of the West by wearing a black hat with a black dress, and tons of green body paint. Then, cause mayhem all night long.
32
Wednesday Addams From The Addams Family
Braid your hair into matching pigtails and wear an all-black outfit. You'll want a white shirt underneath your top, though, for Wednesday's usual white collar to show through.
33
Holly Golightly From Breakfast at Tiffany's
A little black dress with a chunky statement necklace and small crown will turn you into the posh Holly Golightly. Put your hair in a high bun, then add opera-length gloves for good measure.
35
Rosie the Riveter
If you want to be something iconic (and easy!), Rosie the Riveter is calling your name. A red bandana and blue denim shirt will bring this costume to life.
36
Beret Girl From An Extremely Goofy Movie
As long as you have the makeup and hair down, you can become P.J.'s love interest in moments. And the makeup doesn't look too hard!
37
Scarecrow
If you have a pair of denim overalls on hand, you can turn them into your scarecrow costume. Pair them with a flannel shirt, and that's really all you need. If you want to use makeup to give yourself a scarecrow face, that'll take it up another notch.
38
Minnie Mouse
Add the magic of Disney to your Halloween by dressing up as Minnie Mouse. If you have a red polka-dot shirt, throw that on and add little mouse ears. If you have mouse ears from Disneyland, those work, too.
39
Kentucky: Zombie
To copy this idea, you'll need to load up on the gory, gooey, and bloody makeup.
41
Rabbit
Shake things up this year when you dress up as the alluring Jessica Rabbit. A satin red dress with purple gloves are key here, along with a sinfully sexy makeup look.
42
Shizuku Murasaki
If you're into anime, this Shizuku Murasaki costume is calling your name. All you need is a black turtleneck, a gold necklace, and circular eyeglasses.
43
Ariana Grande
Ari is known for her oversize sweatshirt looks, and damn, do they look warm. Find a bright pink oversize sweatshirt and pair it with black leggings or knee-high black boots. Make sure to re-create her high pony and winged liner, and add a lollipop as your accessory.
44
Winifred Sanderson
There's no denying that Winifred Sanderson is everyone's favorite witch. Not only is her look iconic, but so is her Hocus Pocus character as a whole. You can transform into this witch by sporting your brightest orange updo and wearing bright red lipstick in the middle of your lips. Now tell us, do you smell children, too?
45
Lion
Feeling wild? To be the king of the jungle, wear a brown shirt and style your hair to resemble little ears. Paint your face and add a little nose and whiskers, and you're ready to reign.
46
Devil
Being bad never looked so good, and we know this to be true. To be a devil, you can get as creative as you want. Wear an all-red outfit or paint your body in red body paint, and attach horns to your forehead. You'll look so chilling, other states will be spooked until next year.
47
Tiger
With gorgeous orange face makeup, you can re-create this look in no time. Just add a nose, whiskers, and spots and stripes! Wear a black or orange shirt to make your look complete.
48
Mulan
If you were also inspired by the new movie, you should be Mulan this Halloween! You'll need purple eyeshadow, blush, and lipstick. Put your hair in a high bun and wear a pink or purple shirt.
49
Deer
To be a deer, you'll have to dress in brown clothing and find little antlers to put on your head. Finish off the look with white-spotted makeup and a small black nose.
50
Frankenstein
Go green this Halloween when you re-create Frankenstein's iconic look. Green eyeshadow, creepy scars, and a green shirt will make this complete.