10 Amazing Hot Springs Around the World You Can Actually Soak In
Get ready to see some of the hottest destinations around the world — and we don't mean the weather. Though Budapest is the only remaining capital city in the world with healing thermal waters (check out the stunning Gellért Baths), there are plenty of global hot spots that offer amazing soaking opportunities. Ranging from totally undisturbed and natural to more luxurious retreats, the hot springs ahead contain therapeutic waters sourced from nature itself (except for the Blue Lagoon). See 10 amazing destinations ahead!
01 Banjar Hot Springs in Bali
The Banjar Hot Springs are centuries old, but they've received a modern makeover over the years. The complex is made up of four tiered pool sections around the hot spring source. The first level features eight dragon spouts followed by a large, central bathing pool with a restaurant above.
02 Nyuto Onsenkyo in Japan
This scenic hot springs village in Akita, Tohoku, consists of seven separate inns around the foothills of Mt. Nyutozan. Each one is secluded and is sourced from its own spring, which promises the visitors a unique experience for each one. Tsurunoyu Onsen, as shown, is famous for its milky waters while one of the other springs is sourced by drinkable water.
03 Blue Lagoon in Iceland
Grindavík's famous icy-blue lagoon is actually a result of runoff water from a geothermal power plant. Its healing properties are fantastic for your skin and it even offers spa treatments, food and drinks, and other amenities. Though admission isn't cheap, it's definitely worth crossing off your bucket list.
04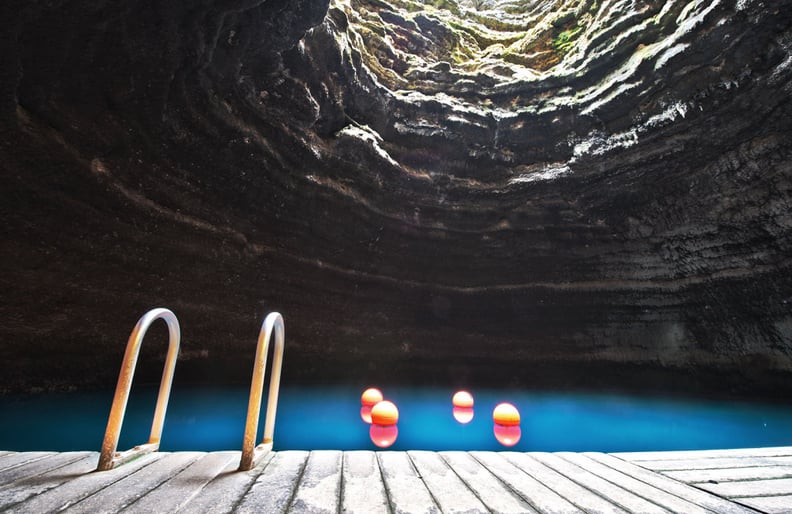 Homestead Crater, Utah
This 10,000-year-old geothermal crater at the Homestead Resort in Midway, UT, is known for its beehive-like shape and naturally heated waters. Visitors can even scuba dive, snorkel, enjoy paddleboard yoga, or soak in the crystal-clear pool. Visitors are required to make a reservation beforehand but for a cheap fee of $16.
05 Hot Springs Cove in Canada
Hot Springs Cove in British Columbia is made up of untouched geothermal pools in Maquinna Provincial Park. Getting there requires going down an easy 30-minute trail through the forest. The succession of pools can be as hot as 228 degrees Fahrenheit, but they cool to around 112 degrees as you get closer to the ocean.
06 Pamukkale Hot Springs in Turkey
This natural site in southwestern Turkey literally translates to "cotton castle," and we can see why. Its travertine terraces are a result of limestone deposited by the hot springs. You can soak in certain pools while overlooking the city.
07 Conundrum Hot Springs in Colorado
This "wild" hot spring in the Maroon Bells-Snowmass Wilderness is completely natural and open to the public. It consists of two main pools and four smaller ones that naturally heat up to 100 degrees Fahrenheit. Reaching the site does require a difficult 8.5-mile hike on the Conundrum Creek Trail, but the trek is as stunning along the way.
08 Fosso Bianco in Italy
Just outside the small town of Bagni San Filippo is a natural hot spring tucked into the woods. The massive calcium formation gives it its name of Fosso Bianco (or the "white whale") and its white-blue waters are a mix of hot spring water and cold river water. It's practically a free spa — access to the multiple pools is completely open and the thermal mud makes great face and body masks.
09 Kerosene Creek in New Zealand
This naturally heated stream in Rotorua is loved by both locals and visitors. The creek's cool waters meet the earth's hot waters for a relaxing warm temperature. Nature surrounds the little hot pools that sit by the waterfall, and bathing within the wilderness is completely free of charge.
10 Tolantongo Caves in Mexico
The Tolantongo Caves in Hidalgo are truly a spectacle. The various geological formations range from running rivers and waterfalls to small flowing cave pools. The water runs through calcium rock, resulting in turquoise water, and the surrounding views aren't so bad, either.