This Top-Rated Air Purifier Helped Me Breathe Better at Night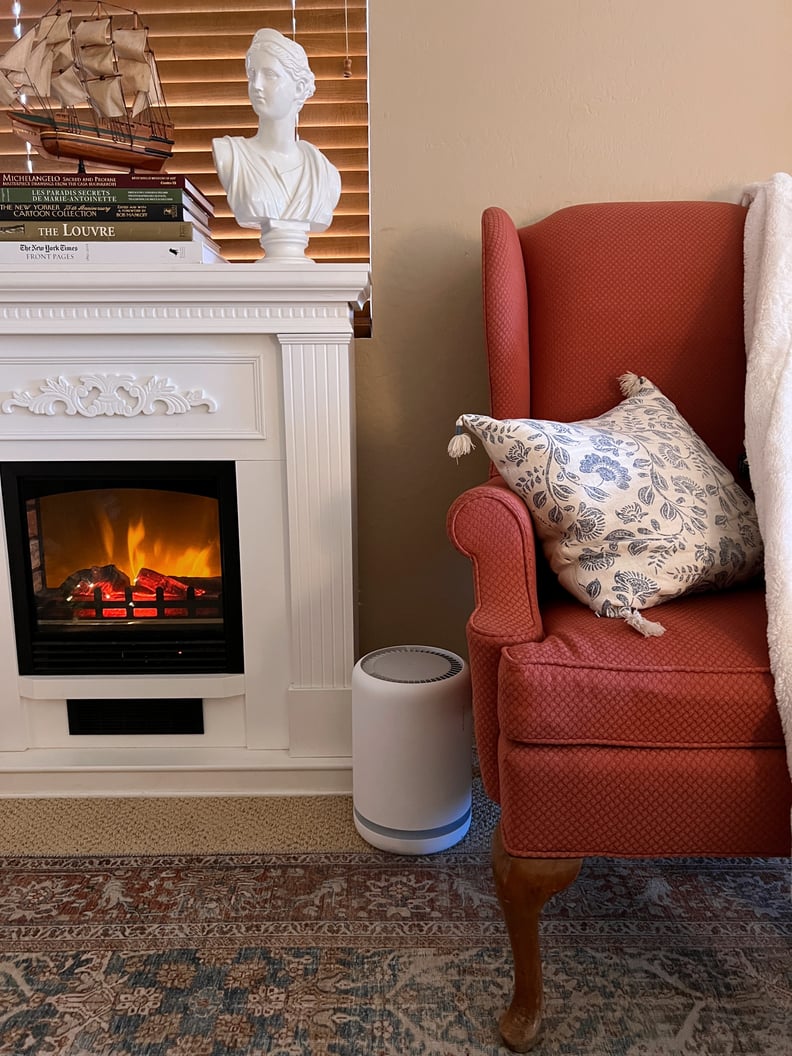 POPSUGAR Photography | Kyley Warren
POPSUGAR Photography | Kyley Warren
Every editorial product is independently selected by our editors. If you buy something through our links, we may earn commission.
If working from home has taught me anything, it's the value in dedicating time each day to step outside and get some fresh air. Don't get me wrong — my living space is incredibly cozy, warm, and clean (well, cleaner than most 20-somethings' apartments, I'd imagine), and I love the feeling of being home. But after several years of remote work and spending the majority of my weekdays cooped up inside and at my desk (often with two cats by my side), the air in my office has started to feel noticeably denser — with candles, essential oils, and a cheap duster suddenly becoming staples in my home. Between this and the last few years spent religiously wearing masks to protect from the ongoing spread of viruses and germs, I've developed a deeper appreciation for what it means to have clean air at my disposal.

Up until very recently, I'd assumed daily walks were the perfect cure-all for my lungs after a day spent inside. And while they're still absolutely essential to my morning routine, this bestselling (and internet-approved) Molekule Air Mini+ Purifier ($500) has also been a central tool in helping me to keep my home space feeling clean and my breathing at ease. The air purifier helps to improve the air quality of your home by removing toxins, bacterias, and cleansing the actual air through science-backed technology. After a month of use, I've already noticed a huge difference in my own home and have even started sleeping better because of it.
Keep reading for my honest review of this top-rated Molekule air purifier and why I'd argue it's such a worthwhile investment — especially going into the holiday season!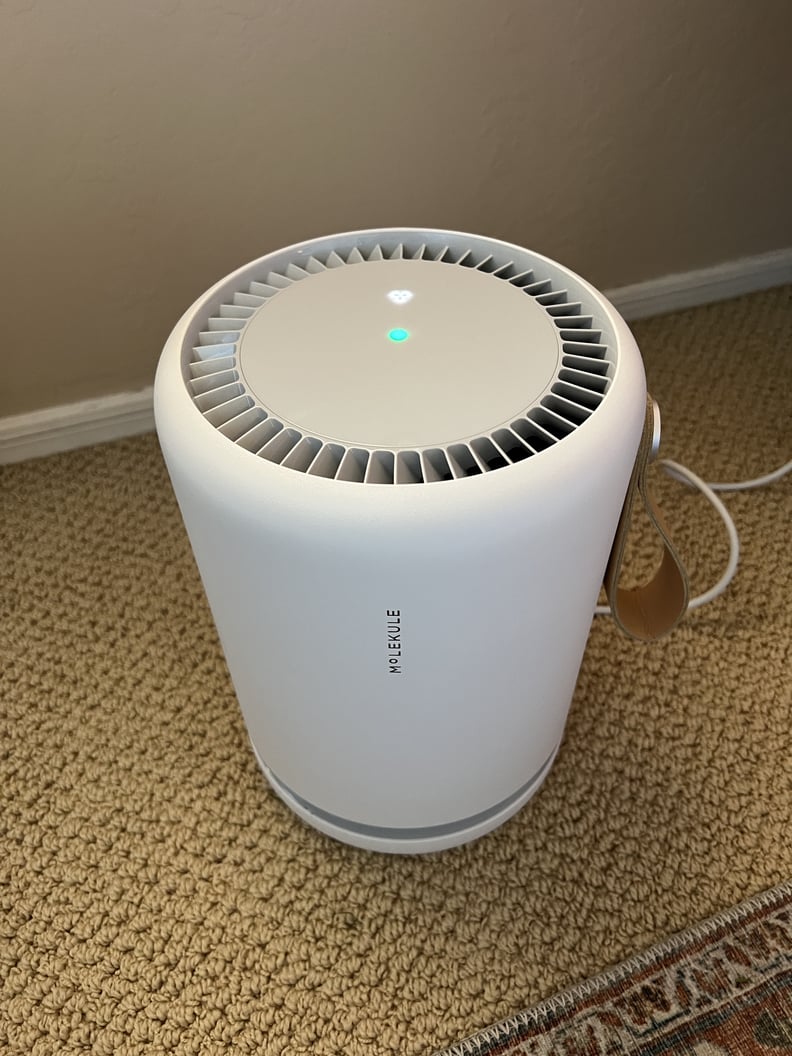 What I Like About This Molekule Air Purifier
The obvious pro to this air purifier is the fact that I can actually feel it making my home cleaner — and my improved breathing is full proof of it. My work setup is completely remote, which means that a large majority of my day-to-day life is spent inside, occupying the same living space where I sleep and eat. While there are so many benefits to working from home, even I can admit that at the end of the work day, it feels more imperative than ever that I take a moment to get outside, enjoy a walk, and just breathe in some fresh air. I'm no expert when it comes to air purification or toxins, but I'd imagine that spending copious amounts of time in the same living space can create a much denser breathing environment — especially for those who (like me!) have pets, struggle with allergies, or perhaps simply aren't able to dust down their house as often as they'd like. But with this air purifier, I've noticed a significant difference in my breathing, how easily I sleep, and how much better I feel waking up each morning.
The model is incredibly easy to set up — you simply unwrap the filter, twist the top, plug it in, and work through the steps of getting the air purifier connected to your home's WiFi. The Air Mini+ is equipped with sensors that rate your home's air particle levels from "Good" to "Very bad," not only offering a glimpse into your indoor air quality, but also allowing you to review all of it straight from your iPhone and through the Molekule app. The model also features a "distinguishing mode" that will actually auto-adjust the purifier's fan speed based on the air quality input from the sensor. In short: this Molekule Air Mini+ does all of the hard work for you in figuring out how your air space can be improved and then actually correcting its settings to meet your home's needs. As someone who doesn't have a clue about the science behind air quality (I am a shopping editor, after all!), I really appreciate the ease with which this purifier operates and immediately cleanses my space.
Another benefit to this model is in its compact, quiet, and minimalistic design. Whether it's air purifiers or vacuums, I struggle with investing in products that I know are going to be eyesores in my home — no matter how much my space (and probably health!) could benefit from them. Unlike other air purifiers, this one is incredibly compact, muted, and lightweight — the model even has a strap on the side so users can easily pick it up and carry it in between rooms. It's also much quieter than other air purifiers I've had in my home — and frankly, I barely notice it at all during the day. The purifier is running 24/7, and even still, I'm able to work, have Zoom meetings, and watch TV without any distraction or noise interruption from the product.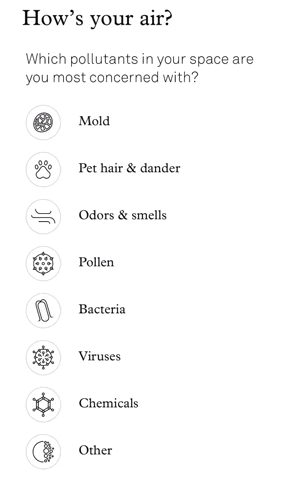 What's Worth Noting
Honestly, I have no notable complaints with this product so far — it's easy to set up, and you can feel the air purifier working its magic from the moment you turn it on. The only thing that's really worth noting with the Molekule Air Mini+ is its price tag. Unlike some of the more affordable air purifiers that you can get on Amazon or even through Best Buy, this product requires a pretty significant initial investment ($500, to be exact). Users are also recommended to replace their Air Mini PECO-Filter every six months, which requires an additional $90 splurge one to two times per year.
Is the Molekule Mini+ Air Purifier Worth the Splurge?
While it's certainly one of the more expensive models on the market, having products in your home that help to better your overall health are, in my personal opinion, priceless — especially for those who (like me!) have shifted to a more home-based lifestyle. I've seen improvements in everything from my breathing to the quality of my sleep — and even the air in my room smells fresher compared to some of the other spaces in my home. You simply can't put a price on that — though I'd argue that it's worth the splurge, regardless. This air purifier could also make for a great gift as well — especially for those people who have everything or might just appreciate receiving something a bit more out of the ordinary (but still totally practical!).
Who Is This Molekule Air Purifier Best For?
This air purifier is great for anyone who has recurring allergies, works primarily from home, or just values keeping their air space clean with little to no work. While setting up the product, users can select which pollutants they're most concerned about in their own home: from pollen and mold to pet hair and dander, bacteria, odors, chemicals, and more, the air purifier allows you to customize the settings so that it can better accommodate your living space. Regardless of what exactly you're trying to target or cleanse in your home, the air purifier is designed to support anyone's air quality needs. And with its compact design, it can easily exist in even the smallest apartments or living spaces.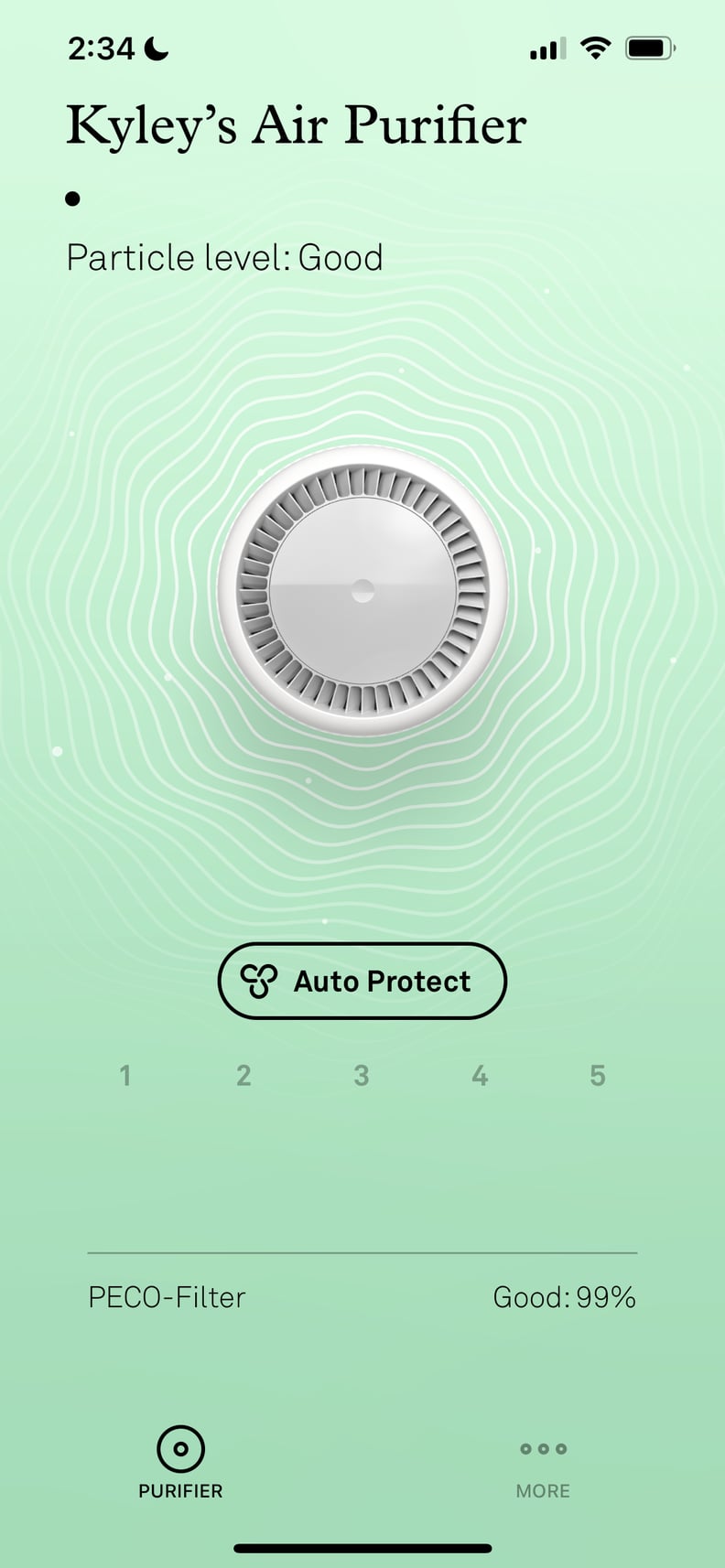 Where Is the Molekule Air Mini+ Purifier Available?
The Molekule Air Mini+ Purifier is available to shop at Molekule, Amazon ($500), Home Depot ($500), and HSN ($499).
Additional Details
The Molekule Air Mini+ Purifier aims to clean air and monitor toxins in spaces of up to 250 square feet.
Similar to other Molekule air-purifier models, this Air Mini+ does not emit ozone.
Many people are more worried about air quality simply because of the spread of viruses like COVID. In one study, Molekule claims that Air Mini+ was able to reduce the concentration of SARS-CoV-2 in the air by 99.98 percent and destroyed 99 percent of the virus on the catalyst in one hour — making it a great tool to have on hand through flu season.
Rating:
★★★★★