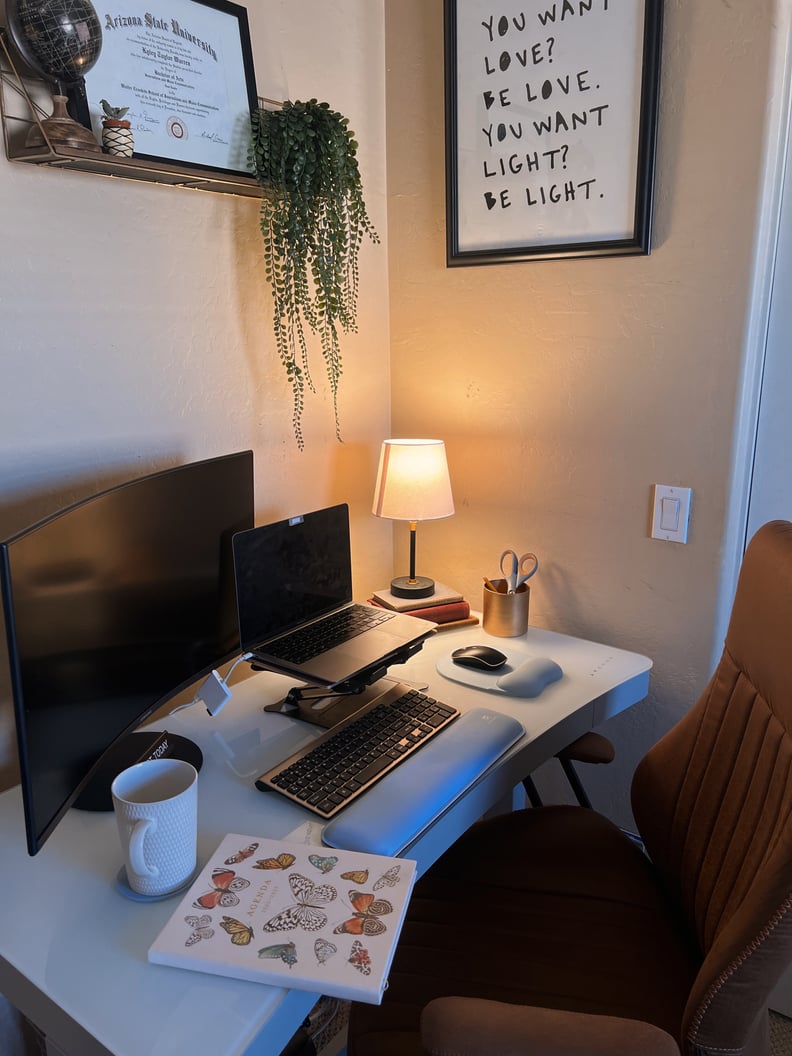 POPSUGAR Photography | Kyley Warren
POPSUGAR Photography | Kyley Warren
Every editorial product is independently selected by our editors. If you buy something through our links, we may earn commission.
Remote work has taught me a lot over the last few years — like the importance of maintaining a consistent morning routine, the simple joy that comes from taking an afternoon walk, and the appreciation you have for your neighbors when they're quiet while you're on a Zoom meeting (and the struggle when they're not). Like anything, working from home has required a bit of a learning curve, but I'd like to think that, for the most part, I've adapted to the change well.
Up until very recently, though, I had refuted this notion that a standing desk was totally necessary (or even that beneficial) for improving the quality of your remote-work lifestyle. Back in college, when I still heavily romanticized my life and genuinely believed I was the next Jane Austen (still my favorite pipe dream!), I had purchased a classic writing desk that was every bit as charming as an 18th-century antique — and, ironically, just as uncomfortable and impractical, too. After years of tolerating the desk's discomfort just for the sake of keeping my cute home aesthetic, I finally caved, realizing that it was time I invested in a proper home-office desk — for the sake of my posture, if nothing else.
I then embarked on a months-long search attempting to scope out a standing desk that could meet all of my requirements: height adjustable with electric capabilities, compact enough to fit within my home office, equipped with drawers and ample storage space, and also under $500, if possible. Much to my surprise, I found a desk that not only checked all of my boxes but was also super stylish, too — and it came in the form of this Upper Square Babin Height Adjustable Standing Desk ($420, originally $910). I've been using the adjustable standing desk in my home office for a few months now and already noticed a major difference in the quality of my work-from-home lifestyle. Read on for my honest review of the product and why I'd argue it's an essential for any fully remote employee.
What Are the Benefits of a Standing Desk?
Standing desks are said to have a number of health-related benefits, including reduction of back problems, promotion of better posture, increased muscle activity, and even just a more mobile home work environment. In certain office spaces, many users will even pair their adjustable-height standing desk with a treadmill or walking machine beneath, allowing them to burn calories, increase blood flow, and reduce stress through physical activity, all while completing their daily workload.
What I Like About This Adjustable Standing Desk
My favorite part of this standing desk has to be the built-in height-adjusting capabilities. Unlike other, more traditional standing desks that have a simple lever or crank which can be used to manually adjust the height of the desk, this electric Upper Square style features a digital control technology that gives me the ability to easily raise or lower the height of the desk with ease. Plus, thanks to the standing desk's digital control panel, I can also program three of my preferred heights and instantly revert back to them at any time. I appreciate that as my needs adjust throughout the work day, so can the space that I'm working at — and all with the simple push of a button.
If you've done any research on adjustable standing desks, then you also know that models with built-in storage compartments or drawers are very hard to come by. What's great about this model is that it does feature a deep and compartmentalized pull-out drawer that boasts enough space to hold my favorite desk essentials (like my agenda, stapler, emergency chapstick, etc.), but it's also compact enough that it doesn't force me to sacrifice my leg space beneath the desk. Most of all, though, I love this desk's easy assembly. It took me a total of 25 minutes to put this model together in full, which is especially impressive considering there are some furniture pieces I haven't even been able to unbox, let alone completely assemble, in that timeframe.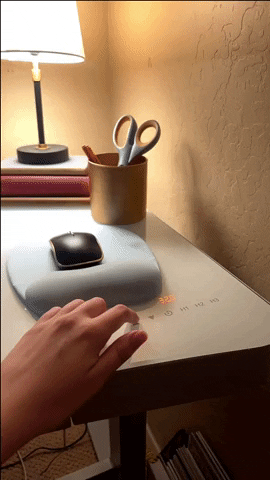 What's Worth Noting
While the desk was super easy to assemble, I will admit that it was much heavier than I anticipated. This Upper Square standing desk is made from a stainless-steel base material that's incredibly durable (making it a great investment piece) but also very heavy. This is arguably the heaviest piece of furniture I own at the moment, and that includes a coffee table, a nightstand, and a few sofa chairs. If you're someone who moves often or lives a couple floors up in an apartment building, it's worth noting that this is not as lightweight or compact as other models.
After months of scouring the internet for the perfect adjustable standing desk, I also know that this is by no means the cheapest model, and it certainly requires more of an investment compared to Amazon's selection of under-$100 standing desks. That being said, this is one of the most affordable options I've found in the automatic-standing-desk category. And if you're someone who isn't expecting to go back into the office anytime soon, I think you'll appreciate splurging on a more durable, long-lasting, and easy-to-use standing desk like this one.
Who Is This Adjustable Standing Desk Best For?
Whether you work from home full time or just require a comfortable home-office space to use as needed, this desk is truly a practical and worthwhile purchase for anyone. I have been working remotely since 2020 and have gone through a lot of different desk options since then, but in only a few months, this standing desk has already managed to stand out. Also, if you're active or someone who worries about embracing too much of a couch-potato lifestyle while working from home (we've all been there), then this adjustable standing desk really is the perfect investment. My body already feels so much better through the increased mobility I'm afforded with this model, and I have a feeling it will be a staple in my home office for years to come.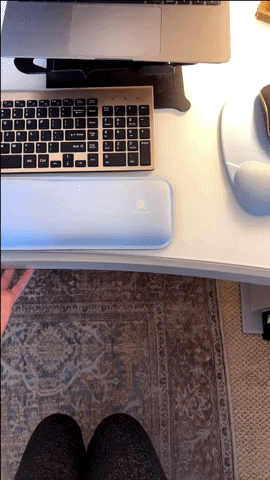 Where Is This Adjustable Standing Desk Available?
The Upper Square Babin Height Adjustable Standing Desk is available to shop at Wayfair ($380, originally $910).
Additional Details
Unlike other desks, this height-adjustable desk features a glass-top material that's compatible with dry-erase markers — meaning you can write on the desktop space as needed and also just as easily wipe it down with a glass cleaner.
The desk boasts a programmable memory-controller technology, which allows users to set and save their height preferences so that they can adjust the height of the desk just by pressing a button.
This Upper Square Babin Height Adjustable Standing Desk also comes with three built-in USB ports on the side of the model, so you can easily charge your phone, laptop, or any other electronics without the hassle of a ton of cords beneath.
With a stainless-steel base material, the desk is incredibly durable, allowing users to pile up plenty of home-office essentials on top (like laptops, monitors, audio systems, desk organizers, etc.), all without having to worry whether the desk can withstand the weight.
Rating:
★★★★★