10 Things You Have to Do When You Visit Santorini, Greece
Photo by Lauren Breedlove
Photo by Lauren Breedlove
You've successfully transported yourself to your chosen vacation destination: the blue-and-white-peppered island of Santorini, Greece. After checking into your travel abode, taking a load off for a hot second feels like well-deserved bliss. But what now? If only you had a handful of solid ideas in your pocket to take care of those first 24 hours when you're shaking off that "just-arrived-eyelids-heavy-no-clue-what-to-do-first-but-don't-want-to-miss-anything" haze you're so gracefully sporting. That's where we come in with a lovingly curated guide to get your Greek-cation rolling on the right foot. We're gifting you with the perfect first day on location, and yes, it includes feta. Perfection may not realistic, but damn, if we can't come close.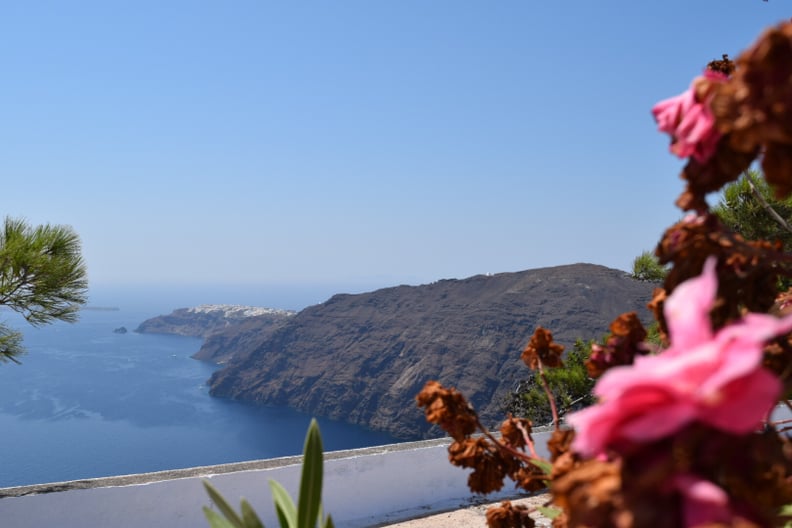 Hike Between Oia and Fira
Start your premiere day bright and early with Greek yogurt . . . because Greece. Plus, you'll need your energy for the best way to take in all the in-betweens of Santorini with the Fira to Oia hike. Go hard with this trek on foot measuring just under 10 km (6.2 miles) one way of pure beauty. It'll be nice to stretch those legs after all those hours on a plane. And the caldera views? They'll more than make up for the effort. Go early before the heat level reaches scorching.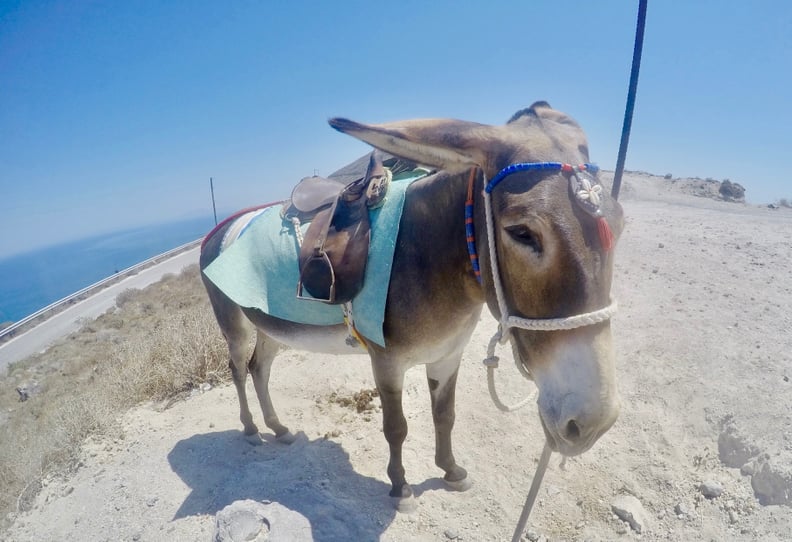 Meet the Some of the Locals
The people are fantastic, of course! But partway through your hike, you'll encounter some donkeys, and this is a quintessential part of the Santorini experience. Go ahead and try not to fall in love.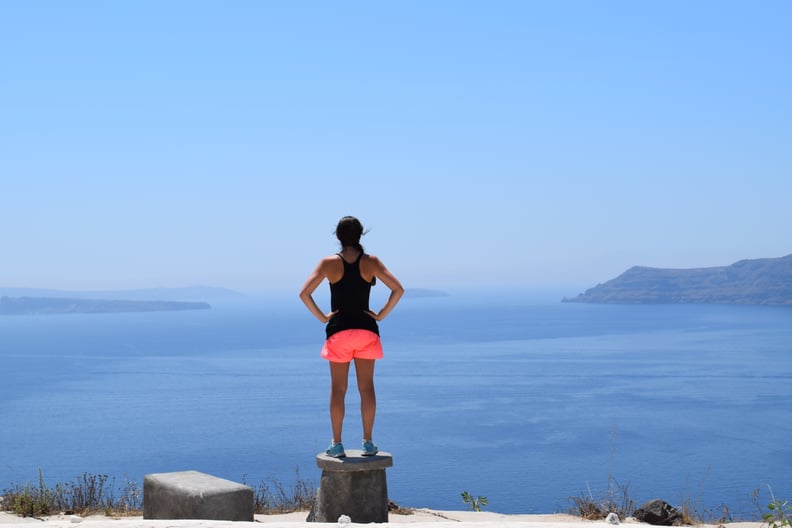 Breathe and Take In the Views
That Greek-infused sea air. You'll be hiking anyway, so a deep breath will come naturally either way. Make sure to stop and take in the endless ocean views.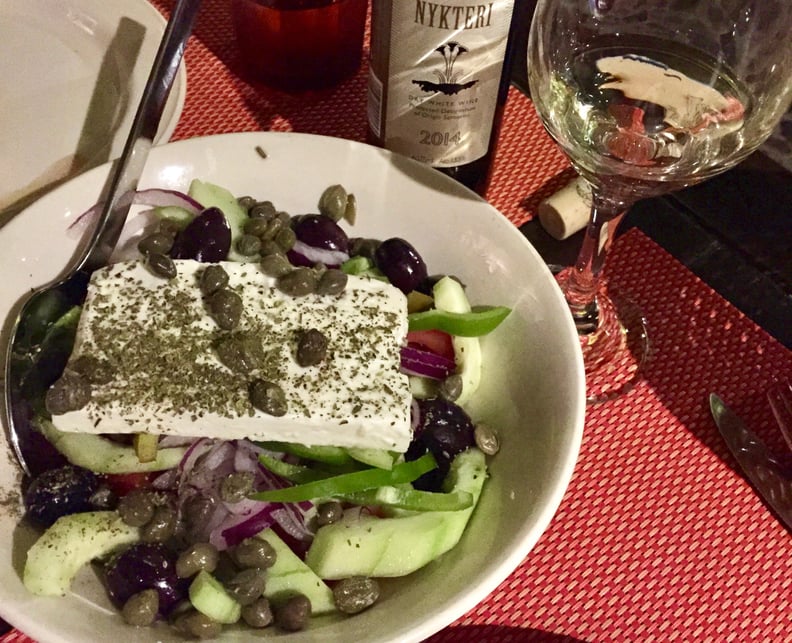 Indulge!
Hiking hangriness will just start to settle in as you arrive in Fira to wrap up your epic hike. Lucky for you, there's a brick of feta cheese awaiting you at the Pelican Café & Restaurant. An actual brick of feta. As you indulge, you'll contemplate if it's possible to build a house out of these blocks of cheese, because wouldn't that be the best unsustainable house out there?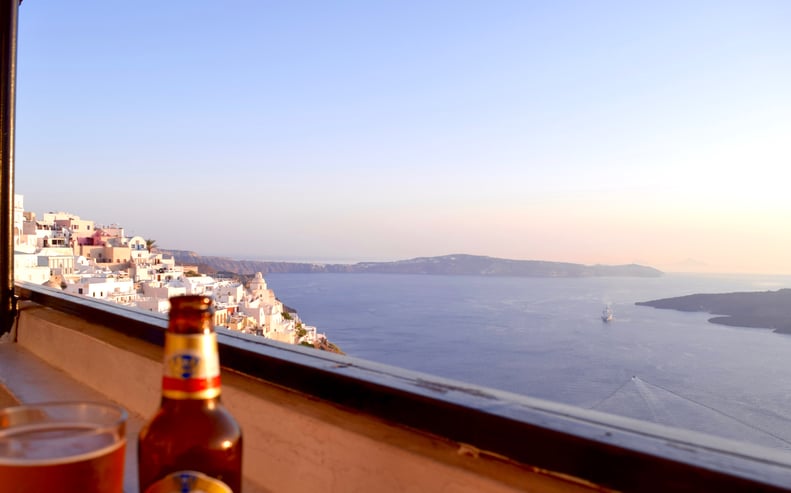 Find Happy
Hour, that is. You'll need something to wash down that brick-o'-feta, obviously. Pop over and take a seat for what might be the best happy hour view on earth at Tropical Bar in Fira. Who says happy hour can't start at lunch time?
Stroll Through Oia
After heading back to Oia via bus or taxi, and a much-needed shower, let yourself get lost while winding the impossibly quaint streets of the famous Oia.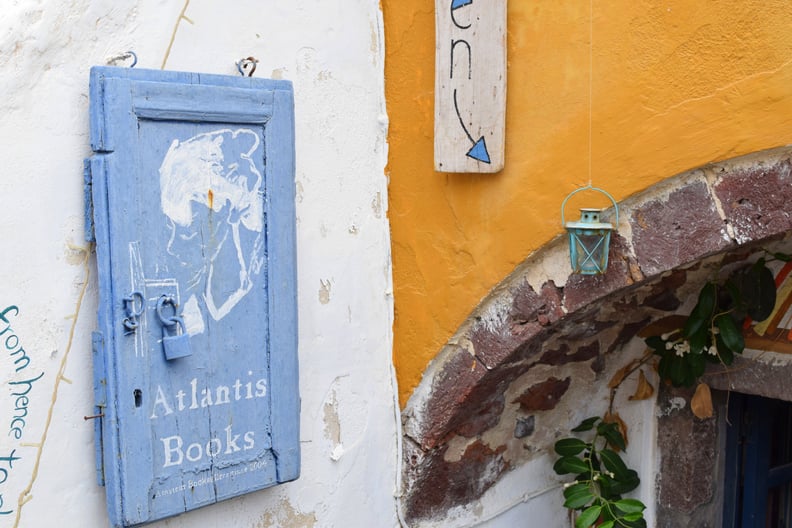 Browse the Shops
Strolling induces window shopping, naturally, and all the cozy little nook shops tucked into the streets of Oia will beckon you inside. Make sure you stop into one of the coolest bookstores in the world, Atlantis Books. Pick up a solid read for tomorrow's beach day and chat with the current shopkeeper.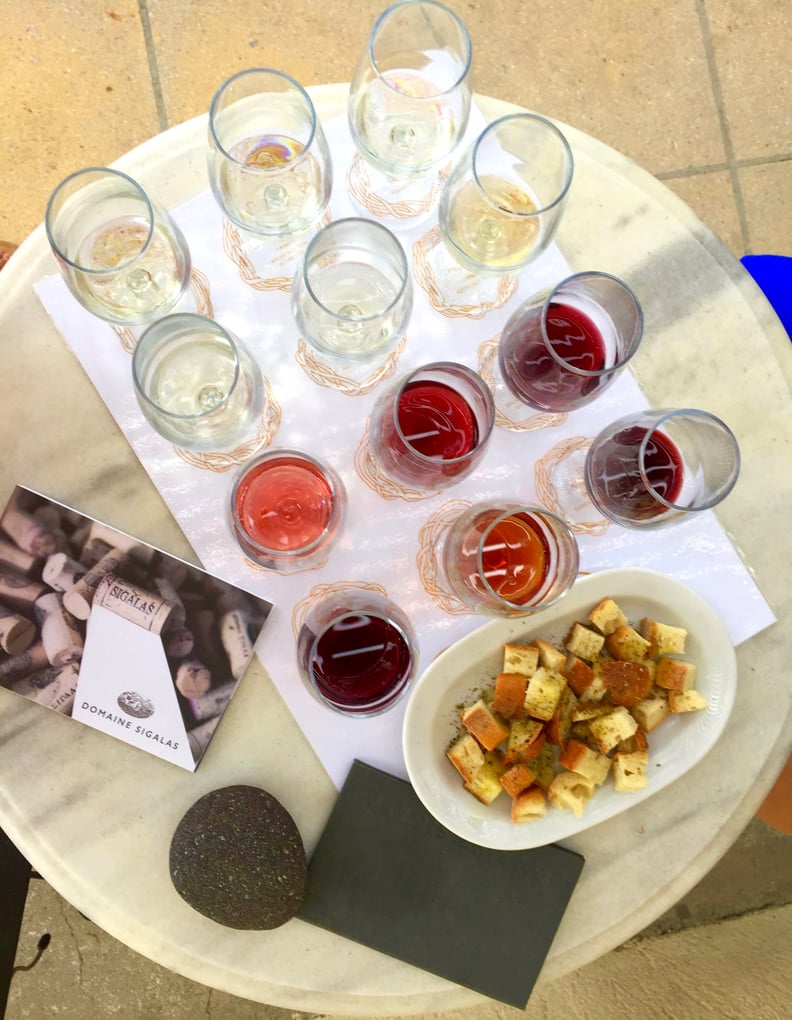 Taste the Local Wines
The local wines await just outside of Oia at Domaine Sigalas, happy to fulfill the position of "second happy hour." (Yes, it's a real thing — just like second breakfast.) Order the "all-in" tasting to keep your wine FOMO at bay. Don't worry, the little bread cubes will hold you off until dinner.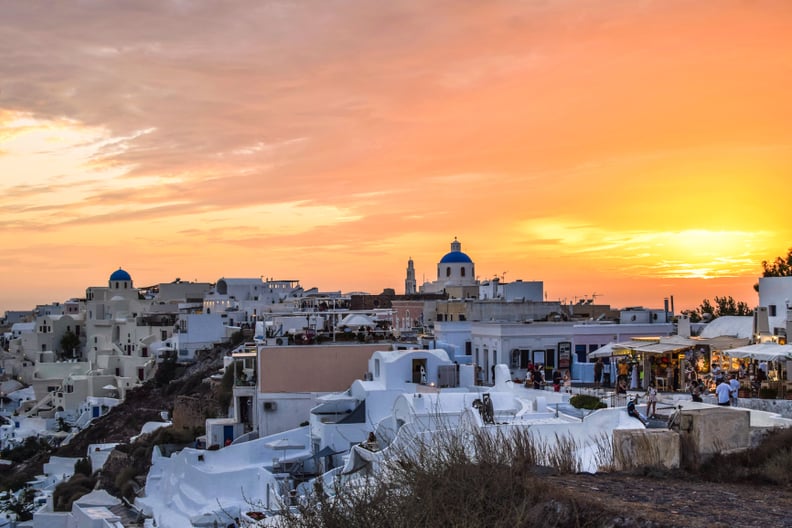 Absorb the Sunset
Santorini's sunset spectacular is the island's most famous draw. And for good reason. There's nothing quite like viewing the sky lit ablaze over the blue and white cliffside buildings skirting the sea. There are popular spots where literally every tourist in the land perches themselves to watch. However, if crowds aren't your thing, walk south a bit and you'll find your own corner of paradise sans crowds.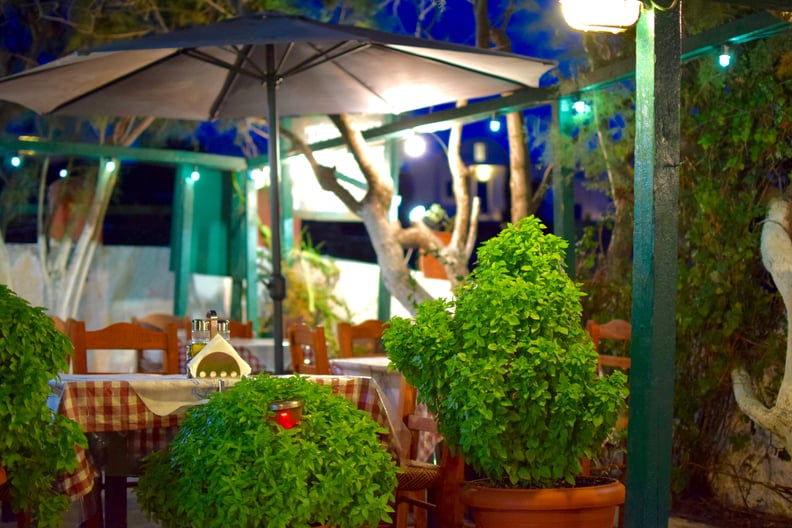 Dine at a Traditional Greek Taverna
Dinner at a traditional Greek taverna is the only way to wrap up your stellar first 24 hours. Santorini Mou, where their goal is to make you smile, offers solid eats, kilos of wine, and live music. It's the perfect way to celebrate your perfect first day in Santorini. Let's be real, it's hard not to have a perfect day in a setting like this. The Greeks like to party . . . who knew?