10 Apps That'll Basically Plan Your Wedding For You
Congratulations, you're engaged! Now what? If you're past the point of scrolling through #WeddingInspo hashtag on Instagram or getting wedding centerpiece ideas from Pinterest, it's time to get the ball rolling on the actual planning stage. And guess what? Downloading a wedding planning app is just the place to start!
If you're your own wedding planner and want to stay ultra organized throughout the process, the right app can do wonders to keep everything running smoothly until you walk down that aisle. From managing a huge guest list to finding the most picturesque venue (and, of course, doing it all within budget under a certain time frame), there's quite a bit that goes into planning a wedding. Fortunately, these apps can handle it all, no matter how big or small your wedding may be. Ahead, check out the top 10 wedding planning apps you'll want to download for your big day.
01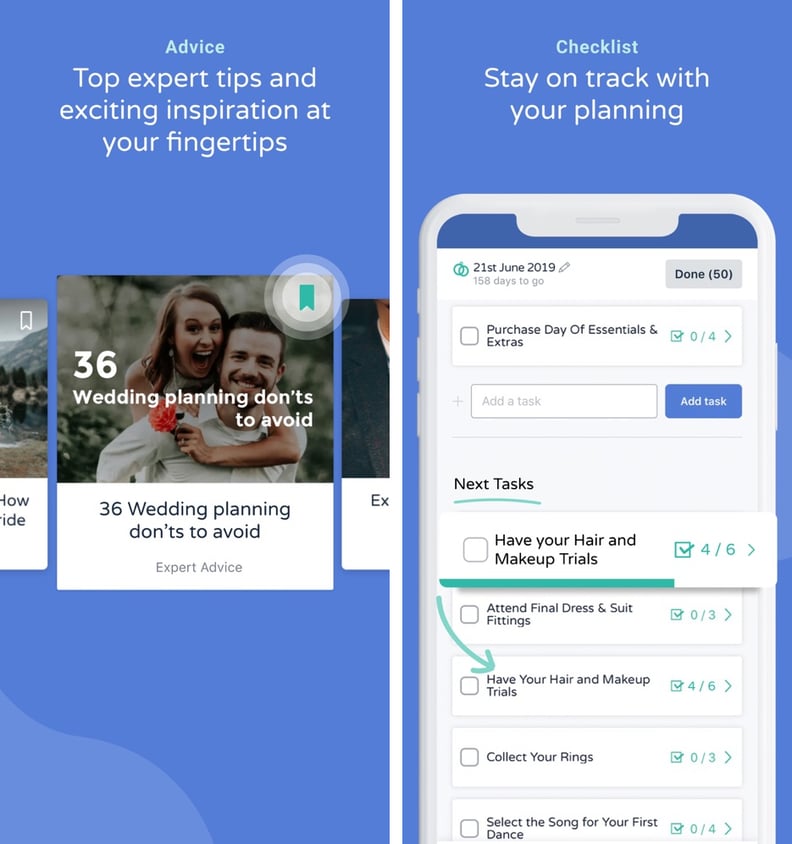 Bridebook
If you're overwhelmed about planning your wedding and have no idea where to start, look no further than Bridebook. The app features tons of wedding advice, planning tips, and resources that you can refer to at any time. You can easily manage everything and everyone involved, including your vendors, RSVPs, and your own notes thank to its handy virtual scrapbook.
02
Appy Couple
Appy Couple is the ultimate wedding planning app if you have a big family and an extra long guest list. The app can organize your RSVPs by groups, plus ones, and even dietary restrictions, so you won't have to keep track of all your guests by yourself. When the reception is over, guests can also share and collectively view their photos conveniently within the app.
03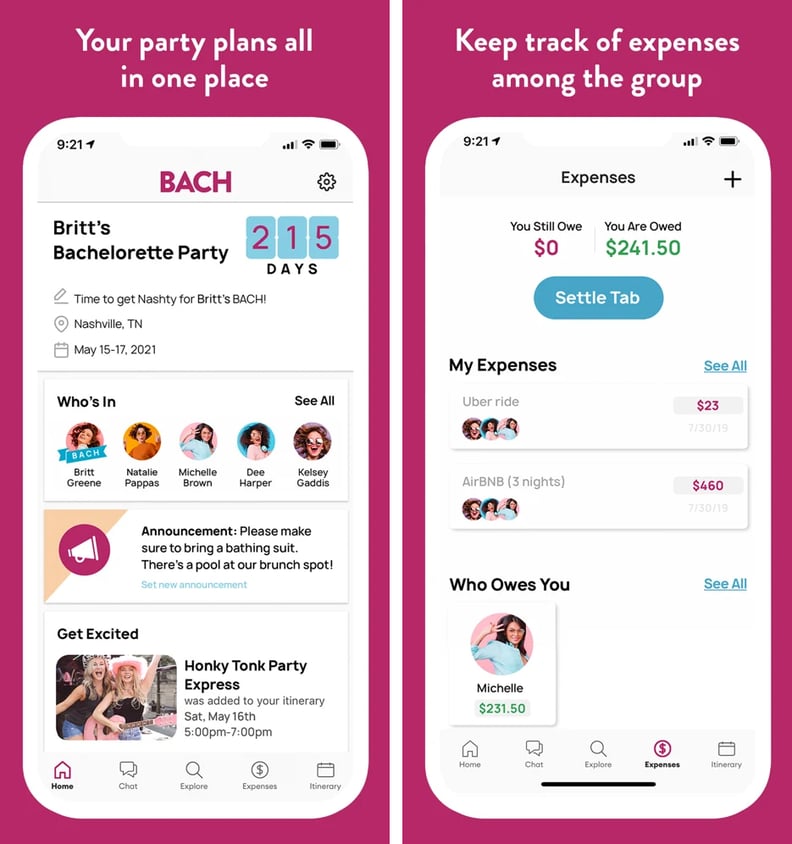 The BACH
Brides, point your wedding party in the direction of The BACH. Designed specifically for planning a bachelorette party or bridal shower, this app has everything you need to pull off the best prewedding event for the bride to be. In addition to organizational tools like checklists and expense tracking, The Bach allows for multiple collaborators and in-app polls. Plus, if you're planning a specific activity or any out-of-town excursions, you can book and save the details within the app.
04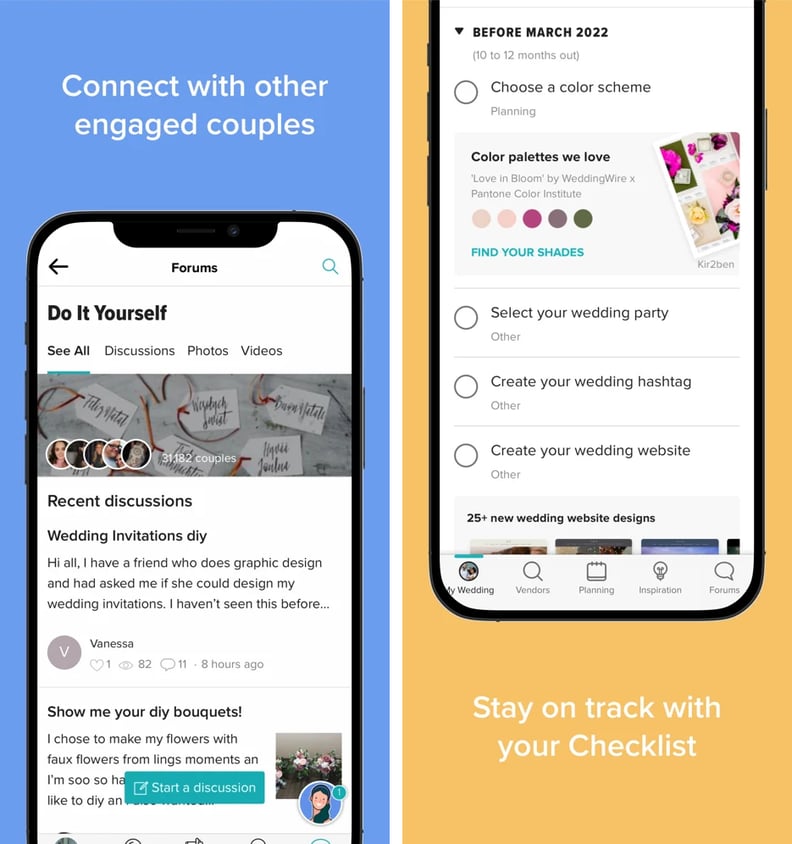 WeddingWire
WeddingWire is like having your own wedding planning team right in your pocket. Along with a customizable to-do list and plenty of tools that help you keep track of every little wedding detail, WeddingWire also has a community feature that allows you to interact with other engaged couples to share information and ask for advice.
05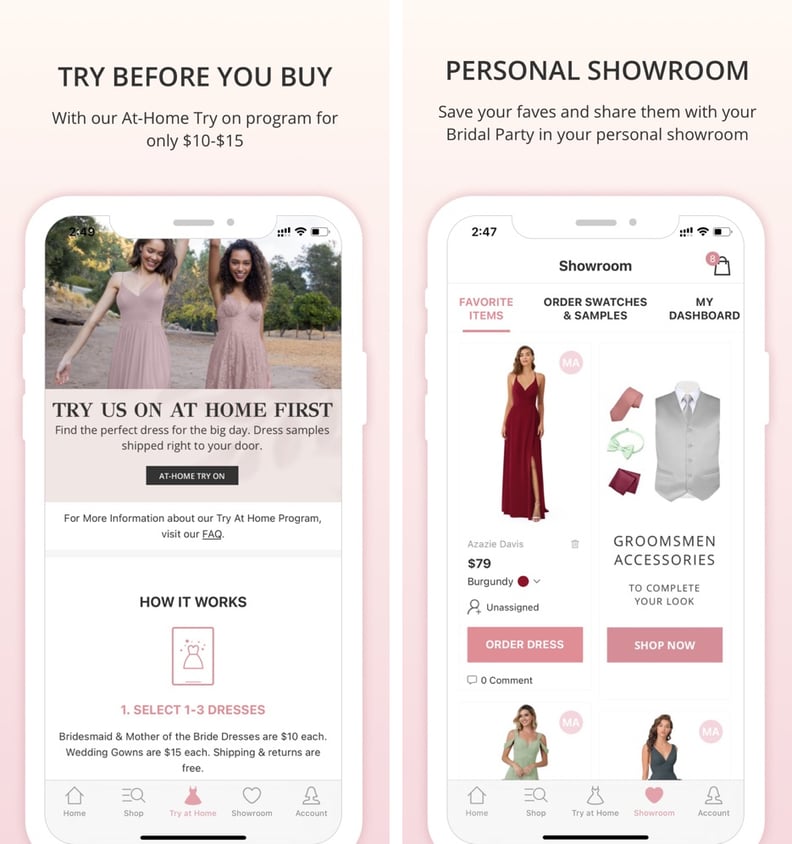 Azazie
If your bridesmaids have different styles and sizes, save a trip to the bridal shop and download Azazie instead. With this app, bridesmaid dresses that you can try on before purchasing are sent directly to your doorstep. Shop by trend, length, color, and more to find just the right one. When your bridesmaid finds the perfect dress, Azazie will custom tailor it at no additional cost.
06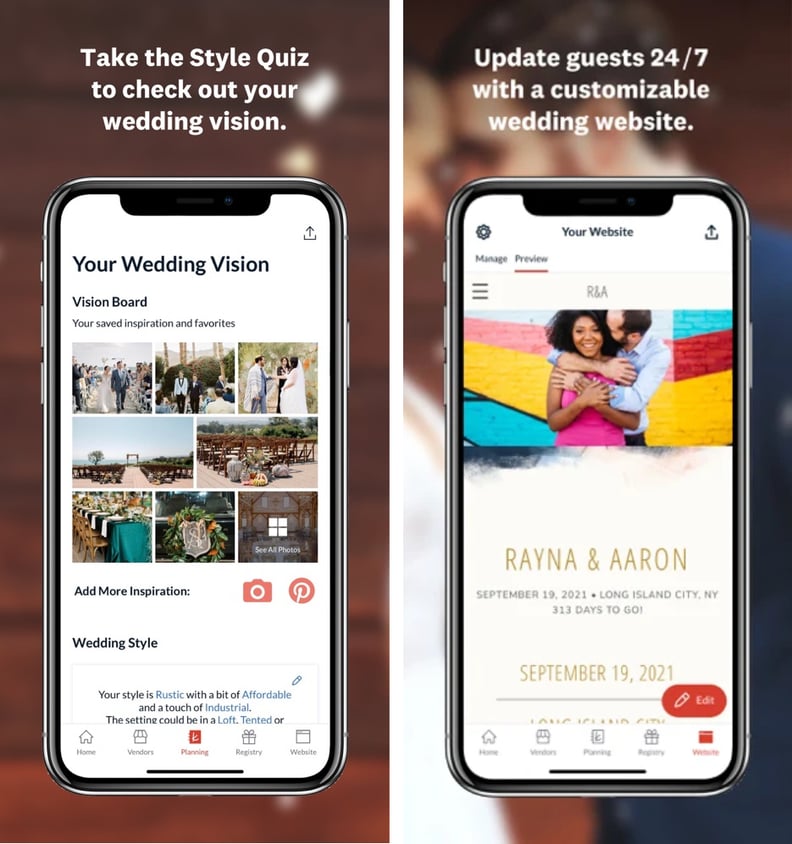 The Knot
Manage your wedding invitation website, gift registry, and planning checklists with The Knot. After completing a style quiz to establish a theme for your wedding, you can find venues, vendors, and everything you need to match it. The app includes a countdown, budget tracker, and real time RSVPs connected to your personalized website, so all your wedding details stay up to date.
07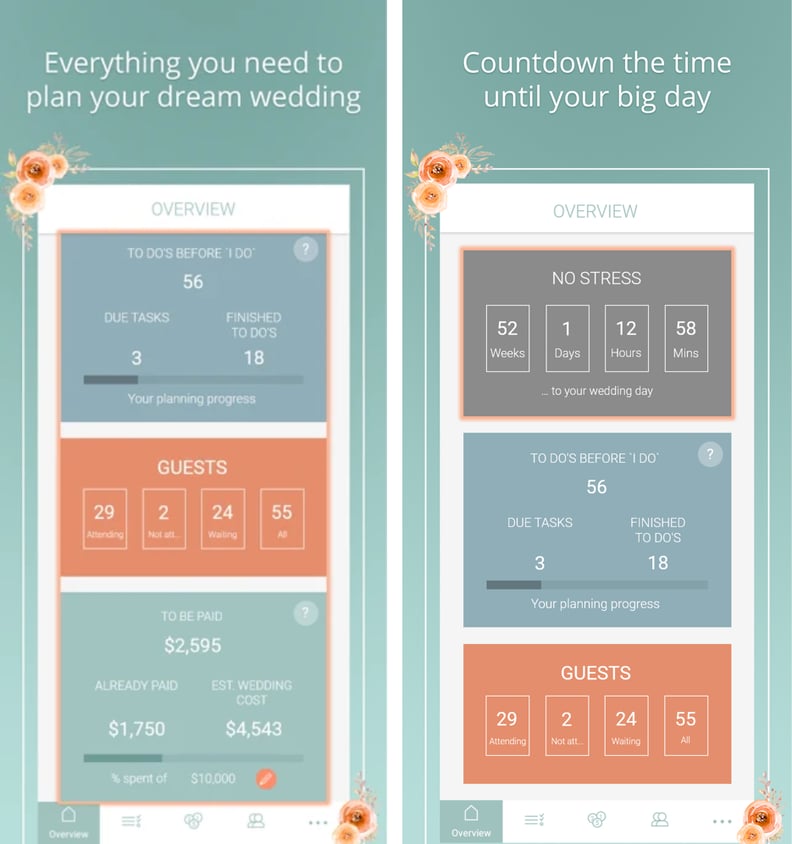 Wedbox
As many married couples can attest to, the wedding planning process flies by. If you're not on top of things and you're scrambling as your wedding date approaches, Wedbox is here to help. To keep you on track, the app organizes tasks in a personalized timeline and gives you notifications to remind you of what needs to be done on a day-to-day basis. If you're not sure when or how far in advance you'll need to do things, you'll definitely want to download Wedbox.
08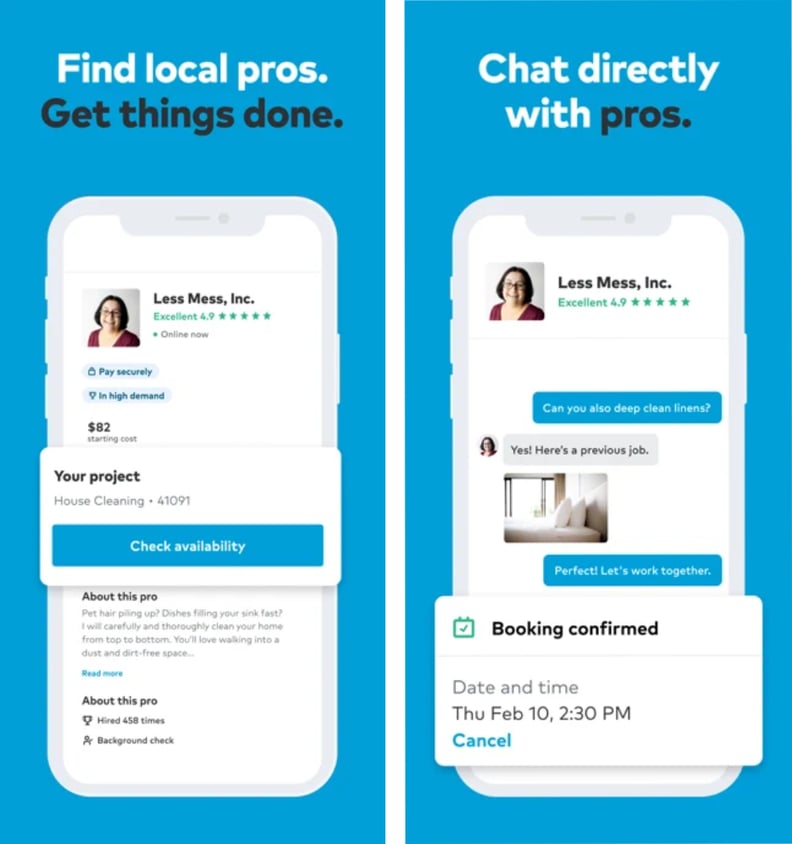 Thumbtack
Stop frantically googling "wedding decorators near me," and download Thumbtack instead. Whether you need a last-minute wedding photographer, someone to do your makeup, or the cake decorator of your dreams, you'll be able to find the right person on Thumbtack. Just make a profile and input your zip code, and Thumbtack will connect you with tons of local professionals to hire for your wedding.
09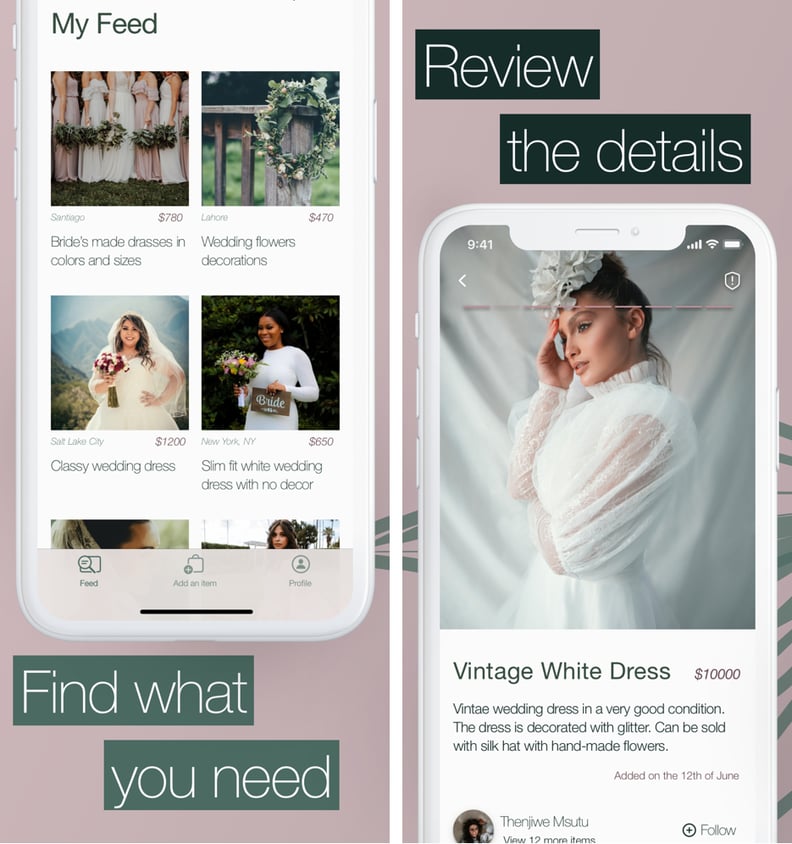 The Wedding Swap
Planning your wedding on a tight budget? The Wedding Swap can save you a considerable amount of time and money. The app allows you to buy and sell secondhand wedding-related items including decorations, accessories, or anything you'll only use once for the occasion. If you don't want to resort to wedding DIYs, you'll certainly find more time and budget-friendly options on The Wedding Swap app.
10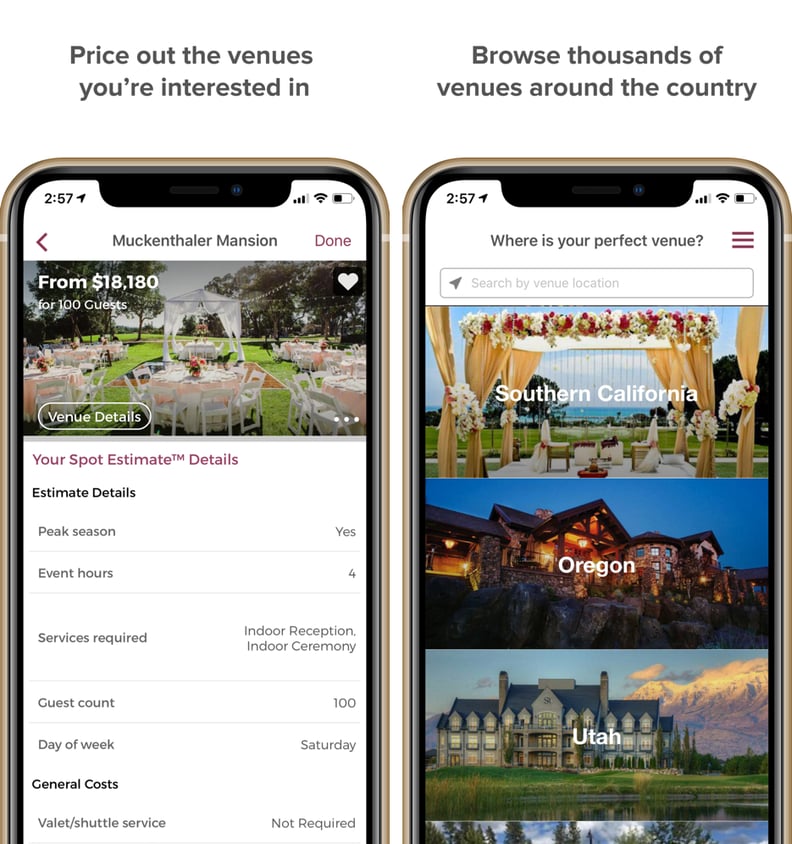 Wedding Spot
Having trouble finding the perfect venue, or at least one that actually has availability on your wedding day? On the Wedding Spot app, you can conveniently browse thousands of wedding venues by location, style, guest count, and date. You won't need to call to get a price quote, and booking an appointment for an in-person tour is free, too.