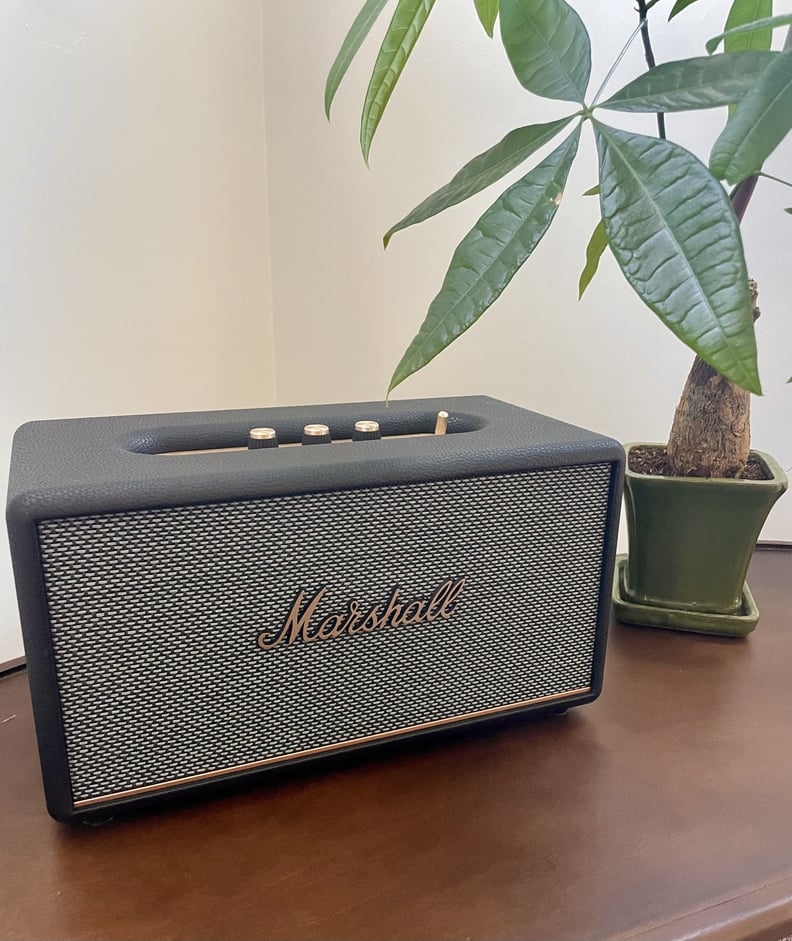 POPSUGAR Photography | Haley Lyndes
POPSUGAR Photography | Haley Lyndes
As POPSUGAR editors, we independently select and write about stuff we love and think you'll like too. If you buy a product we have recommended, we may receive affiliate commission, which in turn supports our work.
If you catch me at home at almost any point in the day, you'll find me listening to music. When work gets off I switch from my speaker to headphones for a run, and when I come home you can find me showering with my Bluetooth speaker on blast in my bathroom. For years I've been a devoted Bose girl, and I love the brand still, but for an elevated home listening experience that's not portable I tried out Marshall's Stanmore III speaker ($380), which plugs into the wall and has tweeters and a higher frequency range to fill up my whole home. It only took one play of my Spotify list to be blown away by how crystal clear this speaker's sound is — it was like hearing my music in a completely different way.
What I Like About the Marshall Stanmore III Speaker
There's not one complaint about this speaker. The way it plays music is incredibly captivating and fills my entire 750-square-foot apartment with rich sound. Simply turn on any song and you'll be sucked into details you've never noticed before like deep bass, a prolific melody, or a song's grand instrumentals. The listening experience is almost immersive, and that's what I love about the Stanmore III: you close your eyes and it's like the band is playing in front of you. It's a powerful speaker that packs a punch as soon as you switch it on, and it's incredibly easy to use.
The Stanmore III is set up with Bluetooth as well as 3.5-millimeter and RCA inputs that make it easy to get the sound you want. Personally, I connect with Bluetooth and the speaker links in a matter of seconds. The Marshall Bluetooth app works as a remote control by allowing you to adjust its bass and treble from anywhere in your home (although this can be done on the speaker as well). Additionally, the app keeps the speaker up to date with new software additions so that it sounds as robust as possible for as long as possible. Which, when dropping hundreds of dollars on a speaker for your home, isn't such a bad thing.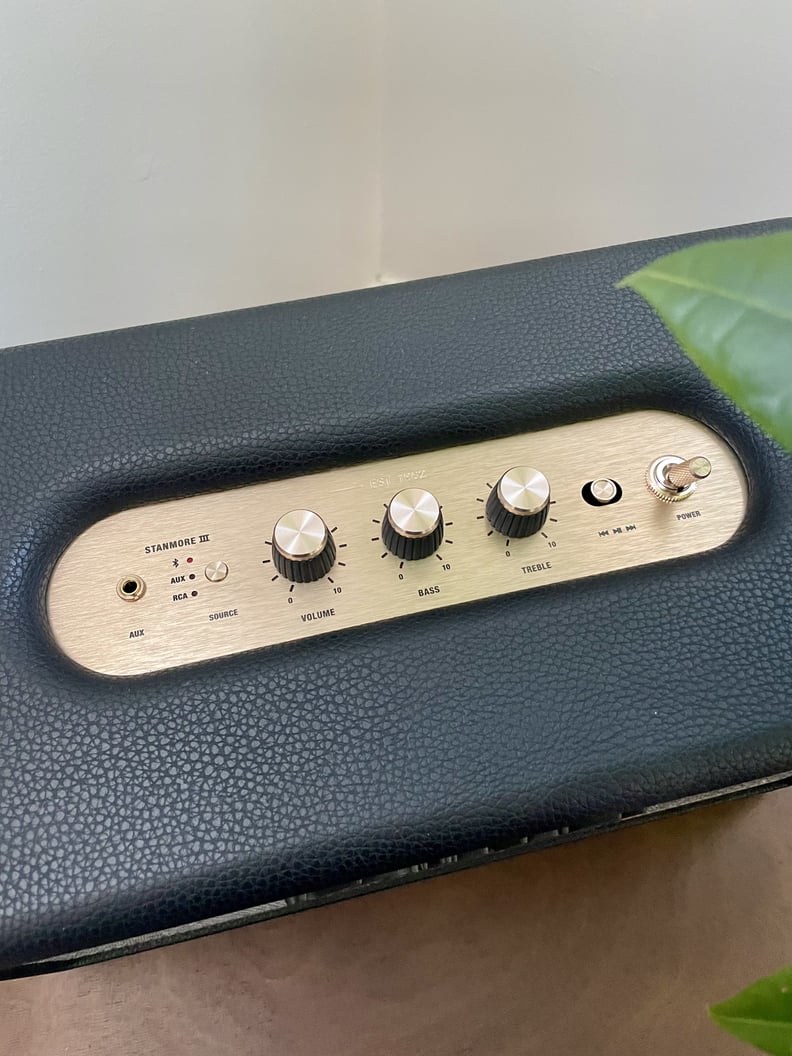 What's Worth Noting About the Marshall Stanmore III Speaker
Like a piece of furniture or new paint color for your wall, there's a lot to consider before purchasing an audio system for your home. For starters, this speaker does not work wirelessly as it's meant to stay plugged into your wall. Second, as great as its loud audio is, if you have a small home you might not need all the punch that this speaker packs. To be honest, my apartment probably couldn't handle it at full volume for an extended period of time without a noise complaint, but with that being said, it still sounds wonderful at lower volumes.
Another detail to consider is that the Stanmore III is large. In fact, it takes about two hands to carry it around the house. Its dimensions are 13.78 by 8 by 7.4 inches, and while it's meant to be stationary, its size is important to consider if you set it on a shelf or table — you don't want it to be too big.
Who Is the Marshall Stanmore III Speaker Best For?
If you enjoy unwinding after a long day by listening to smooth and clear music or you like to host and entertain, the Stanmore III is the speaker for you. Its sound can fill up a room, and its classic and retro look will effortlessly blend with almost any part of your home. This speaker is best meant for music playing; I wouldn't recommend hooking it up to a TV.
Is the Marshall Stanmore III Speaker Worth the Splurge?
If you love listening to music and care about its sound quality, the Stanmore III is 100 percent worth the splurge. It's a speaker you'll have for a long stretch, and its style is classic and will transcend the test of time.
Additional Details
It's available in black, cream, and brown colorways.
The speaker has bass, treble, volume, skip, and forward control knobs, as well as a play/pause button and a power switch.
Its Bluetooth ranges up to 30 feet.
The Stanmore III's frequency range is 45 to 20,000 Hz.
Rating
★★★★★