It seems like every day there's a new form of online dating. No matter what type of relationship you're looking for — from the forever kind to the friends-with-benefits kind — there's an app for that! I've been hearing my girlfriends discuss their wins and losses with a variety of online-dating phone apps, so I'm breaking down the newest means of tech-based courtship.
— Additional reporting by Ashley Paige
Related:
Find Your New BFF With This "Tinder For Girl Friends" App [1]
20 Times Tumblr Totally Nailed What Dating Is Really Like [2]
The 1 Thing I Wish I'd Known Before Using Tinder [3]
Here Are the Most Attractive Names in Online Dating [4]
Bumble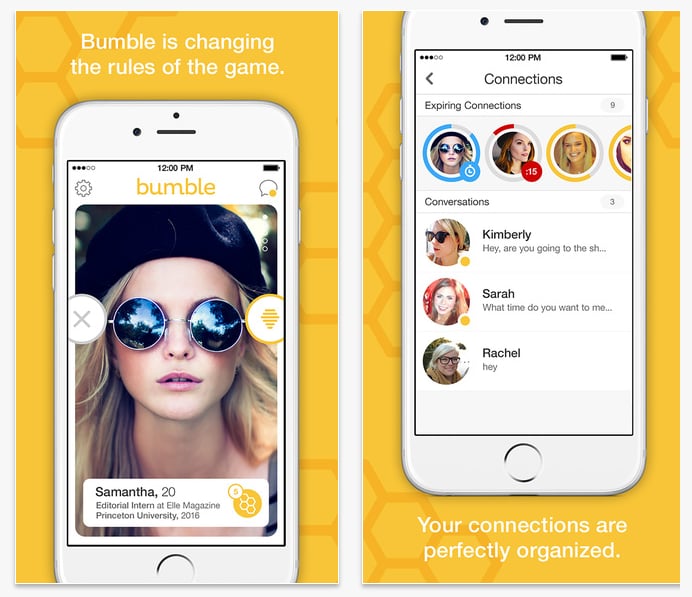 From the minds of previous Tinder executives comes Bumble [5], a newly released iOS app that lets women run the show. Like Tinder, Bumble lets users swipe right to approve and left to decline. If two users mutually swipe each other right, they are allowed to chat, but here's the kicker: Only women can initiate the conversation, and they only have 24 hours to do so before the connection disappears.
Tastebuds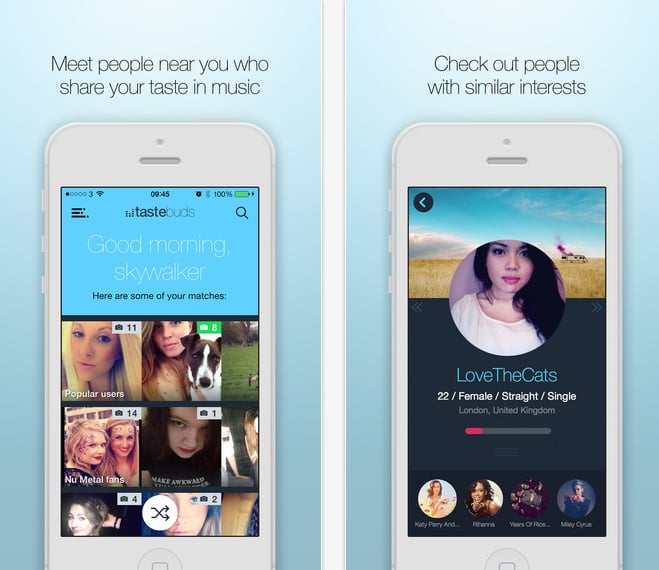 Tastebuds [6] puts a spin on your run-of-the-mill online dating app by making the experience about music. You're matched up with people in your location based on a shared interest in the same kind of music! The app allows you to add your favorite bands or scan your iPhone music library to begin and go from there. According to the site, a lot of people use it to make new friends and concert buddies as well as to find dates.
Score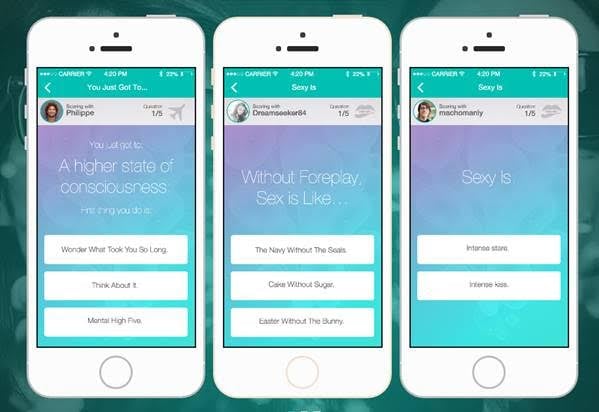 Score [7] works to pair up users with real emotional compatibility based on matching scores. The scores given depend on answers to "quirky" questions, such as the definition of sexy. If you're looking for something unconventional and a little wacky, try Score for yourself — it's available on both iOS and Android.
Happn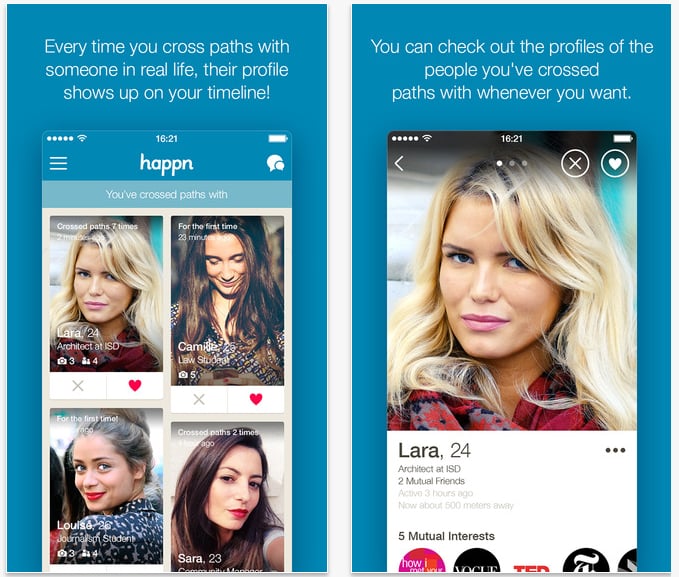 This one claims to be "the app to discover the people you've crossed paths with, the people you like, [and] the people you'd like to find again." How does Happn [8] work? Every time you cross paths with someone in real life, their profile shows up on your timeline. When you've both liked each other, you have a Crush, which lets you begin a conversation. Bonus: Happn integrated music to its platform to allow users to add songs onto their profiles and send songs to their Crushes!
Fliqpic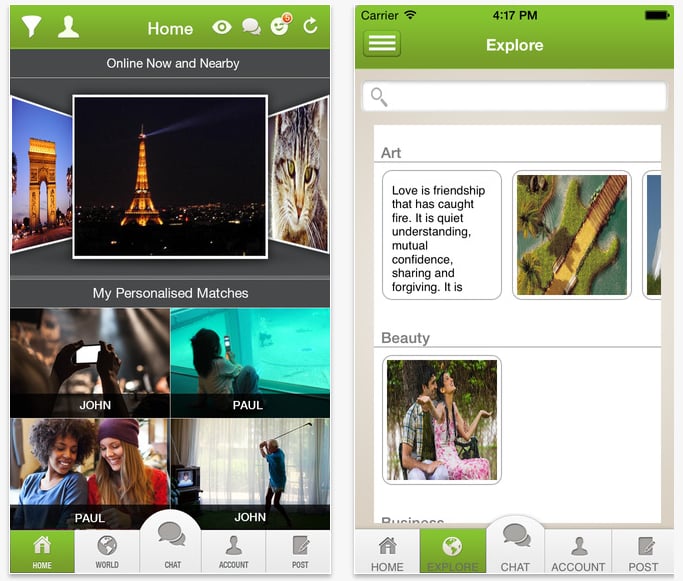 Have you always wanted to be able to see your potential date IRL before actually going out? Say no more: Fliqpic [9] is close enough, allowing you to live video chat potential love interests before deciding to pursue them any further. It's pretty safe to assume that catfishing is minimal on this app — we're all about that!
Tindog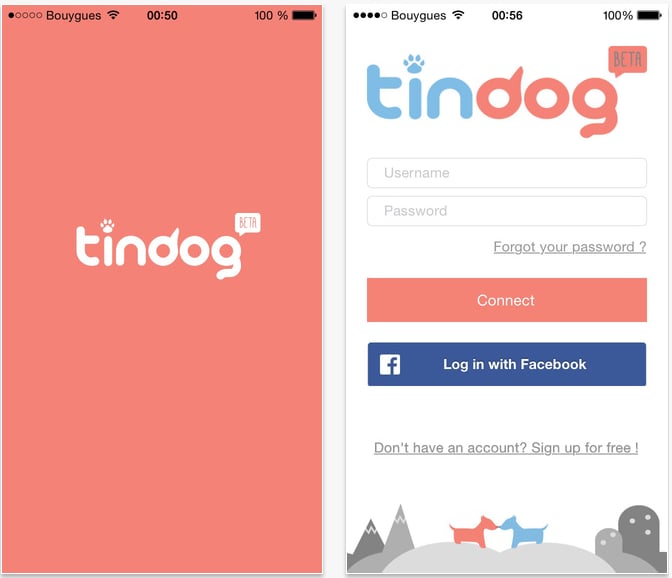 Dog-lovers, meet your potential soulmate on Tindog [10], the dating service for pet owners. On this platform, you'll discover other canines and their owners in your area, and you can swipe right if you're interested! (Sound like something you know?) Never walk your dog alone again; you might just find puppy love on this one.
Once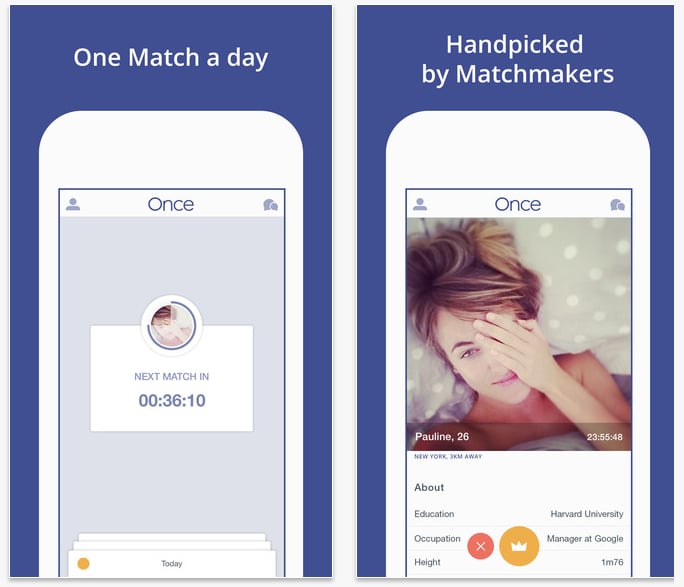 Ever feel completely overwhelmed by all the matches or messages you get on dating apps? Sometimes there are so many, you don't even know where to start! Once [11], available on Google Play and Apple, solves that problem by providing you with just one match per day. You have 24 hours to decide if you like each other, and then you can go from there. It's a nice break from all the faces being thrown at you.
Align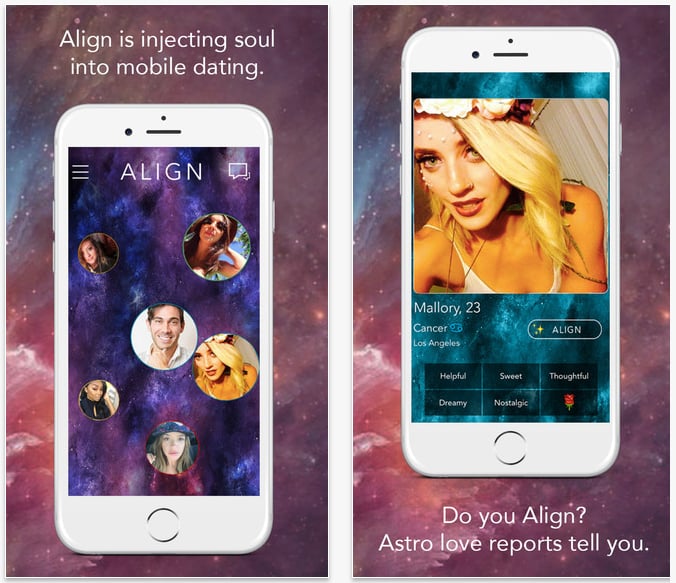 If you read about your zodiac sign day in and day out, you have to check out Align [12] — available on iOS — in which the connection between romantic compatibility and astrology is explored. Meet the person of your dreams, who may just depend on the alignment of the stars!
At First Sight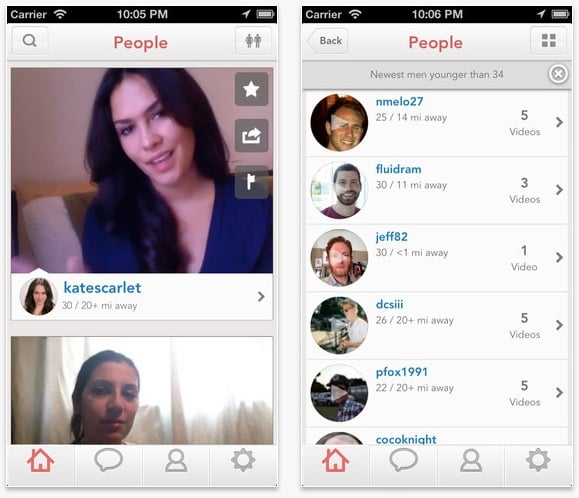 The Bachelor host Chris Harrison introduced dating app At First Sight [13], a joint venture between him and the franchise's creator, Mike Fleiss. What sets this smartphone app (available on Android) apart from all the other online dating apps out there is that it uses video profiles. With the popularity of the Vine app, it's no surprise that this is the next evolution of online dating.
Coffee Meets Bagel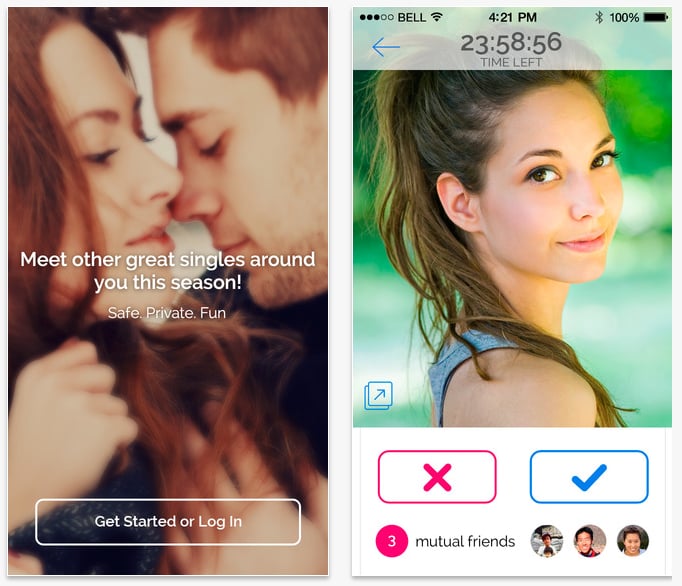 Coffee Meets Bagel [14] uses Facebook to match you with a friend of a friend. It uses a game-like interface to make the experience fun, and it sounds a lot safer to date at least a friend of a friend than a total stranger, right? The site boasts that it's "designed for singles who want to find something real with little or no effort."
Grouper Social Club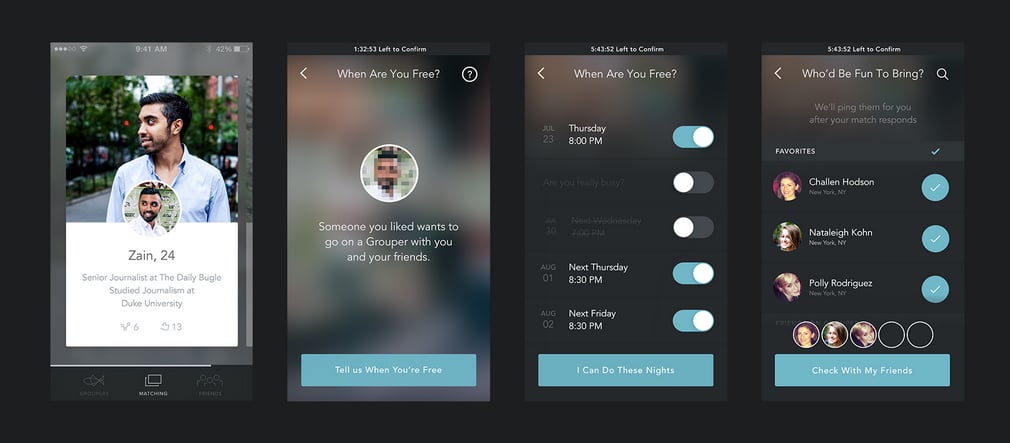 Grouper [15] is a website and iPhone app that sets you and your friends up on a group date by connecting to your Facebook profile. It matches up three guys and three girls (or same-sex couplings) based on your age, education, job, interests, and "general lifestyle." Basically, you pick your wingwomen, and the site selects the date, location, and guys (it also provides a round of free drinks). I could see how the group dates would involve less pressure and more fun, but I'd guess it probably leads to more friendships than serious relationships.
Pure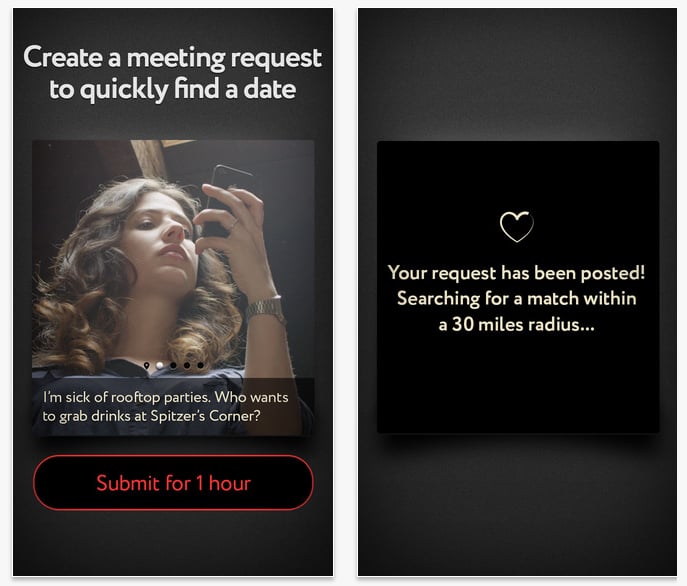 Coining itself as the "Uber for Dates," Pure [16] is all about immediacy, stating that it aims to "cut to the chase" — "it's all about real dates right now, and making real-life connections." The app is free initially, but you have to pay for continued use. This is basically how it works: you post a meeting request that lasts for one hour and, if somebody takes you up on your offer, you are able to then accept or decline, depending on whether you like what you see or not.
HowAboutWe
You may know the HowAboutWe [17] dating app as the one that lets you find and put out date ideas in your area, but two features were added that make the process even easier: Speed Date allows you to browse photos and dates that you can skip over or double tap if you're interested, and Date Map helps you search and find all those local date ideas on an interactive map!
HighThere!
If you're a marijuana enthusiast and are searching for a partner to join you in your escapades, look no further — HighThere! [18] is designed for you. With recently added video technology, you can literally say "High/hi there!" on your profile to showcase your interests and personality. No catfishing cannabis users on this app.
Clover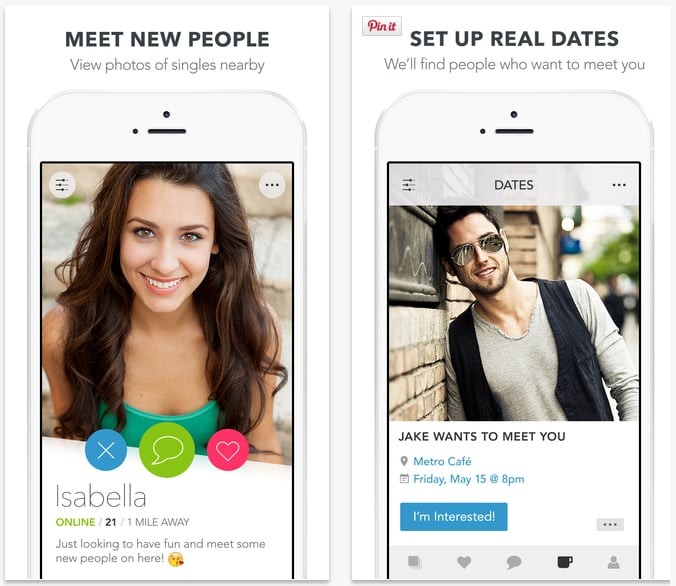 Clover [19] claims to be a mix of Tinder, Match, OKCupid, Zoosk, Plenty of Fish, and more. You can set up real-life dates, view fullscreen photos, use powerful filters, and organize potential interests. Plus, with the new Mixers feature, you can meet people with similar interests via topic-based group chat, which is essentially a mashup of Meetup and Reddit. Sounds appealing!