Victoria's Secret Model Lais Ribeiro Has Stretch Marks
Lais Ribeiro Rocked Stretch Marks on the VS Runway Like It's NBD — Because It Isn't!
When six-time Victoria's Secret Angel Lais Ribeiro strutted down the brand's Shanghai catwalk on Nov. 20, our eyes were glued to her bouncy hair, glowing skin, and thick, full eyebrows (not to mention the dreamy $2 million Champagne Nights Fantasy Bra she was wearing). But one eagle-eyed megafan noticed something much more empowering: the model and mother also proudly showed off her stretch marks.
An Instagram account dedicated to following the Angels posted the photo above of Lais celebrating backstage with Romee Strijd. We were mostly hypnotized by the heaps of beach waves cascading down her back, but Lais also happened to be flaunting stretch marks. And — news flash — that's totally OK! As the caption read, "She is an human, like you and me. She [has] stretch marks like all the girls! [And] that's not ugly. Stretch marks are beautiful..love your body!"
While it shouldn't exactly be "news" that people have stretch marks (it's just how skin works, y'all), it sure is empowering to see models with stretch marks rock the runway like it's no big deal — because it isn't!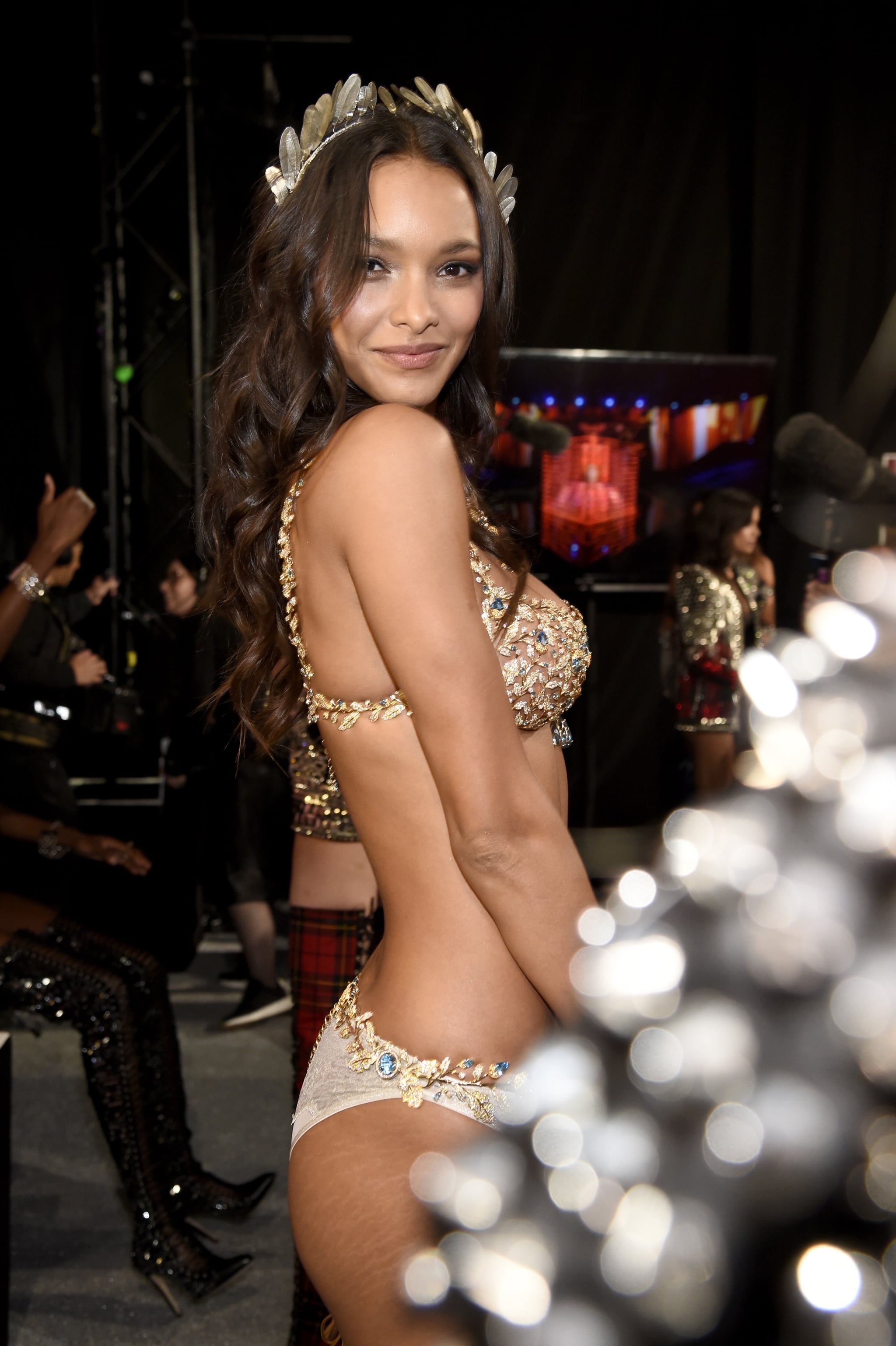 Image Source: Getty Images
Folks were quick to comment on the Instagram, and dang, are the responses inspiring. As one wrote, "I [truly] think that every natural mark or scar tells a story and makes [the] human body even more beautiful and interesting!" Another wrote, "I have this too and it's not a [problem]." Preach!
Lais Ribeiro has stretch marks on her ass and y'all have no idea how good it makes me feel about mine

— m (@slumplevanter) November 21, 2017
When POPSUGAR spoke with Lais backstage in Shanghai, the model spoke of her relatable — and surprisingly low-key — approach to beauty and skin care. Lais even copped to getting stress acne right before the show, saying, "I actually did get a pimple right here on my chin. I think it was just [me] getting nervous." When a sheet mask didn't work, Lais just turned to concealer: "Makeup [is the] next option!" Been there.
The Brazilian model has also been outspoken about the need to diversify runways. As she told us during an interview, "It's great to represent different types of beauty. It is just empowering different women to look up to us — to be like I can be there, too. Strong and sexy. It's really important to us — diversity."