As POPSUGAR editors, we independently select and write about stuff we love and think you'll like too. If you buy a product we have recommended, we may receive affiliate commission, which in turn supports our work.
Whether it's iced tea imported from England or towels from Turkey, there's one thing Ashley Tisdale and her iconic character Sharpay Evans in "High School Musical" have in common: prioritizing wellness and self-care. Case in point: Tisdale founded Being Frenshe in 2022, a beauty brand that focuses on the power of fragrance and scent in your daily rituals.
The line features a variety of home, bath, and beauty products, including body lotion, bath bombs, hair masks, scrubs, candles, multiuse mists and oils, and more. Although Sharpay has an eye for the finer things in life, Tisdale made it a point to make her wellness collection affordable and accessible at Target. The products range from $8 to $17, yet shoppers and our editors alike attest they feel way more luxurious than their price tag. (The brand's Hair, Body & Linen Mist even won itself a coveted POPSUGAR Beauty Award.)
Products in the Being Frenshe line are categorized into five signature scents to boost your mood and set a vibe in your space: lavender and sage, citrus and amber, cashmere and vanilla, a bergamot-orange-coconut blend, and bergamot and cedar. Two of our favorites are Unwind and Rest Lavender Cloud, which — as implied — is perfect for relaxation and sending you off to sleep. Or, if you're looking to do the exact opposite, consider the Awake and Uplift Citrus Amber scent, which is great for your morning routine or amping you up after a nap.
Ahead, we've rounded up our nine favorite products from Ashley Tisdale's Being Frenshe collection at Target, including picks from all five fragrance families so you can choose which fits your vibe best. Check them all out ahead.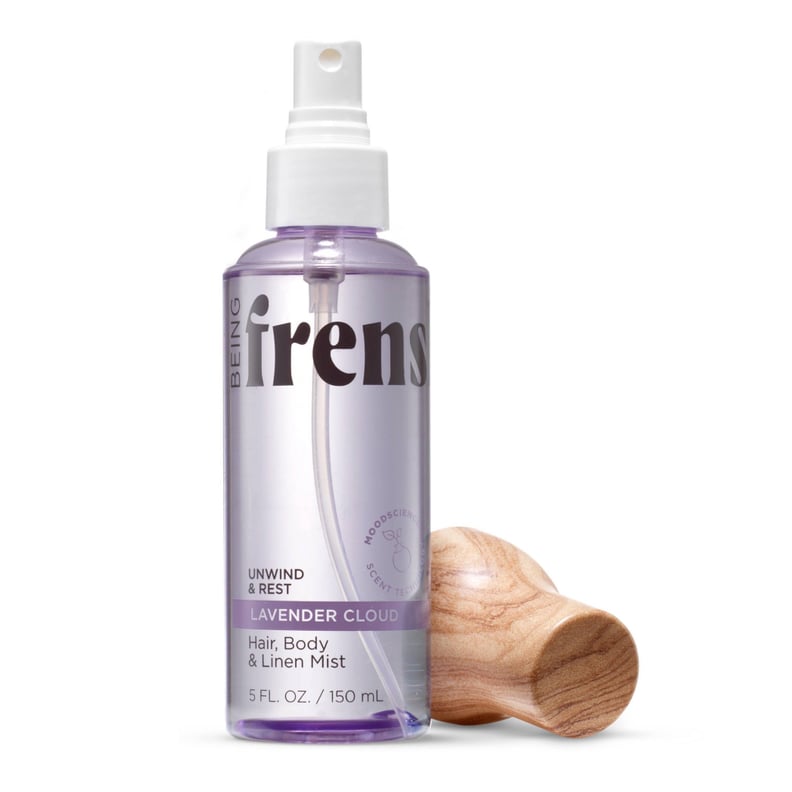 Multiuse Scent
Being Frenshe Hair, Body & Linen Mist in Lavender Cloud ($15)
Get ready for bedtime by spritzing yourself and your bedding with this Beauty Award-winning lavender mist. It's fabric safe on most clothing, linens, and upholstery (except leather, suede and silk). You can spritz this on your hair as well for a gentle, lingering scent that will last until your next wash day. It's also perfect as a midday refresh. For more info, read our complete review of the Being Frenshe Hair, Body & Linen Mist.
Editor Quote: "I love using the light, calming scent on my bedding. It features notes of fresh lavender, milky sandalwood, and sweet cardamom. It's a low-key, relaxing scent perfect for complementing lazy weekends spent indoors or as a finishing touch to freshen up your space after a cleaning day." — Marisa Petrarca, contributing editor, Commerce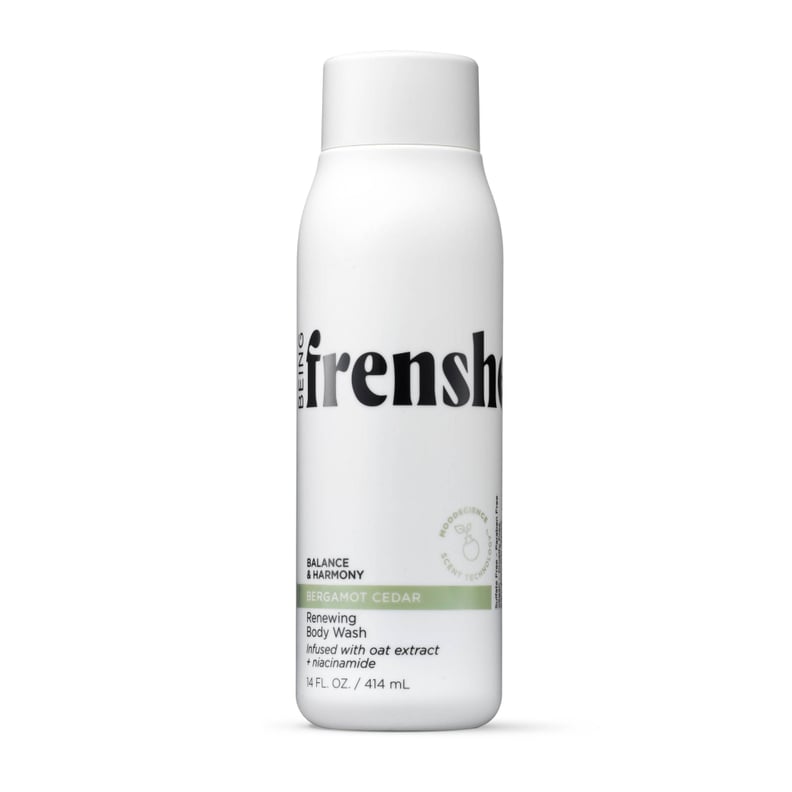 Revitalizing Body Wash
Being Frenshe Renewing Body Wash in Bergamot Cedar ($11)

Turn your quick showers into a mini escape with this revitalizing body wash. The scent will level up your shower experience and make your skin feel soft and smooth. It contains niacinamide, oat extract, and provitamin B5 to keep your skin balanced, hydrated, and clean. For more, read our review of the Being Frenshe Renewing Body Wash in Bergamot Cedar.
Editor Quote: "When I want to enjoy an extra-nourishing shower or bath (both of which are perfect for this body gel), I can easily squeeze the gel wash onto my shower scrunchie and run it under a bit of warm water, and the solution quickly formulates into a foamy, bubbly concoction that leaves my skin feeling smoother and more revived. It's become a staple in my morning routine, and it helps me start my day off on a better and noticeably sweeter-smelling note." — Kyley Warren, assistant editor, Commerce

Calming Bath Bombs
Being Frenshe Milky Bath Bomb in Lavender Cloud ($15 for six)

These bath bombs are perfect for a relaxing nighttime bath. Just drop one into your bathwater and breathe in the soothing scents. The fresh lavender and dreamy sandalwood blend will lull you into a state of serenity and calm. Plus, the oat and coconut extracts will leave your skin feeling soft and conditioned.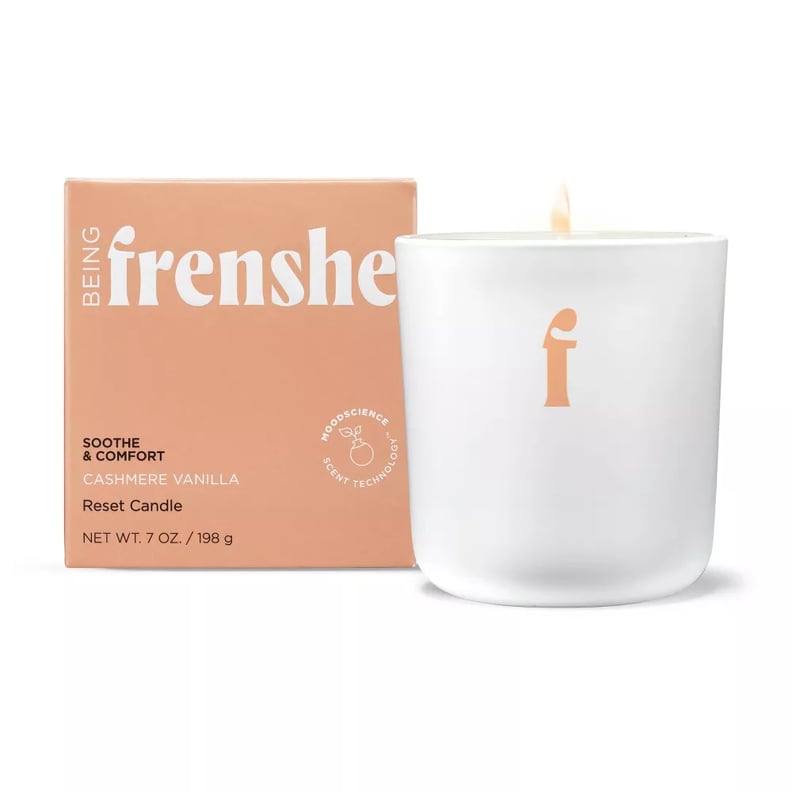 A Warm Candle
Being Frenshe Reset Candle in Cashmere Vanilla ($14)

This cashmere vanilla candle will make your space feel its coziest. It's a warm and serene scent that will set the vibe for you to unwind. It has a 45-hour burn time and is made with clean essential oils and upcycled vanilla.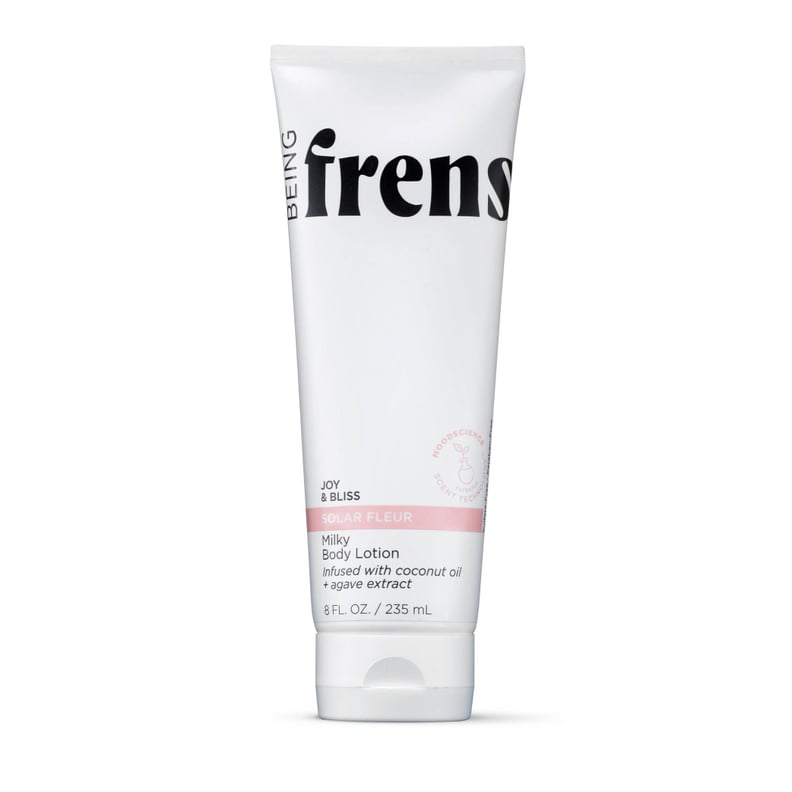 A Lightweight Body Lotion
Being Frenshe Milky Body Lotion in Solar Fleur ($15)

Looking for a new body lotion? This one boasts a bright and fresh floral scent with a lightweight, serum-like texture that quickly absorbs into the skin. It deeply hydrates with coconut oil and agave extract without the sticky and heavy residue.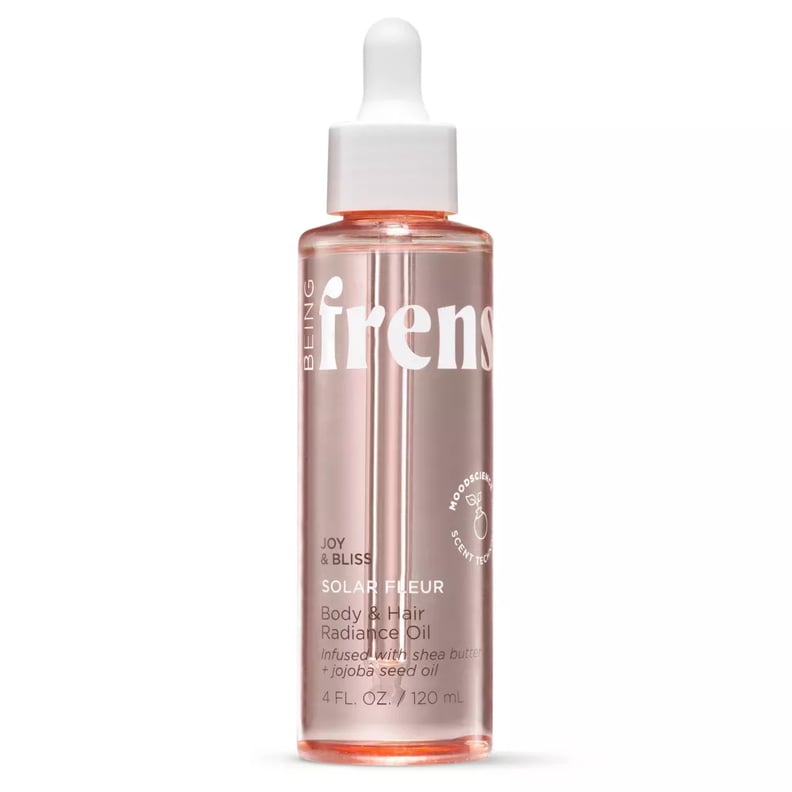 Multiuse Oil
Being Frenshe Body & Hair Radiance Oil in Solar Fleur ($17)

This multiuse oil is infused with shea butter, sunflower-seed oil, and jojoba seed oil to deeply condition your skin and hair. The silky, lightweight oil gives your skin a subtle sheen without the greasy, thick residue. It helps soften your skin and the ends of your hair and a little goes a long way: a few drops are all you need.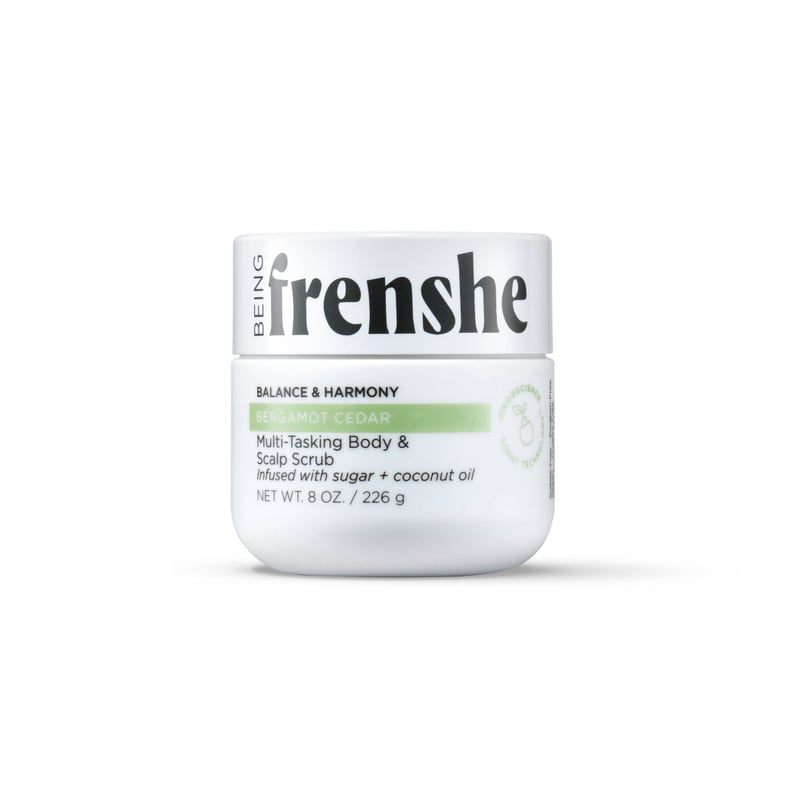 Multiuse Scrub: Being Frenshe Multi-Tasking Body & Scalp Scrub in Bergamot Cedar
Being Frenshe Multi-Tasking Body & Scalp Scrub in Bergamot Cedar ($15)

You can use this scrub to exfoliate from head to toe. It's made with sugar, coconut oil, charcoal powder, and balancing essential oils to help exfoliate and absorb excess oil from the scalp. It's perfect for a midweek scrub or right before shaving your body.
A Moisturizing Hair Mask: Being Frenshe Nourishing Hair Mask in Citrus Amber
Being Frenshe Nourishing Hair Mask in Citrus Amber ($15)

Got dry ends? This hair mask will help you hydrate them and deeply condition your hair. It contains mango-seed butter and avocado oil to help with frizz and maintain softer, shinier hair. Leave it on for three to five minutes or longer for some extra love.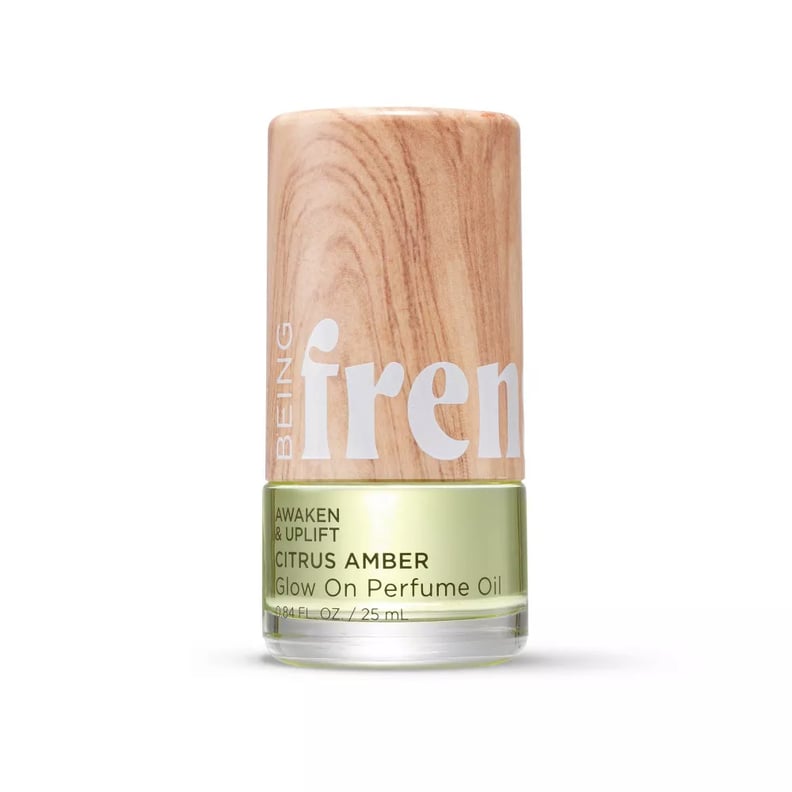 Fresh Perfume Oil
Being Frenshe Glow On Perfume Oil in Citrus Amber ($15)

Made with safflower oil, uplifting essential oils, and upcycled rose, this perfume oil is a great way to incorporate mood-boosting aromatherapy on the go. Roll it onto the insides of your wrist, by the side of your neck, behind your ear, or on any other pulse points, then breathe in deeply for a mood boost.