Getting a tattoo can be an easy way to express your sense of style as well as signal to others what your personal interests are. Whether you want to get a tattoo with your best friend or you simply like the way a picture or phrase looks on your body, getting a tattoo is a fun activity that can be shared with you and your closest loved ones.
One of the biggest questions people have when considering a new tattoo is where it should be placed. You could channel Hilary Duff, the queen of tiny tattoos, and get one on your foot; you could also take inspiration from Cara Delevingne and get inked on your ribcage or Demi Lovato and try the side of your head. One place that isn't often considered, however, is the forearm.
Forearm tattoos can be as bold or as delicate as you want them to be. You can play around with the location and get a back-forearm tattoo, a top-of-the-forearm tattoo, and even a half-sleeve forearm tattoo. Like any tattoo, you might want to think about certain things before getting one. "I would mostly consider how close to the wrist you want the design to be," Kandace Layne, owner of Magic Mirror Tattoo Studio, tells POPSUGAR. "Consider things like your work culture. If you work in a more conservative environment, it might be best to get areas tattooed that can be covered by clothing."
Contemplating getting a tattoo? We asked Layne what to consider before making your appointment.

What to Consider Before Getting a Forearm Tattoo
In addition to your lifestyle, there are a few things to consider when choosing a forearm tattoo. "Choose a design that fits your forearm space," Layne says. "Some abstract designs may be an exception to this, but you want to make sure that a forearm tattoo doesn't wrap around too much to avoid the design being distorted by the curve of the arm."
There are also areas of the forearm that might be a bit more sensitive than others. "The area that we call the "ditch" — the inner elbow where your forearm and upper arm connect — can be more difficult to heal," Layne says. "If you want to tattoo that area, you may find that it fades quickly, but you can always get it touched up."
Can You Cover Up a Forearm Tattoo?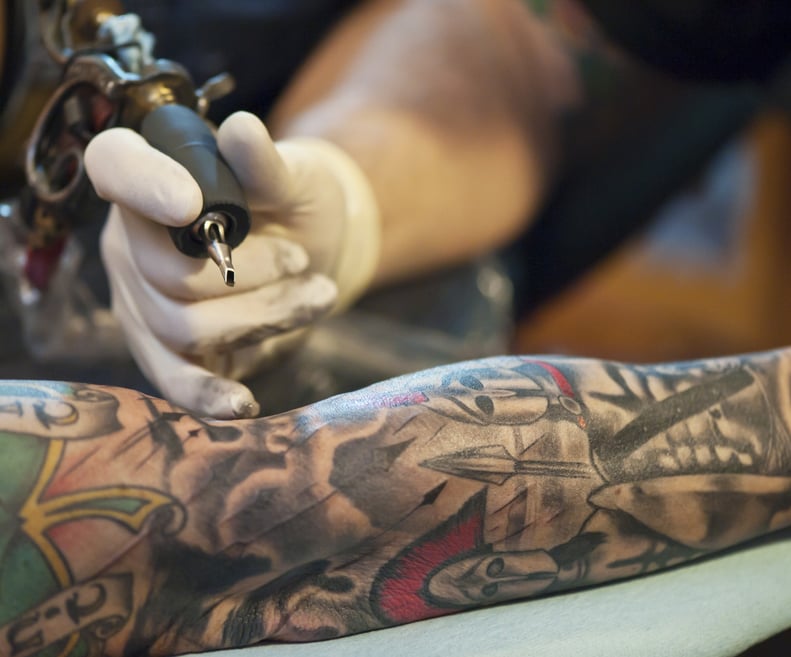 If you're considering covering up an existing forearm tattoo, there are a few facts to keep in mind. "Cover-ups usually have to be at least twice the size of the original tattoo," Layne says. "When doing one, you want to make sure there's room for that in the first place so that the tattoo that's actually doing the covering fits properly over the old tattoo."
Fading may be another issue that you encounter with forearm tattoos. "The outer forearm will probably be the most susceptible to fading," Layne says. "This is the area that gets the most sun exposure, so you have to be conscious of sunscreen use when tattooing that area."
Are Forearm Tattoos Painful?
Pain tolerance is subjective, but forearm tattoos may hurt, depending on the area getting tattooed. "Pain-tolerance levels are different for everyone," Layne says. "The image being tattooed also matters, because the longer it takes, after a certain amount of hours — the time differs for everyone — it will be more painful." For Layne, the wrist was the most painful part of the forearm to get tattooed.
How Much Do Forearm Tattoos Cost?
The cost of forearm tattoos varies based on your location. "One of the biggest factors aside from location is really just what you are getting," Layne says. "The cost typically factors in things like the size of your tattoo, what style of the tattoo, and even who your tattoo artist is. There are various factors that go into pricing."
If you'd like to add a forearm tattoo to your collection, we rounded up some of the best forearm tattoos to inspire you. Keep scrolling for inspiration.
— Additional reporting by Ariel Baker
05
Forearm Tiny-Airplane Tattoo
06
Forearm Constellation Tattoo
07
Forearm Sun-and-Moon Tattoo
08
Forearm Single-Needle Tattoo
10
Forearm Hyper-Realism Tattoo
19
Forearm Rose Tattoo With Script
20
Forearm Feather-Dream-Catcher Tattoo