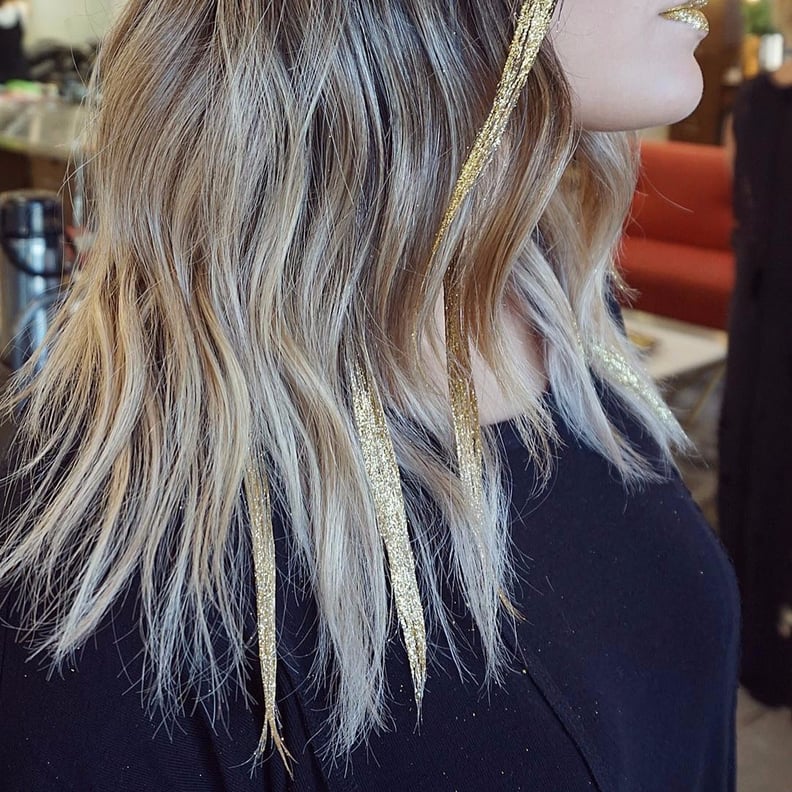 There's no better time than the holidays to start sprinkling glitter everywhere, and we're starting with our hair. According to Allure, "Glitterage" is the sparkly holiday hair trend about to take over your social media feeds. The term was coined by Denver-based hairstylist Danielle Wade, who started doing the styling process on her clients. Instead of the typical balayage highlights that paint hair for a natural, sun-kissed look, the glitter-balayage job (aka Glitterage) is painted on each layer.
After Danielle paints the hair with a gorgeous blue glitter, she gives her client beach waves to accent the sparkle of each piece. "You can use the same technique for an entire head, like we did, or add just a few accent pieces that could be a quick-and-easy add-on," she told the site. "The Glitterage will shampoo out of your hair; however, it IS glitter, so prepare to have it sparkle-ify your life. I recommend brushing some of it prior to washing to avoid it all going down the drain."
Yep, we know all about glitter getting everywhere! Read on to see Danielle's full glitter process, as well as the "few accent pieces" style she mentioned on another Instagram glitter girl.