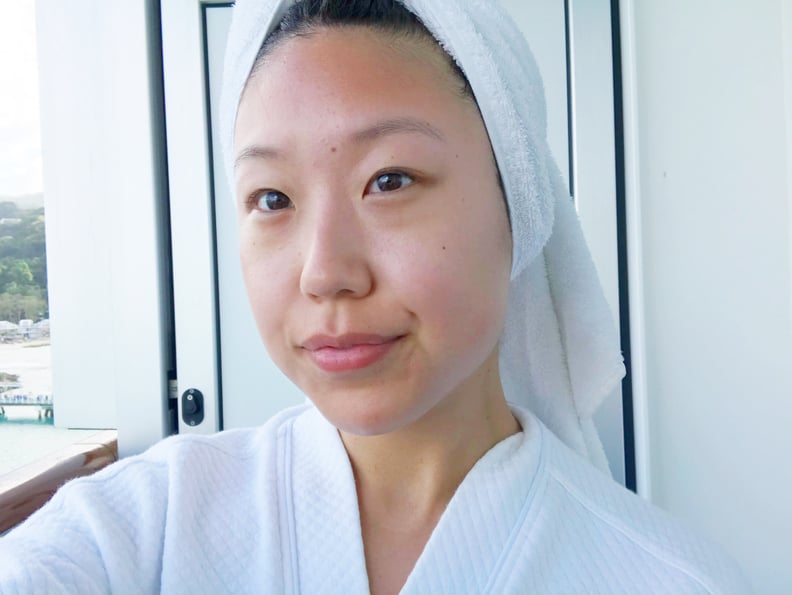 POPSUGAR Photography | Nicole Yi
POPSUGAR Photography | Nicole Yi
Reviving my dry Winter skin is no easy feat, so how have I managed to score a Summer-like glow off season? Hint: it's not highlighter — it's Honey Belle's Gold Collection ($35). The organic, natural skincare line's set features three of its star products: Luxe (cleansing oil), Flora (rosewater toner), and Elixir (facial oil). Although each one is fantastic as a standalone product, they work best in combination with each other to achieve healthy, luminous skin.
After just a week of using the collection, I immediately noticed a smoother, softer, and moisturized face that I'm more confident in showing off sans makeup (like in the photo above). Now two months after putting them into practice, I'm close to retiring my former favorite products in place of these. According to some of the raving reviews online, others have noticed less visible facial scarring, fewer breakouts, and better control of their oily skin in addition to the aforementioned benefits. Here's a breakdown of each bottle!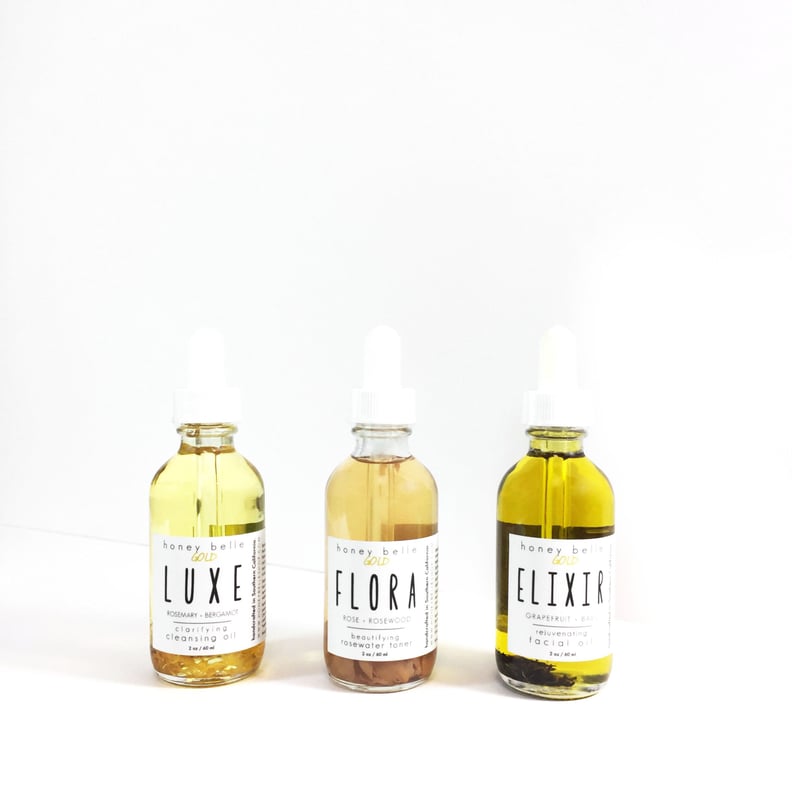 Step 1: Luxe
This cleansing oil is gentle enough for all skin types but tough on waterproof makeup. Rather than using a harsh makeup remover wipe, apply a few drops of Luxe (starting at $14) into your palm and work through your face in circular motions using your fingertips. You'll see how easily dirt, impurities, and makeup come off. Once you're done, no need to use soap! Simply rinse off with warm water before moving onto the next step.
Ingredients: organic apricot kernel seed oil, rosemary essential oil, bergamot essential oil, and vitamin E.
Benefits: reduces fine lines, age spots, and scars and improves skin tone.
Step 2: Flora
This rosewater toner contains high levels of vitamin C, which aids in erasing fine lines and boosts collagen levels. Flora (starting at $12) soothes acne while providing moisture and ridding bacteria. Apply liberally to your face, and use your fingertips to evenly distribute the product to your skin. It'll seal in the Luxe you used right before and immediately produce a gorgeous glow. But wait, it gets even better.
Ingredients: organic rosewater, witch hazel extract, and rosewood essential oil.
Benefits: cleanses, tightens, and tones the skin; diminishes wrinkles and pores; rejuvenates the skin; reduces acne and scarring; and keeps skin looking healthy.
Step 3: Elixir
The final step of the collection is packed with omega-3s and -6s, which results in improved skin elasticity and, therefore, younger- and healthier-looking skin. Top it all off by rubbing a dime-size amount of Elixir (starting at $15) between your palms and pat onto your face and neck. Enjoy your beaming complexion!
Ingredients: organic cold pressed hemp seed oil, grapefruit essential oil, basil essential oil, rosemary essential oil, and vitamin E.
Benefits: makes skin firmer and more hydrated, enhances dull skin, and improves skin tone.
In addition to smelling amazing and working great for all skin types (including oily skin!), the Gold Collection is also affordable. Each mini bottle (0.5 oz.) is sold separately for $12 to $14 or $35 for all three. Despite its small size, Honey Belle's set has lasted me for the past couple months, and I'm only barely halfway through the bottles.
The site recommends using twice per day, once in the morning and evening, but I've only been using mine at night while I try to get through my other products without putting them to waste. On the weekends, however, I love limiting my skincare routine to this awesome trio and leaving the house with only Glossier's Boy Brow and some mascara on. I've honestly never received so many compliments on my skin before! If you're looking for a low-maintenance skincare regimen, the Gold Collection was made for you.