How to Get Wild Carrie Bradshaw Curls in 30 Minutes
As POPSUGAR editors, we independently select and write about stuff we love and think you'll like too. If you buy a product we have recommended, we may receive affiliate commission, which in turn supports our work.
I was never the girl with curls. When I was younger, my hair was stick-straight, and it slowly got wavier and developed more texture as I grew up. But in the early '90s, my mom maintained a perm, and what little girl doesn't admire her mother's beauty routine? I can still smell the spritz of her Chance Chanel perfume that came right after she shook her curls loose from her bath towel. By the time she was ready to walk out the door and head to work, my mom's curls were dry — loose, wild, and pretty much what I thought hair should look like on a strong, powerful woman.
Enter Carrie Bradshaw, who I sneakily started watching on TV with friends in middle school, even though Sex and the City was supposed to be off limits. Carrie had hair like my mom's, only it was blond. She was small, but her hair was big and loud. I loved her outfits and wanted to dress like her, which was maybe, sort of, (eventually?) doable, and I loved her hair — but mine looked like Charlotte's, which is a far cry from Carrie's. Later in life, I dyed my hair blond from brunette, and while I've since gone through different stages — I scrunched my hair with Dep gel when that was a thing, gave bangs a whirl, and dabbled with curling wands — I've never quite figured out how to pull off "the Carrie."
Let me make something clear: I'm sort of a beauty dummy. I've never touched a dry shampoo bottle, laugh when people ask me if I have eyelash extensions, and haven't gotten a manicure since high school senior prom. Most fashion editors know a thing or two about beauty trends, but not me. I could never even dream up the products I'd need to attempt Carrie curls without tapping our POPSUGAR beauty team for advice.
After hashing out methods that have worked for me in the past, along with the exact look I was going for, we called in some samples and I put them to the test. I ended up devising a successful plan that consists of four steps (wash, scrunch, curl, diffuse) and takes me only 30 minutes. That was another goal of mine: since my normal routine is pretty low maintenance, I wanted to make sure I could easily pull off Carrie curls within the hour block it usually takes me to get ready after my shower ahead of a night out.
You may have to tweak this mini tutorial depending on your hair type — finding the best brands that work for you takes some trial and error — but for someone with semi-thick, long or medium length, wavy natural hair, this is your best bet.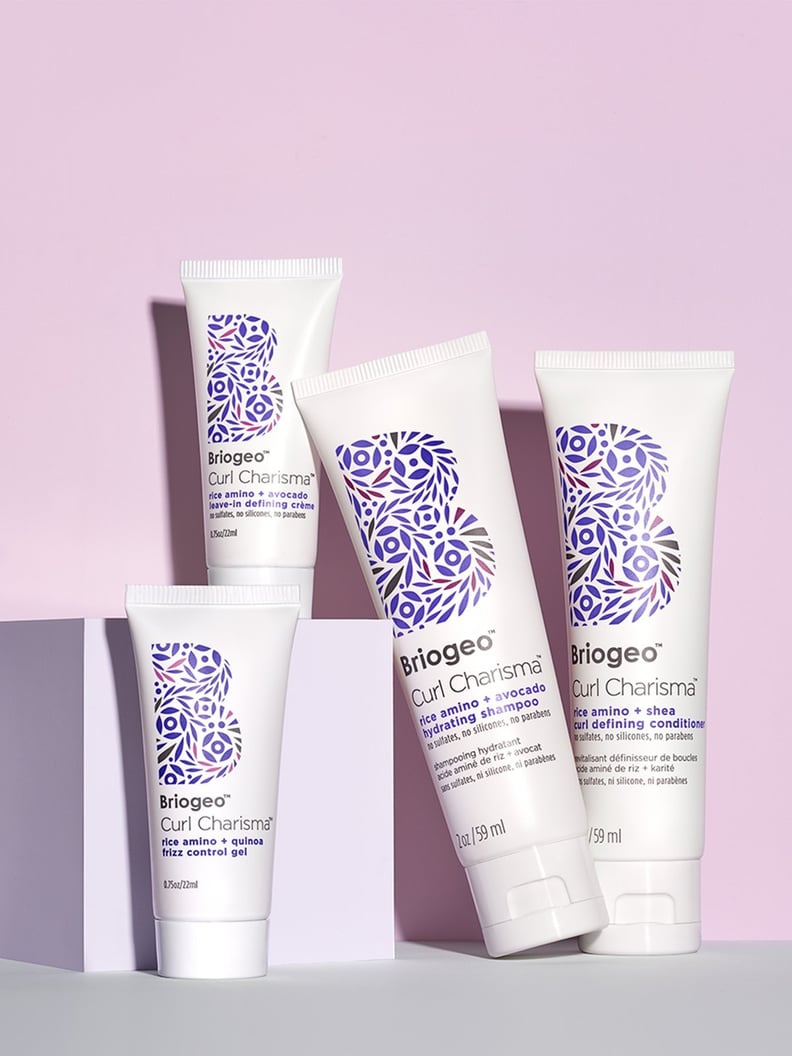 Step 1: Wash Your Hair With Curl-Defining Shampoo and Conditioner
I've tried general drugstore curl enhancing shampoos, like Pantene Pro-V Curl Protection, but I never felt like the texture of my hair was particularly enhanced after it dried. After considering a few different shampoo and conditioner combinations, I landed upon this Curl Charisma video from Briogeo and, slowly bopping my head along to the music, watched the model pull off a routine that looked quick and easy — like something I wanted to try. The brand promises hydration, antifrizz, and long-lasting curls, so I used Briogeo's Curl Charisma Rice Amino Shea Moisture Shampoo ($24), followed by Curl Charisma Rice Amino and Shea Curl Defining Conditioner ($24). You can purchase this Curl Charisma Curl Defining Travel Kit ($25), which comes with both the shampoo and conditioner, along with gel and leave-in creme, if you want to test out the company's other products and the gel I used doesn't seem right for you.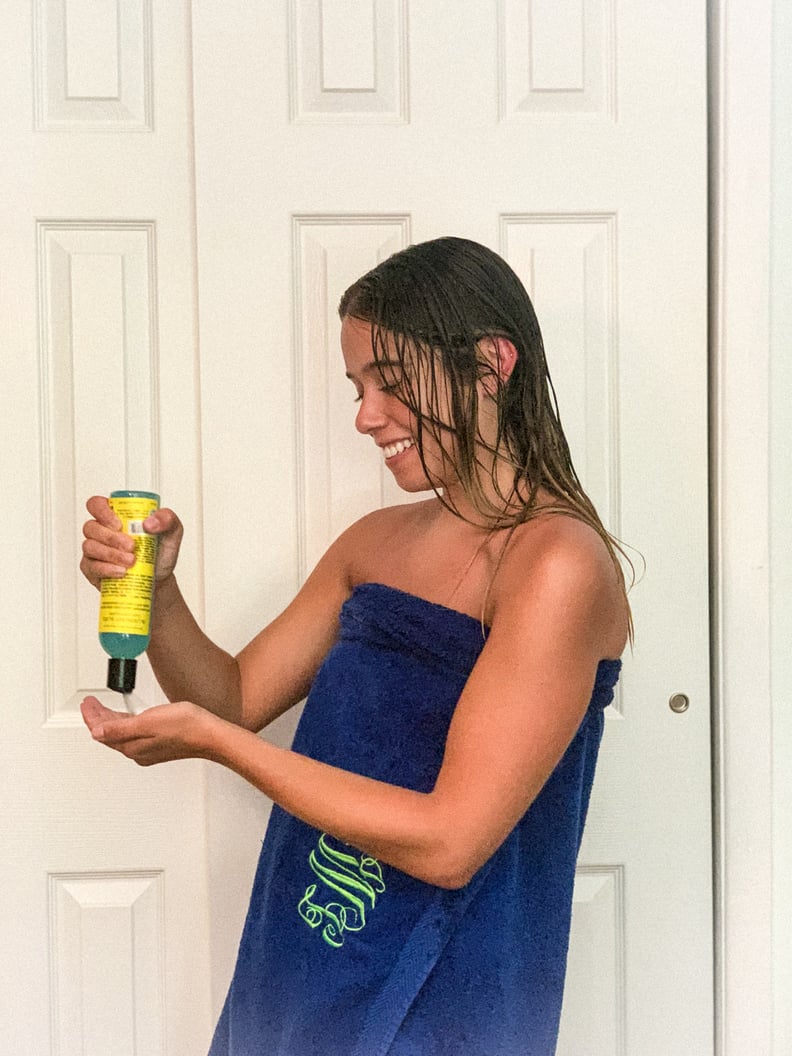 Step 2: Scrunch Your Hair With Gel
I love Curls Blueberry Bliss Control Jelly because it feels light in my hair and protects my flyaways from frizzing up in the Summer heat. Once it dries, this gel isn't too stiff; it leaves your hair flexible. It's perfect for a hair process that involves multiple steps and products, because it doesn't overwhelm your strands with control. I use a quarter-size portion, flip my head over, and scrunch the gel into my hair. This takes no more than five minutes, if that.

Curls Blueberry Bliss Control Jelly, 8 Ounce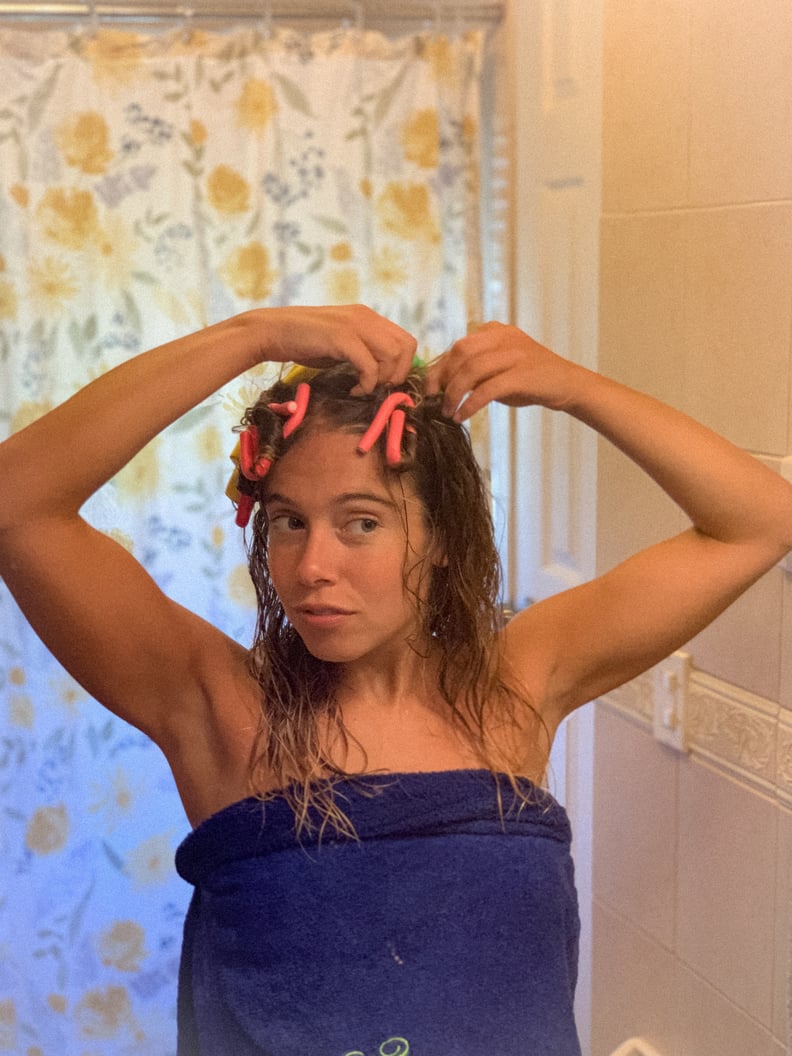 Step 3: Twist Portions of Your Hair Into Foam Curling Rods
I split my hair into sections and twisted into these flexible, easy-to-use foam curlers. For tighter curls (and more curls at that) use fewer strands of hair and the thinner curlers rather than the thicker ones that come in the multipack, which I twist into the bottom sections of my hair for added volume underneath. I'm mostly focused on how the texture of my hair looks up top, so I spend extra time working with the outer layer of my hair. Surprisingly, this process is pretty quick and takes no more than 10 minutes to complete. (I have a lot of hair, and it's medium-thick, FYI).
Minerva 42-Pack 7'' Twist-Flex Foam Hair Roller Curling Rods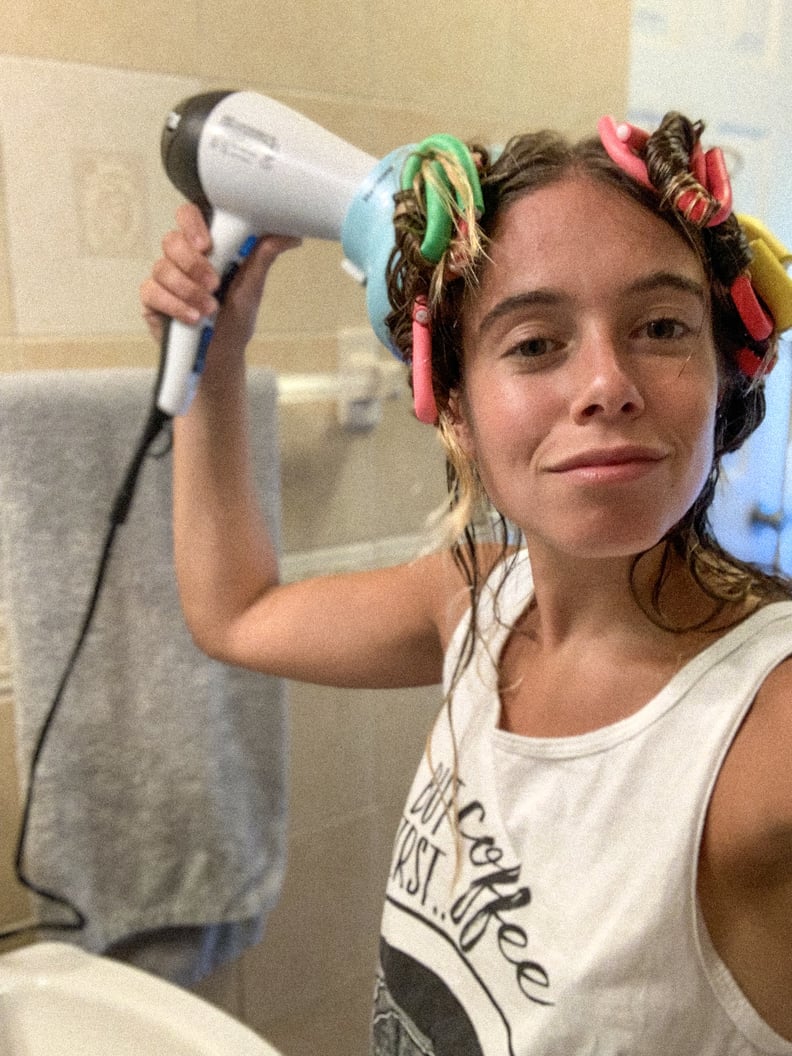 Step 4: Put Your Diffuser to Use
There are plenty of hair diffusers you can buy that attach to the end of your blow dryer. For the sake of this experiment, I found an affordable one on Amazon. I diffuse my hair for about 10 minutes (until it starts to feel dry) while my hair is still in the curlers. You can continue to diffuse your hair after you take the curlers out, and if it's a muggy day, you can flip over, continue to scrunch your strands, and add your favorite hairspray when you feel like you've got the look you want.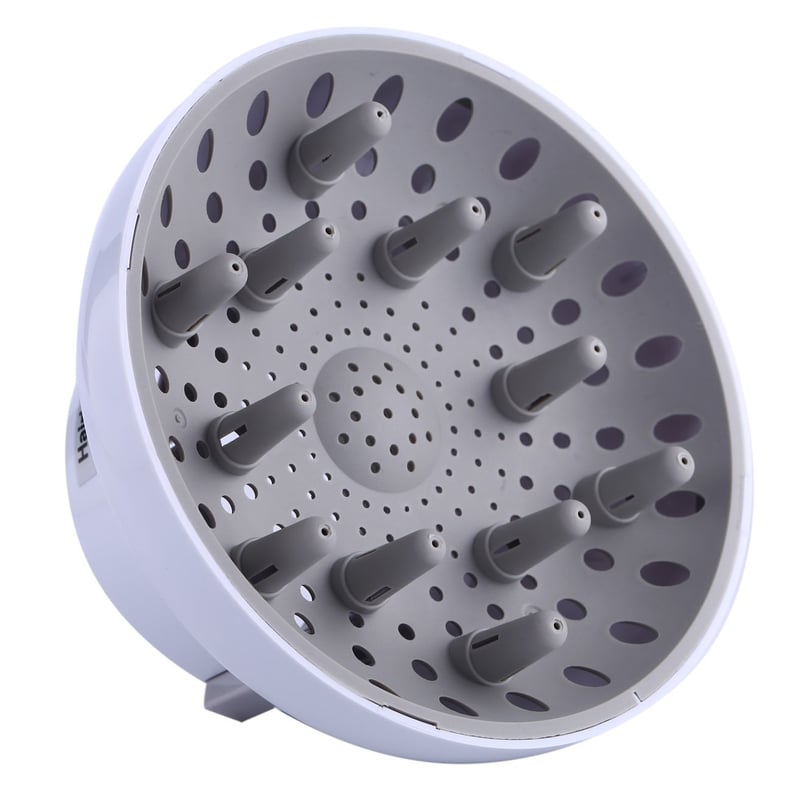 Hairizone Universal Hair Diffuser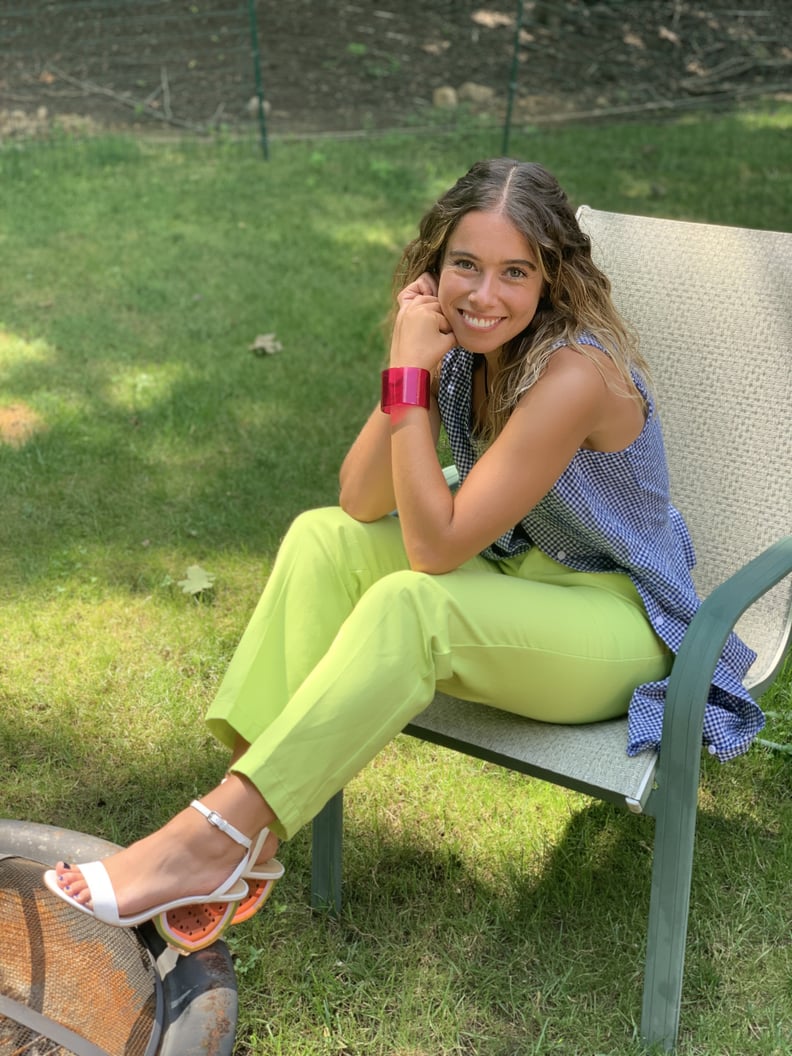 The Finished Product
While my curls may not be quite as defined as Carrie Bradshaw's, this process certainly gives me the texture and volume I'm looking for. By no means have I ever been able to achieve this perfectly "wild" look with a curler or wand, that's for sure. While Carrie Bradshaw woke up every morning with fabulous curls that look like this (and I've been oh-so envious of her throughout my life), I couldn't help but wonder if maybe it's more fun to test out new beauty routines depending on my mood. It could very well be that in a few months, I'm onto Samantha's silky-smooth glam bob instead.