Sideswept braids are something of a cross between the waterfall braid you've seen on "House of Dragons" or "Game of Thrones" and the french braid Katniss Everdeen wore in "The Hunger Games" (plus, on every red carpet Taylor Swift has ever walked). The reason is simple. Not only is the french side braid a chic take on your average braided updo, but it's also still elegant enough to wear during a night out on the town.
As a bonus, braided hairstyles like the one we outline ahead really come in handy for those of us who'll be looking to keep our hair up and out of our faces as we make room for scarves and puffy coats in the colder months ahead. That said, not all of us are blessed when it comes to being able to simply DIY seemingly easy-to-re-create hairstyles on other people. If you fall into that category, we're here to help.
Keep scrolling to see step-by-step tutorial photos and instructions on how you can re-create this side french braid yourself.
French Side Braid Tutorial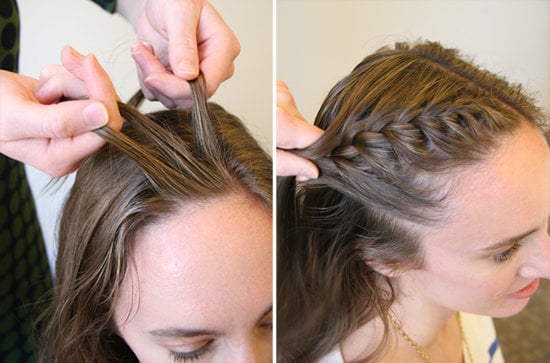 Steps 1 and 2: Take a Two-Inch Section of Hair and Begin the French Braid
Part slightly damp hair on the right side. Optional: add a little mousse or gel to keep hair intact and to prevent flyaways. Next, take about a two-inch section of hair from the front of the right hairline, and begin a french braid.
To start a french braid, section this portion of hair into three even strands, keeping them separated with your fingers (whichever ones feel most comfortable to you). Now, start a normal braid; take the right strand and cross it over the middle strand. Next, take the left strand and cross it over the middle strand.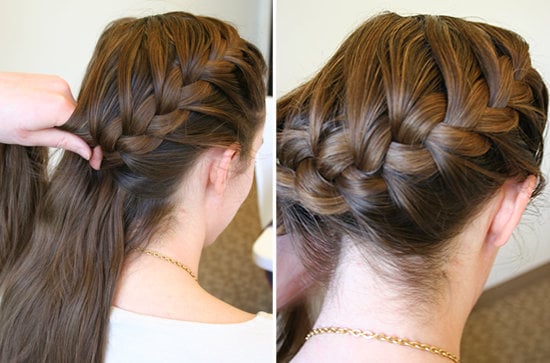 Steps 2 and 3: Add More Hair Into the French Braid, Then Braid Horizontally
Once you have this small foundation braid, begin adding more hair with each crossover. To do this, gather a small bit of hair from the hairline, add it to the rightmost strand, and then cross it over the middle strand. Pull it tight, but keep the strands separated at all times. Repeat on the other side by gathering a small bit of hair closest to the side part (away from the hairline), adding it to the leftmost strand, and then crossing it over the middle strand.
Continue this braiding pattern until you are about one inch away from the right neckline. At this point, start to braid horizontally across to the left neckline. Tip: keeping the braid tight and separating the three sections of hair at all times will help you control the direction of the braid.
Step 5: Secure With An Elastic
Try to gather all the hair into the french braid by the time you hit the bottom of the left ear. Once all the hair is incorporated, finish braiding traditionally. Secure with an elastic band.