The first season of "House of the Dragon," HBO's prequel to "Game of Thrones," dives into the tumultuous past of the House Targaryen almost 200 years before Daenerys Targaryen (played by Emilia Clarke) vied for the Iron Throne. Though the series introduced us to an entirely new cast — including King Viserys Targaryen (Paddy Considine), Prince Daemon Targaryen (Matt Smith), and Princess Rhaenyra Targaryen (Milly Alcock), to name a few — there's a lot of symbolism in the hair and costumes to unpack, just like the original series.
Fans of "Game of Thrones" know that hair color is often a good way to tell members of the houses apart. Despite the vastness of Westeros, a white blond usually signals a Targaryen; a more sandy blond, a Lannister. In the original show, Daenerys is known for her icy-blond and elaborate half-up, half-down braided hairstyles, while her brother Rhaegar (Wilf Scolding) has bleached and tousled waves. Though the new show focuses on an entirely different storyline, the signature hairstyles are still easily spotted, with similar styles appearing between King Viserys and Rhaegar and between Daenerys and Rhaenyra.
Keeping an eye on the show's hairstyles is also a good way to understand the relationship dynamics between the various characters (like why Princess Rhaenyra's sons have dark brown hair instead of the family's trademark blond, for example) and even someone's status. Keep reading ahead to learn the meaning behind the most notable hair moments on the "House of the Dragon."
Why the Targaryens Are Blond
In addition to being the only house to command dragons, House Targaryen are also known for their monopoly on white-blond hair. Their hair color is as constant as Otto Hightower's (Rhys Ifans) maneuverings to supplant his kin on the throne. But why is everyone's hair near white?
It's due to generations of inbreeding to keep the royal bloodline "pure." This practice caused a majority of the family to inherit the trademark white-blond hair. However, we do meet a few Targaryens who don't have that same notable hair color. In these cases, this means one of the parents is from outside of the Targaryen family and, therefore, the recessive trait is overridden.
There is one exception to this rule (but more on that in four slides below).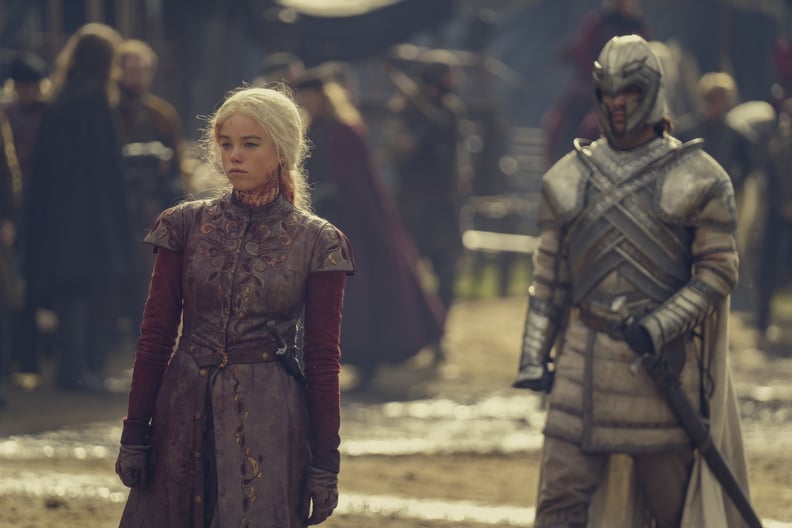 The Symbolism of Princess Rhaenyra's Braided Hairstyle
It's a bit unclear if Princess Rhaenyra genuinely wants the Iron Throne or instead wants her father, King Viserys, to merely keep his promise by ensuring she remains heir. Regardless, from her hairstyle, it's clear who Rhaenyra looks up to — her uncle, Daemon. While her father has shoulder-length tousled waves, her uncle has longer, straighter hair for much of the series. Rhaenyra's hair is about the same length as her uncle's, albeit with a bun or braid of her own. The only time her hair has the more wavy look of her father is after she bests a rampaging boar, which adds some bloody highlights to her hair.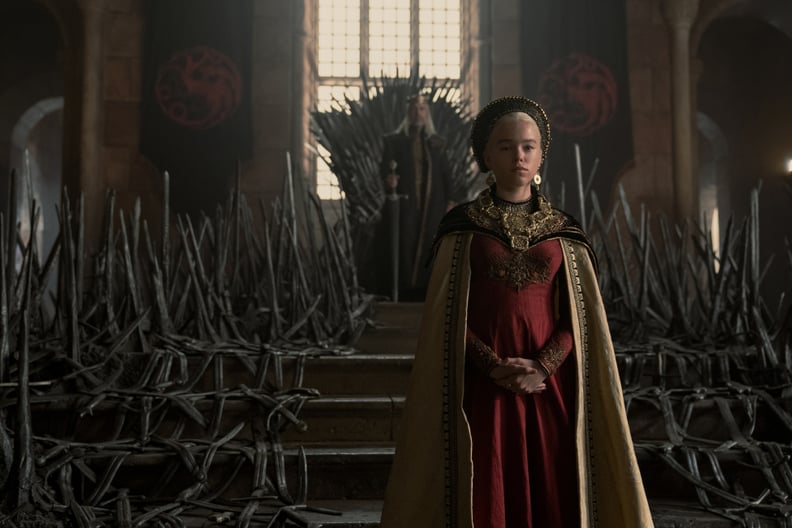 The Inspiration Behind Princess Rhaenyra's Coronation Hair Accessory
For her coronation, Rhaenyra's hair is pulled back from her face into a slicked-back hairstyle, topped with a large headpiece. The inspiration for this lavish look came from Moroccan brides.
"There were references to medieval times with the palace looks and armour, and for accessories, I got a lot of inspiration from Moroccan brides," the show's costume designer, Jany Temime, said in an interview with Tatler.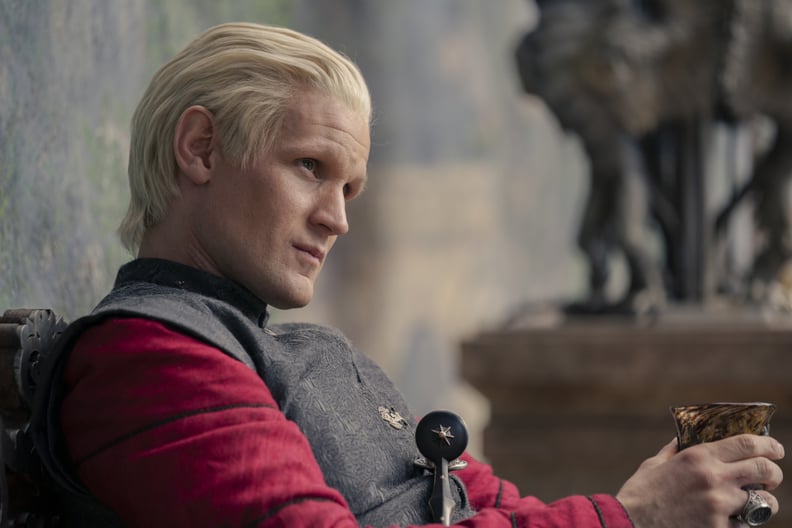 Why Prince Daemon Cut His Hair
In the fourth episode of the season, Prince Daemon returns to King's Landing after spending several years away. Not only does he come back with a new and more amiable attitude, but he has a new haircut as well. Instead of wearing his blond hair in an extra-long style like he had before, his hair is considerably shorter, putting him at odds with how his family style theirs.
This could be an effort by Daemon to set himself apart from his fellow Targaryens after they left him to wage a bloody three-year war on his own against the sadistic Crabfeeder (Daniel Scott-Smith). After he single-handedly turned the tide of the conflict (and, quite literally, dragged the Crabfeeder from his cave), it'd be no surprise that the cocky, self-assured Daemon would be seeking a more individualistic touch.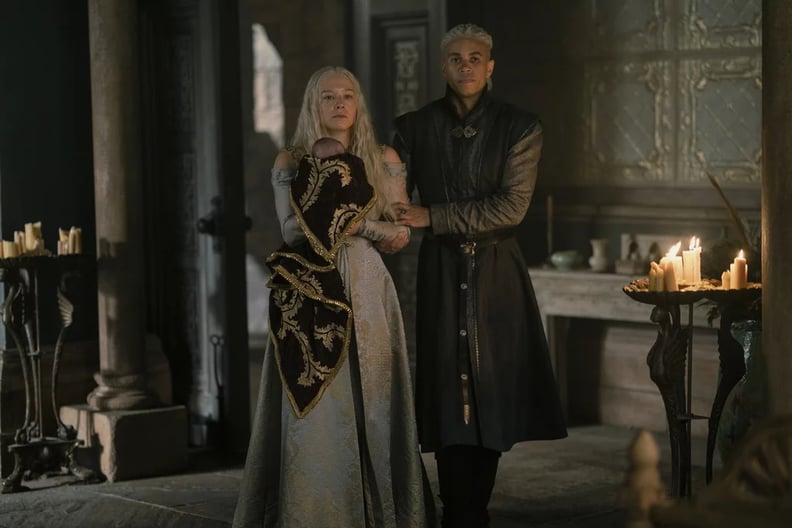 Why Rhaenyra's Children Have Brown Hair
While the Targaryen family mostly has stark white-blond hair, there's one kin within the bloodline that doesn't fit: Rhaenyra's sons with husband Laenor Velaryon. It isn't explicitly stated in the show, but because we learn after episode six that all three boys have dark brown hair — and despite Rhaenyra and Laenor's matching blond color — it has been strongly implied that they are actually the children of Ser Harwin Strong, the Lord Commander of the City Watch.