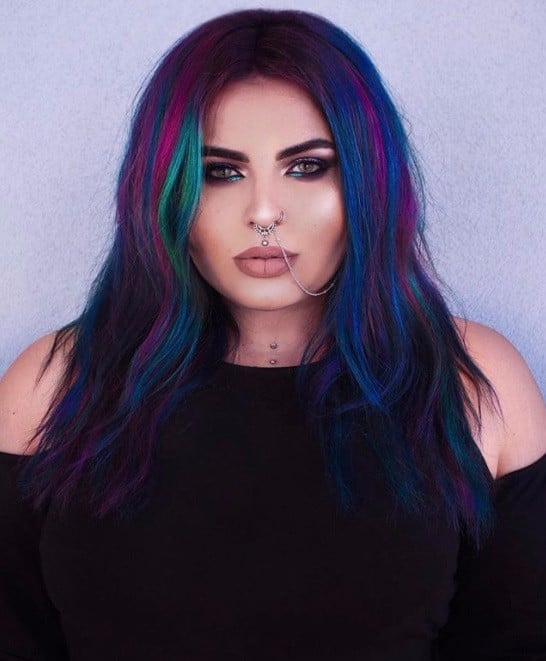 Courtesy of CoverGirl
Courtesy of CoverGirl
When it comes to being an Instagram beauty star, there's a lot of noise. Yet Sydney-born, LA-based makeup artist Jazmina Daniel has managed to, well, shout the loudest with her insanely cool lip-art looks. She's gained well over 1 million Instagram followers for turning her plush pout into a canvas for the most intricate designs, ranging from rainbow glitter lips to Harry Potter iterations, a Selena tribute, and even a mock-up of Beyoncé's pregnancy announcement. For anyone who can't even paint their own nails (insert: raised hand emoji), this is mind-blowing!
Aside from inspiring lip art, Jazmina also shows off impressive full-face beauty looks. She's a chameleon who is equally gorgeous with dark curls and a mauve lip or with an all-rose-gold hair and makeup style or with a rainbow glow-in-the-dark look.
Soon, her reach will go well beyond the 'Gram community since the cool-girl pharmacy brand has tapped her as its latest influencer within the CoverGirl Collective. Basically, she is now a CoverGirl ambassador, and that means she's made it. Remember: past CoverGirl collaborators include James Charles, Zendaya, and Katy Perry. It's a prestigious group, to say the least.
In honor of National Lipstick Day on July 29, Jazmina has partnered up with the cool-girl pharmacy brand to create lip art featuring CoverGirl lipsticks. You can see the girlie-chic look ahead. Plus, learn how she grew her following, her tips for instantly making your pucker plumper, and more in our exclusive interview!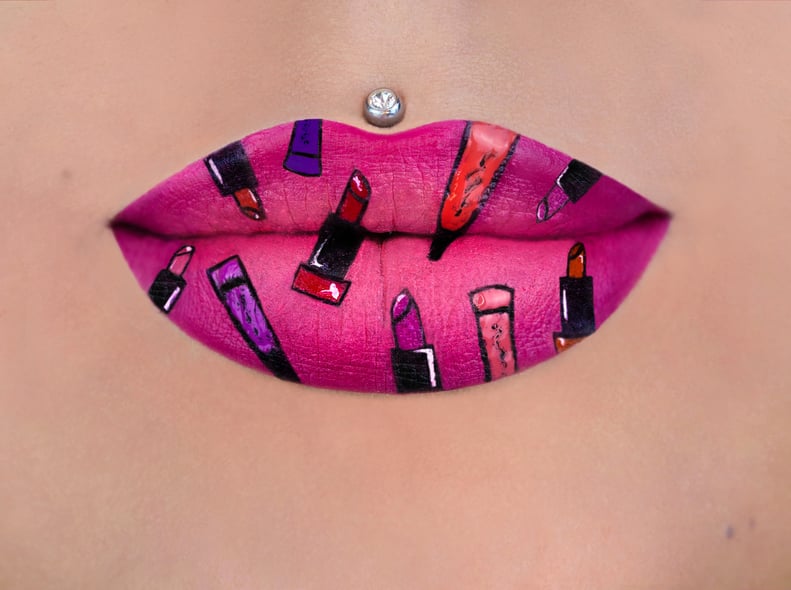 POPSUGAR: What went through your head when CoverGirl first approached you to be an ambassador?
Jazmina: I remember thinking, "Is this real? Is this happening?" I still can't believe it, to be honest. I remember crying! The excitement set in, and I couldn't wait to get started already!
PS: What is your absolute favorite CoverGirl lipstick and shade and why?
Jazmina: Melting Pout Liquid Lipstick in Gel-Mate. It's a color that is superbold so I love wearing it. Also, I've added all my favorite lip products from CoverGirl and tools in one place with Finery to make it easy for my fans to shop my iconic lip looks!
PS: Besides the obvious, like using lip liner, what are your best tips for making your lips look bigger?
Jazmina: Adding a highlight to your top lip and center of your lip makes them look bigger. A gloss can make them look more plump. I like CoverGirl Colorlicious Lip Gloss in Honeyed Kiss.
PS: What are some tips on how to get your overall makeup to look better on Instagram?
Jazmina: Good lighting! I love to use a natural light during the day. It also depends on your camera; that plays a big part.
PS: What is your process, from start to finish, for taking a selfie?
Jazmina: I probably take 200 selfies before getting one I like! When I finish my makeup, I step outside and get the light right, making sure my highlight looks good. Knowing your angles definitely helps too.
PS: What about taking a great lip selfie?
Jazmina: For lip selfies, I usually use a ring light and try to keep still so it's not blurry and really captures the details.
PS: How and where did you learn how to do makeup and get those art skills?
Jazmina: I always did art in school — it was actually one of my majors. I've always loved to draw! It wasn't until I was diagnosed with a brain tumor in 2006 that I really started with makeup. I was home all the time drawing and practicing, and my mom said, "Why not try drawing with makeup since you love that?"
PS: What is your advice to aspiring makeup artists and bloggers for getting their work seen on Instagram and gaining followers? How did you grow your following?
Jazmina: The first step is just posting your passion and doing what you love. Also: not giving up. When I first started, it was hard — to be working hard and not getting noticed. It's easy to want to give up, but keep pushing. Also, make sure to take clear pictures of your work so it's showing up best.
PS: Where do you draw inspiration from when coming up with lip-art looks?
Jazmina: From movies, music, nature, even nail polish colors. I try to re-create colors I see as best I can.
PS: What is your favorite lip-art look you've created to date and why?
Jazmina: I think it would have to be the Little Mermaid lip art — who doesn't love Disney and mermaids? It makes me feel like a little kid again every time I look at it.
PS: You and your partner are really cute! Loved the Pride photos! How does she inspire you and your work?
Jazmina: I think it's easy to be inspired by love. She's a photographer, so she's always creating amazing images with bright colors and bold looks. I'm inspired by the colors in her work. She's always herself, and she's not scared to be who she is.
PS: What positive feedback have you gotten from the community?
Jazmina: It's so crazy to me. I think one of the things that I love and makes me happy is when people say they look forward to seeing my work because it makes them happy or inspires them. It really pushes me to keep going.