How This 1 Natural Luxury Hair Care Line Is Empowering Global Women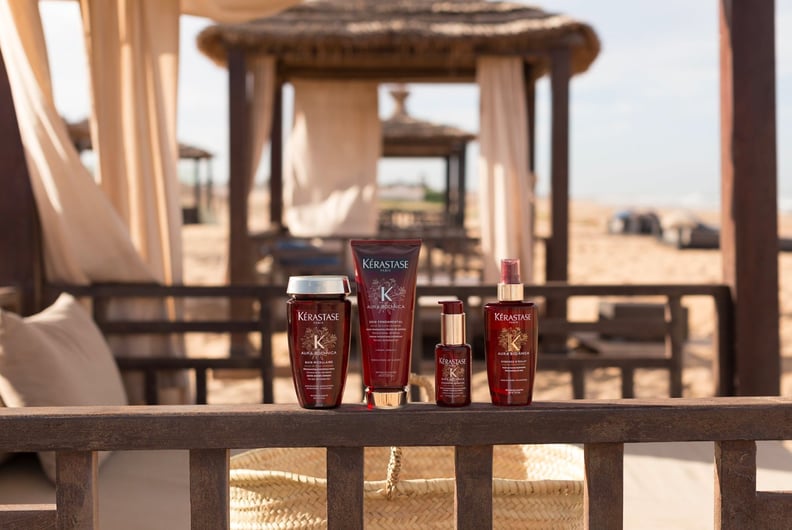 Roxanne Matiz for Kérastase
Roxanne Matiz for Kérastase
As POPSUGAR editors, we independently select and write about stuff we love and think you'll like too. If you buy a product we have recommended, we may receive affiliate commission, which in turn supports our work.
The making of Kérastase's new natural range took blood, sweat, tears, and countless trials, but when you boil down the science of the formula, it all started with just two nuts: coconut and argan. (OK, technically a coconut is a stone fruit, but it's pretty similar.) Individually, these delicious ingredients produce outstanding oils that have been used in hair care for centuries. What's new in 2017? The Kérastase pros have brought them together in the perfect balance and blend, creating what is personally my dream hair care line. Meet Aura Botanica, a recently launched four-part range from Kérastase that's 96 percent natural.
This is unheard of for luxury hair care. Last year, we struggled to write a story about natural hair brands to recommend for readers. While there are countless skin, makeup, and even nail ranges made of organic, sustainable ingredients, the same can't be said for hair products. There is a big hole in the market but a high demand for it. People are getting smarter about what they put in and on their body, with "clean beauty" being a buzzword.
So the fact that a giant, upscale brand like Kérastase (which is owned by L'Oréal) took on the challenge of creating natural beauty products that actually work is a BFD. The range includes a shampoo, conditioner, treatment serum, and oil spray. The mission of these products is to make hair healthier, glossier, and frizz-free. Now you may be wondering: Is it actually natural? Is it really better for the environment? And does it work?
I have answers. Not only did I travel to Agadir, Morocco (where the ingredients are sourced), and Paris (where the packaging is done), but I've also been testing the formulas in diverse climates (both air-drying and using in tandem with hot tools). I can confirm Aura Botanica delivers the results it promises and has found a home in my stash.
Follow me on this journey across the globe and back to my shower to see why Aura Botanica is worth all the hype.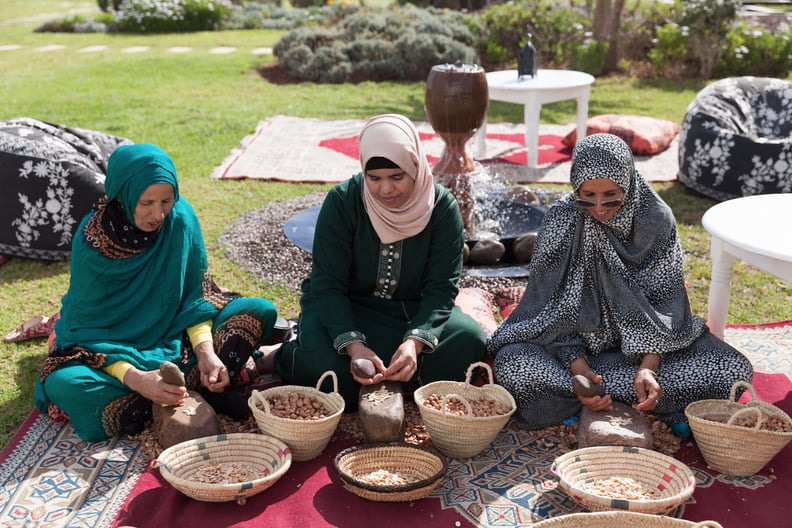 Aura Botanica Gives Back to Women
Dropping $40 to $45 on shampoo isn't cheap, but do it knowing you will be helping women — an important cause in 2017. Kérastase has employed local Moroccan women (three of whom are pictured here) to make the argan oil for the formulas. Many of these ladies would have never had job opportunities before, and it's allowing them to show their parents that a woman's place is not only in the home.
Fatima Ihihi is one of those Moroccan women. I met the motivated 36-year-old on my trip and learned she founded a co-op in 2004 with 29 people, and it's currently up to 100 workers!
Additionally, L'Oréal set a mission to employ 100,000 people from underprivileged communities by 2020. The fact that I heard more Aura Botanica products are in the works may help the company meet or exceed that goal. (As of now, it's employed almost 600 women with fair wages and local jobs!)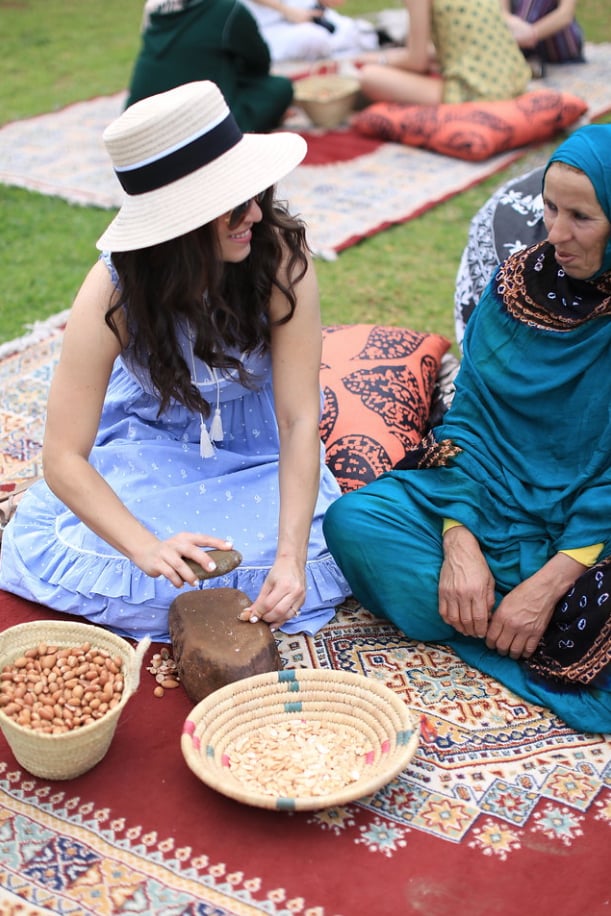 Making Argan Oil
Here I am with one of the local Moroccan women employed by Kérastase. She was teaching me the process of cracking the argan nuts to make the oil. It's fun! But you need to be careful not to stab your finger with the stone.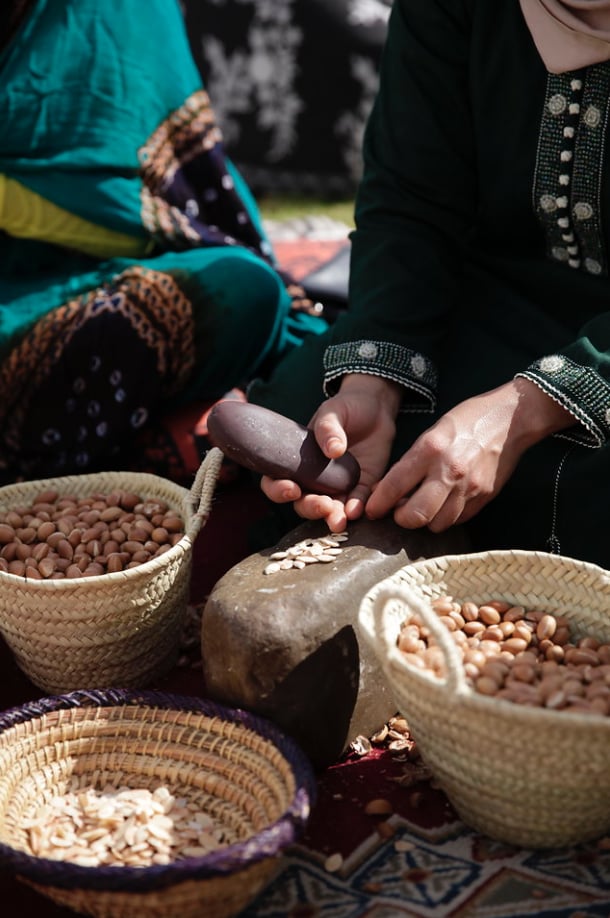 The Argan Nut-Cracking Process
This is a close-up of the argan nuts being cracked.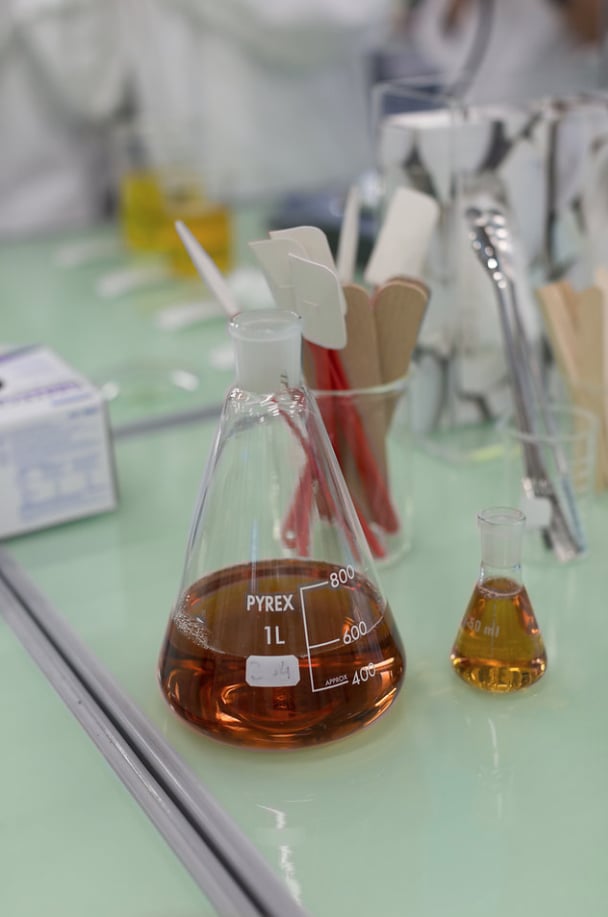 Why Coconut and Argan Oil Make a Dynamic Duo
As mentioned, the two hero ingredients of Aura Botanica are coconut and argan oil. Coconut oil actually penetrates the hair when lauric acid (a micro linear lipid) goes into the shaft. It offers serious hydration.
Argan oil is rich in omegas 6 and 9 as well as antioxidants, and it does the opposite of coconut oil by sitting on top of it to protect it. So coconut is like your medicine, while argan is your barrier. Together they make hair healthier, shinier, and less frizzy. All three of these results came through on my hair. (Keep reading to see just how lustrous my hair looked with the products.)
Pictured here are lab samples of both oils at L'Oréal HQ in Paris.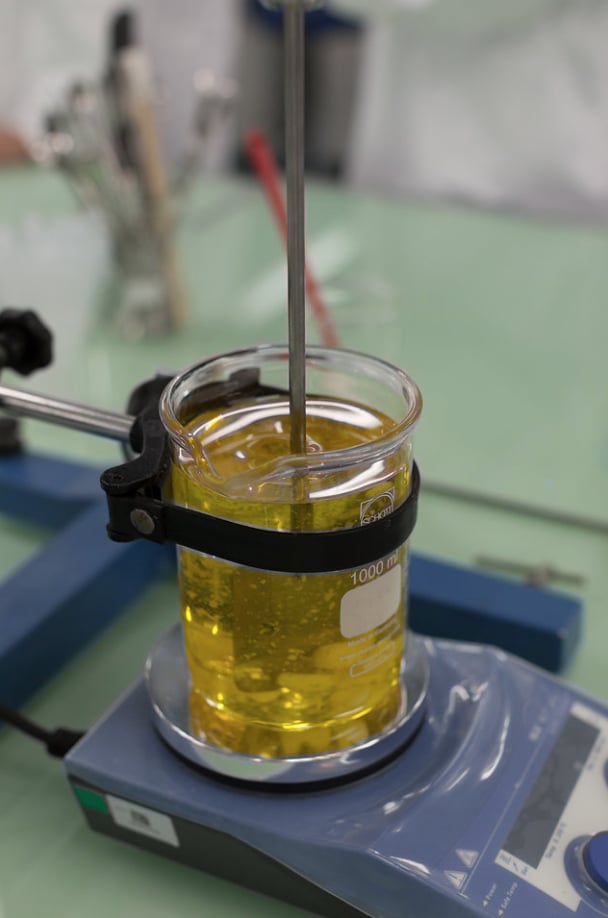 Coconut and Argan Oil Blended Together
Here's a shot of the coconut and argan oils being mixed together in the Paris labs!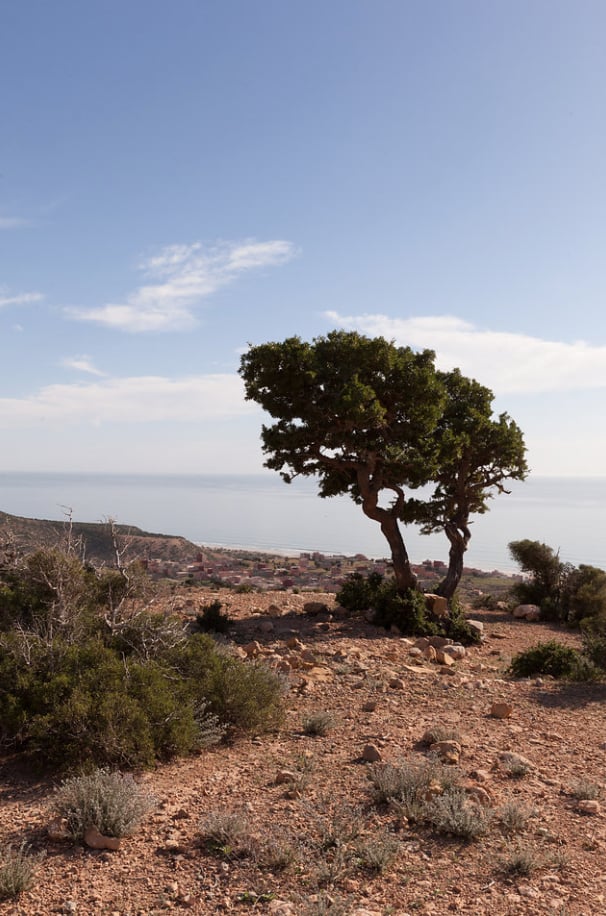 It's All About the Trees
Aura Botanica features responsibly sourced Samoan coconut oil. In Samoa, coconut palms are known as the "tree of life." Kérastase employed NGO Women in Business Development (WIBDI) of 200 female farmers in the area to make these high-grade organic ingredients. It takes just 10 coconuts to produce one liter of virgin oil.
As discussed, in Agadir, Morocco, the brand has employed local women of Targanine (a community project employing Berber women) to make argan oil from the trees found in their region (pictured). Fun fact: argan trees can survive droughts and intense winds to live up to 200 years.
Argan Oil Is Delicious
In addition to its beauty uses, argan oil is an important part of Moroccan culture. Here is a photo of the food we ate featuring argan oil and almond butter treats served with mint tea. (It was delicious!)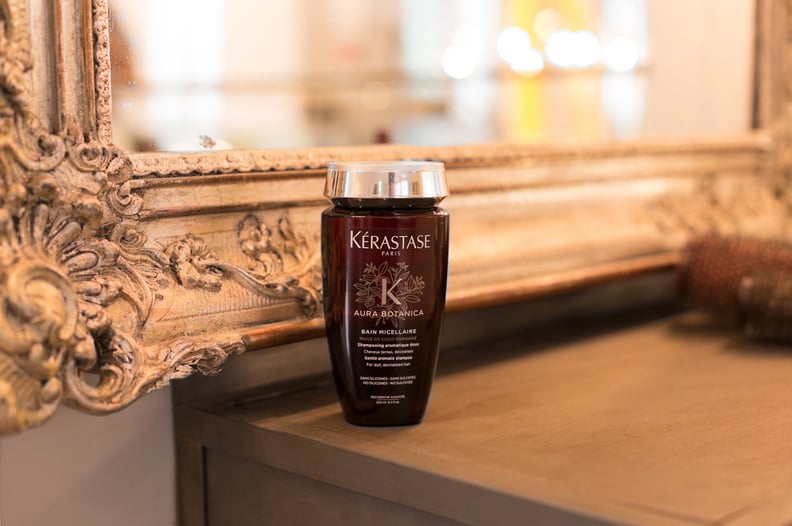 Aura Botanica Bain Micellaire Shampoo
Now that you know what goes into the products, let's talk about what each of them does! What's standout about the Aura Botanica Bain Micellaire shampoo ($43) is that it actually creates a nice lather (unlike no-poo products). That said, it leaves hair squeaky clean, so you really do want to use a conditioner with it.
The formula is free of sulfates and instead replaced with responsibly sourced Samoan coconut oil and Moroccan argan oil to make strands strong and shiny. It's 96 percent made of natural ingredients with the other four percent being preservatives and fragrance. That scent is described as sweet orange essential oil, but I find it pretty musky (and sexy!). If Tom Ford had a unisex hair care fragrance, I bet it would smell similar to this.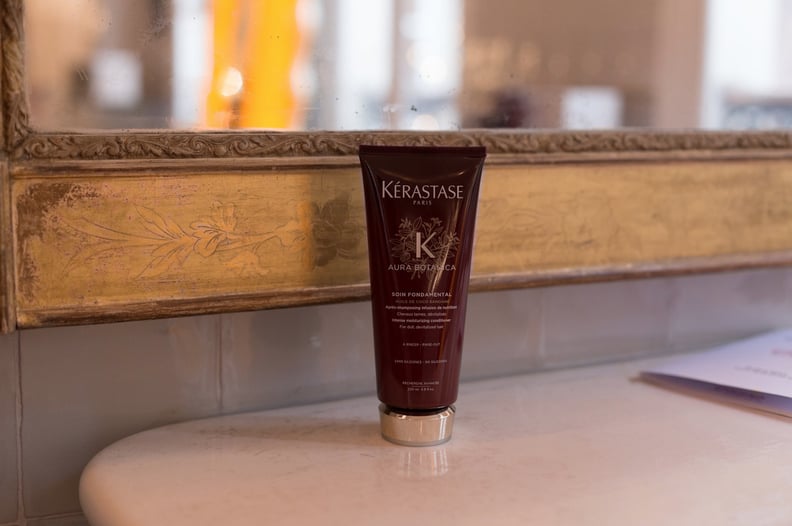 Aura Botanica Soin Fondamental Conditioner
The Aura Botanica Soin Fondamental conditioner ($45) really is the perfect complement to the shampoo, since it melts into hair. After that superclean feeling, you're going to want a softening and detangling product (no silicones involved). If you have Priyanka Chopra-level thick hair, add a pump of the Concentré Essentiel into it.
Like the shampoo, it has Samoan coconut oil, Moroccan argan oil, and that sensual sweet orange essential oil fragrance. What is different is that the conditioner is actually 97 percent natural with the outstanding three percent being preservatives and fragrance.
The biggest benefit is that it is a major frizz fighter. When I tested just using the shampoo, conditioner, and hairspray in the Moroccan heat, my natural waves air-dried perfectly. I was honestly shocked (and happy). My curls also did not drop — even after sleeping on them, they held their shape.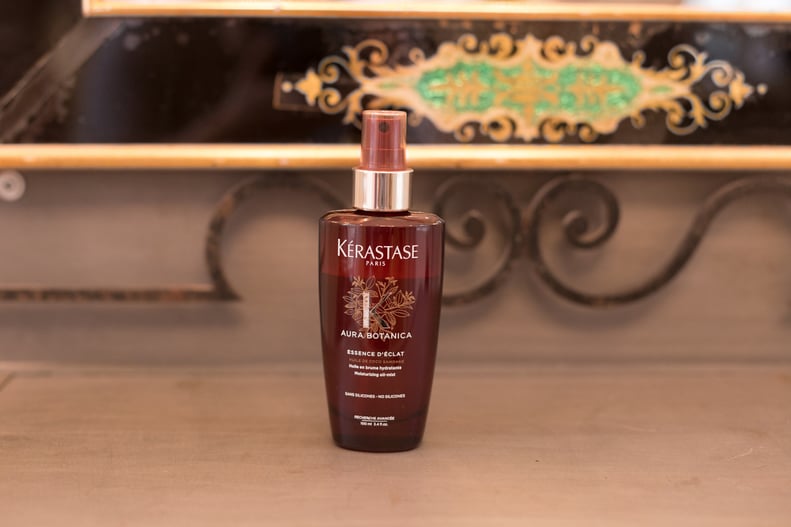 Aura Botanica Essence d'Éclat Oil Spray
The Aura Botanica Essence d'Éclat spray ($43) is my favorite product out of the entire range. I have been a longtime user of Elixer Ultime oil and credit much of my hair's health to it. So learning that there was a new, even more natural Kérastase hair oil spoke to me.
The lightweight mist is 99 percent natural. It's a biphase formula with jojoba, avocado, coconut, and argan oils on the bottom and a more watery sweet orange essential oil and Damask rose flower mix sitting on the top. So it needs to be shaken well to blend before using.
I apply it to wet strands (avoid roots so you don't lose volume) to air-dry or as a heat protectant before blow-drying. For second-day strands, I'll use it on dry hair to make it soft and refreshed. It absorbs quickly and is a fantastic complement for dry shampoo. If your hair is fine, spray it onto your palms and run your fingers through your hair to just add a bit of sheen.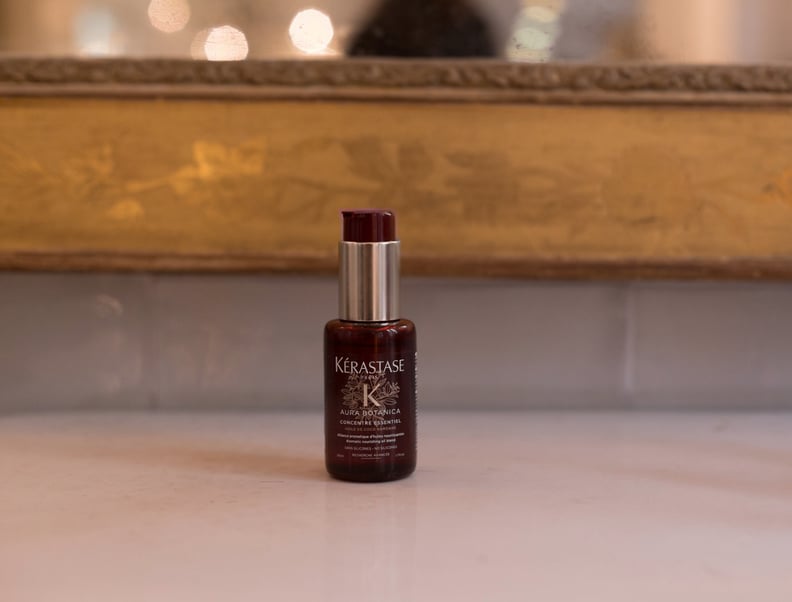 Aura Botanica Concentré Essentiel Serum
While the other three products mentioned are amazing, the Aura Botanica Concentré Essentiel serum ($58) is the star of the show.
It's a first-to-market concept: a hair serum that can be used as a treatment and also is natural enough to be applied on the body. The texture is a very concentrated hair oil, featuring avocado oil, jojoba oil, and the dynamic duo (coconut and argan). It has the same sweet orange essential oil fragrance as its sister products, with the addition of rosemary extract to preserve the oils.
You can use it as a preshampoo treatment by coating your strands, twisting them to make the formula penetrate deeper, and leaving on for 15 minutes before rinsing. As mentioned above, it can be cocktailed with the conditioner to make it more potent. And it can also be massaged onto hands or legs to nourish your skin! You can even drop a bit in a bath. The one thing I would avoid is putting it all over clean hair since it might weigh it down (that's what the light oil mist is for, instead!).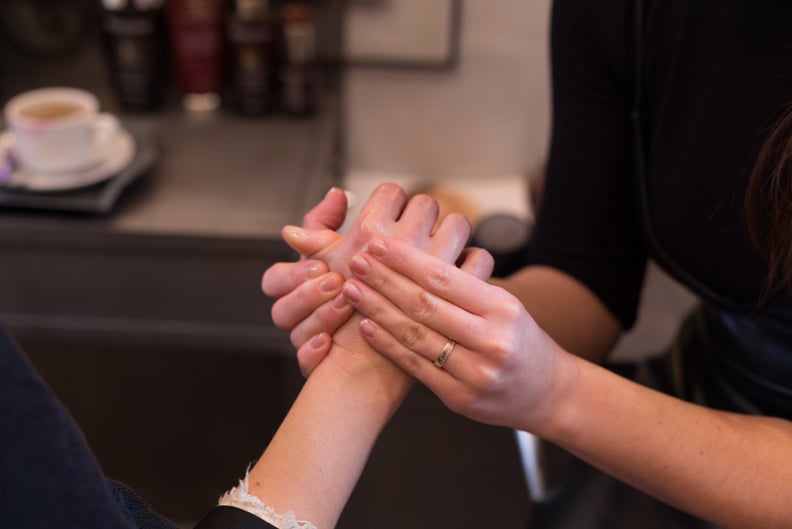 Aura Botanica Concentré Essentiel Serum in Use
Here I am getting a hand massage with Concentré Essentiel during an Aura Botanica hair treatment in Paris. (It felt and smelled awesome.)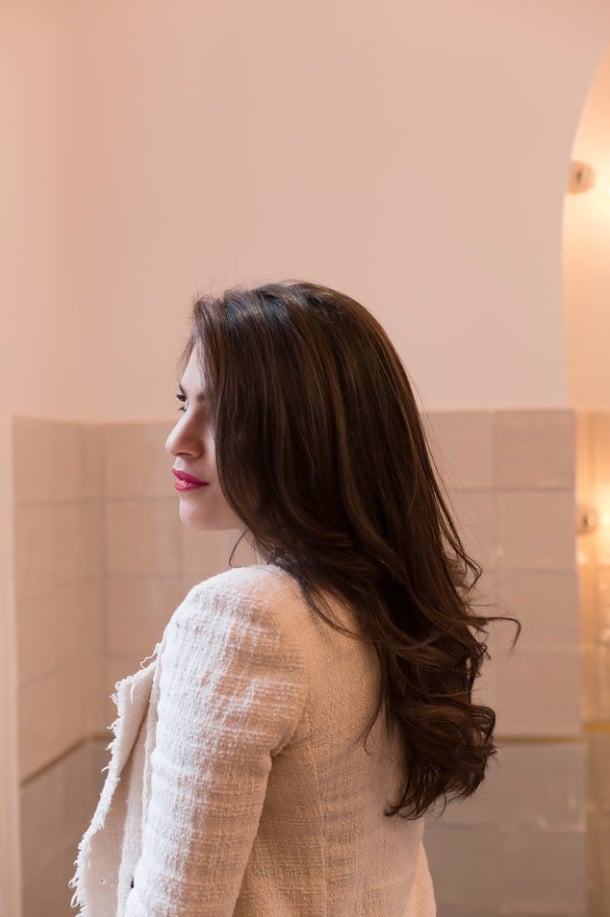 Aura Botanica on Hair
I visited a salon in Paris, where I received the official Aura Botanica hair treatment. It involved prepping my strands with Concentré Essentiel for 15 minutes as well as a hand massage with the product. My stylist then washed and conditioned my hair with Aura Botanica before using the hair mist to prep it for the blow-dry. This was the result. My hair was glossy without being weighed down. The blowout lasted three full days, including a flight back from Paris to NYC.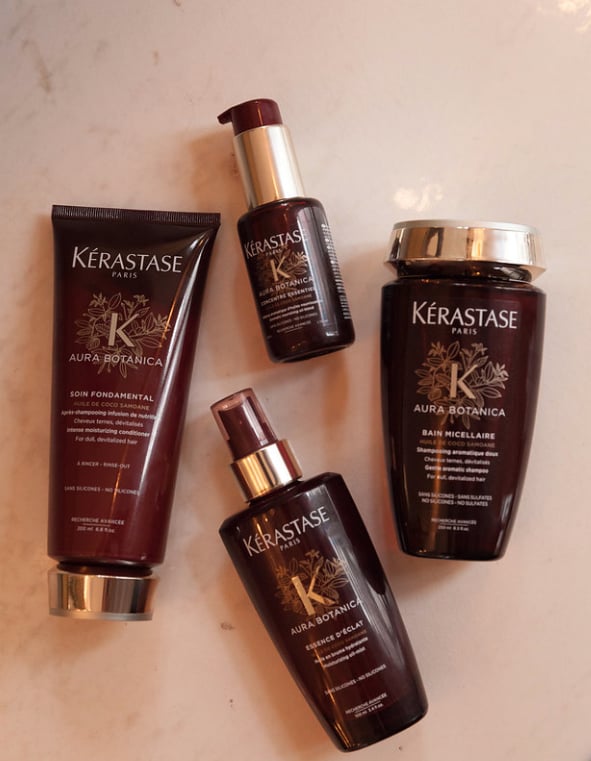 More About Aura Botanica
There are two additional standout features of Aura Botanica, one being the fragrance. Kérastase worked with the perfumers at Mane to create the citrus and woody floral scent. Top notes include citrus zests and freshly crushed mint leaves, followed by spicy coriander seeds, pink pepper, and white jasmine. Base notes feature amber woods, Indonesian patchouli leaves, and vanilla pods. It's absolutely decadent. My tip: rub some of the serum on your pulse points if you're too lazy to spray on perfume.
To create this amazing scent, the pros blended raw materials, essential oils, resinoids, and natural extracts. Every ingredient was handpicked for its aromatherapy properties and biodegradability.
And speaking of being eco-friendly, the other major note about this launch is that the packaging uses less material. Kérastase revamped its signature bottle cap to be lighter, and it's the brand's first product to be made from recycled plastic! All packaging is done at the Burgos Factory in Spain, which uses solar panels. The line is 97 percent biodegradable and sustainably made. After you buy it, it's your part to make sure you recycle it!
Travel and expenses for the author and photographer were provided by Kerastase for the purpose of writing this story.