I Tried This Outer Banks Star's Acne Routine, and My Skin Has Never Been Less Problematic
As POPSUGAR editors, we independently select and write about stuff we love and think you'll like too. If you buy a product we have recommended, we may receive affiliate commission, which in turn supports our work.
Outer Banks's breakout star Madelyn Cline (who plays Sarah Cameron) and I have a lot in common. We both enjoy playing The Sims a little too much, we pull off a gray bandana better than pogue king John B., and we both have a history of struggling with cystic hormonal acne. The latter is exactly why the moment I found her skin-care routine, I knew it'd be worth trying.
Last month, Cline showed off her nighttime routine for Harper's Bazaar, and since then I've watched the video several times, dissecting her techniques. I've even watched videos of estheticians break down the regimen and give it two-thumbs up. Even though I knew it all seemed legit, I noticed that there were some things about Cline's routine that weren't like mine. For example, I don't go a day without using an exfoliating toner on my skin, whether it's packed with AHAs or BHAs. I've also never used baby oil to wash my face and I usually wear my vitamin C in the day — not night (i.e., vitamin C doesn't mix well with acids. See: my love for exfoliating toners). But, since I started social distancing, my skin has become fussier than usual and treating my breakouts has become a top priority, so why not give her routine a shot?
Soon enough, I ordered Cline's products, dug up an old bandana, and set out to try the kook Cline's routine. But beware if you try it, too — you might never go back.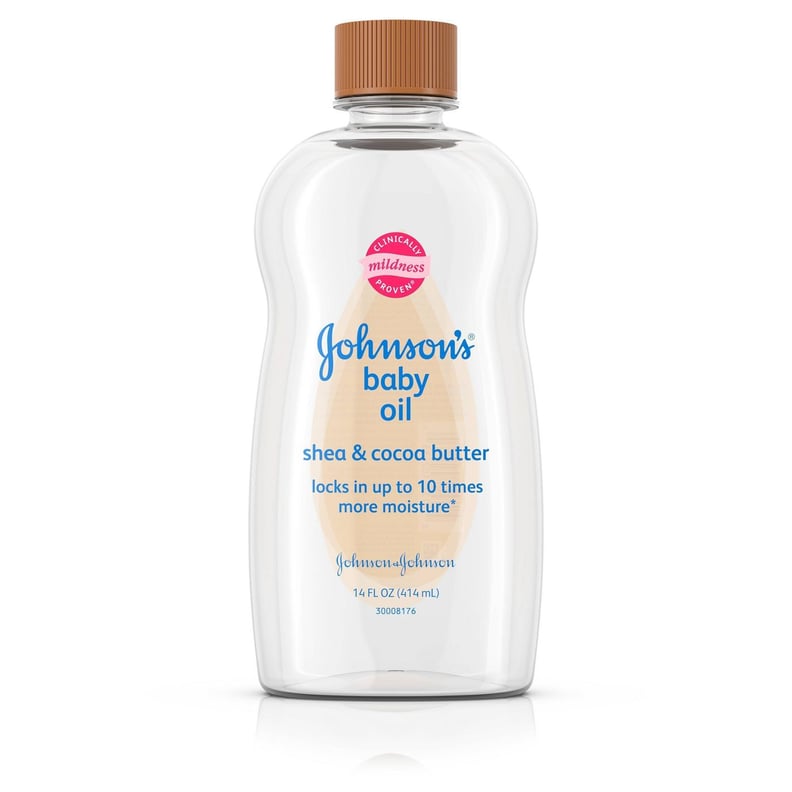 Johnson's Baby Oil Shea & Cocoa Butter
Cline's first, and perhaps most controversial, product is the Johnson's Baby Oil Shea & Cocoa Butter ($4), which she uses as an oil cleanser. Initially, that part of me sitting in an ivory tower made of empty skin-care bottles pooh-poohed the concept. Baby oil on my skin?! Turns out, Cline is on to something. Not only does this formula smell delicious, but it's the least irritated my eyes have ever been while using an oil-based product. While this isn't technically made for the skin on your face, or to be used as a cleanser, using it shouldn't cause any harm (or breakouts!). My only warning: a little bit goes a long way — and I definitely used too much the first time trying this step, so I could definitely still feel a lot of residue after rinsing and cleansing again.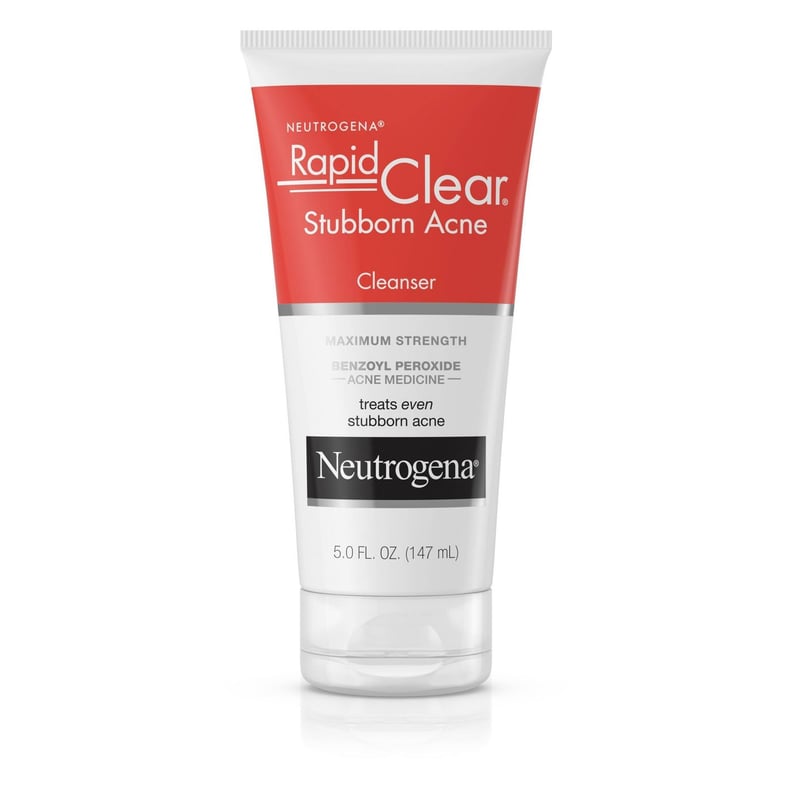 Neutrogena Rapid Clear Stubborn Acne Cleanser
If my acne is anything, it's stubborn — especially while I've been staying home. When Cline called out the Neutrogena Rapid Clear Stubborn Acne Cleanser ($8) as her go-to, I knew I needed to try it. While Cline's dermatologist apparently recommended she use the formula that includes 10 percent benzoyl peroxide, it's not typically the kind of ingredient you'd see most people in their late 20s, like me, using (pros tend to recommend it for younger people struggling with cystic acne and I definitely haven't used the ingredient since I was a teenager). But, alas, I tried it, and it wasn't nearly as drying as I assumed it would be. I suppose that's thanks to the baby oil . . .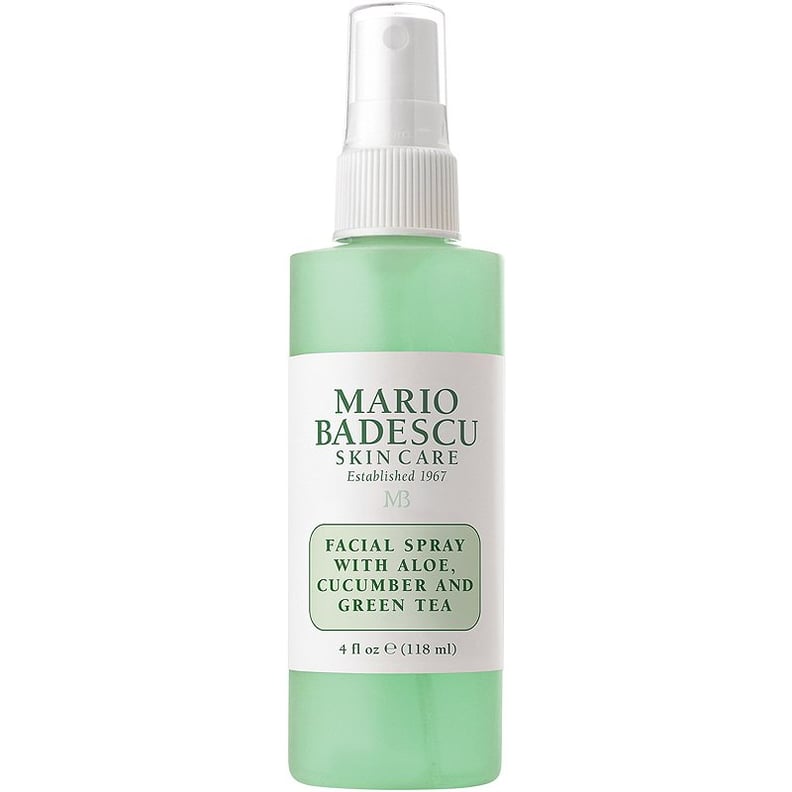 Mario Badescu Facial Spray with Aloe, Cucumber, and Green Tea
If you've been on TikTok lately, you'd know that the Mario Badescu Facial Spray with Aloe, Cucumber, and Green Tea ($7) — and its siblings — have gotten a bad rap. But I must admit I've owned almost every one since I was 15 years old. While facial mists aren't necessary in a skin-care routine, a spritz of this calming formula is refreshing right before bed. According to the video, Cline uses this after her serum and moisturizer, but in almost every case using a toning mist like this is always more effective before heavier formulas, like a serum, oil, or lotion.
SkinCeuticals C E Ferulic
Look up "holy grail" in the dictionary and a bottle of the SkinCeuticals C E Ferulic ($166) will be next to it. I don't think I've met a beauty editor who didn't rave about this serum that uses a combination of ferulic acid and pure vitamins C and E to protect and treat skin from, well, every skin stressor you could imagine. The only con is that it's nearly $200, but most experts will tell you the proof is in the pudding, and the price is totally worth it. Copying Cline's routine meant I got a chance to revisit the formula I used years ago and, of course, it didn't disapoint. Warning: Cline is right, this does have a funky smell, but that's sort of its thing (it's free of synthetic fragrance that would otherwise cover up the scent, but potentially irritate skin).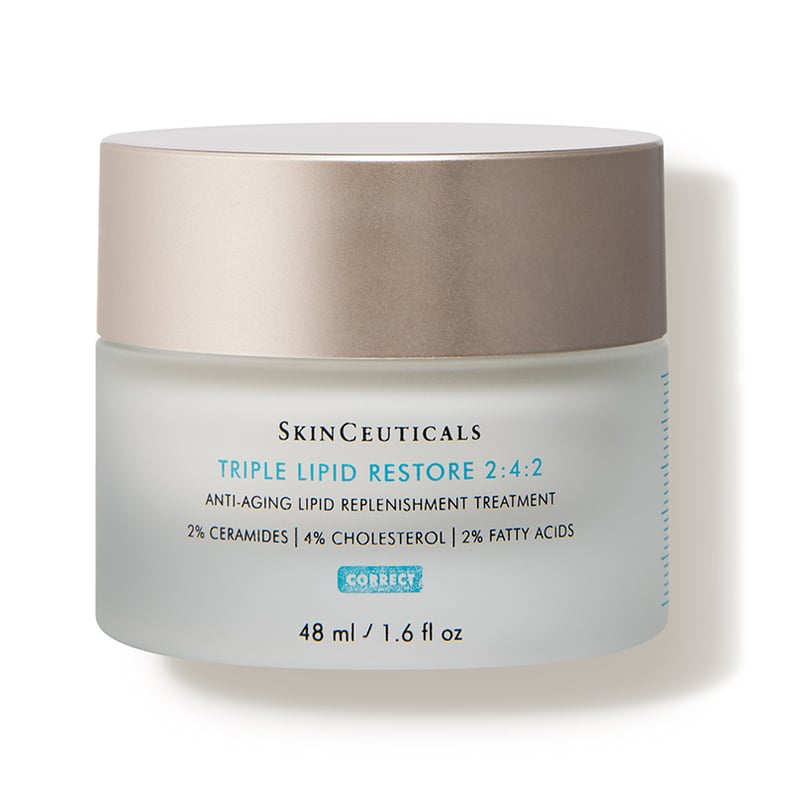 SkinCeuticals Triple Lipid Restore
Cline noted in the video that because of the infamous scent of the C E Ferulic serum, she likes to mix a few drops with the SkinCeuticals Triple Lipid Restore ($128) — but this cream is pretty spectacular on its own. Within one use, I immediately texted my best friend telling her this was perhaps the best night cream I'd used in my entire life. Not only does it seem to last all night, but I wake up with supersoft skin every time I use it. It's also helpful that this cream's one purpose is to protect and strengthen the skin barrier, so any harsh acne ingredients (see: the aforementioned benzoyl peroxide) don't sensitize the skin.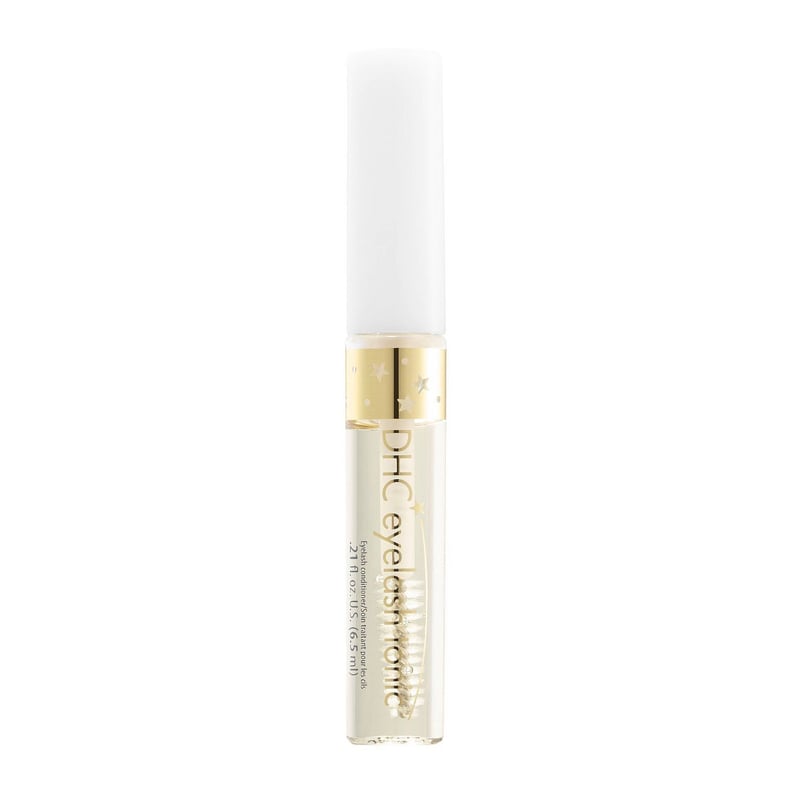 DHC Eyelash Tonic
Another thing Cline and I have in common: we're terrified of our eyelashes falling out, especially from an overuse of mascara. I already wear a nightly lash serum (my usual is the RevitaLash Advanced Eyelash Conditioner), but I was intrigued by her more affordable option that I found at Target. The DHC Eyelash Tonic ($14) is easy to apply — it comes with a traditional mascara wand — and doesn't irritate my eyes or skin. Although I think I'll be sticking with my original conditioner, the Eyelash Tonic is comfortable to wear during the daytime and works just as well underneath as layer of mascara.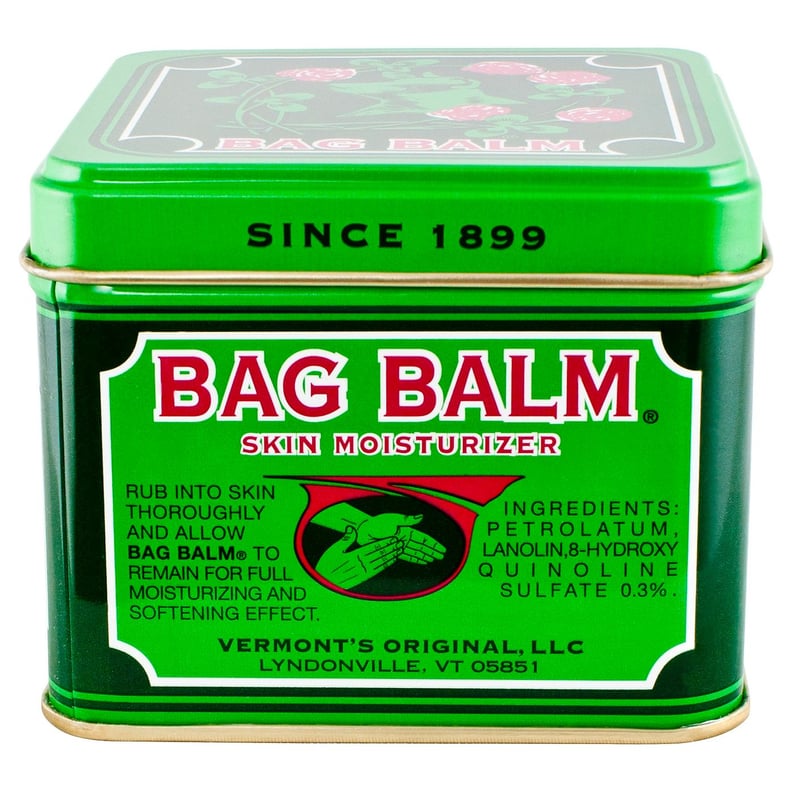 Vermont's Original Bag Balm
Again, like Cline, I already am an avid lip-balm wearer. It wouldn't be wrong to say I'm desperately attached to my tub of Aquaphor Healing Ointment. As much as I adore that, I'd spent years watching an ex boyfriend use Vermont's Original Bag Balm ($10) like it was his job. Unlike Aquaphor, Bag Balm has a distinct scent that I definitely don't hate. In fact, the combination of this scent and the shea and cocoa butter in the baby oil are kind of heavenly.
Chanel Paris Deauville
You didn't think Cline was done, did you? Cline may be a pogue at heart, but this addition into her nighttime routine is full kook. She tops off her routine with a few sprays of Chanel Paris Deauville ($80-$130). To be honest, I kind of scoffed at the idea. Why waste a very expensive perfume to sleep in it? That's only something my roommate who has a long-term boyfriend does. Then, I tried it and I ate my words. Going to bed lightly blanketed in a subtle scent like this does make you happy.