You know a brand is legit when the celeb behind it rocks it on the regular. Case in point: Rihanna in Fenty Beauty. Sure, she probably knows exactly what works on her, and highly likely that created this line so that she could dive all the way into her makeup fantasies. Either way, and not to jinx it or anything, but she has nails it pretty much every single time. These five looks, created by Fenty Beauty Global make-up artist Priscilla Ono, are the receipts to prove it.
The versatility and range of each look is pretty impressive, but then again, are we really that surprised? It is Rihanna that we're talking about here. She can go out completely bare faced and still look stunning. For all of us Fenty fanatics, looking to live your best RiRi re-incarnated lives — here's exactly what you need to recreate each of these Fenty faces.
01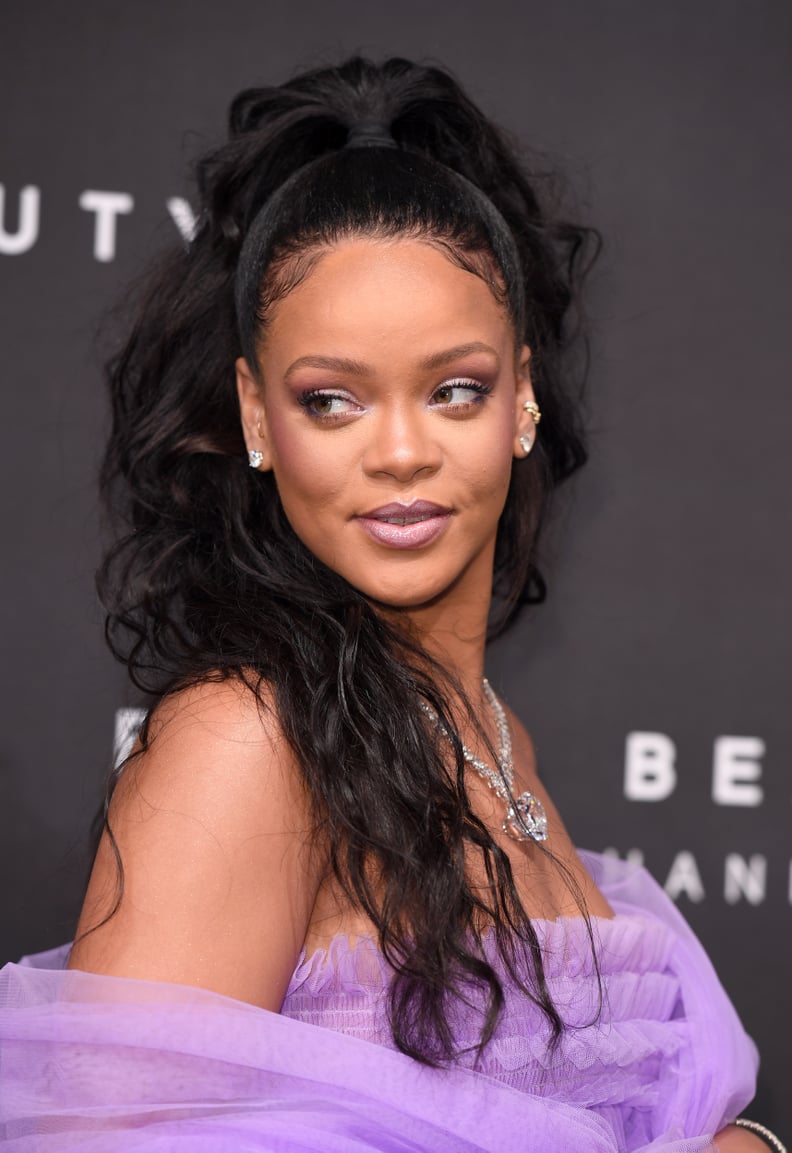 Purple Haze
Leave it to Rihanna to prove that there is absolutely nothing wrong with matching your makeup to your outfit — and, of course, she has the perfect shades in the collection to pair with her lavender dress.
Start with the Pro Filt'r Instant Retouch Primer and then follow with your shade of the Pro Filt'r Soft Matte Longwear Foundation. In case you're curious, Rihanna wears shade 330. Ono used a lighter version of the foundation paired with the Match Stix Matte Skinstix in Almond to conceal any imperfections. But does Rihanna really have any imperfections?
Sticking in the matte fam, she then used the Truffle Skinstix to contour and the Shimmer Skintix in Unicorn and Confetti to highlight. Confetti also went on the lips and eyes. As did an extra hit of Unicorn just on the eyes.
Products:
02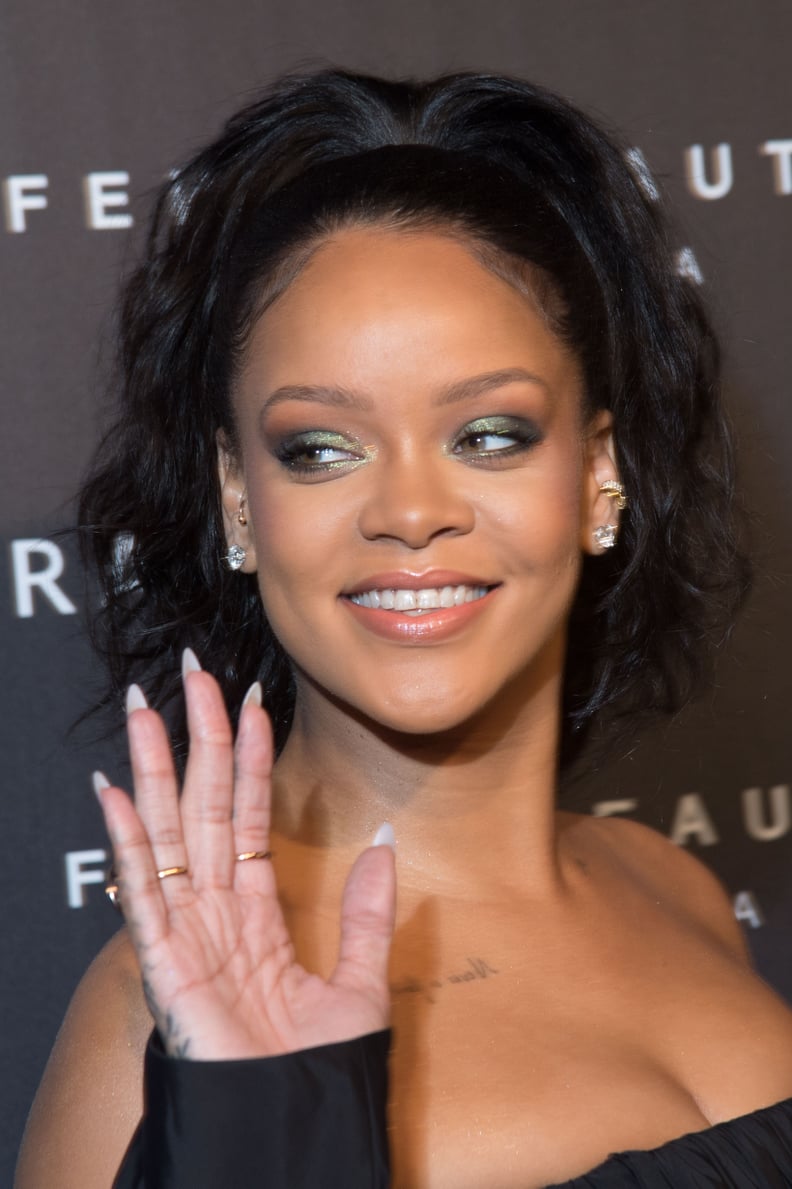 Sage Smoke
Here's our first peek at the Fenty Galaxy Holiday Collection in action! This gunmetal and green smokey eye is a combo of two shades that we'll see when the products drop on Oct. 13. The shades are called Nepturnt and Xtraterrestrial. The lip is also two shades that we'll see for holiday called Supermoon and Spacesuit. For the rest of the face, Ono started with the same base: foundation, concealer, contour, and highlight.
Products:
03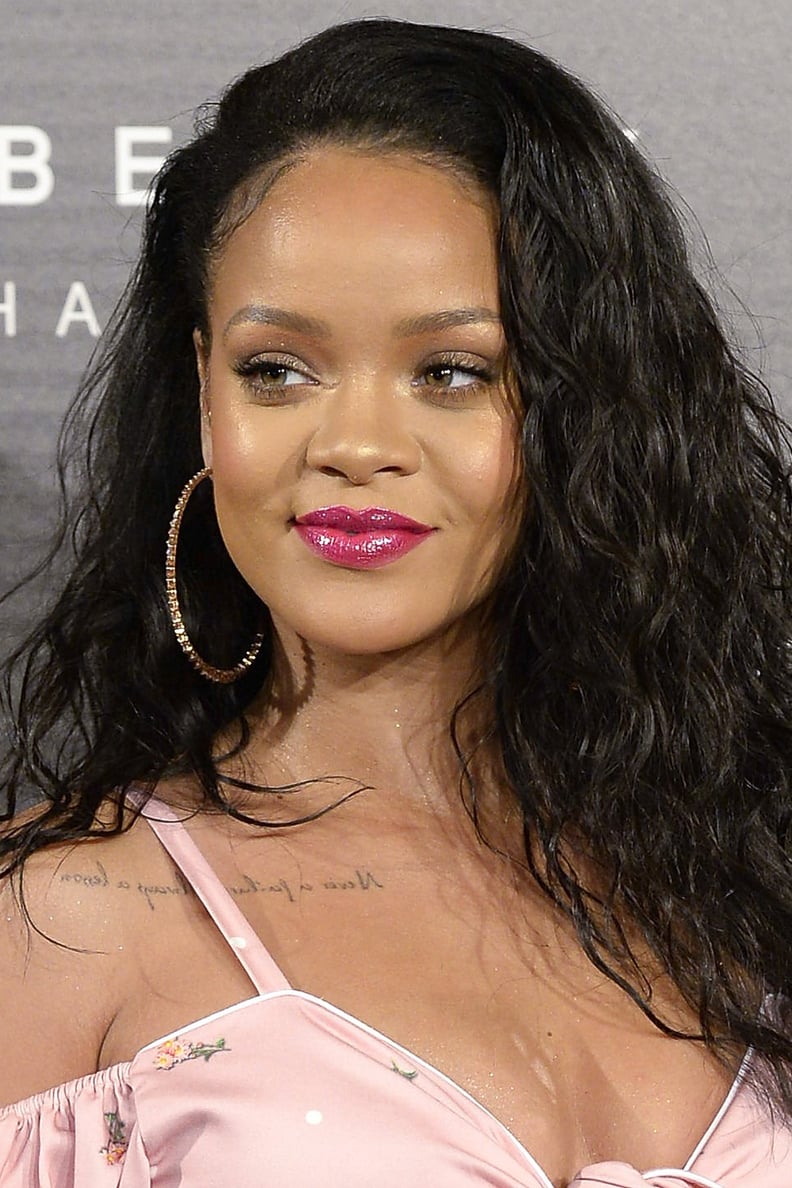 Lots of Lip
The focal point here is obviously the gorgeous lip, but it wouldn't pop as it does without a flawless surround. Start with the same base: Instant Retouch Primer, Pro Filt'r Soft Matte Foundation and Match Stick Matte Skinstix to conceal and contour.
Makeup artist Hector Espinal went for a more intense highlight here using a combo of four shades: Shimmer Match Stix in Chili Mango (shimmery bright orange) and Blonde (gold cream) and the Killawatt powder in Moscow Mule/Ginger Binge. On the lip and eyes are two more items from holiday. The eyes are Jupiter Sand, and on the lip it's a mix of two shades: Gravity and Plutonic Relationship.
Products:
04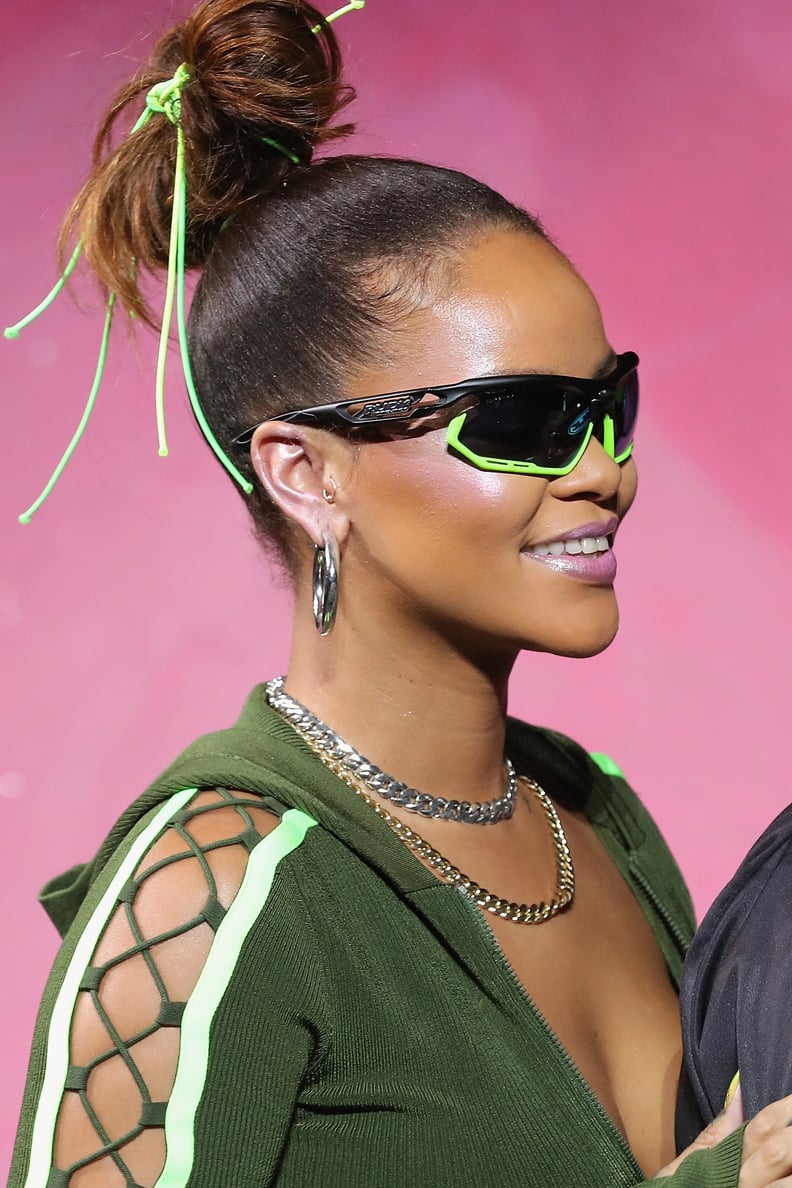 Iced Ri
Few people can pull off an icy lavender cheek, eye, and lip — and of course Rihanna is one of them. There are all kinds of '80s vibes in this look and we're into it. Interestingly, Ono used a slightly darker foundation shade here (maybe RiRi got some sun?), and a deeper Matte Skinstick to contour. She brought the icy lilac highlight up and over the lid using the Confetti Shimmer Skinstick. Blotting papers were also key, which may be the secret to deeper skin tones pulling off this frosty highlighter.
Products:
05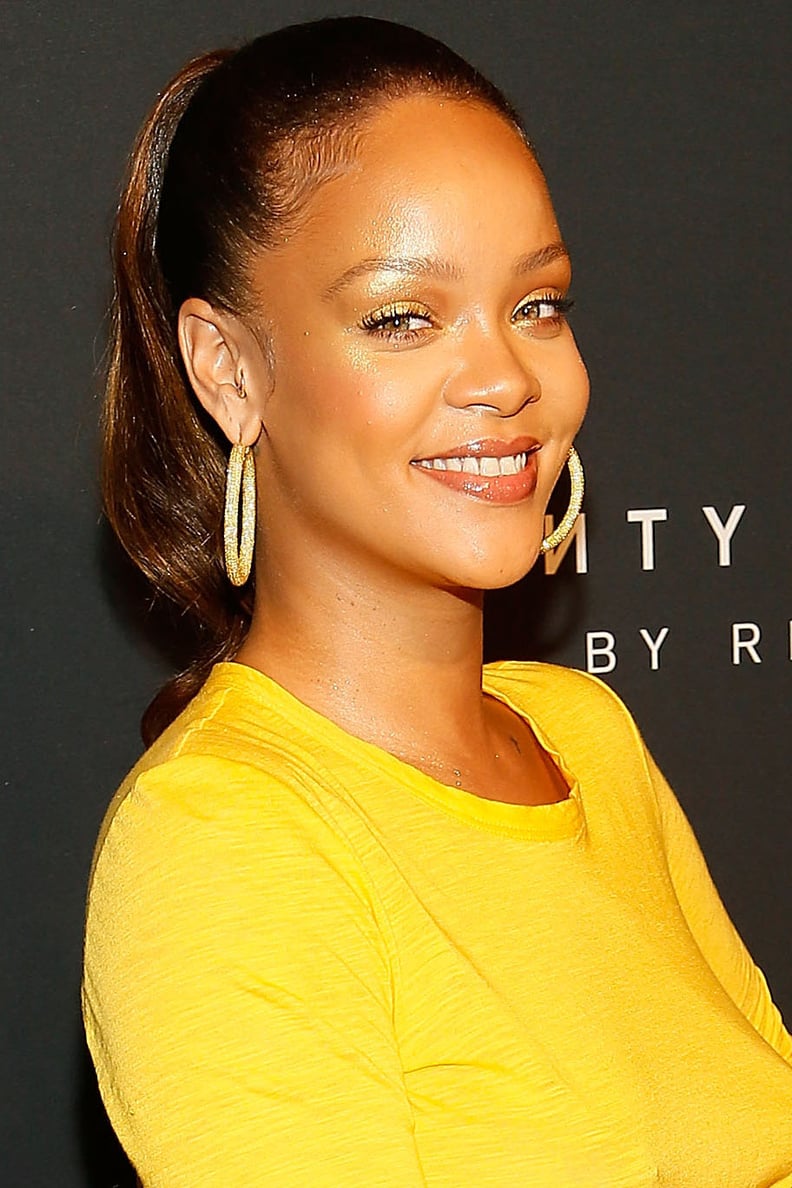 Little Miss Sunshine
Once again, Rihanna said f*ck your beauty and fashion rules and went for full golden girl. Trophy Wife may seem intimidating, but if you're going to go for it, then go for it. After foundation and contouring with the Matte Skinsticks, Ono used the true gold shimmer powder both on the lids and to highlight. She also used the creamy gold Blonde Match Stix Shimmer as a base on the lid. On Rihanna's lips is a mix of the Ridiiic Match Stix and Gloss Bomb.
Products: