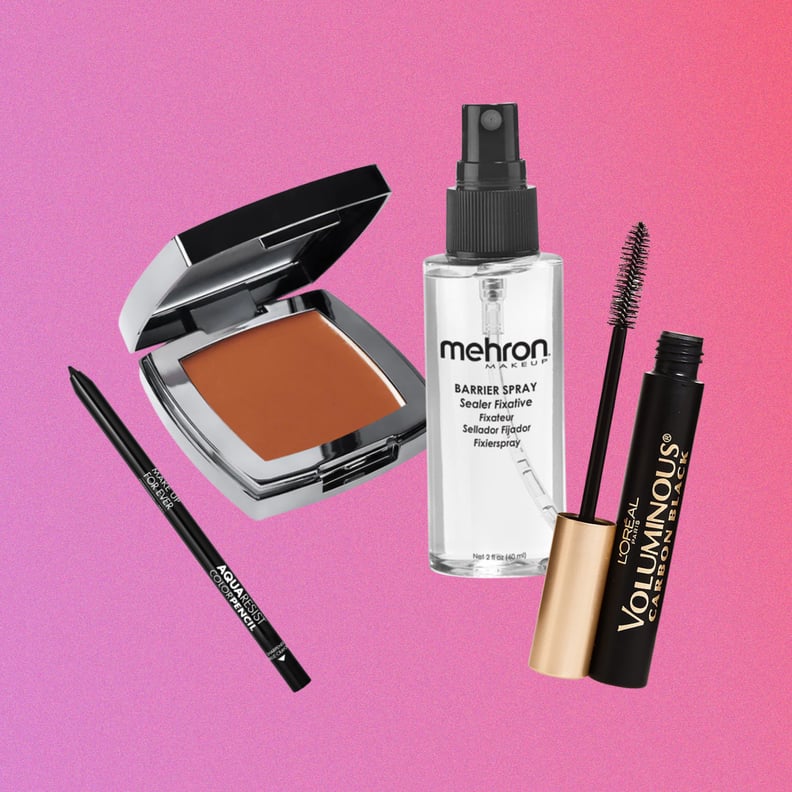 Photo Illustration: Michelle Alfonso
Photo Illustration: Michelle Alfonso
Every editorial product is independently selected by our editors. If you buy something through our links, we may earn commission.
Image Source: Photo Illustration: Michelle Alfonso
Keeping makeup in place during hot, humid weather is an age-old beauty conundrum.
Sweat-proof makeup can be a solid solution, if used correctly.
We asked a pro makeup artist for the best sweat-proof makeup tips.
Whether you're running straight from work to a spin class and don't have time to wash your face or you just finished your impeccable contour minutes before stepping out into the sweltering heat, the fact remains: sweat is the quickest way to mess up your makeup. While this is especially true in the summer months, perspiration is a year-round reality for many.
Anyone who's ever worn makeup knows the beauty dilemma, so what's the sweat-proof solution? If you're looking for a makeup routine that will only move when you want it to, you might want to consider changing up your products and techniques.
"The reasons people want sweat-proof, long-wear makeup differ, but they often come down to people having allergies or runny eyes, going to events where tears are expected like weddings, or simply preferring their products to have a longer wear time," makeup artist Jonet Williamson tells POPSUGAR. "Products like waterproof foundation are mainly used for tattoo coverage so that makeup won't transfer to clothing, but for stage performances where sweat is expected, an underwater photo shoot or rain scene, or even an extremely hot day where you need your makeup to stay on, waterproof foundation can be extremely handy."
Below, Williamson breaks down the best tips and practices.
Sweat-Proof Makeup Tip 1: Use "Waterproof" Products Sparingly
Should you decide to go the heavy-duty route with true waterproof products, there are some things to keep in mind. "One of the main drawbacks of waterproof makeup is that removing it can be a pain," Williamson says. "You'll need face cleansers that are formulated specifically to remove waterproof makeup, and even then, some can only be removed with 99 percent alcohol."
If you're a bit hit or miss with your nightly skin-care routine (relatable), make extra sure that you're setting aside time to fully take off your makeup if using waterproof products before bed. Otherwise you may risk clogged pores and breakouts due to product buildup.
Sweat-Proof Makeup Tip 2: Tweak Your Technique
Another thing to know is that you may have to switch up your normal technique when applying budge-proof products. "With waterproof makeup, you'll typically need to work quickly because once it dries down it won't budge," Williamson says. "For example, waterproof eyeliners aren't the best to use for smudged-out smoky eyes because they dry down too fast and are hard to blend. Eye kohls would be a better option here but they may not be waterproof, so it's all about finding the perfect balance for your needs."
Sweat-Proof Makeup Tip 3: Find the Right Sweat-Proof Products
So what exactly are the products that you'll need if you want to achieve truly sweat-proof and waterproof makeup? "For complexion, Skin Illustrator's Flesh Tone Palettes ($85) are a must have for me," Williamson says. "Because you need 99 percent alcohol to activate them, they are truly waterproof. You could even take a shower with soap and warm water and they will not budge."
Even if your makeup doesn't have any long-wearing claims, there is a trick that you can use to make whatever you're using budge proof. "AJ Crimson Dual Skin ($45) creme and Kevyn Aucoin Sensual Skin Enhancer ($34) are extremely heavy duty, sweat-proof, and most importantly, water resistant," Williamson says. "While this differs from being completely waterproof, using water-resistant makeup set with a locking mist like Mehron's Barrier Spray ($20) will help it stay in place." Other waterproof products that Williamson recommends are the L'Oreal Voluminous Carbon Black ($10) mascara, Make Up For Ever Aqua Resist Color Pencils ($22), and Urban Decay 24/7 Glide-On Eye Pencils ($22).
Now that you've gotten all the tips to make your makeup waterproof, go ahead and watch that tearjerker you've been putting off. Your makeup will look just as good during the closing credits as they did the opening scene.