A Guide to Tattoo Cover-Ups: Ideas, Cost, and Scar Solutions
Everything You Should Know About Tattoo Cover-Ups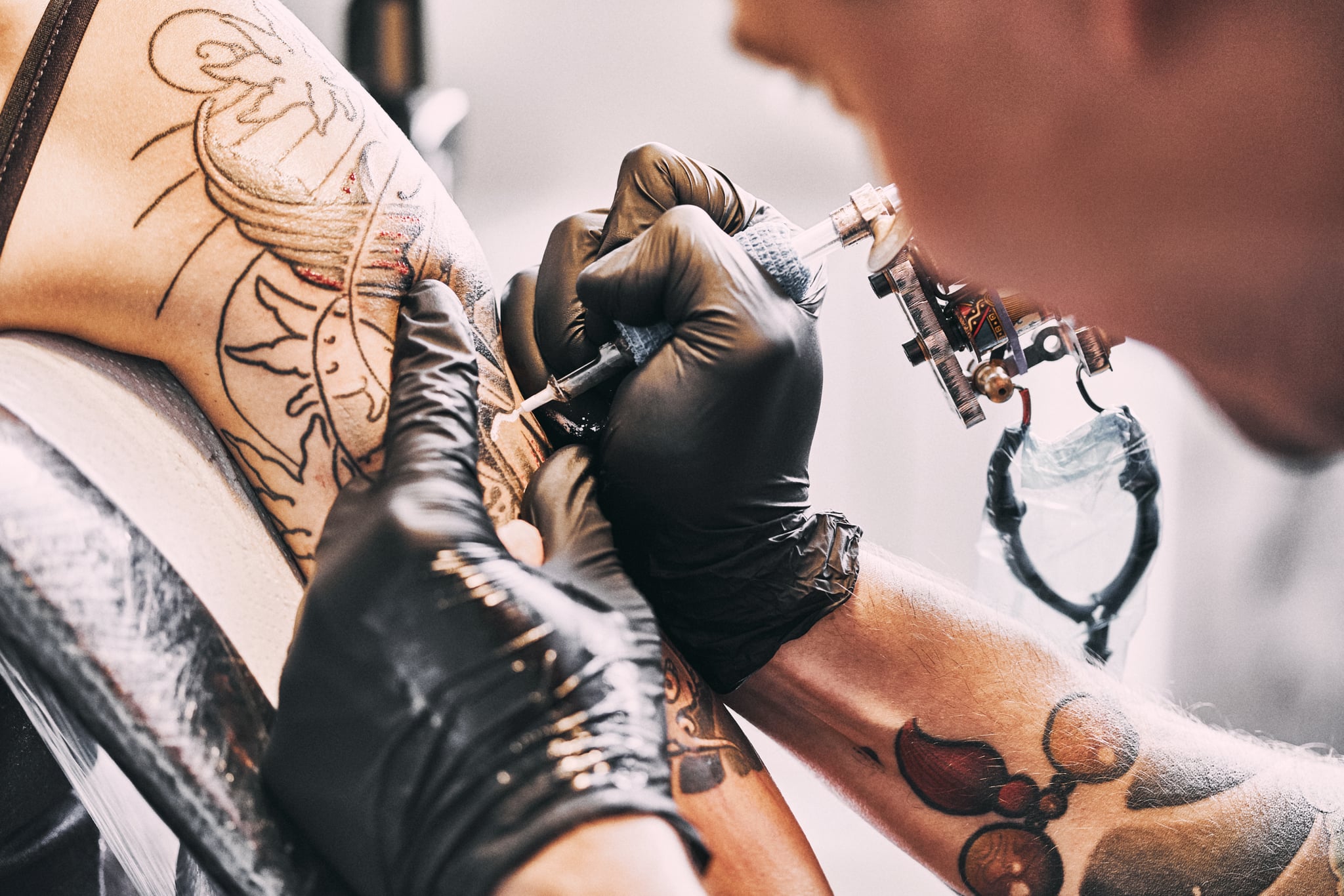 If you have ink that you want to get rid of or hide, a tattoo cover-up may be your best option.
Cover-up tattoos camouflage the original tattoo using a new design that's bigger and darker.
Here's exactly how to cover up tattoos, according to the pros.
Tattoos can be really great: they allow you to express yourself, honor someone or something special, or represent who you are as a person. Tattoos can also go wrong. Ever made a hasty decision on a design you ended up not liking, seen an artist that was less qualified than you realized, or (most common of all) gotten a tattoo for or with someone who's no longer in your life? That's where tattoo cover-ups come in.
Laser tattoo removal is another popular option for getting rid of unwanted ink, but it can be expensive, not to mention painful. Instead, many people opt to simply have their tattoo covered by a new design. Many celebrities have gotten cover-up tattoos to banish old ink, including Cardi B, Kaley Cuoco, Angelina Jolie, and Rihanna.
If you're considering this option, keep reading to learn how to cover up tattoos, the best cover-up tattoo ideas, and how to conceal scars with tattoos from professional tattoo artists.
How to Cover Up Tattoos
The idea of covering up an unwanted tattoo with a new design seems simple, but it's actually quite a complex process. Not every tattoo can be easily covered, and not every cover-up tattoo design will work. "When it comes to a cover-up, a general rule of thumb is that the design will usually be twice as big and twice as dark, depending on a variety of factors from the original tattoo," Jazmin Paulino, a tattooist at Fleur Noire Tattoo in NYC, tells POPSUGAR.
This also isn't something that all tattoo artists do. "Finding an artist with past cover-up experience is key here," Olga Szubiak, a tattoo artist at High Hopes Tattoo in NYC, says.
Factors to Consider For a Good Cover-Up Tattoo
The size and color of the original tattoo can affect how well a cover-up will work. "Colored tattoos are typically easier to cover than blackwork," Monica Motta, a tattooist at Fleur Noire Tattoo, says. "Black ink always covers a colored one, but a colored one never fully covers black ink."
It also depends on how much pigment is left in the skin. "Sometimes I'll have clients consider a session or two of laser tattoo removal to broaden the options for the new tattoo designs," Paulino says. One or two sessions of laser won't remove the design entirely, but it will lighten the pigment of the ink, making it easier to hide with something new. "The more faded or lighter a tattoo heals, the easier it will be to cover up the original design," Szubiak says.
Another thing to consider is the location of the tattoo. "Placement can either expand or limit your options when it comes to covering up tattoos," Motta says.
Lastly, you should think about the style of the unwanted tattoo. Fine, delicate lines are easier to cover than more traditional or heavily saturated styles.
Cover-Up Tattoo Ideas
The size, color, shape, and location of the original ink affect what the best cover-up tattoo will be for you. "To camouflage the old design, I usually make a design that has a lot of details in the focal point, and the old tattoo is covered with a background," Szubiak says.
The best cover-up tattoos are usually roses, florals, and nature-themed designs. "I always recommend these for cover-ups because they're organic in movement and can be made to flow with the body," Paulino says. "That, and some solid color or heavily contrasted shading, and say bye-bye to your old ink."
If a tattoo is too big and dark, you can cover it with blackwork, which is heavily saturated and dark. "What does not work for a coverage are fine lines and light shadows," Motta says.
How Much Do Cover-Up Tattoos Cost?
Just as there's no one price for tattoos (or any beauty service, really), the price of a cover-up tattoo varies. There's one thing you can bet on, though. "Cover-up tattoos are more expensive than non-cover-ups, due to the complicated nature of the entire process," Paulino says. "Most artists might charge hourly or, depending on the tattoo, a flat rate."
Szubiak adds, "The final price of a tattoo will always depend on a variety of factors, including the size and the placement." Luckily, it's an industry standard to have a consultation with your artist before jumping in to get an idea of the price.
Scar Cover-Up Tattoos
Sometimes, what you're trying to cover up isn't another tattoo but a scar, and some new ink can work well to disguise those, too. "Many people opt for a beautiful tattoo design that helps to cover and distract from any existing scarring," Shaughnessy Otsuji, owner and cosmetic/restorative tattoo artist at Studio Sashiko, says. "A tattoo will help draw your eye away from the texture of the scar and allow the viewer to focus on the design instead."
Floral designs work well for scar-tattoo cover-ups, too. "These types of natural designs allow for more flow to the body and often work well to distract from scarring that may be more geometric in nature," Otsugji says.
If you'd rather make the scar blend in with the rest of your skin, there's a tattooing technique called "scar camouflaging."
"Custom-mixed ink that matches the client's natural skin tone can be blended over the lighter areas for a more seamless look," Otsuji says. "This method works best when the scar itself is smoother in texture and lighter than the surrounding skin." However, if the scar is dark or raised, scar camouflaging may still work — it'll just require multiple sessions. As far as price goes, Otsuji says, "Scar camouflage pricing can start at around $200 and up per session."
Just keep in mind that the scar should be completely healed — meaning the color has faded, and it has "settled into the skin" as much as possible — before you attempt to cover it. "It can sometimes take anywhere from six months to upward of two years for a scar to smooth out and lighten on its own," Otsuji says.