I Tried TikTok's Setting-Spray Hack: See the Photos
TikTok's Viral Setting-Spray Hack Blended My Makeup Seamlessly
As POPSUGAR editors, we independently select and write about stuff we love and think you'll like too. If you buy a product we have recommended, we may receive affiliate commission, which in turn supports our work.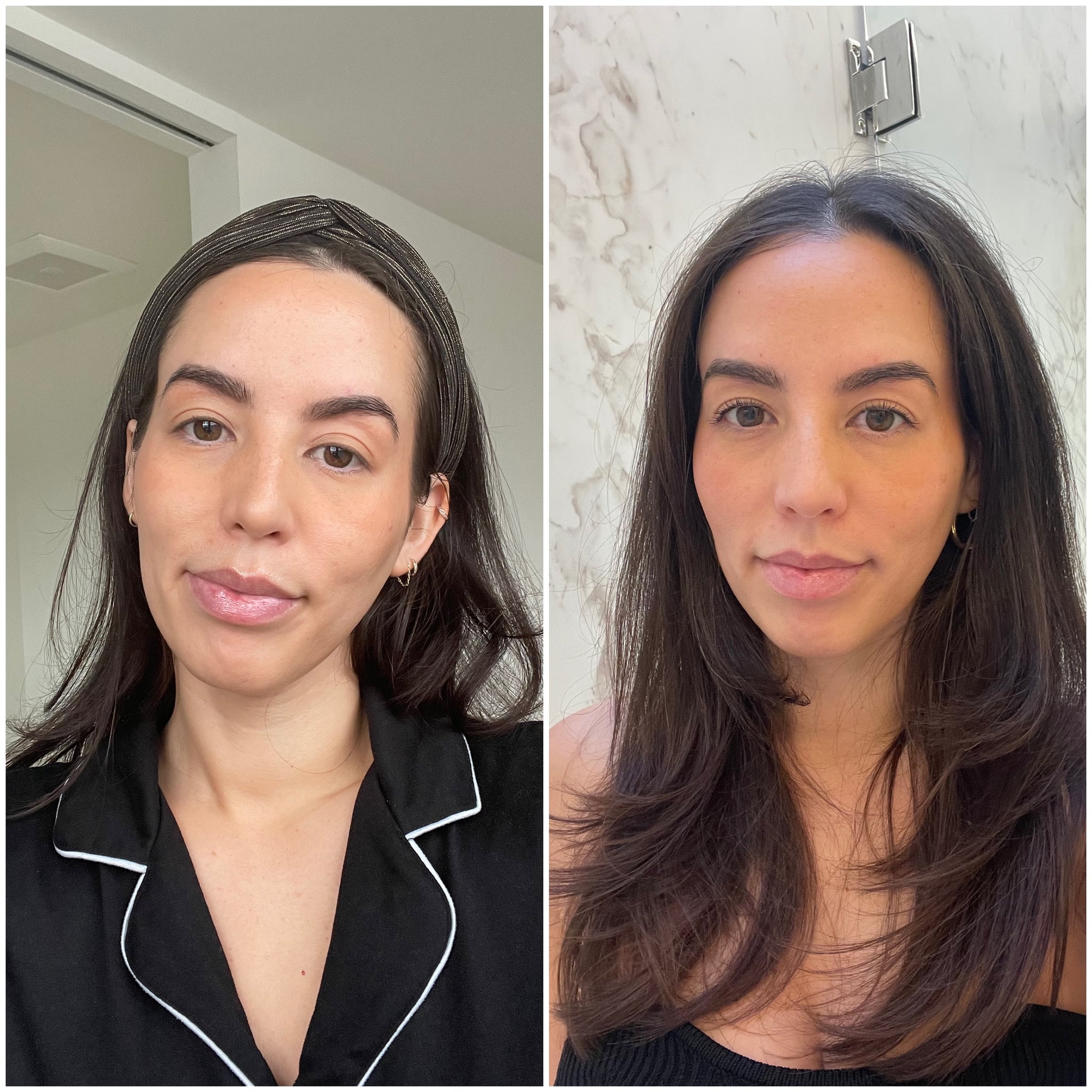 Makeup artist Kevi Kodra has popularized a new setting-spray hack on TikTok.
The technique utilizes a setting spray and a dry beauty sponge to blend your makeup.
One editor tested out the hack — read on for the results.
TikTok has quickly become my favorite place for finding new beauty products, fun fashion, and the best beauty hacks. I've tried everything from eyebrow hacks to hair detoxes, and I learn something new every time I scroll my FYP. Recently, I stumbled across a setting-spray hack from makeup artist Kevi Kodra. Apparently, I've been applying my setting spray all wrong. Kodra states that instead of spraying your setting spray directly onto your skin, you should first spray a beauty sponge, and then press your beauty sponge onto your face. The results are supposed to melt your makeup for the ultimate dewy-skinned look. I've seen tons of different beauty influencers trying it out, so I knew I wanted to see if it would work for me.
In an effort to get the most accurate results, I chose to do a split-face experiment. I applied setting spray to half of my face as I normally would (by spraying it directly) and for the other half, I sprayed the setting spray onto a beauty sponge before applying it to my face. To test this hack, all I needed was a makeup setting spray and a dry beauty sponge. Pro tip: it's important to use a dry beauty sponge rather than a wet one — I made the mistake of trying this hack with a damp beauty blender at first and didn't get great results.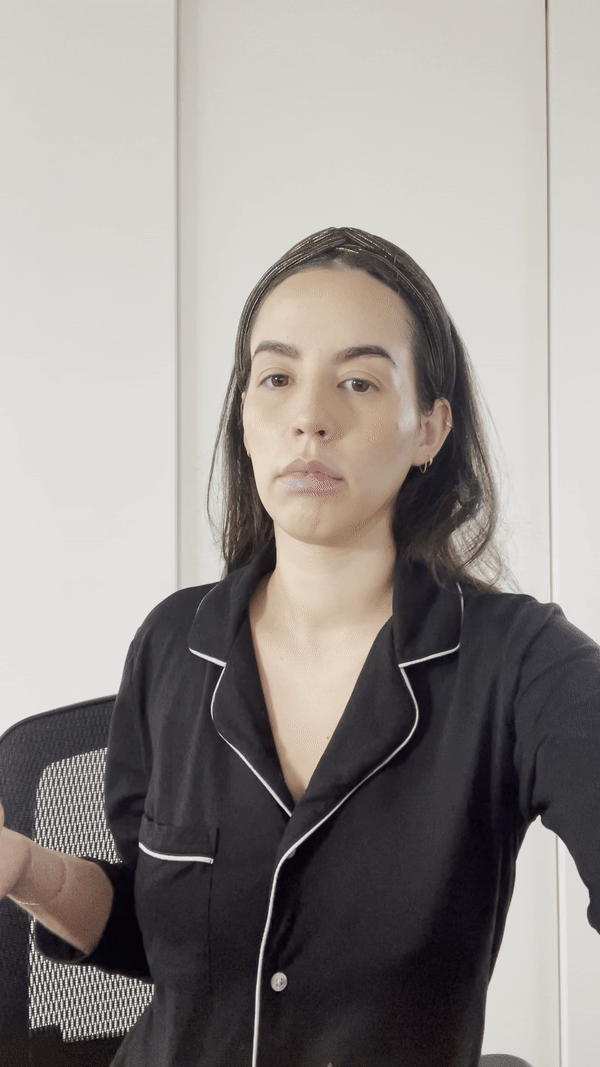 When it was time to put this hack to the test, I first did my entire face of makeup save for mascara. I then took my favorite long-wear spray, the Charlotte Tilbury Airbrush Flawless Setting Spray ($35), and sprayed it directly onto half of my face and neck. I've been using this setting spray for almost a year and my makeup always lasts all day without any need for touch-ups. I was excited to see if the application method made a difference when it came to the product's staying power.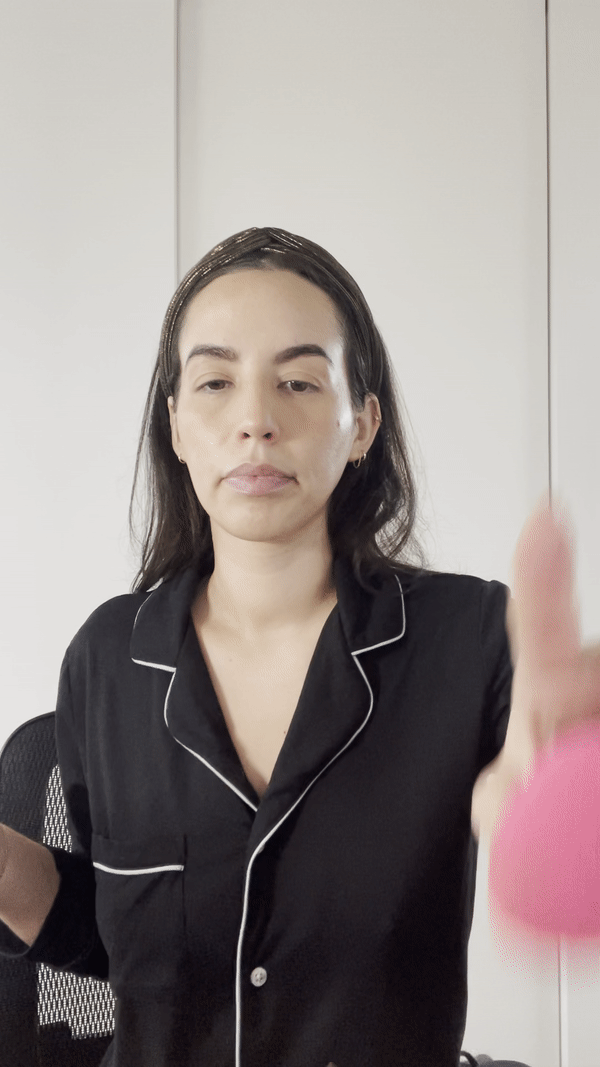 Next, I grabbed a clean, dry beauty sponge and I sprayed my setting spray directly onto it, saturating it entirely. I then gently dabbed my face and neck, pressing the sponge into my skin. Immediately after applying I could see the difference between the two sides of my face. It was subtle, but the side using the beauty blender had more glow to it, and my makeup looked more blended and natural.
By the end of the day, both sides of my face ended up looking about the same, and I don't think that one application method helped my makeup stay any longer than the other. Overall, I liked the beauty blender hack, but the main downside I found was that in order to really saturate my beauty sponge, I had to spray it quite a few times. I typically only spray my face three times max, so I could see myself running out of setting spray a lot faster if I continued to use the beauty sponge technique.
I think I'll save the beauty sponge technique for bigger events and special occasions and I'll continue to use my typical spray method of application in the meantime. If you're looking for a way to make your makeup last all day, either application technique will work. However, if you want a little extra glow and a seamless blend — grab your beauty sponge and test out this hack ASAP.
Image Source: POPSUGAR Photography / Renee Rodriguez