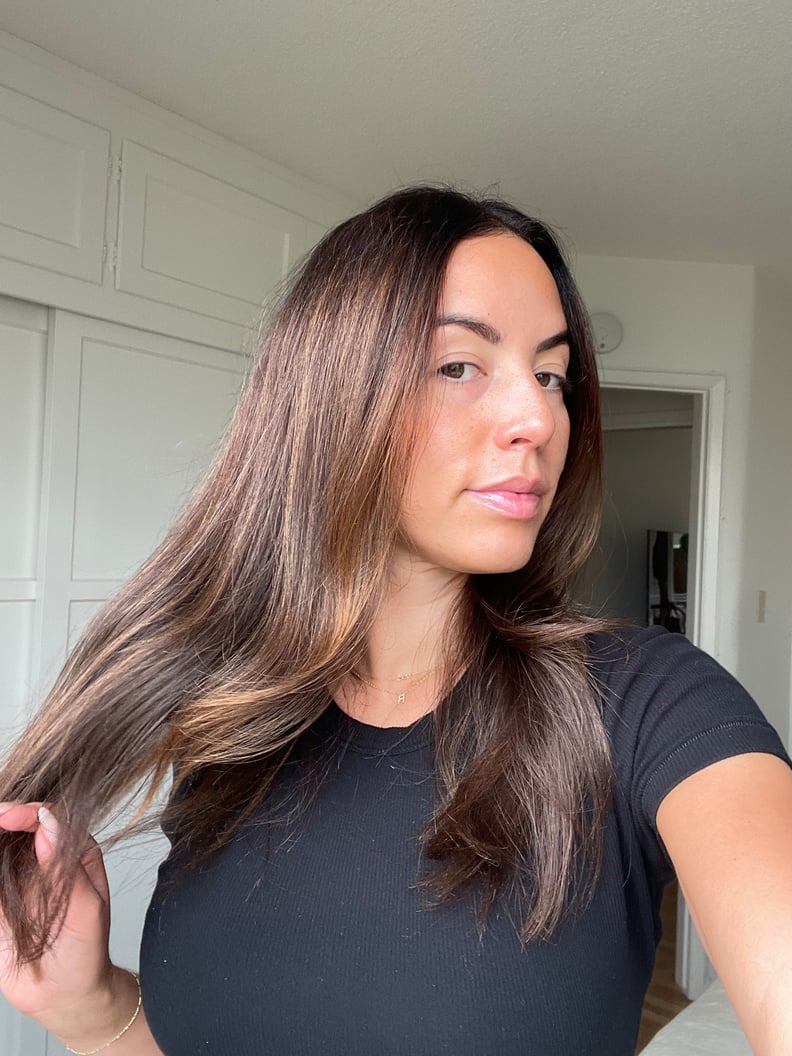 POPSUGAR Photography | Renee Rodriguez
POPSUGAR Photography | Renee Rodriguez
Every editorial product is independently selected by our editors. If you buy something through our links, we may earn commission.
Ever since coloring my hair this summer, I've noticed that my ends look dry and frizzy almost constantly. I've been using hair masks and a few treatments off and on that have helped, but ultimately, I knew what I really needed was a cut. When figuring out which one would be best for me, after doing hours of research, I settled on the "Topanga."
The Topanga haircut recently went viral on TikTok, and although the voluminous '90s style is really nothing new, it's become the go-to look for anyone who wants a healthy chop but doesn't want to sacrifice bounce and movement. "The Topanga haircut refers to a hairstyle inspired by the character Topanga Lawrence from the TV show 'Boy Meets World,'" Abby Haliti, founder of Abby Halite Color Studio, previously told POPSUGAR. It typically features a mid-length cut roughly five inches below the collarbone, with lots of layers.
I've been trying to grow my hair out for the past year, but I knew that I was going to need to take off some length in order to get the look I wanted, so I visited Andrea Henty at Bomane Salon in Beverly Hills to help me achieve my hair goals. We sat down to discuss what I wanted to do, and Henty said we'd need to cut a bit of length off to get it looking healthy again, but that she would be able to customize the style for me so that it would work with my hair type. The Topanga cut can be tricky on fine hair because layers can make it appear thinner, which I wanted to avoid.
In order to make it work for me, Henty gave me a dry cut so she could see how my hair would fall. "For the cut we really want to get that signature Topanga vibe we've all seen on TikTok, so we're taking about two and a half inches off of the length, which will make it more blunt and make everything look a lot more full," Henty says. She also cleaned up my face-framing layers as well as the ones all around my head, so I would have lots of movement.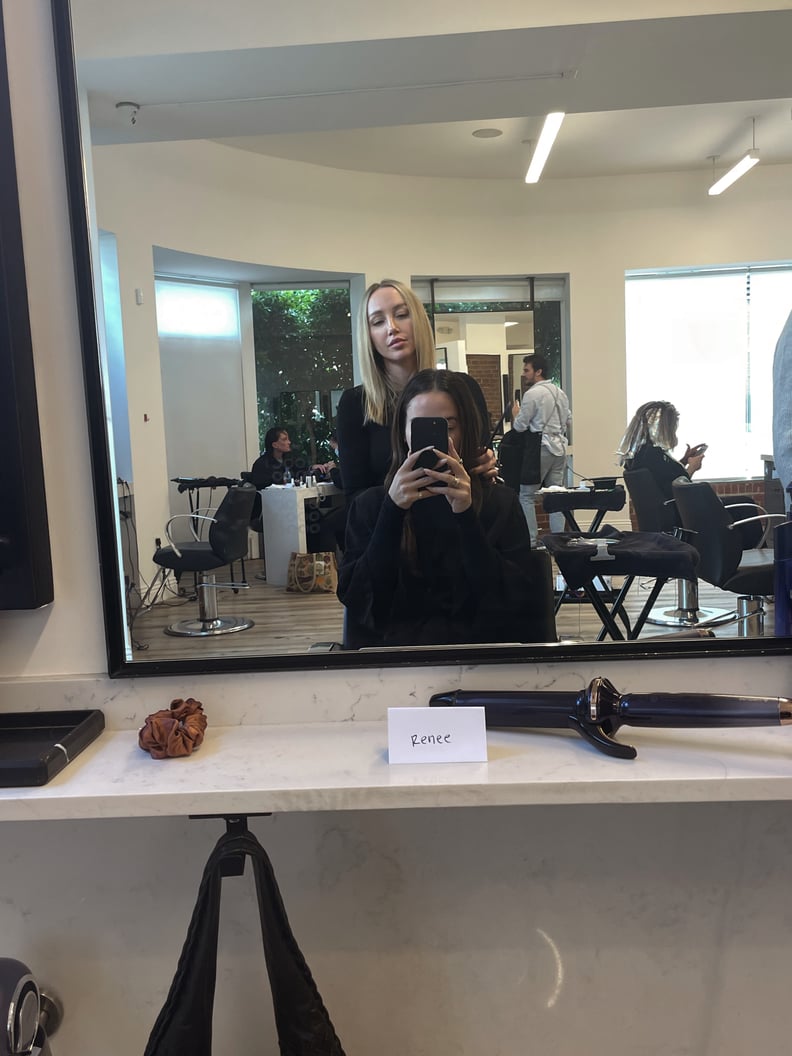 From there, we made our way over the shampoo bowl. "I really like the Unite Luxury Shampoo ($43) and the Unite Luxury Conditioner ($48), because they make your hair feel very luxurious and very soft, and they also feel very light which is important for your cut," Henty says. "You want to make sure the layers have life and they're not being weighed down by heavy products."
After washing and conditioning my hair, we prepped it using the Unite 7Seconds Detangler ($38), which is my favorite product for detangling and protecting from heat. Next, we separated my hair and began blowdrying it. "For the blowout, we're using the Bioprogramming Repronizer 27D ($1,020) which I am obsessed with because it keeps the hair healthy," Henty says. Her team used round brushes to blow sections of my hair dry, and then they wrapped them inward to create a pin curl which they secured to my head. After letting everything cool for a few minutes, they took the pin curls out and brushed them out.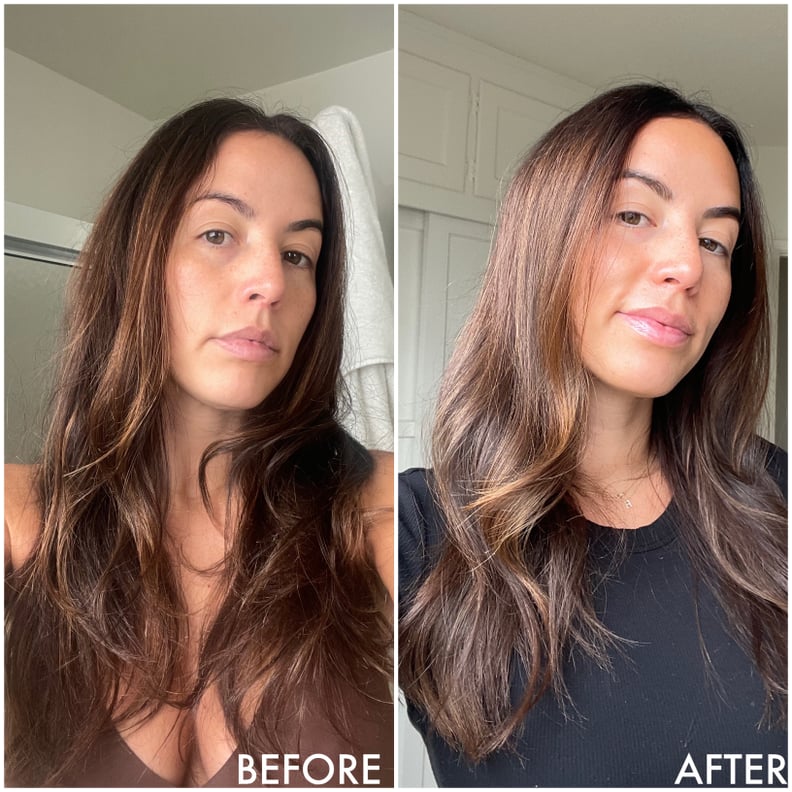 The final result looked bouncier, healthier, and shinier than it had in months. Plus, my hair has been so much easier to maintain at home. I've found that this style looks nice air-dried, but it looks the best when I give myself a blowout or loose waves. When styling at home, I typically start out by rough-drying my hair using a blow dryer like the T3 Aireluxe ($200), and then I either go in with the round brush attachment on my Dyson Airwrap ($599) and set everything using velcro rollers, or I curl my hair using a 1.5-inch curling iron like the T3 SinglePass ($170).
If you've been looking for a cut to bring your hair new life but you don't want to sacrifice too much length or movement, ask your stylist about the Topanga haircut.