There's a lot of terminology that gets thrown around the hair salon that you may or may not be familiar with: balayage, ombré, curtain bangs, highlights versus lowlights, shadow roots, shag cuts — the list goes on and on. We could write a whole book on hair terms and salon lingo (although one probably already exists) but for now, we'll focus on spreading the word on a lesser known method of styling: a dry haircut.
We all know how the standard process goes: wash, cut, dry, style. But did you know that isn't the only order of how a haircut can go down? A dry haircut switches things up by washing and drying your hair before going in for the cut. There are actually a host of reasons why your stylist might suggest opting for a dry cut, especially if you have thick or curly hair. For one, it allows your stylist to work with your hair in its natural state and the way in which you wear it most often, which makes getting your hair to look exactly how you want it once you're back at home and on your own a breeze. Also, there are certain cuts that some stylists prefer to only do dry, like ghost layers, for example.
Curious about whether a dry cut might be a fit for you? Ahead, Erica Conan, director of education for ColorProof breaks down everything you should know about a dry cut and who can benefit from one.
What is a Dry Haircut?
A dry haircut is exactly what it sounds like: cutting the hair while dry, as opposed to the traditional method of cutting it while it's wet. There are a couple of reasons for this.
"Dry cutting is often used for the detail work of a finished haircut that was cut using the wet technique," Conan tells POPSUGAR. "Dry cutting is great for providing additional texturizing and fine-tuning post-blowout when the actual shape and fall pattern are visible." When preformed with a razor, it can give your hair a soft finish on the ends.
Certain hairstyles and types lend themselves to a dry cut as well, because the technique allows the stylist to see the natural movement and shape of the hair. "This is especially important if you have a natural curl texture or added color dimension," Conan says. "Some stylists prefer to complete the full haircut in this technique, especially on thicker or curly textures."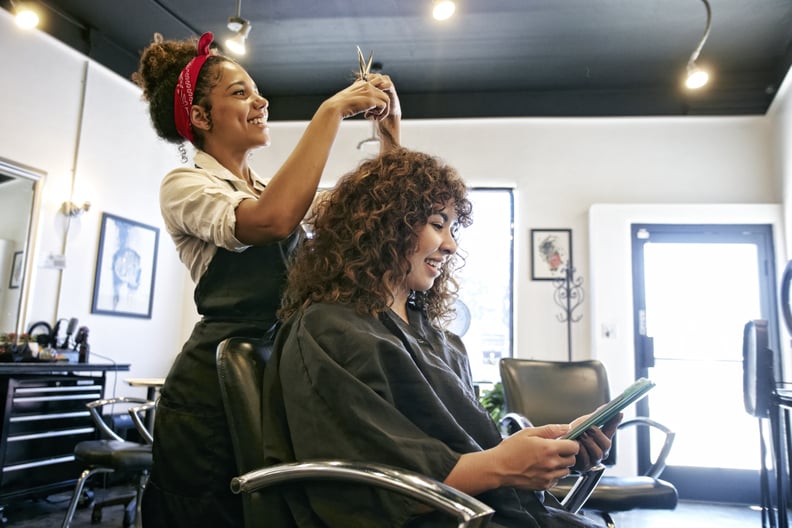 Dry Cuts on Curly, Textured Hair
Curly hair tends to lose its shape when wet, which is exactly why a dry cut is beneficial for this hair type. "With dry cutting, your stylist can enhance your curls and reduce bulk by cutting hair as each curl section falls," Conan says. "Instead of taking traditional sections like with wet cutting, your stylist will grab curl sections that live together and cut them as one piece."
This reduces the chances of an uneven curl pattern if your hair dries unevenly. Conan also explained that this technique helps the style hold its shape as it grows out and therefore, makes the haircut last longer.
Dry Cuts on Thick Hair
The number-one complaint that usually comes with thick hair is the weight; a dry cut can help address that. "Your stylist can remove interior bulk and create a reduced shape without needing to add a lot of visible layers," Conan says. "This can also be done wet, however, when done dry, it allows the sections to be softer and fall more strategically."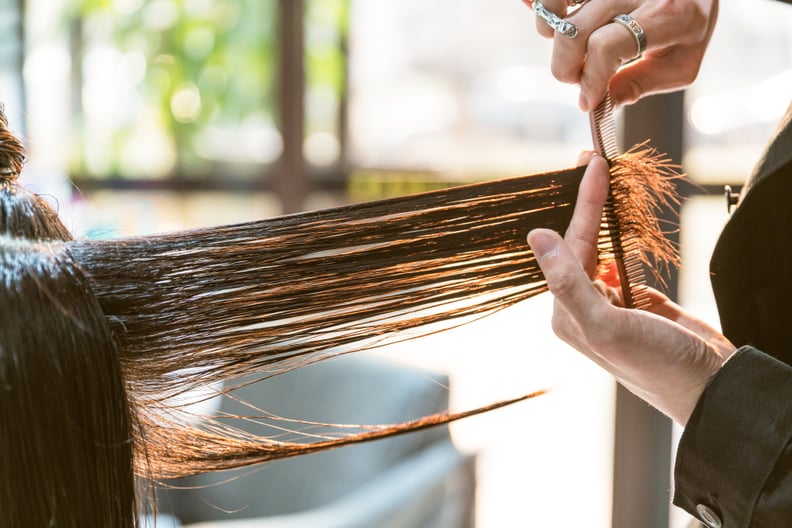 Who Do Dry Cuts Work Best On?
Dry Cuts on Fine or Thin Hair
For someone not looking to remove bulk like those with fine or thin hair, a dry cut can still help add texture to your ends. "Fine/thin hair easily shows cutting lines and can lose much-needed density throughout the bottom if over-texturized," Conan says. " Using a dry cutting technique allows your stylist to section and texturize based on how hair lays and where shaping is needed most." It's harder to see where texture is needed when hair is wet.
Conan recommends combining the two for thin hair — a wet cut to form a baseline and a dry cut for adding detail and enhancing texture.
While most hair types can benefit from a dry cut in different ways, Conan cautioned one thing before you dive in: "Your hair needs to be in the texture or shape you will wear it in most often. For example, if you get your hair dry cut when is it blown out straight but normally wear your hair curly, you won't get the full benefits, and the cut will look different when you wear it as you usually would after your salon visit."