Fact: Meghan Markle's hair is the unsung hero of 2017. Whether we're basking in the glory of her natural, curly strands or obsessing over the idea she might share hair secrets with future sister-in-law Kate Middleton, we're pretty much obsessed with Meghan's mane. But have you noticed the one beauty habit that our future American duchess just cannot break?
According to Good Housekeeping, Meghan is always touching her hair. If we had Meghan's chic, relaxed waves, we'd probably be touching our strands all the time, too. But there's a deeper significance to this habit — and it's totally relatable.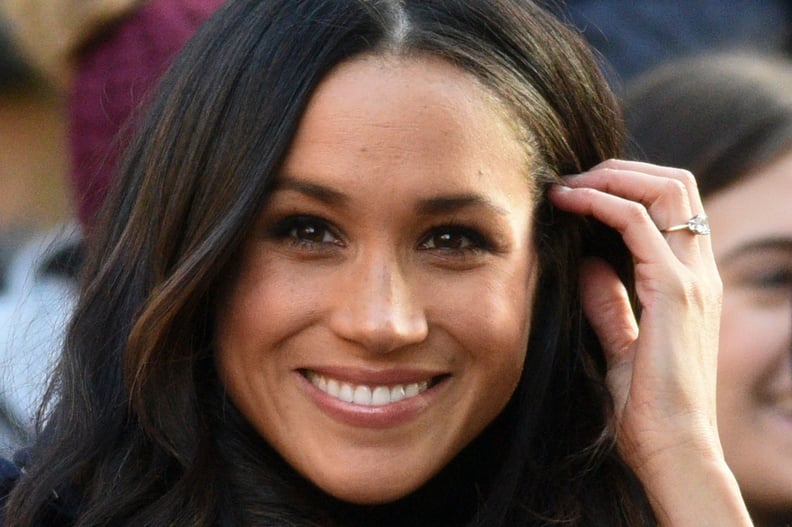 As body-language expert Blanca Cobb told the site, "Some people touch their hair, play with their fingernails, or rub their arms, as a way to psychologically and physiologically calm themselves when they're feeling anxious, uncomfortable, or stressed."
What differentiates Meghan's comforting gesture from a thoughtless habit, Cobb said, is that she's doing it during big life events — such as the announcement of her engagement and first official appearance with Prince Harry in Nottingham. According to Cobb, "In this situation, Meghan's hair touch is a soothing gesture. Her head is also tilted down slightly. Sometimes when you feel too much attention you might tuck your chin down as a way to shield yourself."
It doesn't hurt that when Meghan strokes her strands, it gives us a crazy-amazing view of her three-stone engagement ring.