Did Jada Pinkett Smith Date Tupac Shakur?
The Heartbreaking Details of Jada Pinkett Smith's "Precious" Relationship With Tupac Shakur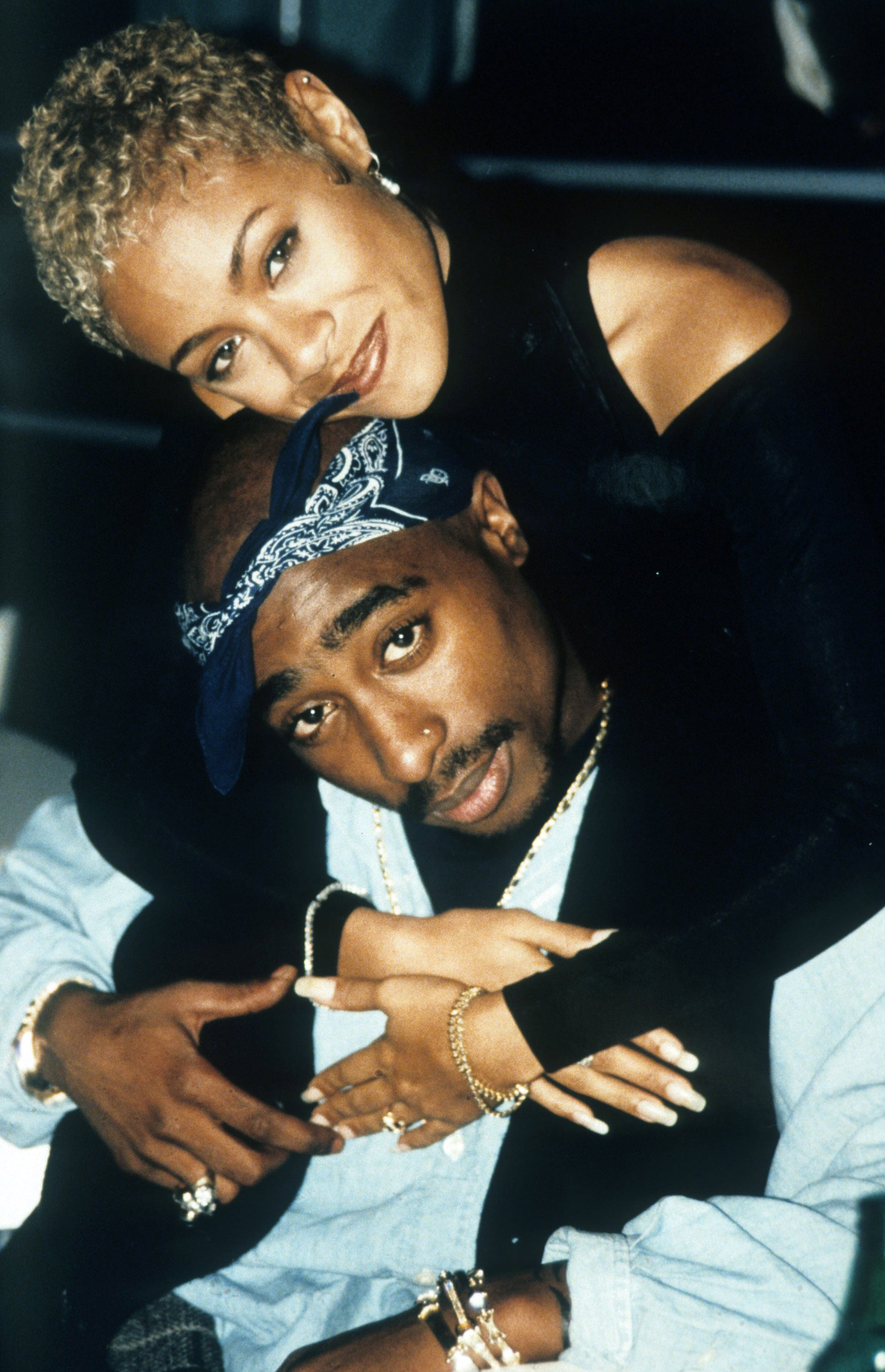 Image Source: Getty / Kevin Mazur Archive/WireImage
Jada Pinkett Smith celebrated her 20th wedding anniversary with Will Smith last year, but her were-they-weren't-they relationship with rapper Tupac Shakur is one that still intrigues fans, even two decades years after his tragic death.
Jada once recalled how the two first met at the Baltimore School for the Arts in Maryland, saying, "It was the first day and he came over to me and introduced himself." Jada continued, "And in high school, Pac was a little funny looking. Definitely from looking at him, wasn't necessarily the type of cat that I would even like, deal with."
According to Jada, Tupac was "like a magnet" and quickly became one of her close friends. "He was like a brother," she confessed. The actress reiterated those statements in an interview with Howard Stern in 2015, sharing how she even once tried to kiss the "Hail Mary" rapper, but discovered they were better off as just BFFs.
"You know, it's so funny because now being older, I have more of an understanding of what that was between us. When you have two young people that have very strong feelings, but there was no physical chemistry between us at all, and it wasn't even just for me — it was him too," she clarified. "There was a time when I was like, 'Just kiss me! Let's just see how this goes,' and when I tell you it had to be the most disgusting kiss for us both."
Jada told Howard she believed their awkward kiss was a sign from a "higher power" because "we might have killed each other because we were both so passionate and we love deeply."
Unfortunately, their friendship took a turn for the worst toward the ending of Tupac's life. "He felt as though I had changed," Jada said. "I'd gone Hollywood. I'd gone soft. And looking back now, I totally understand where Pac was at the time. It was a mentality he started to come out of before he was murdered."
Jada felt Tupac was going in "a destructive direction" which eventually led to them having a "hardcore" argument over their different lifestyles. The high school friends were not in contact before his untimely death on Sept. 13, 1996. "It definitely taught me a lesson, which is life is too short," she said during the candid Howard interview. "Do not let disagreements stand in between you and people that you love."
Jada and Tupac's relationship was portrayed in the 2017 film All Eyez On Me, with Vampire Diaries actress Kat Graham playing the actress. Shortly after the release, Jada spoke out about the events she felt were misrepresented in the movie, writing, "Forgive me ... my relationship to Pac is too precious to me for the scenes in All Eyez On Me to stand as truth. The reimagining of my relationship to Pac has been deeply hurtful."
Jada pointedly took issue with the film's portrayal of the poems Tupac wrote for her which she says she never knew existed until she read his 1999 poetry book, The Rose That Grew from Concrete. The 46-year-old mom of three ended by stating that her late friend will be "cradled in [her] heart for eternity." See another photo of Tupac and Jada below, then read the heartfelt poems he wrote to her.
"I miss him."

j
http://t.co/3ADMubEd

— Jada Pinkett Smith (@jadapsmith) April 25, 2012
Poem he wrote after #4Jada which is heartbreaking. From love to sadness with just one page turn. #RoseThatGrewFromConcrete pic.twitter.com/jODdbpZ2LE

— Crown Me Queen👑 (@YungMayaAngelou) May 30, 2017
Actual poem, in the format of his words. From his book #TheRoseThatGrewFromConcrete everyone should purchase it. pic.twitter.com/oIQvHjftS4

— Crown Me Queen👑 (@YungMayaAngelou) May 15, 2017