Were Tupac Shakur and Biggie Smalls Friends?
The Life-Changing Incident That Shattered Tupac and Biggie's Friendship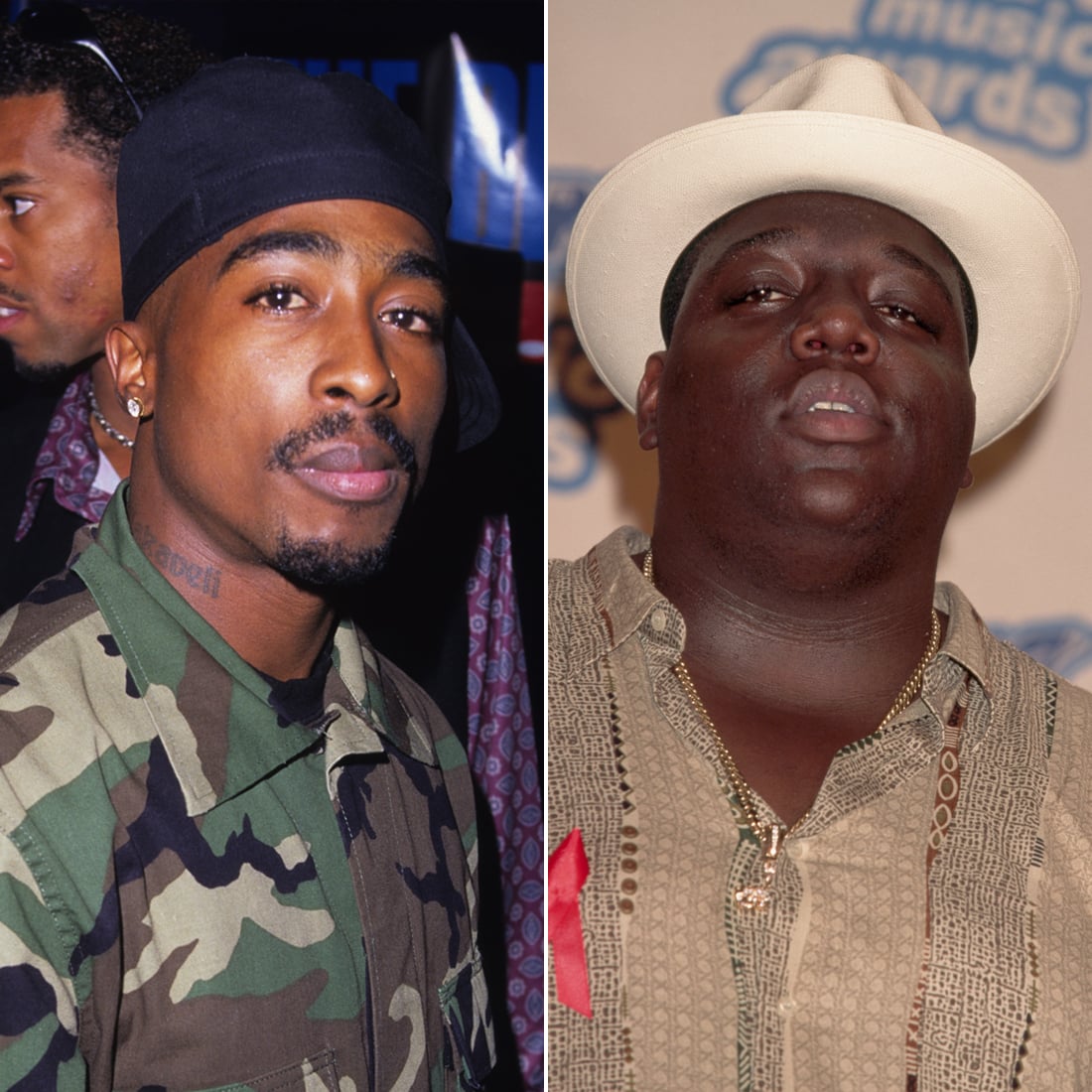 Image Source: Getty / Steve Granitz and Getty / INACTIVE / Mitchell Gerber
Tupac Shakur and Christopher Wallace (who was also known as Biggie Smalls and the Notorious B.I.G.) were two of the biggest hip-hop names in the '90s, but their lives were tragically cut short in 1996 and 1997, respectively. Tupac and Biggie were both shot and killed as a result of what some believe was their East-West Coast rap label feud. But Tupac and Biggie weren't always rivals: in fact, at one point, they were close friends.
Tupac and Biggie first met on the set of Poetic Justice in 1993. Biggie told Vibe in 1996 that Tupac had been repeatedly playing his single "Party and Bullsh*t" on set. Biggie, who was just getting started in the music industry, was clearly flattered and later met up with Tupac at his LA home. "I always thought it to be like a Gemini thing," Biggie said, referring to the fact that he was born on May 21, 1972, and Tupac on June 16, 1971, making them both Geminis. "We just clicked off the top and were cool ever since."
Music producer D-Dot knew Biggie and Tupac when they were still friends, and in an interview with VladTV in November 2013, he opened up about the dynamic of their relationship. "They were really close," D-Dot explained. "It was an industry relationship that was growing into a more outside-the-industry relationship. It was probably more like a teacher-student [relationship] because Pac was very experienced. He was already considered legendary at that time. Big was just coming up. I wouldn't say that Pac sat there and gave him lessons. That's not what I'm saying. But when you got a guy that been in it, you kind of learn vicariously through that guy without actually being told. You just take little things, apply it to what you're doing, and if he asked questions, Pac would answer."
Tupac and Biggie performing at the Palladium in NYC on July 23, 1993. Image Source: Getty / Al Pereira
On Nov. 30, 1994, Tupac was called to Quad Studios in NYC to rap on a song with Little Shawn, and that's when their friendship took a turn for the worse. When Tupac arrived at the studio, he was robbed and shot five times. Tupac reportedly believed that Biggie had prior knowledge of the attack and that he also knew who was behind it. "He really thought when he got shot the first time, not that Big set it up or anything, just Big didn't tell him who did it," Tupac's friend and Naughty by Nature frontman Treach told MTV News in June 2010. "In his heart, he was like, 'The homie know who did it.' Biggie might have wanted to just stay out of it, like, 'I don't know nothing.' [Tupac] was like, 'Yo, man, just put your ear to the street. Let me know who hit me up.'"
Despite Tupac's claims, Biggie remained adamant that he had been loyal to his friend. "Honestly, I didn't have no problem with [Tupac]," Biggie previously said. "I saw situations and how sh*t was going, and I tried to school [Tupac]. I was there when he bought his first Rolex, but I wasn't in the position to be rolling like that. I think Tupac felt more comfortable with the dudes he was hanging with because they had just as much money as him."
Still, Tupac's suspicions were only heightened when Biggie released "Who Shot Ya?" a month after Tupac's attack. Biggie claimed that he wrote the song "way before Tupac got shot," but the rapper took it as Biggie's confession. "Even if that song ain't about it, you should be, like, 'I'm not putting it out, 'cause he might think it's about him,'" Tupac said in an interview with Vibe while incarcerated for an unrelated charge.
In October 1995, Tupac signed with Suge Knight's Death Row Records, and in exchange, he received a $1.4 million bail from the record company. The move also put him in the center of the East-West Coast rap label feud against Bad Boy Records, which Sean "Diddy" Combs and Biggie were a part of. Tupac then responded to Biggie's "Who Shot Ya?" with his songs including "Hit 'Em Up," "Against All Odds," and "Bomb First (My Second Reply)."
Sadly, Tupac and Biggie never reconciled before Tupac was fatally shot in Las Vegas on Sept. 13, 1996. Nobody has ever been charged for his murder, but many believe Biggie may have been involved. "Even though we were going through our drama, I would never wish death on nobody because there ain't no coming back from that," Biggie said shortly after Tupac's death. "It kind of turned me down a little bit, but at the same time, you have to move on. I feel for his mom and for his family, but things got to move on."
Biggie was murdered six months later while leaving an industry party in LA. Both Tupac and Biggie's cases remain open.