This year brought us more gripping cultural obsessions than any year in recent memory. Between record-breaking blockbuster films, the penultimate installment of the epic Game of Thrones series, phenomena like the fidget spinner, and huge news from some of our favorite artists, 2017's most memorable moments provide endless Halloween costume inspiration.
For some people, it's a holiday — for us, it's a freakin' lifestyle.
Naturally, we're happier than kids in a (Halloween) candy store. At POPSUGAR, we don't take Halloween lightly; we start burning Autumn-scented candles as soon as the first leaf changes, taste-test pumpkin spice snacks in the middle of Summer, and begin our horror movie marathons immediately after Labor Day. For some people, it's a holiday — for us, it's a freakin' lifestyle.
When our editors are on the ground covering fan events like Comic-Con and WonderCon, they're observing the latest cosplay trends with Halloween on the brain. Meanwhile, we're always making note of cultural conversations unfolding on the internet and looking at them through a Halloween lens: would this meme make a good costume? Is that celebrity moment perfect Halloween inspiration? The day-to-day stories that get us talking are often some of the best costume fodder come Oct. 31, so we've always got an eye out for the next big thing.
Using our editors' passion for Halloween, we've created a master list of the top 10 costumes for 2017. You can expect to see these costumes everywhere this October, but don't worry: we'll share how to execute them like nobody else.
Major moments: A teen murder-mystery series inspired by the Archie comics? Yes, please! Riverdale is our favorite "f*ck-being-guilty-about-it" pleasure, and the main characters from the show are perfect Halloween costume fodder. The only trouble will be determining which friends should dress up as Archie Andrews, Jughead Jones, Betty Cooper, and Veronica Lodge.
How to create it at home: Each character has a signature clothing item or accessory, like Archie's letterman jacket or Jughead's beanie. Decide which person you want to channel, then create an outfit featuring their go-to pieces. Get the full Riverdale costume tutorials for each character here!
Honorable mentions: Aside from the obvious additions to this Riverdale group — like Cheryl and Jason Blossom or Josie and the Pussycats — you can also draw inspiration from another cult-favorite TV show that had a major moment this year. Your crew can easily dress as the women from Big Little Lies with stuff already in your closet — just have everybody create their closest imitation of an Audrey Hepburn outfit! Bonus points if you throw an Elvis or two into the mix.
Beyoncé's Pregnancy Announcement
Major moments:
Do you remember where you were when you found out that Beyoncé was expecting twins? We do! Queen Bey's ethereal pregnancy announcement photo became instantly iconic, imitated — for better or worse — by people everywhere. And it's not going to stop now that Bey and Jay have welcomed their babies; expect to see pregnant Beyoncé costumes everywhere come Halloween.
How to create it at home: Collect a few key pieces, blast your favorite Beyoncé song, then get ready for your close-up.
Green tulle
Flower crown
Burgundy bralette
Get the full Beyoncé pregnancy announcement costume tutorial here.
Honorable mentions: Beyoncé didn't just serve up one fierce look for Halloween inspiration this year — pretty much every appearance she's made in 2017 is costume-worthy, and the goddess-like getup she wore during her Grammys performance is almost as iconic as her pregnancy announcement. With a sunray crown, a sparkly golden gown, and stunning jewelry, you'll feel like heaven on earth while wearing your Halloween costume.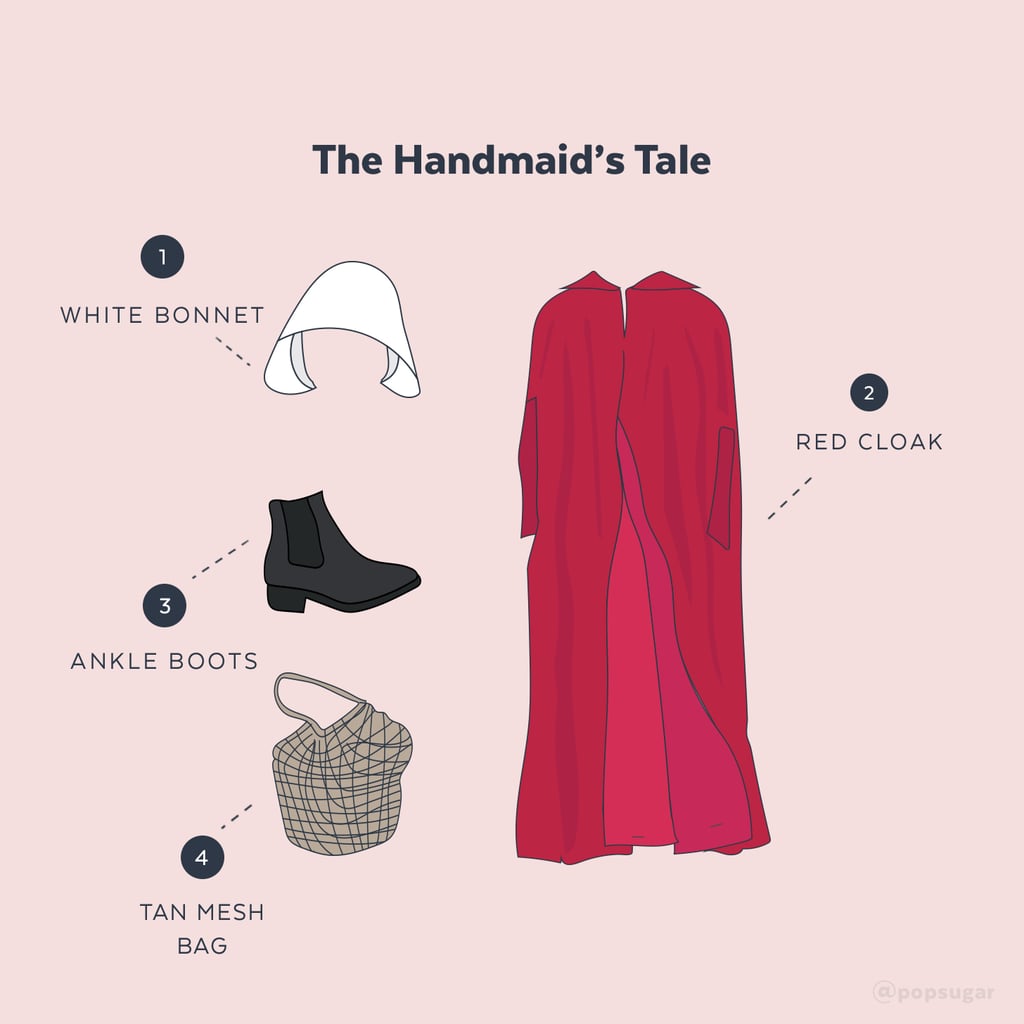 Major moments: 2017 proved that The Handmaid's Tale isn't just excellent reading material in the form of Margaret Atwood's dystopian novel — it also makes for an incredible viewing experience. Fans couldn't get enough of Hulu's addictive interpretation, and neither could the TV industry; the show took home a whopping five awards on Emmys night. Because the handmaids in the series have such a distinctive wardrobe, they'll be an easy and popular Halloween costume this year.
How to create it at home: Interested in joining the resistance? Here's everything you'll need for your handmaid costume:
A red cloak
A white bonnet
A tan mesh bag
Black ankle boots
Get the full handmaid Halloween costume tutorial here.
Honorable mentions: This has been an excellent year for female-focused TV shows, and another one that would make for a great group costume is Insecure — who doesn't want to dress as Issa, Molly, Kelli, and Tiffany?
Major moments:
When the story of Amazon demigoddess and all-around badass Diana Prince hit theaters this Summer, it didn't just become the
highest grossing superhero origin film.
Wonder Woman
also changed the conversation about women in Hollywood forever. Our editors were
brought to tears
by the movie's unapologetic representation of female strength and heroism, and by the immediate effect
Wonder Woman
had on little girls worldwide. So why not honor the film's flawless blend of femininity, boldness, beauty, and badassery through a costume that reflects Diana's role as both warrior
and
woman? You can choose Diana's classic red, blue, and gold armor, or you can go for a fun nod to the film with her blue evening gown and hidden sword.
How to create it at home:
Want to channel your inner Amazonian warrior this Halloween? There are several ways to achieve Diana Prince's strong, sexy look for Halloween, so check out our
full Wonder Woman costume tutorials here.
Honorable mentions:
There are even more ways to approach a Wonder Woman costume this Halloween; you could opt for the training gear that Diana rocks back on the island of Themyscira, or you could rock her Victorian street clothes and bowler hat from the movie! If you've got a group, everybody could dress as a different iteration of Diana.
Pennywise the Clown from It
Major moments: The highly anticipated remake of Stephen King's It only hit theaters in early September, but it's already become the most talked-about horror film in recent memory! We have absurdly funny memes, newfound crushes, and dance challenges inspired by the movie, so you'd best believe that the movie's terrifying antagonist, Pennywise the Dancing Clown, will be everywhere on Halloween night. (Even the sewers! We all float down there, right?)
How to create it at home: You can't scare your friends as Pennywise without some essential costume elements, like:
A red balloon
Face paint
A ruffled clown collar
Check out the full Pennywise from It costume tutorial here.
Honorable mentions: Looking for a less overtly spooky option? The kids from Stranger Things make for a great group costume with a nostalgic '80s twist — and it's especially timely considering that season two hits Netflix mere days before Halloween.
Jon Snow and Daenerys Targaryen
Major moments: The night of the Game of Thrones season seven finale, you could find the majority of the internet screaming something along the lines of: "OH MY GOD, OH MY GOD, IT FINALLY HAPPENED!" That's because fan-favorite contenders for the Iron Throne, Jon Snow and Daenerys Targaryen, finally indulged their romantic tension — and it was glorious. So glorious, in fact, that we predict this Halloween will be filled with "Jonerys" couples costumes. Though, if we had to guess, only the bravest will attempt to re-create Jon's most talked about . . . ahem, asset.
How to create it at home: The key to channeling Jon Snow is a fur wrap, a sword, and a brooding look. For Daenerys, you'll need:
A blond braid
A dragon pin
A black dress
Get the full Jon and Daenerys costume tutorial here.
Honorable mentions: Other Game of Thrones couples worthy of Halloween costume tributes this year include Brienne and Tormund, Greyworm and Missandei, and Jaime and Cersei. Take your pick!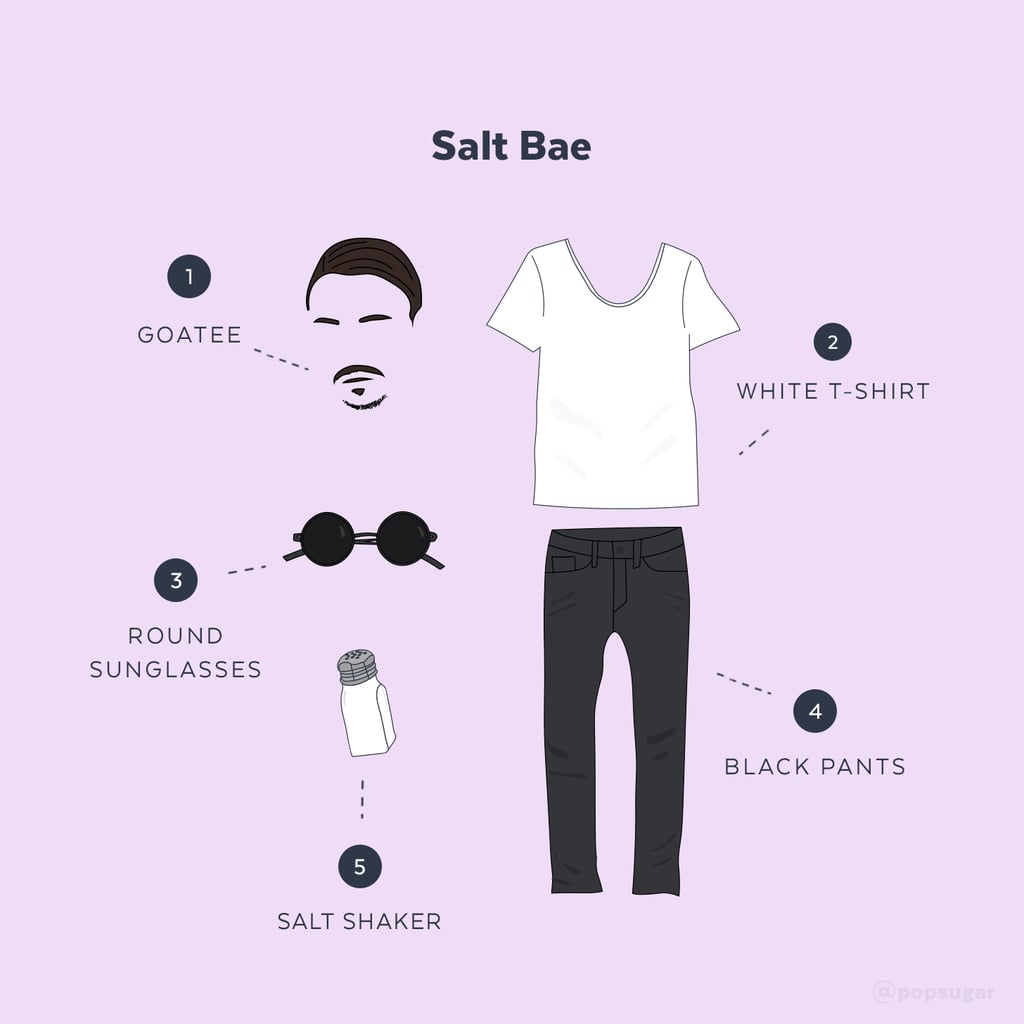 Major moments: Ah, the internet. It's the only place where a flamboyant Turkish steak connoisseur could become an overnight viral hit, catapulted to stardom and success purely due to the theatrical finesse with which he salts and seasons his meat. Salt Bae became a quintessential page in the book of meme history, and thanks to his signature outfit and culinary flair, you'll also see him at Halloween parties everywhere come Oct. 31.
How to create it at home: Perhaps the easiest costume to create from this entire list, you'll only need a few things that you already have in your closet to channel Salt Bae. Ready to get salty? Check out the full Salt Bae costume tutorial here. (For bonus Halloween street cred, bring some steak with you — you'll make people laugh and have a snack for the road. It's a win-win!)
Honorable mentions: You can easily turn another of the year's biggest memes — badass Olenna Tyrell from Game of Thrones — into a Halloween costume with just a veil, pillbox-style hat, and an "I don't give a f*ck" expression on your face. Just take notes from this cosplayer, who flawlessly executed her own Olenna costume.
Major moments: After a lengthy hiatus, Taylor Swift made headlines when she dropped her "Look What You Made Me Do" music video — laden with not-so-subtle references — at the 2017 VMAs. Declaring that "the old Taylor" is dead, Taylor appears in the video as a zombie form of herself. It's the perfect balance of spooky and pop-culturally aware for a Halloween costume, so we predict we'll see plenty of undead Swifties on Oct. 31.
How to create it at home: Hoping to bring Taylor Swift to life — er, death — for Halloween? Here's what you'll need:
A light blue dress
Zombie makeup
A short blond wig
Get the full zombie Taylor Swift costume tutorial here.
Honorable mentions: The group costume possibilities related to Taylor Swift are endless. Because she appears as so many iterations of herself in the "LWYMMD" video, you can essentially take your pick of different Taylors and channel your favorite one. Grab a group of friends and each play a different Taylor! If you're sticking to a solo costume but want something that's not as involved as full zombie makeup, try Taylor from the cover of her album Reputation with a ripped sweater, slicked hair, and dark lipstick.
Major moments: You can run and you can hide, but in 2017 you simply can't avoid the massive hype that is the fidget spinner. And while it's not exactly a traditional sort of costume, you can expect people to replicate this controversial toy while trick-or-treating this October . . . maybe even while holding a fidget spinner or two of their own.
How to create it at home: To create your perfect fidget spinner costume, you'll need to get a bit crafty; so grab your scissors and some glue, then check out the full costume tutorial here.
Honorable mentions: Another sensation has been the dancing hot dog Snapchat filter, which could easily be replicated with headphones and a t-shirt with red and yellow stripes of "mustard and ketchup" down the front.
Major moments: At cosplay-heavy fan conventions this year, one particular cosplay (literally) made waves: Disney's ocean-obsessed Polynesian princess, Moana. The brave, resourceful, and curious teenager is beloved by kids and adults alike, and her simple getup is an easy one to replicate as a Halloween costume.
How to create it at home: How far will you go to re-create Moana's outfit? You'll need:
A Polynesian-inspired skirt
A burnt orange top
A red or burnt orange scarf belt
A blue pendant necklace
Get the full Moana costume tutorial here.
Honorable mentions: Other popular characters from Moana include the island goddess Te Fiti, the trickster Maui, and Moana's sassy grandma. Sounds like the makings of a perfect group costume, eh?