Excuse Us, Elle Fanning, but Do You Need New Friends? 'Cuz We Wanna Hang Out With You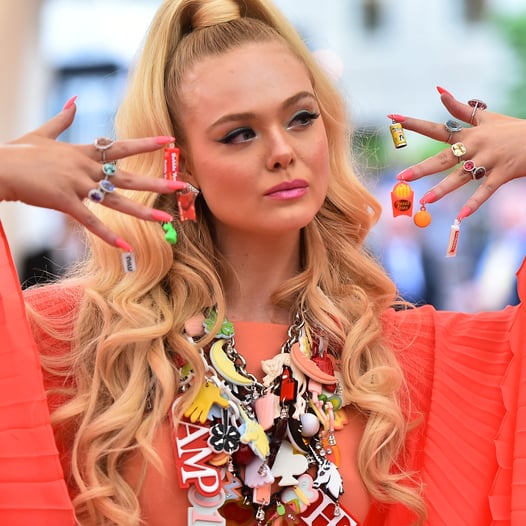 On screen she's played a storybook princess, a tortured model, a rising pop star, and a rebellious young alien, but believe it or not, Elle Fanning is even cooler in real life. The 21-year-old actress and model may have entered Hollywood in her big sister Dakota's shadow (with her first big role being the younger version of her sister's character in I Am Sam), but Elle is now a full-fledged superstar in her own right. From her insanely cool fashion sense to her wacky sense of humor, just a look at Elle's best 'grams will tell you that this girl is going places (including All of the Bright Places, coming out on Netflix later this year!).
01
When She Had the Classiest 21st Birthday Celebration of All Time
02
When She Was Basically Snow White For the Teen Spirit Premiere
03
When She Gave Us Major Twiggy Vibes
04
When She and Angelina Jolie Orchestrated 1 of the Best Photobombs Ever
05
When She Was an Actual Queen in This Doggy-Print Dress
06
When She Wasn't Afraid to Admit How Many Hands Are Needed to Get Red-Carpet-Ready
07
When She Was a Total Betty on the Beach
08
When She Compelled Us to Immediately Go Out and Buy These Same Frames
09
When She Made Us Want to Give White Winged Eyeliner a Try
10
When She Rocked This Bubblegum Pink Wig . . .
11
. . . and Then Actually Dyed Her Hair This Fabulous Rose Gold Color
12
When She Was the Cutest Contortionist We've Ever Seen
13
When She Looked Straight-Up Ethereal in Rome
14
When She Inspired Our Next Fourth of July Beauty Look
15
When She Showed Off Her Outrageously Campy Met Gala Ensemble
16
When She Looked So Sweet Our Teeth Hurt
17
When She Made Us Believe We Could Also Pull Off Purple Eyeshadow (and We Definitely Can't)
18
When She Proved That All You Need For a Solo Photo Shoot Is a Good Mirror and a Great Outfit
19
When She Casually Danced Around in This Furniture Warehouse Like the Goddess She Is
20
When She Snuggled Up With Her Pup
21
When She Was the Salsa-Dancer Emoji
22
When She Managed to Look Adorable Even While Eating an Eyeball
23
When She Made the Acquaintance of This Mannequin
24
When She Looked Pretty as a Picture Getting Ready For Cannes
25
When She Went to Perilous Heights in Order to Capture Her Outfit