Elle Fanning Interview About Teen Spirit
Elle Fanning Reveals the Pop Anthem She Was Most Terrified of Performing in Teen Spirit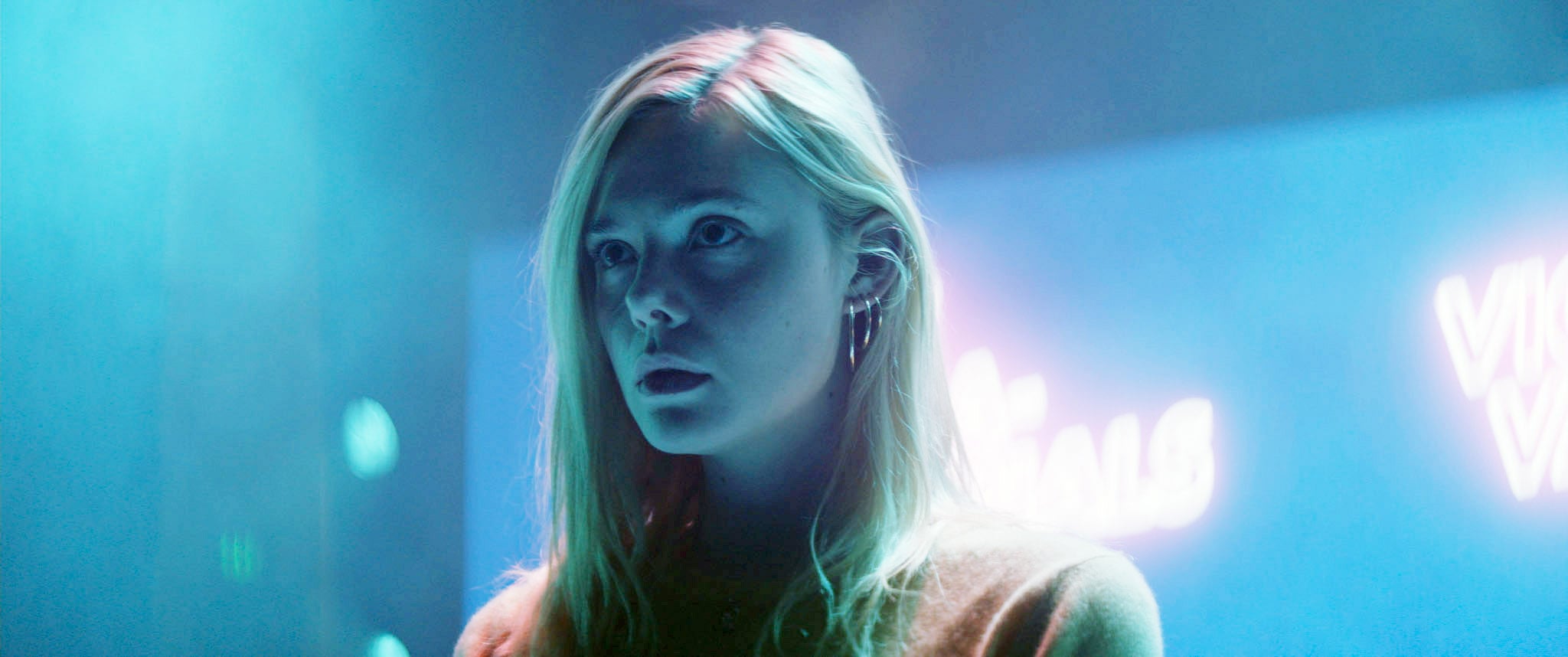 Did you know that Elle Fanning can sing? And I don't mean she can carry a tune — I mean she can sing, sing. She has the type of raspy voice that turns a dingy small town bar into something far more intimate and could've launched her to buzzy pop stardom if she hadn't been so busy blowing us all away onscreen in films like 20th Century Women, The Neon Demon, and The Beguiled. And while the 21-year-old actress's latest movie, Teen Spirit, sees her tapping into the seemingly endless reservoir of depth and introspection she brings to every role, it also gives her a chance to show off a skill she hasn't really flexed for the world before.
The musical drama from first-time director Max Minghella blends the slick, neon-tinged allure of the music industry with the grit of what it really takes to make it as a star, honing in on Fanning's Violet, an initially shy teenager who escapes her small town in the UK by entering a local singing competition. Once she makes it through the first few rounds with the help of washed-up Russian opera singer-turned-mentor, Vlad (Zlatko Buric), she realizes that her integrity and talent will be put to the test as she vies for stardom. In real life, of course, Fanning is already well acquainted with fame.
"I was that kid dancing around and singing at the top of my lungs all the time.
"Singing is something that I loved doing when I was young, and I still do, but it was a dream of mine when I was really little that maybe I'd be a pop star one day," Fanning told me through laughter during a phone call ahead of Teen Spirit's premiere. "I was that kid dancing around and singing at the top of my lungs all the time. So I did imagine myself being on stage one day. But with acting, what's so great about it is sometimes stuff comes along and you get to learn new things and expose different sides of yourself and surprise people."
On Violet's journey to musical domination, she belts out well-known hits from Robyn, Sigrid, Annie Lennox, Ellie Goulding, and more. As fun as many of the tracks are — Fanning cites Lennox's "Little Bird" as her favorite performance from the film — singing live take after take ended up being a somewhat grueling feat of athleticism.
"[I trained] for three months beforehand, because [you have to go through] all of the songs to get ready and to build up the stamina for all those live performances. You don't realize it's like, 'Oh yeah, you can sing the songs well,' but then [the director] says, 'But do you realize that you're going to have to sing them over and over again all day, because we have to do different shots and different takes for different scenes?'" she said of preparing to play Violet.
Adding to the physical aspect of the role was the pressure of doing these popular, beloved songs justice, especially Robyn's "Dancing On My Own," which she says is her sister Dakota Fanning's "favorite song of all time."
"[While training] I kept thinking I had to do [these songs] justice for all these people out there, but also for myself," she said. "It's like I love these pop anthems, so I want to make sure that I don't ruin them. But I love putting myself in very pressurized situations. I feel like I'm the most comfortable when I'm the most scared of doing something."
At the climax of the film, when Violet experiences her do-or-die moment in the singing competition — which is also called Teen Spirit — she experiences a Zen-like moment of calm as she takes a long walk to the stage from her dressing room in the underbelly of the venue. Rather than the glittering tank tops and cotton candy-colored fur coats the costumers from the show put her in earlier on in the competition, she wears a simple, bold red jumpsuit. Despite lacking the bells and whistles of her previous ensembles, it's impossible to tear your eyes from her.
"I feel like I'm the most comfortable when I'm the most scared of doing something."
A long, unbroken tracking shot catches Violet's determined strut to the stage, bringing to mind inspiring scenes in iconic sports films. "It kind of felt like in Rocky, him getting ready, you know? Max really wanted that shot to be in there," Fanning said. "I kind of approach my acting like a sporting event. But I watched the Katy Perry documentary and the Lady Gaga music documentary, and they both have those type of shots in there as well. They have those moments before they perform at the Super Bowl or whatever. I can't imagine what's going through their minds."
Violet's story wraps up on a hopeful, if open-ended note, teasing what's to come for the newly minted star. Does Fanning have any personal ideas about where she might end up? Well, in addition to citing Perry and Gaga as influences in her performance, Fanning says her character's story closely mirrors that of pop's new reigning princess, Dua Lipa.
"'New Rules' had just come out when we were filming, and she was kind of on the rise. Now she's obviously huge, but we were just hearing about her, and she has a similar story to Violet in a way," Fanning explained. "She's from a small town in England, and she has that kind of grit, and she's a very authentic performer. So maybe she'll be a little bit like her in the future."
With three major upcoming roles in Fanning's queue — the dramas All the Bright Places and Molly, as well as a 2020 TV series about Catherine the Great — it seems Violet isn't the only one with a busy future ahead of her.
Teen Spirit arrives in theaters on April 12.