Prince Harry and Meghan Markle's New Charity Has an Official Name, and It Suits Them Perfectly
Nearly a year after news broke that Prince Harry and Meghan Markle would be splitting from their joint charity with Prince William and Kate Middleton to start their own foundation, we now know the title of their new organization. According to documents obtained by E! News, their charity will be called "Sussex Royal The Foundation of the Duke and Duchess of Sussex," or "Sussex Royal" for short (just like their Instagram handle). With the help of their communications secretary and PR expert Sara Latham — who previously assisted Barack Obama and Hillary Clinton with their political campaigns — Meghan and Harry came up with the official name that aptly fits their brand.
We first learned that Harry and Meghan would be breaking away from their charity with William and Kate back in November. The Sunday Times reported that William and Harry were considering creating two separate offices at Kensington Palace, which would allow the Duke and Duchess of Sussex to forge their own path and would also reflect the increasingly different responsibilities that are being taken on by both couples. On March 14, the Cambridge and Sussex households were officially separated, as agreed by the queen and Prince Charles. Essentially, the couples will each do business as two teams rather than one, and it will give Prince Harry and Meghan Markle more autonomy now that their first child, baby Archie, is here.
"This long-planned move will ensure that permanent support arrangements for The Duke and Duchess's work are in place as they start their family and move to their official residence at Frogmore Cottage," the palace said in a statement in March. Meghan and Harry's office will move from Kensington Palace to Buckingham, which is also the queen's professional place of residence.
Harry and Meghan are now breaking away from the Royal Foundation, which is their joint charity with William and Kate. The Royal Foundation revolves around four main themes of work: mental health, wildlife and conservation, young people, and the armed forces community. Meghan officially joined as a patron in May 2018, but the couple will now pursue those philanthropic efforts separately.
A statement explained, "The Royal Foundation will become the principal charitable and philanthropic vehicle for The Duke and Duchess of Cambridge. The Duke and Duchess of Sussex will establish their own new charitable foundation with transitional operating support from The Royal Foundation. In addition both couples will continue to work together on projects in the future, including on The Foundation's mental health program, Heads Together."
It continued, "These changes are designed to best complement the work and responsibilities of Their Royal Highnesses as they prepare for their future roles, and to better align their charitable activity with their new households."
Harry and Meghan made their move from Kensington Palace to Frogmore Cottage, on the Windsor estate, in April just weeks before baby Archie was born. Plans are said to have been in the works since before Meghan and Harry got married in May 2018. "William and Harry are working to make sure the Sussexes have an office that can support their family when they move to Frogmore this Spring," the Times wrote in February. The split makes sense, given the difference in responsibility for the two couples — as the future head of state, William will take over the Duchy of Cornwall, while Harry and Meghan are afforded a bit more liberty and "have more of a blank canvas with their roles."
"The arrival of Meghan has changed the dynamic of the relationship in a fairly significant way," royals author Sally Bedell Smith told People last Fall. "It is inevitable and practical because it gives Harry and Meghan some freedom to build up their own collection of interests and charities. Meghan has very strong views on what she is interested in and that may be what Harry shares, but not what William and Kate share."
Harry and Meghan have shown their growing strength as a twosome during multiple joint appearances, including their first royal tour as a married couple in October 2018. While in Australia and New Zealand, the Duchess of Sussex gave three speeches, including an incredibly powerful talk to celebrate New Zealand's 125th anniversary of women's suffrage. "We are proud to be able to join you tonight in celebrating the 125th anniversary of women's suffrage in your country," she told the crowd. "In looking forward to this very special occasion, I reflected on the importance of this achievement but also the larger impact of what this symbolizes. Because, yes, women's suffrage is about feminism, but feminism is about fairness," Meghan continued.
On top of supporting issues that are close to their hearts and interests, Harry and Meghan have also differentiated themselves from William and Kate by sharing a few more personal moments with the public. While in Sydney for the closing ceremony of the Invictus Games, Meghan took to Twitter and Instagram (albeit through Kensington Palace's accounts) to share a photo of her husband rehearsing his speech. And a few days later, Harry returned the favor by sharing a snap of his wife cradling her growing baby bump.
As we wait to see what the future involves for Harry, Meghan, William, and Kate, read on for all the times the foursome was photographed together.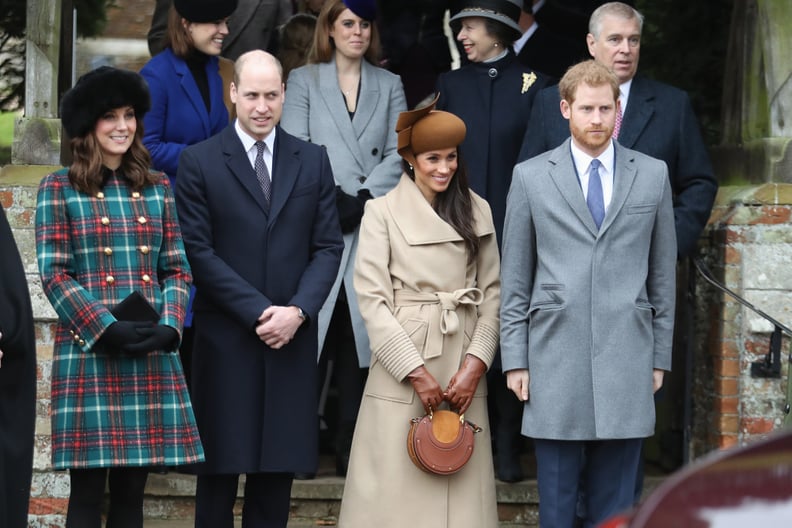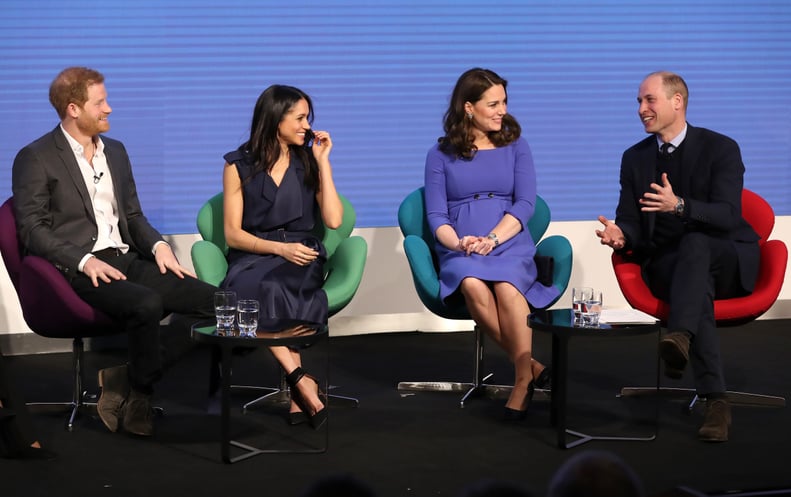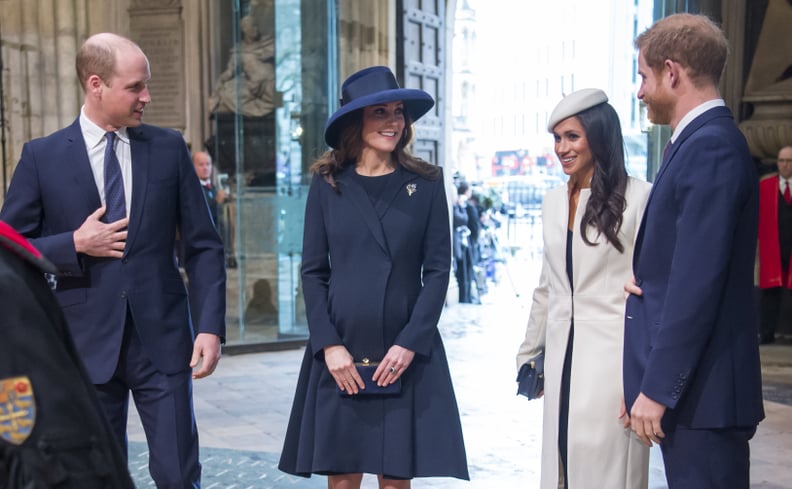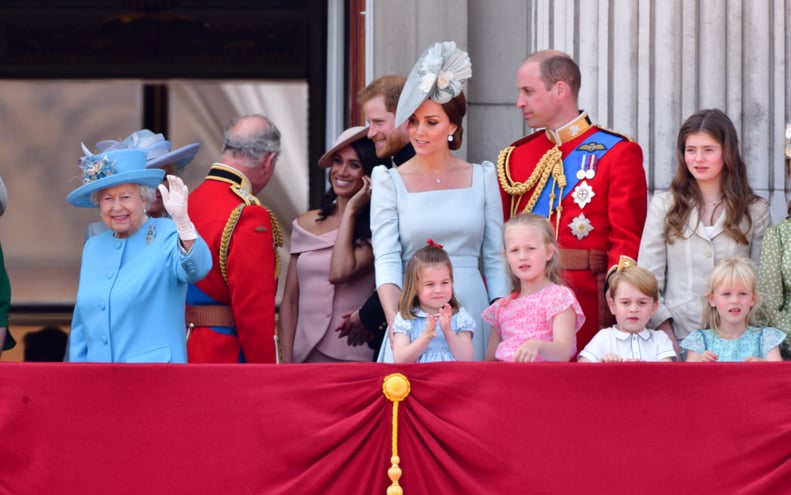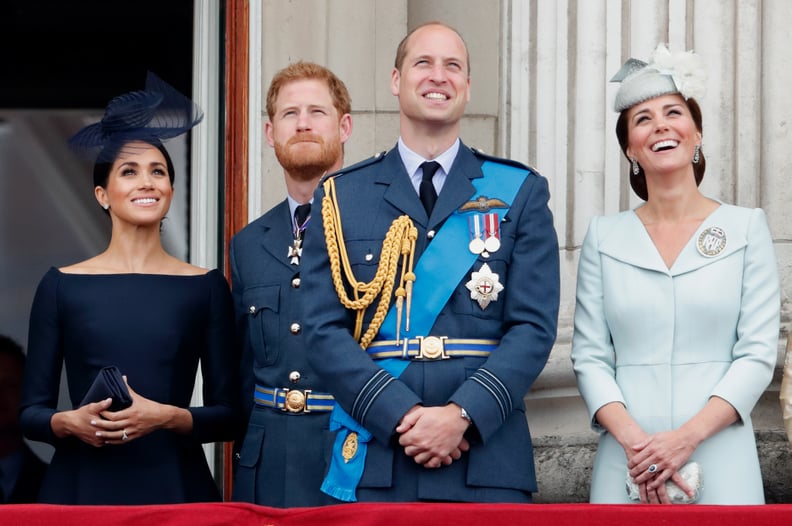 The young royals then reunited in July for celebrations marking the centenary of the Royal Air Force.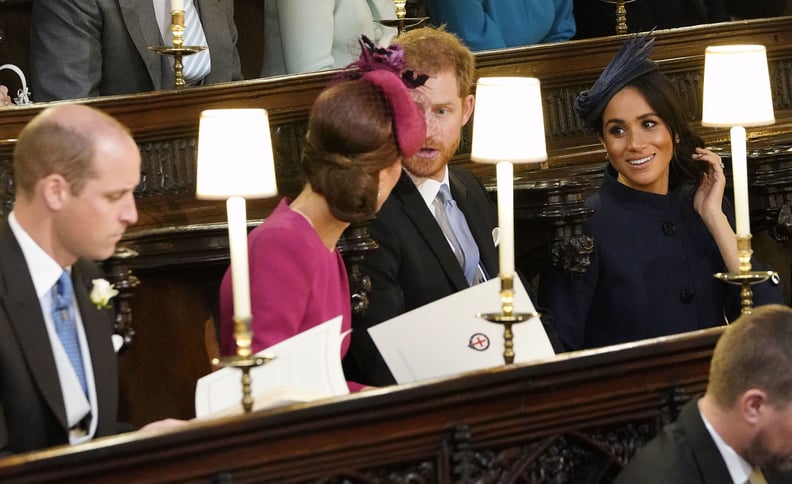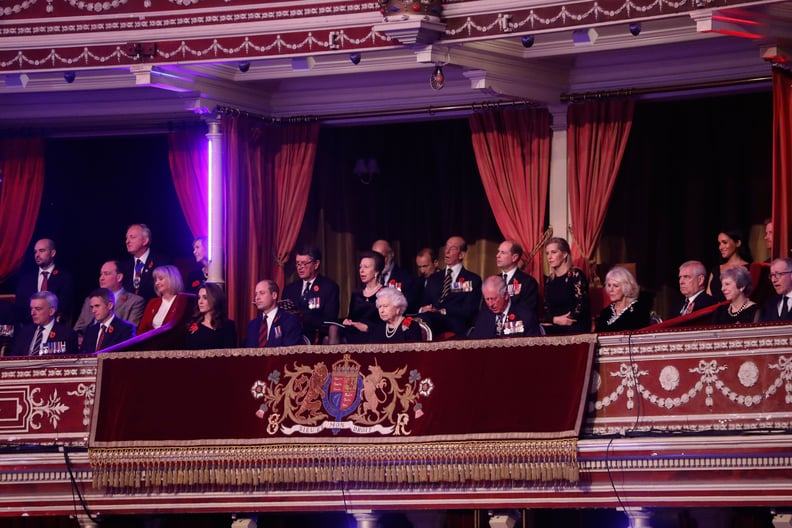 On Nov. 10, the Fab Four attended the Royal British Legion Festival of Remembrance at the Royal Albert Hall in London alongside the queen and other members of the royal family.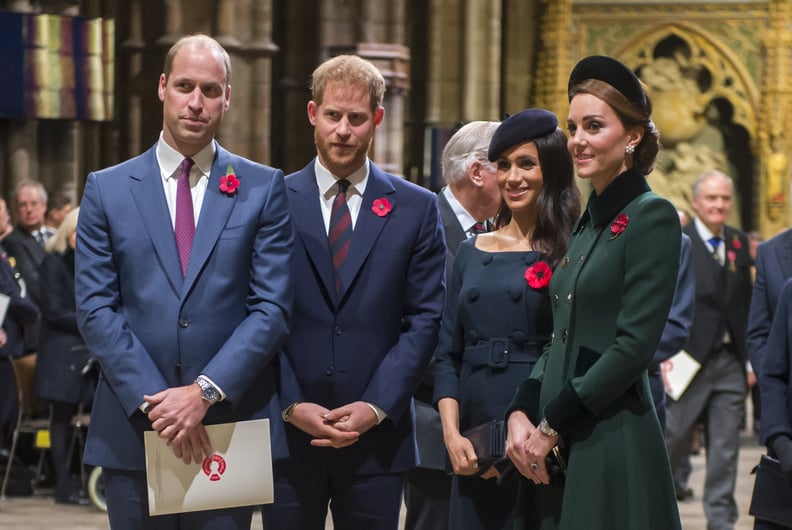 On Nov. 11, Prince William, Kate Middleton, Prince Harry, and Meghan Markle stepped out to mark the hundredth anniversary of the Armistice in London.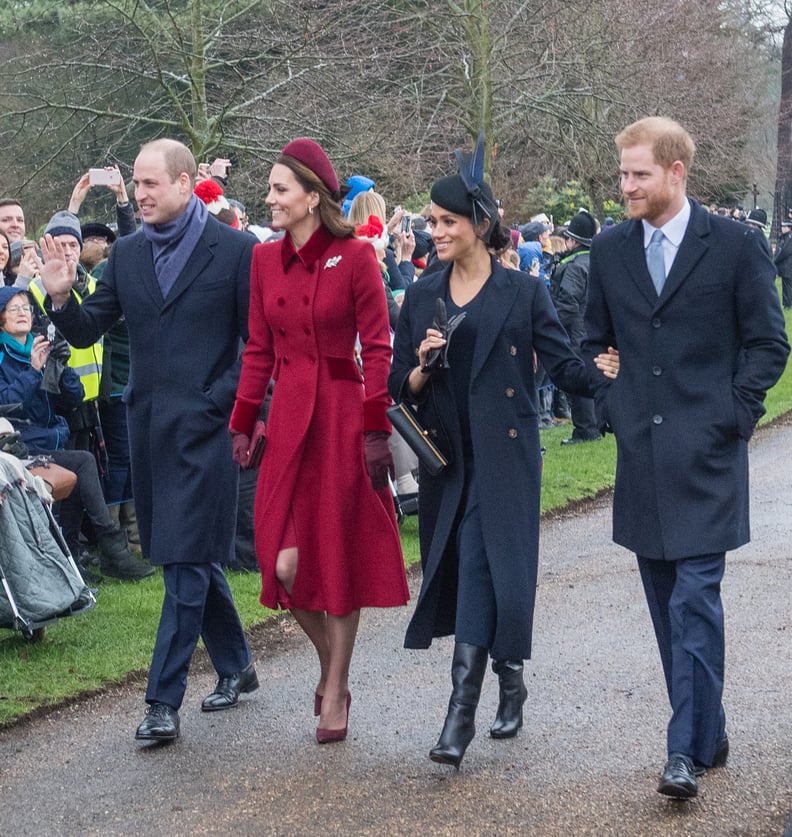 The foursome arrived side by side for Christmas Day church services on the Sandringham estate in 2018.