Hasan Minhaj Had a Point About the Attractiveness of White Male Actors
Hasan Minhaj is well-known for several things, but most importantly, he's known for being really damn funny while also speaking the truth. So it's no surprise that when his name started trending on Twitter on Monday morning, it was because he was handing out a hot cup of facts about Hollywood's "approachable man" trend.
On Nov. 22, a fan posted a clip of Hasan taking Vanity Fair's famous lie-detector test back in December 2019. In the interview, he was asked about his appearance on Dax Shepard's podcast, Armchair Expert. The test administrator asked Hasan how he felt about Dax rating him a "9 out of 10" in the looks department — a rating that Hasan said was too high — and how he would rate Dax. Immediately hesitant, Hasan eventually answered that he would give Dax a 6.5/7, which the administrator noted seemed harsh. It was at this point, dear readers, that Hasan decided he wasn't going to bullsh*t around and proceeded to break down his rationale.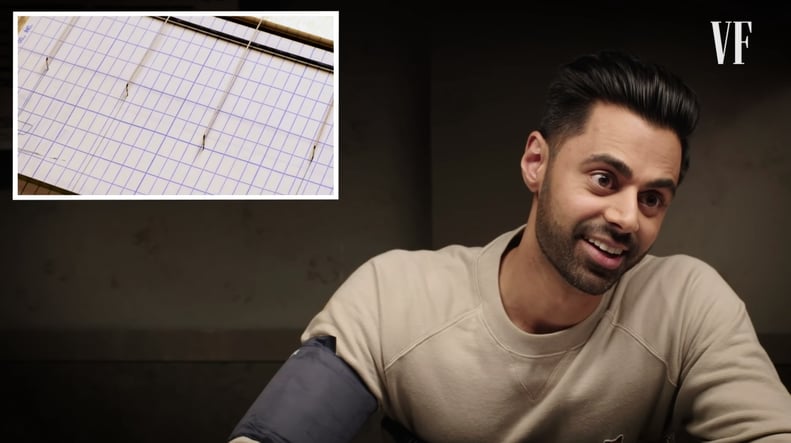 "Dax is part of a thing where, in show business, there's this whole movement of approachable white dudes, whereas with, like, men of color, it's like Idris Elba, Henry Golding, Zayn Malik, or you work in IT," he explained. "There is no middle. You know how there's a whole class of white dudes, like just schlubby white dudes who went to high school with me, but now made it in showbiz? There's no that [for men of color.] . . . You gotta be Daniel Dae Kim ripped. You can't ever have bread or cereal." When the host asked Hasan if he thought he was more attractive than Dax, he confidently said "yes," adding, "But I will not get the same opportunities that Dax does."
Now, it's important to note that Hasan's point isn't about whether or not you're more attracted to him or Dax (everyone is entitled to their wrong opinions there). What is important is this: to the comedian's point, Hollywood has essentially created a lane for "schlubby" white dudes to reach a sex-symbol status that men of color can't aspire to unless they reach Jason Momoa in Aquaman levels of attractiveness. Twitter was alight with examples of white actors who have become leading men because of this very trend; stars like Seth Rogen, Adam Driver, Michael Cera, Jesse Eisenberg, and Jonah Hill round out the list. Hell, even Adam Sandler has made a truly obscene number of films where he's married to or wooing Hollywood's most beautiful actresses. Blake Shelton was crowned People's Sexiest Man Alive in 2017. Meanwhile, we're still wondering when actors like John Cho, Trevante Rhodes, or Manny Jacinto will get their chance to shine as leading men in a rom-com.
We've talked about how the beauty standards of Hollywood (and society in general) affect Black women, but Hasan's interview highlights the other side of that issue. Unless men of color are undeniably 9s or 10s or paired with women of color, they're often overlooked for the leading role or the love interest. Even "schlubby" men of color haven't gotten the treatment their white counterparts have, unless they're in a production helmed by another person of color (take Black-ish's Anthony Anderson, for example). If "schlubby" actors of color are not the comedic relief, they're relegated to the background, as if they should just be happy to be there at all. It's just like Papa Pope says to Olivia in that infamous speech during Scandal's heyday: "You have to be twice as good as them to get half of what they have."
In a lot of people's minds, the rise of the "approachable" male lead has been a step forward in doing away with Hollywood's picture-perfect standards and embracing a more nuanced idea of what beauty means in media — but that doesn't work when it's only applied to white men. Instead of giving me another movie with Liam Hemsworth, give me a movie where a woman waxes poetic about Winston Duke's thighs to her besties over brunch. Give me someone falling in love with Dev Patel's warm brown eyes after bumping into him in Paris. I want John Boyega in a period romance where he rides in on a horse and sweeps me someone off their feet. Hell, put Hasan in a romantic comedy where he gets to be hot and funny, and I'll give you my damn money!