Jamie Foxx's Daughter Corinne Once Said He "Embarrassed [Her] a Lot" as a Teen
It's clear from his TV interviews, red carpet events, and social media posts that Jamie Foxx's kids make him one proud dad! The 55-year-old actor, comedian, and singer is the father of two daughters: Corinne Foxx and Annalise Bishop. Both of his girls are from different, prior relationships. Corinne and Annalise share an almost 15-year age gap, but it's obvious that hasn't stopped them from having a close bond and spending time together as a family of three — including on the red carpet at Jamie's big movie premieres, like for "Spider-Man: No Way Home" (pictured above).
In April 2023, Jamie experienced an undisclosed medical complication that saw him hospitalized. Corinne was first to inform the public about Jamie's condition, and that he was surrounded by love, in an Instagram Story. She wrote, "We wanted to share that, my father, Jamie Foxx, experienced a medical complication yesterday. Luckily, due to quick action and great care, he is already on his way to recovery. We know how beloved he is and appreciate your prayers. The family asks for your privacy at this time."
Weeks later, amid speculation Jamie was still in the hospital, Corinne clarified on May 12 that Jamie had been home by his family's side for some time, writing in her Instagram Story, "Dad has been out of the hospital for weeks, recuperating." She added, "In fact, he was playing pickle ball yesterday! Thanks for everyone's prayers and support!"
It's clear Corinne has so much love for her father, and the feeling is mutual. During an appearance on Bubble's "Dad Confessions" in 2021, Jamie spoke about parenting and explained, "You gotta do push and pull. You gotta do friend sometimes, and then sometimes you gotta be the dad." He also said that his kids know that "they can come tell me anything." Still, the "Back in Action" actor admitted he isn't a perfect father, saying that he wishes he'd realized sooner that "time is priceless" with his children.
Read ahead about the two women who are a huge part of Jamie's life.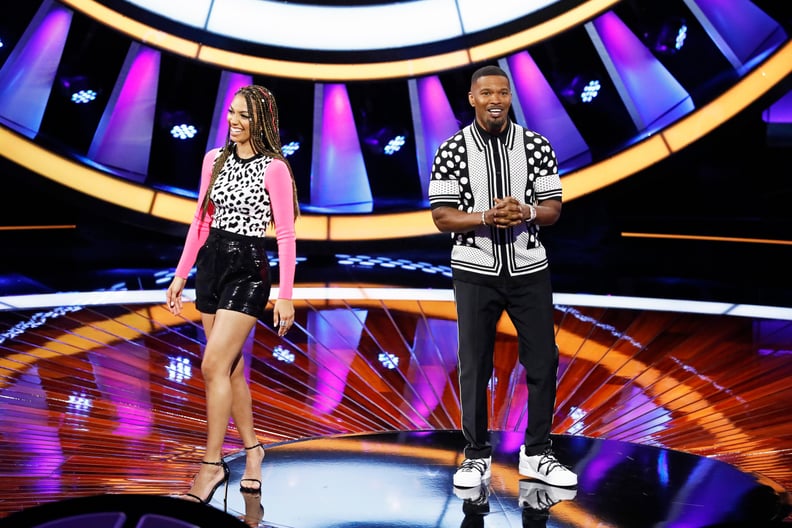 Jamie Foxx's Daughter Corinne Foxx
Jamie's daughter Corinne was born in 1994. She's his eldest child, whom he shares with Air Force veteran Connie Kline. Corinne, who is seemingly taking after her father, starred in Emmy-winning special "Live in Front of a Studio Audience: 'Good Times' and 'All in the Family.'" You may also recognize her from "47 Meters Down: Uncaged" (her first big-screen film) and the series "Dollface."
Since 2018, Corinne's been appearing alongside her dad on the Fox game show "Beat Shazam" as the DJ. Corinne and Jamie are taking a break from the show for the sixth season as Jamie recovers from his medical complication, and Nick Cannon and Kelly Osbourne have stepped into their roles temporarily. This May, it was announced that she and her dad will be cohosting a new series, "We Are Family," set to premiere in 2024.
Corinne is a producer and the inspiration for Netflix's 2021 series "Dad Stop Embarrassing Me!" It marked her first time producing a show and her dad's return to comedy, she told "Entertainment Tonight" at the time. "Yes, my dad is cool, but he also embarrassed me a lot through my teenagehood," she said in the same "ET" interview. "So we basically wrote a show about it. And I got to cast a girl to play a younger version of myself, which is pretty cool."
Jamie Foxx's Daughter Annalise Bishop
Jamie shares his younger daughter, Annalise, with former girlfriend Kristin Grannis. The 14-year-old has been accompanying her dad to red carpet events since she was little, like the 2015 Grammys and other award shows, like the 2021 SAG Awards.
While Annalise herself keeps a pretty low profile, her dad will never turn down an opportunity to show her off. Like that one time he shared how she scored three touchdowns for her flag football team.