Kim Kardashian and Kanye West Divorce Timeline
Kim Kardashian Recalls Spending Hours of Her Day Being Kanye West's "Cleanup Crew"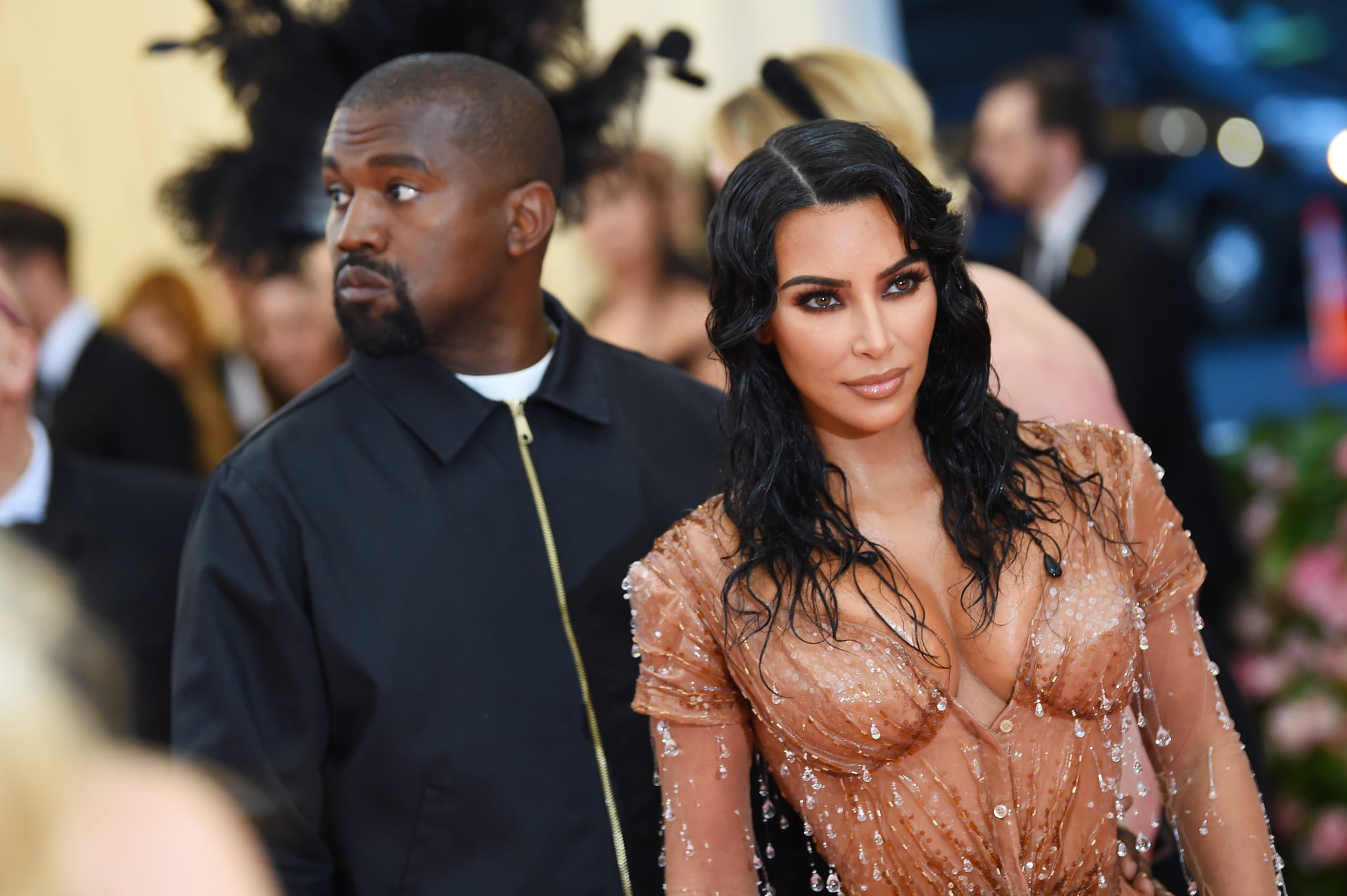 Keeping up with the Kardashians's antics is tough, but keeping up with Kim Kardashian and Kanye West's divorce timeline has been even more difficult. However, after nearly two years, the two finally reached a settlement, Entertainment Tonight confirmed on Nov. 29, 2022 after TMZ was the first to report the news.
Reps for Kardashian did not respond to POPSUGAR's request for comment, and reps for West could not be reached, but according to ET, the former pair's settlement states that they resolved property-related issues (in accordance with their prenup, where both waived spousal support) and child custody matters. They will have "equal access" to their four children — North, 9, Saint, 7, Chicago, 5, and Psalm, 4 — but the outlet notes that Kardashian will still have the kids the majority of the time.
Per the divorce settlement obtained by ET, West will pay Kardashian $200,000 a month in child support, due the first of every month through a wire transfer to the latter's account. He's also responsible for 50 percent of their children's educational and security expenses. Additionally, if West or Kardashian ever has a dispute over their kids, they've agreed to participate in mediation. If one is ever absent from a meeting, the other parent will make the final decision for their children by default.
Their divorce has been an uphill battle ever since Kardashian officially filed on Feb. 19, 2021, which followed months of breakup rumors. After four kids, seven years of marriage, and nearly two decades of friendship, it seemed like Kardashian and West were in it for the long haul . . . that is, until the latter half of 2020, when rumors of marital troubles started swirling.
Read ahead for a complete timeline of everything that's gone down between Kardashian and West, including what the Skims founder recently said about their split in the June 1 episode of Hulu's "The Kardashians."
Divorce rumors start circulating. On Jan. 5, 2021, multiple sources for Page Six reportedly claimed "divorce is imminent" for the couple. "Kim got Kanye to go up there [Wyoming] so they could live separate lives and quietly get things sorted out to separate and divorce. She's done," one insider said. That same day, Kardashian posted a picture without her wedding ring on Instagram, but she ended up deleting the post three days later.
More details emerge about the rumored split. Soon after news of the impending divorce broke, Us Weekly shared the reported reason for Kardashian and West's split. "They had a big fight in early December," a source claimed. "Kanye blew up at Kim and she was really upset. Things between them don't seem to have healed since that." Another source for Us Weekly claimed the two weren't on the same page about the future. As the insider explained, "Kanye is jealous of the amount of time Kim has dedicated to prison reform and the kids. Kanye wanted the family to move to Wyoming full-time. It's where he sees this direction of his life going. Kim just doesn't see their lives full-time in Wyoming."
Sources claim the divorce will be amicable. On Jan. 14, 2021, E! News reported that there's "no bad blood" between Kardashian and West and that their relationship is "cordial." An insider reportedly added, "Kim wants to feel at peace going into this new chapter of her life and is focused on herself and her children."
Sources claim Kardashian and West quit marriage counseling. Though the couple was reportedly seeking help from a marriage counselor, a source for People claimed that the pair decided to quit marriage counseling on Jan. 18, 2021. "He is talking to divorce lawyers this week," the insider claimed in reference to West.
West is spotted for the first time in months. On Jan. 24, 2021, West was seen deboarding a plane in LA with his entourage, which was the first time he'd been spotted in public since November 2020.
Financial details emerge. According to a source for Us Weekly, Kardashian had reportedly begun "talks" with her divorce lawyer back in July 2020 to determine an "exit strategy" from her marriage. "Kim has had all of her and Kanye's financials and properties ready to be split, [and] it's a very fair deal for everyone," the source claimed on Jan. 27, 2021. "Kim has all of her assets and financials ready for when she decides to file officially."
Kardashian goes on a girls' trip to Turks and Caicos. On Jan. 30, 2021, Kardashian was spotted on a girls' trip in Turks and Caicos, which included the beauty mogul's daughters, North and Chicago, as well as her sisters Kourtney, Khloé, and Kylie.
Kardashian wears Yeezys in an Instagram post. While on vacation, Kardashian seemingly showed support for West when she posted an Instagram on Jan. 31, 2021, which showed her posing in a bikini and a pair of Yeezy Foam Runners.
Kardashian seemingly takes over Kanye's closet. Kardashian showed off her new Skims showroom on her Instagram Stories on Feb. 2, 2021 and fans couldn't help but notice that the room looked a lot like West's former Yeezy showroom, which was previously featured on David Letterman's Netflix series.
West reportedly moves out. On Feb. 3, 2021, sources for Page Six reportedly claimed that West had moved 500 pairs of shoes (among other belongings) out of the Calabasas mansion he shared with Kardashian.
Kardashian and West reportedly spend Valentine's Day apart. Unsurprisingly, People reported that Kardashian and West wouldn't be celebrating Feb. 14 together. "She has a Valentine's Day celebration planned with her kids and family," an insider claimed. "She likes to make it special for the kids. She doesn't have any contact with Kanye. It's obvious that she is just focused on the future."
West is seen wearing his wedding ring. While out and about in LA on Feb. 17, 2021, West was photographed wearing a wedding band, though Kardashian had previously been spotted on multiple occasions without her own ring. That same day, a source for People claimed West isn't coping well with the split. "Kanye is not doing well," the insider claimed. "He is anxious and very sad. He knows that the marriage is over, and there's nothing that can be done right now. He also knows what he is losing in Kim."
Kardashian files for divorce from West. After much speculation, Kardashain finally filed for divorce from West on Feb. 19, 2021, according to court documents obtained by TMZ. Page Six also confirmed the split, reporting that Kardashian's divorce lawyer, Laura Wasser, filed the papers the same day the news broke. According to sources, Kardashian requested joint legal and physical custody of their four children. That same day, a source for Entertainment Tonight claimed the divorce had been a long time coming. As the insider explained, "Kim filing for divorce from Kanye is just a formal part of the process. The couple has been done for a while and have been amicable for a while. At the end of the day, Kanye and Kim love each other immensely, but knew it was time to call it quits. Their children are their number one priority and no matter what will maintain a positive relationship for them."
Kardashian maybe sends a message through her Instagram Stories. On Feb. 22, 2021, Kardashian posted an IG Story featuring the song "Drivers License" by Olivia Rodrigo, and fans thought she might be sending a message about how she's coping through the breakup ballad.
Kardashian is spotted out with friends. According to photos obtained by Us Weekly, Kardashian stepped out with friends on Feb. 23, 2021, for a night on the town.
Sources claim Kardashian is concerned for West. A source for Entertainment Tonight reportedly claimed on March 2, 2021, that Kardashian is concerned for her ex's well-being amid the divorce. "The divorce has been difficult for him, but knowing that he has access to his little ones and has split custody is making the transition easier," the source said. The insider also noted that the whole thing was a relief for Kardashian, adding, "She is happy to see that chapter close. She knows that it is what is healthiest for her and her family and she is ready to put this hardship behind her both publicly and personally."
Sources claim Kardashian is keeping the house. According to a source for Us Weekly, Kardashian will get her and West's Calabasas mansion in the divorce. "She has made her life there and it's her kids' main home," the source claimed on March 3, 2021. "There was never a question — Kim was going to keep the home."
Like Kardashian, West requests joint custody of their kids. According to court documents obtained by E! News in April 2021, West also agrees with Kardashian that neither party should pay spousal support.
Kardashian attends West's "Donda" album-listening party in Chicago. In August 2021, the beauty mogul and 22-time Grammy-winning rapper surprise fans by recreating their 2014 wedding. For the event, Kardashian dons a Balenciaga gown and matching veil.
West hints that he cheated on Kardashian. "Here I go actin' too rich, here I go with a new chick / And I know what the truth is / Still playin' after two kids / It's a lot to digest when your life always movin'," West raps in his song "Hurricane," released on Sept. 14, 2021, featuring The Weeknd and Lil Baby.
Kardashian and Pete Davidson spark dating rumors. Shortly after making her "Saturday Night Live" hosting debut in October 2021, Kardashian is seen hanging out with Pete Davidson. Meanwhile, West makes a plea to get his estranged wife back in an interview on Revolt's "Drink Champs" in November 2021. "SNL making my wife say 'I divorced him' on TV because they just wanted to get that bar off and I never have seen the papers. We're not even divorced," he said. "So how we — because [it's] no joke to me, my kids want their parents to stay together. I want their parents — I want us to be together."
Kardashian asks a judge to declare her legally single. In December 2021, Kardashian filed a court request for a judge to legally declare her single. According to court documents obtained by TMZ, West's lawyer states: "Kim's motion should be denied without prejudice so that Kim can refile it with the mandatory corrections and requested conditions set forth in the proposed judgment. Alternatively, a hearing regarding these additional conditions should be set."
West begins dating model Julia Fox. West and Julia Fox are seen spending time together on New Year's Eve in Miami. That same month, West claims that he wasn't invited to daughter Chicago's birthday party. A source for Us Weekly said Kardashian was shocked at West's claims. "That's not true and as soon as he asked to come he was given the location," the source said on Jan. 15, 2022. "There were always two parties planned for Chicago, which was Kanye's idea. He was scheduled to celebrate with her at 4pm today."
West ignites online feud with Kardashian over daughter North's TikTok account. West slams Kardashian for allowing their 8-year-old daughter, North West, to have a TikTok account, sparking a heated exchange on Instagram on Feb. 4, 2022. In a since-deleted post, West asked, "Since this is my first divorce, I need to know what I should do about my daughter being put on TikTok against my will?" Kardashian responded in an Instagram Story, writing, "Kanye's constant need for attacking me in interviews and on social media is actually more hurtful than any TikTok North might create," via her Notes app. "As the parent who is the main provider and caregiver for our children, I am doing my best to protect our daughter while also allowing her to express her creativity in the medium that she wishes with adult supervision — because it brings her happiness."
Kardashian finally opens up about her divorce. In her Vogue cover story published on Feb. 9, 2022, Kardashian acknowledges her divorce from West, saying, "For so long, I did what made other people happy. And I think in the last two years I decided, I'm going to make myself happy. And that feels really good." She continued, "And even if that created changes and caused my divorce, I think it's important to be honest with yourself about what really makes you happy. I've chosen myself. I think it's okay to choose you."
West apologizes to Kardashian over his online behavior. After sharing a slew of private text messages from Kardashian, West apologizes to his estranged wife on Feb. 15, 2022. "I know sharing screen shots was jarring and came off as harassing Kim. I take accountability," West wrote on Instagram. "I'm still learning in real time. I don't have all the answers. To be good leader is to be a good listener."
Kardashian pleads for the courts to dismiss West's request to impede their divorce. New court documents filed on Feb. 23, 2022, obtained by People, state: "Since filing for divorce, Mr. West, by his actions, has made it clear that he does not accept that the parties' marital relationship is over. . . . While I wish our marriage would have succeeded, I have come to the realization that there is no way to repair our marriage. Kanye does not agree but at least it appears that he has come to the realization that I want to end our marriage, even if he does not. I ask that the Court restore me to the status of a single person so that I can begin the healing process and so that our family can begin the healing process and move forward in this new chapter in our lives."
Kardashian states in court documents that his social media behavior has caused her "emotional distress." The Feb. 23, 2022, court filing states: "Mr. West has disseminated on social media the parties' private communications and misinformation about personal family matters and co-parenting, which has caused emotional distress." West has taken aim at Kardashian's boyfriend, Davidson, alleging he wasn't invited to daughter Chicago's birthday party, and slammed his estranged wife for allowing their daughter North on TikTok.
West objects to Kardashian's latest divorce petition. "Kanye has been putting a lot of misinformation regarding our private matters and co-parenting on social media which has created emotional distress," Kardashian stated in new legal documents on Feb. 24, 2022. However, in a recent interview with TMZ, West's lawyer insinuates that the rapper had nothing to do with the social media posts, saying, "Kim needed to offer the social media posts into evidence, and show that the posts were written by Kanye."
Kardashian is an unwed woman again. On March 2, 2022, the reality-TV star's request to dissolve her marital status was granted during a virtual court hearing. West was not in attendance, but his new lawyer Samantha Spector appeared on his behalf.
Kardashian reveals she and West didn't speak for eight months after she filed for divorce. On April 12, 2022, Kardashian shared new details about her divorce on the "Not Skinny But Not Fat" podcast. During her episode, the reality-TV star told host Amanda Hirsch that she and West "went about eight months without even speaking to each other at the beginning of the divorce," but they began talking again before she joined him at the "Donda" listening party in Atlanta in July 2021. She added that West continued to see their four children while they weren't on speaking terms. Even after their recent feuds on social media, Kardashian expressed that she's "always really hopeful" the two will get back on good terms again.
Kardashian and West settle their divorce. On Nov. 29, 2022, ET confirmed that the former couple had finalized their divorce after a nearly two-year battle. Their settlement reportedly comes a few weeks before a trial date was scheduled to sort through unresolved issues regarding Kardashian and West's divorce, like shared property.
Kardashian opens up about split from West in Hulu's "The Kardashians" season three. In the June 1, 2023 episode of the Hulu series, Kardashian discussed West's online attacks against her and her family while talking to her mom Kris Jenner, saying, "I don't want to be a part of this narrative and it's like when is this ever going to end? It never will and I'm stuck with this for the rest of my life." During her confessional, Kardashian also shared, "I still feel the need to not talk about it and protect it from my kids and I always will feel that way, but God, if people knew. I just would never do that to my kids. It just is really crazy." In her conversation with Jenner, Kardashian added, "Sometimes I feel like if he were to hit rock bottom, that's his journey that he needs to figure out on his own. I used to run around and call everyone behind his back and be like, 'It's going to be OK. It's going to be OK. Don't worry, just give him another chance.' I used to spend hours and hours and hours of my day as the cleanup crew . . . I just don't have that energy." Kardashian added in her confessional, "It's the hardest feeling to watch someone you really loved and you have a family with just be so different than who you knew."