Kanye West Claims Kim Kardashian Accused Him of "Putting a Hit Out on Her"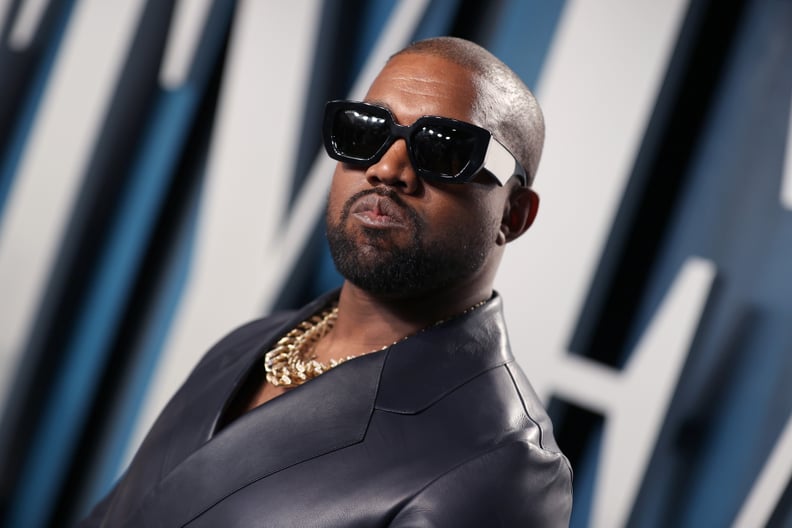 The divorce saga of Kim Kardashian and Kanye West continues after the two called each other out on Instagram over their differences regarding their 8-year-old daughter, North West. On Feb. 6, West shared screenshots of text messages between him and Kardashian's supposed cousin. "Hi! How are you? Hope all is well with you and the kids. I saw your Instagram post about tik [tok] and your daughter," the text read. "I'm happy to share what I know about that since I'm a single mom and want to keep my kids off the internet. Call me or let me know if you want some information. Hope to see you all soon!" To the texts, West replied, "I don't feel like talking about it more," followed by "Send me Kim's number."
In West's first Instagram post, he accused Kardashian's cousin of agreeing with him about North's TikTok videos but refusing to speak out publicly when she promised to do so. "I do this for every parent on either side [whose kids's] futures are being one sidedly controlled. I don't even have the right to get angry as a father without being called eratic," part of his initial post read. "I gave that family the culture. If they as a whole unit keep playing games with me, I will take that culture back. A father should should never have to beg for the location of their children."
Then, in his second post, West alleged that Kardashian accused him of putting a hit out on her before adding that his estranged wife also accused him of taking drugs and stealing at Chicago's birthday party. "These ideas can actually get someone locked up," he wrote. "They play like that with Black men's lives, [whether] it's getting them free or getting them locked up. I'm not playing about my Black children anymore."
In case you need a refresher, the drama first unfolded on Feb. 4 when West posted a screenshot of one of North's TikTok videos, tagging Kardashian and captioning it, "Since this is my first divorce, I need to know what I should do about my daughter being put on TikTok against my will?"
Kardashian has since responded to West's post with a written statement shared on her Instagram Stories. "Kanye's constant need for attacking me in interviews and on social media is actually more hurtful than any TikTok North might create," she wrote via her Notes app. "As the parent who is the main provider and caregiver for our children, I am doing my best to protect our daughter while also allowing her to express her creativity in the medium that she wishes with adult supervision — because it brings her happiness."
She continued, "Divorce is difficult enough on our children and Kanye's obsession with trying to control and manipulate our situation so negatively and publicly is only causing further pain for all." Since the beginning, Kardashian wrote, she has wanted "nothing but a healthy and supportive co-parenting relationship." West's behavior, however, "continues to make it impossible every step of the way."
"I wish to handle all matters regarding our children privately," Kardashian wrote in conclusion, saying she hopes West will "finally respond to the third attorney he has had in the last year to resolve any issues amicably."
West responded to her statement with another Instagram post on Feb. 4 captioned, "What do you mean by main provider ? America saw you try to kidnap my daughter on her birthday by not providing the address. You put security on me inside of the house to play with my son then accused me of stealing. I had to take a drug test after Chicago's party cause you accused me of being on drugs. Tracy Romulus stop manipulating Kim to be this way . . ."
Kardashian and North launched their joint TikTok account this past November as a mother-daughter duo venture. Since then, they've posted more than a dozen videos together.
While "The Kardashians" star rarely responds to West on social media, her latest post seems prompted by his public remarks regarding their family issues. Her statement comes after West and his girlfriend, Julia Fox, confirmed their relationship on Jan. 2. The two have been active in the public eye since then, going on a lavish date and making their Paris Fashion Week debut together.
West and Fox got together less than two months after Kardashian and "Saturday Night Live" comedian Pete Davidson confirmed their relationship in November 2021. West and Kardashian married on May 24, 2014, and separated last February, after Kardashian filed for divorce. Ahead, read Kardashian and West's full statements.