Matt Cornett Says Wrapping HSMTMTS Season 2 Was the "Most Emotional Day of My Life"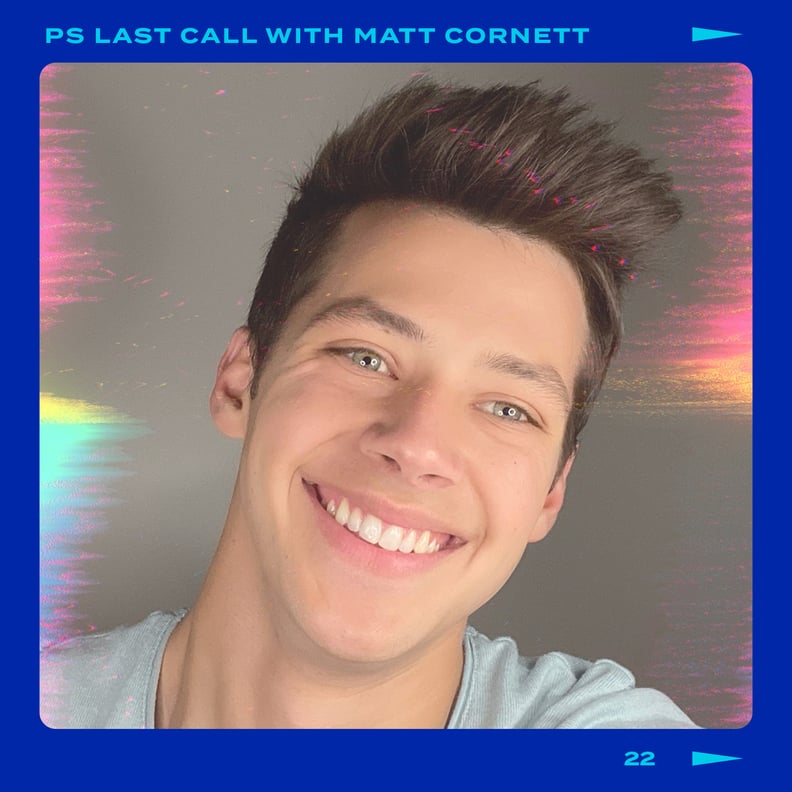 Courtesy of Matt Cornett
Courtesy of Matt Cornett
In our Q&A series Last Call, we get down to the bottom of every last thing with some of our favorite celebs — from the last time they were starstruck to the last song they listened to. This week, Matt Cornett takes our call.
After rising to fame with his role as E.J. on High School Musical: The Musical: The Series, Matt Cornett is returning to our TV screens with the show's anticipated second season. And if you thought the first season was full of drama, you haven't seen anything yet. "This season is just bigger and better in every possible way," Matt teased to POPSUGAR. "People are going to freak out. Everything is so good." Not only are the musical numbers bigger and better — Matt teased an upcoming musical number with E.J. and Big Red "that's super fun" — but there are also some big character developments that include Matt's character
"The most important thing is he's realizing now that everything's not about him and that he needs to focus more on what's important to him," Matt said. "I think he starts to realize that the group is something that's so important to him, those friendships and just that time with everyone. He really is not ready to leave the group and be out of there. He just seems a lot more humble and down to earth this season. He's a little bit more goofy this year and more understanding and really tries his best to help everyone, rather than thinking about how it's going to affect him first."
Outside of HSMTMTS, Matt has a handful of exciting projects in the works. During our interview, he was actually quarantining for a "secret project" that he teased is "going to be super fun" and he thinks "people are going to love it." Just like his costars, he's also writing his own music. "I feel like right now acting is my priority, but I also have been trying to dabble here and there in music. I've been trying to write a song for a couple months. I've been trying to get some tips from Josh [Bassett] and Olivia [Rodrigo] on just songwriting in general and working on that. There's actually a song that my dad wrote a long time ago about his dad, right before my grandpa passed away, and it's such a beautiful song. So I've been chatting with my dad about that. We're thinking about trying to evolve that and write it as an actual song and do something with it." Ahead of the upcoming season of HSMTMTS, check out Matt's Last Call interview below.
What was your last day on set of High School Musical: The Musical: The Series season two like?
The most emotional day of my life is what the last day of season two was like. It was definitely very emotional. We had a lot that was going on. The final group scene of season two, it was really, really emotional. Then, for the last day, a few of us were still filming, and some of the cast came in, and we all got around a piano, and Joe Serafini just started playing the piano, and we all just started singing different Broadway songs. It was one of the most amazing experiences of my life, and it is something that I will forever cherish.
Last thing you did for self-care?
Mentally, just taking time for myself and meditating and taking a second to self-reflect. But physically, I went and got my first ever pedicure and manicure with Frankie Rodriguez and Joe Serafini. It was literally the best thing ever. I have never gotten a manicure or pedicure in my life, and I went with them. It was so great. My nails felt great after.
Last song you listened to?
I'm going to pull up my library. Oh, that's funny. The last song I listened to is actually "Even When/The Best Part" from season two that is sung by Olivia Rodrigo and Joshua Bassett. It's literally my favorite song from season two. Other than that, though, a song called "Imagine" by Ben Platt that he released recently that's just gorgeous. Ben Platt and Olivia Rodrigo and Joshua Bassett, top three right there.
Last thing you did with one of your High School Musical costars off set?
Actually, I was going to say getting a manicure and pedicure with Joe and Frankie, but the last time I hung out with one of the costars is [when] Josh and I were hanging out. It was when he was doing a live concert that was being released online. I went and hung out with him for that and was there to support him through that. That was a lot of fun. I wasn't there when he taped it, but I watched it as he released it.
Last thing you texted?
To the group chat with the whole cast. It's five minutes ago. Backstory here, Josh calls [HSMTMTS showrunner] Tim Federle "Timmy Mikey," which is hilarious but also so unprofessional because Tim's our boss. But I think it's the most hilarious nickname ever. We were talking about wanting to do this thing leading up to season two, so Josh had said something and then Larry said, "Hey, should we run it by Tim, just to see what his opinions are?" And Josh said, "Yeah, I'll give Timmy the heads up, but I think we'll be good." Then I just put, "Timmy Mikey, baby."
Last show you binge-watched?
The Flight Attendant on HBO Max with Kaley Cuoco. It's great. She's so great. I love her. Really, really great show. Highly recommend.
Last Disney show or movie you watched?
Probably Zombies one or two. Those are great movies. I'm really great friends with Meg Donnelly, who plays Addison in those. I'm a big fan, A, because of her, and B, just because they're great films.
Last thing you ordered online?
A gaming monitor because I am in quarantine right now [for an upcoming project] and I needed something to play video games on, so I ordered a monitor so I could play my PlayStation.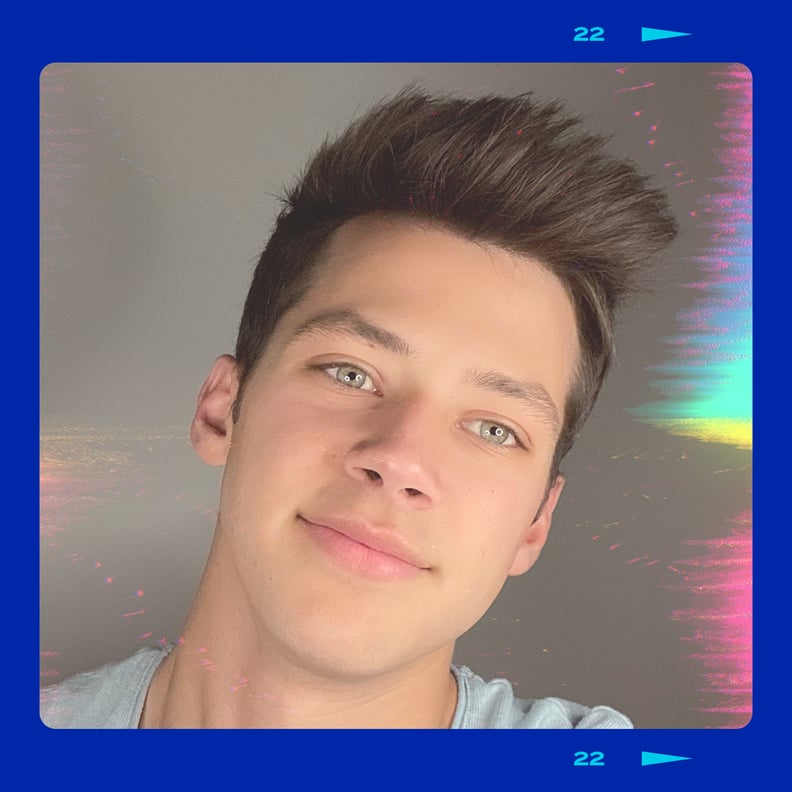 Last thing you do before going to bed?
Kiss my dog goodnight, of course. I always get down and give my dog a little hug and kissy before I go to bed. She has her bed right at the foot of my bed. [I] always get down and just give her a nice little squeeze before bed.
Last photo on your camera roll?
The last picture in my camera roll is a picture of a truck that my brother sent me that he was looking at getting. But the last thing in my camera roll was a video of myself at 9 o'clock in the morning. I had just woken up. I woke up from a dream that I had. It was a video that I was talking about my dream and talking about what happened in my dream. I got this idea from Sofia Wylie, who does this apparently when she has a really good dream that she doesn't want to forget. She wakes up and takes a video so she doesn't have to write it down and she doesn't forget it. She does videos and talks about the dream, so I did that. So it's a two-and-a-half-minute long video of me talking about this crazy dream that I had that involved aliens.
Last book you read?
It has been a long time since I read a book, I will say. I am not a big reader of books. I have so many friends that are trying to get me to read so many different books. I've read a few books a little bit of, but not front cover to back cover. I would honestly say the last time I probably read a book front to back was probably one of the Diary of a Wimpy Kid books in school. That's really bad to say. But the last book that I probably picked up and actually read was The Maze Runner. I bought that book because I had a friend that was really trying to get me to read it. So I bought Maze Runner, and I read a chapter in it.
Last time you were starstruck?
It's been a minute, but prob at D23. Myself, Josh, and Larry got to meet Hilary Duff. I don't get starstruck super easy, just because I love getting to meet people that I enjoy watching as actors or singers, but with Hilary Duff, it was different. Full-blown starstruck. I think if I met Margot Robbie or Chris Pratt, though, I would definitely be starstruck.
Last piece of advice you received that changed your life?
Something that my dad has always told me is, "Don't let other people's opinions of you change your view of yourself." That's something that's really important because there's definitely been times where somebody said something to me and I let it get a little too close to my heart, and it kind of starts to affect the way I think about myself. I'm sure there's a lot of people that have felt that way and have experienced that. I think that's something that's important, is just not letting other people's opinions and views of you change your view of yourself.