What We Learned From Meghan Markle's The Cut Interview, Including a Potential Return to Instagram
Meghan Markle is reflecting on post-royal life as she looks toward her new chapter. The Duchess of Sussex spoke in detail about her most recent endeavors — including her newly-launched "Archetypes" podcast — following her and Prince Harry's royal exit in a rare interview with The Cut, published on Aug. 29. In it, Markle got candid about her decision to leave social media behind (and a potential return to at least one platform), her and Harry's move to Montecito, California, their forthcoming projects with Netflix, and how they're currently teaching their son, Archie, manners. She also discussed how she and the Duke of Sussex found their massive $14.65 million Montecito home.
Markle's new interview comes nearly a year-and-a-half after she and Harry sat down with Oprah Winfrey in March 2021 for a wide-ranging televised conversation. The interview led to disclosures about the scrutiny and blatant racism Markle has experienced since she and Harry first got together, her complicated relationship with the British press, and the lack of support they received from the royal family before they stepped away from their roles.
Markle also recently discussed how some people perceive her ambition as a bad thing during the first episode of her podcast with guest Serena Williams. Other special celebrity guests who will appear on future episodes include Constance Wu, Issa Rae, Lisa Ling, Margaret Cho, and Ziwe.
Read on for all the biggest revelations from Markle's interview with The Cut.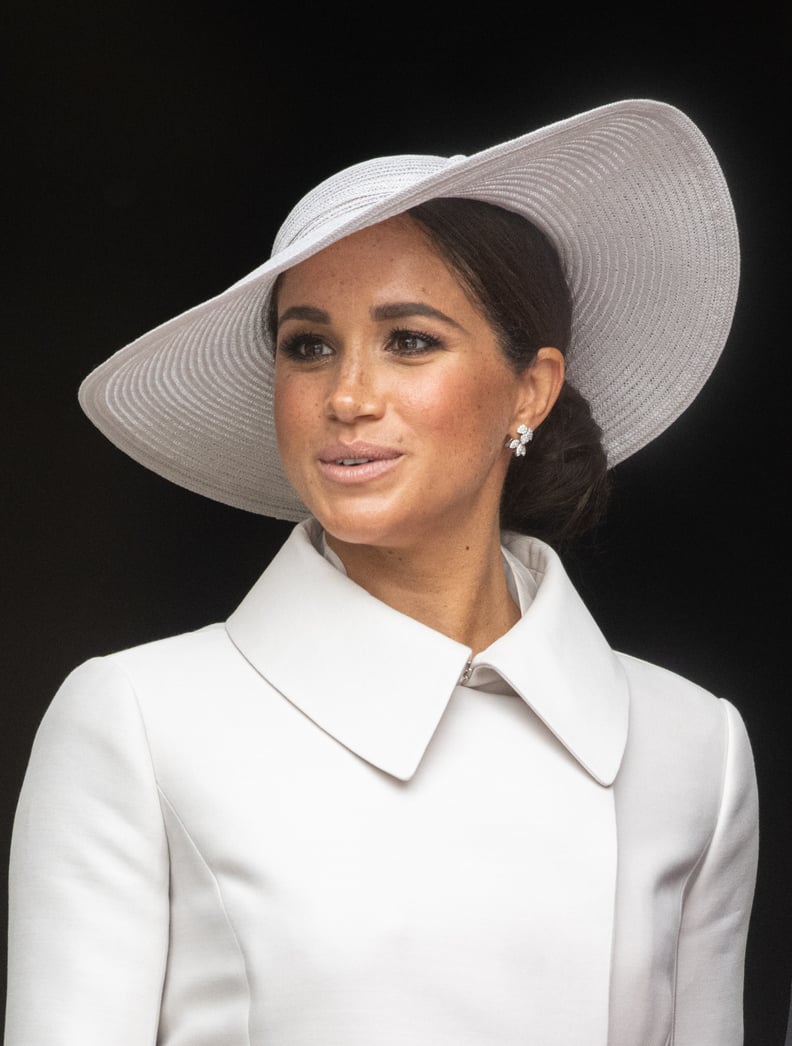 Revelations From Meghan Markle's The Cut 2022 Interview
She considered joining Instagram again. Markle originally told The Cut, "I'm getting back . . . on Instagram," after she previously claimed to Fortune in October 2020 that she had no plans to return to social media after the "constant bullying" she was subjected to. However, The Cut noted she later realized she "was no longer sure she would actually return to Instagram."
She didn't like the Royals' protocol for sharing photos of her children. Markle said she wasn't fond of the fact that there was a procedure to share photos of her children with the public, which would often occur before she herself could post their pictures. "There's literally a structure by which if you want to release photos of your child, as a member of the family, you first have to give them to the Royal Rota," (the U.K. media pool)," she explained. ". . . Why would I give the very people that are calling my children the N-word a photo of my child before I can share it with the people that love my child?"
She and Harry's six-week-long holiday to Canada was a choice made for her mental health before they announced they were stepping back from their roles in the royal family. Markle and Harry asked the royal family for help with the former's declining mental health during their time in the UK, but when those conversations proved to be unproductive, the couple escaped to Vancouver Island for six weeks before their royal exit in 2020.
Markle didn't meet Tyler Perry in person before moving into his Beverly Hills house. In her candid interview with Oprah Winfrey, Markle confirmed that she and Harry were offered a place to stay in one of the Hollywood producer's California residences following their royal exit. Though she hadn't met Perry in person yet, they previously spoke after her and Harry's wedding and he told her she could call him if she ever needed support or advice — which she did and told him all about her and Harry's situation when they were temporarily staying in Canada, she told The Cut.
She denied rumors of a reality show. The Cut noted that Markle and Harry directly denied reports of a reality TV series in the works at Netflix, but the former neither confirmed nor denied if she's filming a documentary about the couple's love story. "What's so funny is I'm not trying to be cagey," she said. "I don't read any press. So I don't know what's confirmed."
Prince Harry told her "I lost my dad" in the process of exiting the royal family. In her interview, Markle touched on her own estranged relationship with her father before she expressed hope that Harry and Prince Charles could still repair theirs. "Harry said to me, 'I lost my dad in this process.' It doesn't have to be the same for them as it was for me, but that's his decision," she said.
She and Harry are teaching Archie the importance of manners. Their toddler son is learning all about how to be polite, Markle said. "We always tell him: 'Manners make the man. Manners, manners, manners, manners, manners,' " she explained.
She's happy her "Archetypes" podcast is her reintroduction to the world. "It's so real," she said in the interview of her newly-launched project. "I feel different. I feel clearer. It's like I'm finding — not finding my voice. I've had my voice for a long time, but being able to use it."