Revisit the Truth Bombs From Prince Harry and Meghan Markle's Oprah Interview
In March 2021, Prince Harry and Meghan Markle finally got the opportunity to speak their truth when they sat down with Oprah Winfrey for their first joint interview since their royal exit. We knew the tell-all would be explosive, but Markle and Harry truly held nothing back. Given the outrageous amount of scrutiny and blatant racism Markle has faced since she first got together with Harry in 2016, the moment was long overdue.
Harry and Markle's explosive Netflix docuseries, which premiered in December 2022, also revisited the bombshell interview that the latter says they watched in real-time with the rest of the world. "I thought that me being very open about the depression that I experienced and just how extreme that became, I thought that would be the biggest takeaway," Markle shares in the series. "But it was entirely eclipsed by the conversation surrounding race."
The Duke and Duchess of Sussex confirmed in February 2021 that they would not be returning as senior members of the British royal family following their 12-month trial period. As a result, Queen Elizabeth II — who died at age 96 on Sept. 8 — stripped them of their honorary military appointments and royal patronages; however, they still hold their titles (at least for now, anyway).
Since then, the tabloids have remained hellbent on tarnishing Markle's name. But if we learned anything from Harry and Markle's Oprah interview, as well as "Harry & Meghan," it's that the palace and the British press just don't know how to handle a woman who is independent, speaks her mind, and isn't afraid to challenge the status quo.
However, Harry and Markle's new revelations didn't stop there. On Jan. 10, Harry released his highly-anticipated memoir, "Spare," which details his life growing up as a royal, how he coped with the death of his mother, Princess Diana, and the hardships he's endured with his family — some on account of his marriage to Markle. Harry's many interviews (on "60 Minutes," "ITV," and "Good Morning America") about the book have also been very revealing, as the Duke of Sussex has expressed his mission to tell his truth in order to reconcile with the royal family.
Ahead, revisit the biggest revelations from Harry and Markle's tell-all with Winfrey.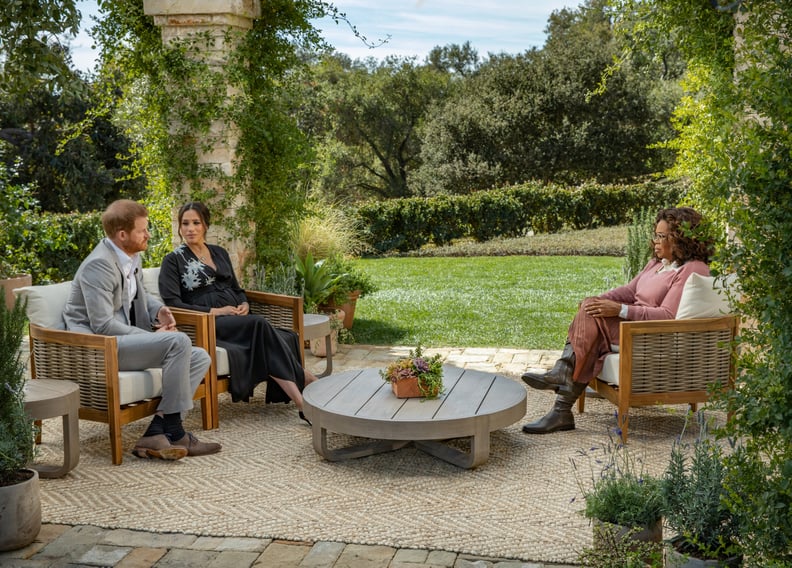 Markle and Harry actually wed three days before their royal wedding. The couple secretly got married in their backyard by Archbishop of Canterbury Justin Welby on May 16, 2018.
Despite previous reports, it was actually Kate Middleton who made Markle cry before her wedding. "The reverse happened," Markle said while confirming that there had been issues over the flower girl dresses. "It made me cry. It really hurt my feelings . . . And I don't say that to be disparaging to anyone, because it was a really hard week of the wedding, and she was upset about something. But she owned it, and she apologized and she brought me flowers and a note apologizing."
Markle was "silenced" by the royal family for her "protection." When Winfrey asked Markle whether she was silent or silenced, she confirmed that it was "the latter." The duchess was told that she, along with her family and friends, had to respond with "no comment" to any reports about her. Markle initially believed this was to protect her, but she quickly learned she wasn't the one being protected. "They were willing to lie to protect other members of the family," she explained. "But they weren't willing to tell the truth to protect me and my husband."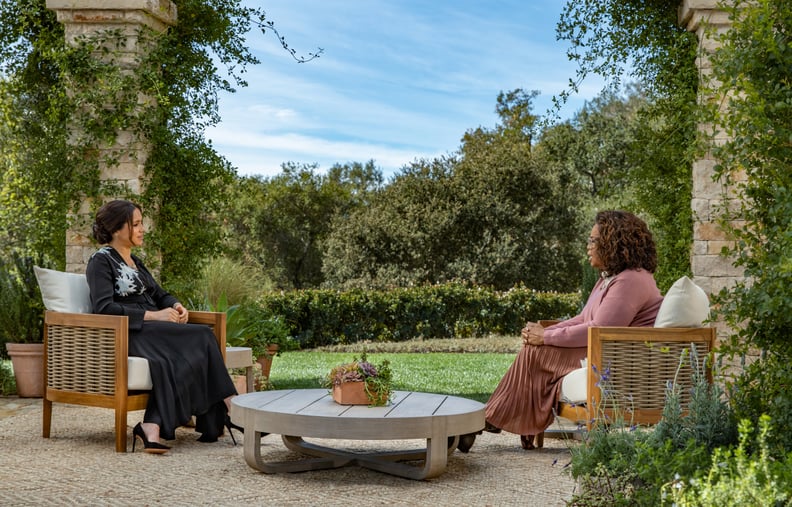 It was actually the palace who decided not to give Archie a title, not Harry and Markle. Before Archie was even born, the palace had already decided that he would not be given a title or any royal protection. There were also "concerns and conversations about how dark his skin might be when he's born," Markle explained. "They didn't want him to be a prince . . . which would be different from protocol, and that he wasn't going to receive security."
When Markle sought help for her mental health struggles from a senior aide, she was denied. "I didn't want to be alive anymore. That was a very clear and real and frightening, constant thought," Markle revealed. "I went to one of the most senior people to get help. I share this because there are so many people who . . . are afraid to voice that they need help, and I know personally how hard it is to not just voice it, but when you voice it, say no . . . [Going to a hospital] is what I was asking to do. You can't just do that, I couldn't call an Uber to the palace, you couldn't just go."
Markle and Harry ultimately decided to step down as senior royals due to lack of support from both the palace and the British press. The couple made it clear that there had been ongoing discussions about their royal exit prior to their January 2020 announcement and that the queen was not "blindsided." "I never blindsided my grandmother. I have too much respect for her," Harry said. "When we were in Canada, I had three conversations with my grandmother and two conversations with my father before he stopped taking my calls and asked me to put it in writing."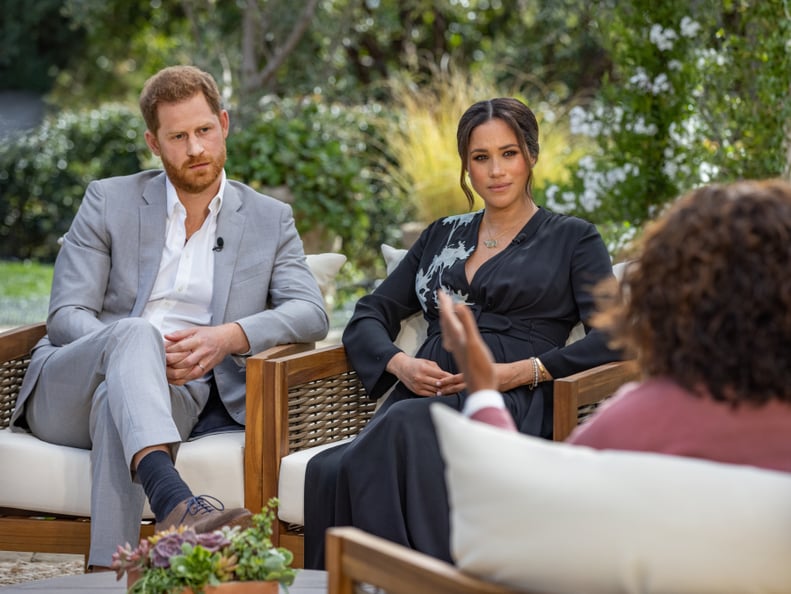 Despite welcoming Markle with open arms, the royal family didn't show any support for her after the slew of racist attacks. "There was an opportunity, many opportunities, for my family to show support," Harry stated. "No one from my family said anything." He also admitted that the family are "scared" of the British press turning on them.
Harry was cut off financially by the royal family after he announced his departure in 2020. "I've got what my mum left me," Harry said before revealing that his recent deals with Spotify and Netflix were not planned, but rather a product of necessity. The palace also cut off his family's security protection while they were living in Canada. Luckily, Tyler Perry stepped in and graciously allowed them to stay at one of his homes in LA and provided them with his own security.
Even though Harry was on good terms with the queen, his relationship with his father, Prince Charles, remains strained. "I feel really let down because he's been through something similar," Harry said. "He knows what pain feels like . . . but at the same time, I will always love him. There's a lot of hurt that's happened. I will continue to make it one of my priorities to heal that relationship."
As for him and Prince William, their "relationship is space, at the moment." "As I said before, I love William to bits. We've been through hell together and we have a shared experience, but we are on different paths," he said. "Time heals all things, hopefully."
For over a year, the UK tabloids did everything they could to find Markle's dad. "Once they did, I remember being told there was this huge headline like 'We found him' or 'We got him.' You're talking about someone's father," Markle said. "And from that point, the tabloids, they moved into the apartments next door and across from him. Descended on this small town, were just giving him gifts. The whole thing brings us to where we are today."
Markle asked her father point-blank if he'd spoken to the tabloids, and he lied to her. "The tabloids had apparently known for a month or so and decided to hold until the Sunday before our wedding because they wanted to create drama," Markle explained. "We called my dad and we asked him, and he said, 'No, absolutely not.' And I said, 'You know, the institution has never intervened for anything for us, but they can try to go in and kill this story. But if they do this once, we're not going to be able to use this same leverage to protect our kids one day . . . I just need you to tell me. And if you tell me the truth, we can help.' And he wasn't able to do that."
Markle's half-sister Samantha, who wrote a "tell-all" book about her, didn't change her name back to Markle until after Meghan started dating Harry. "I think it'd be very hard to tell all when you don't know me. This is a very different situation than my dad, right? When you talk about betrayal, betrayal comes from someone that you have a relationship with . . . I grew up as an only child, which everyone who grew up around me knows . . . She changed her last name back to Markle, I think she's in her early 50s at that time, only when I started dating Harry."