Though Michael Phelps's relationship with his wife, beauty queen Nicole Johnson, is nearly as legendary as his swimming career, she's not the only woman Michael has romanced throughout the years. In addition to earning 28 Olympic medals over his career (making him the most-decorated Olympian of all time), Michael has also been linked to a number of ladies, including athletes, models, and pageant winners. Funnily enough, the swimmer's dating history began and ended with the same woman — though it took him several years to figure out she was The One. Here's everything you should know about Michael's relationships before he settled down with Nicole.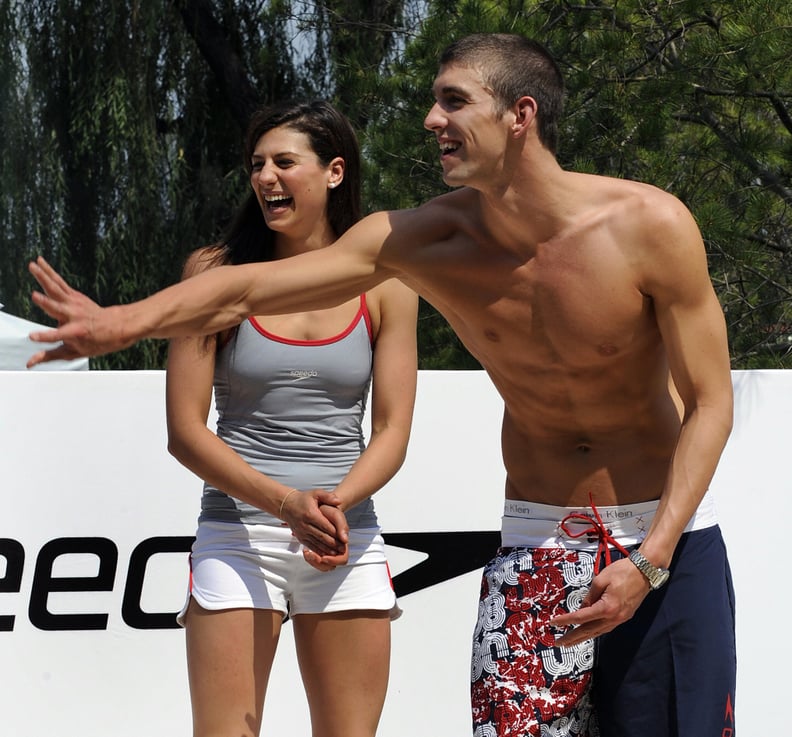 Stephanie Rice
In August 2008, rumors spread that Michael was seeing Australian swimmer Stephanie Rice. The two were reportedly spotted kissing during the 2008 Summer Olympics in Beijing, per the New York Post, but when asked about their relationship status afterward, Stephanie played it coy. "It was just really great to meet him, to meet people of his calibre," she told Woman's Day in September 2008. "He's such a great guy. He's got an amazing body." Michael never commented on the rumored kiss or his relationship with Stephanie.
Caroline Pal
A month after (maybe) kissing Stephanie, Michael reportedly began romancing Caroline Pal, who at the time was working as a waitress at the Palms Casino Resort's Moon Nightclub. According to a source for People, the swimmer even took Caroline home to Maryland to meet his family for Thanksgiving after just about two months of dating. It's not clear how long the paired dated, but they did spark reconciliation rumors in March 2013 when they were reportedly spotted looking "very flirtatious" in Las Vegas. "They seemed to be having a lot of fun," a source claimed to Page Six at the time. Little else was heard about the maybe-couple after the rumored hangout.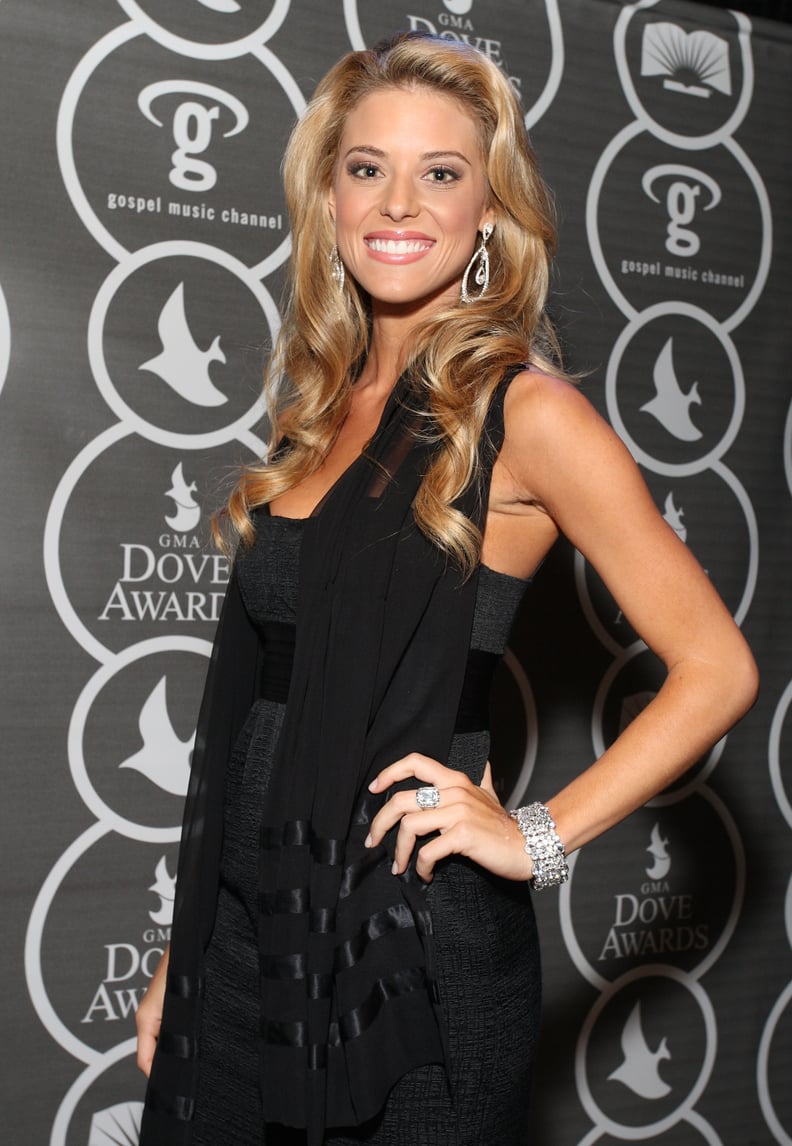 Carrie Prejean
Controversial former Miss California Carrie Prejean was first linked to Michael in April 2009, and not long after, Carrie's grandmother confirmed the relationship during an interview with Radar Online. "Carrie and Michael have been out to baseball games and lunch," she said. "He always calls her when he is in town and they go out." She was also sure to add, "Carrie knows that he has dated a lot of girls but she enjoys going out with him and isn't serious about being in a relationship with him. He's a nice guy and she likes him."
However, when asked about the dating rumors by Us Weekly, Michael denied dating Carrie. "I'm not dating anybody," he said. "I'm single. My private life stays private." Rumors fizzled out soon after that.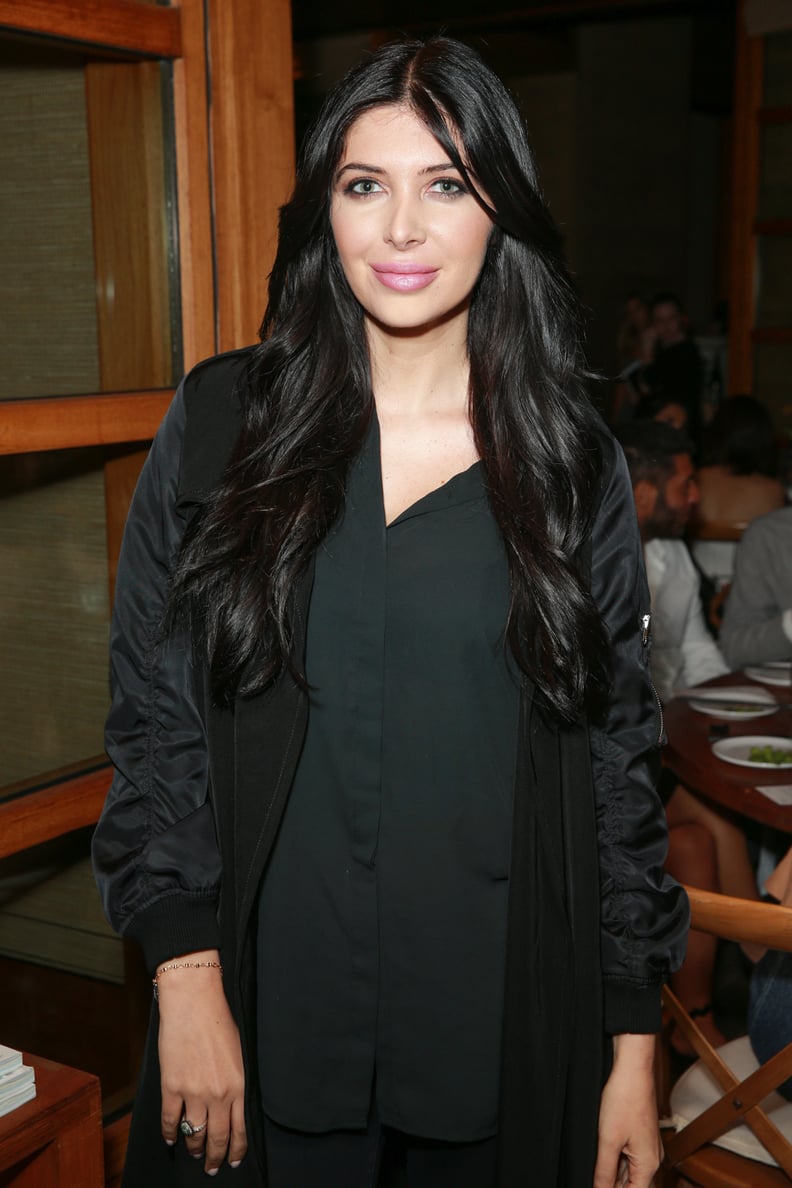 Brittny Gastineau
In November 2010, Michael began stepping out with socialite Brittny Gastineau, and a source for People confirmed the budding romance. "It's just started. But they're really cute together," the insider claimed at the time, later adding, "She thinks he's a really sweet guy. She understands his athletic background since her dad was an athlete." However, when asked about the relationship soon after by E! News, Brittny simply said she thought Michael was "cute" but couldn't say more than that. Michael never commented on the rumors, and nothing else was heard about the pair.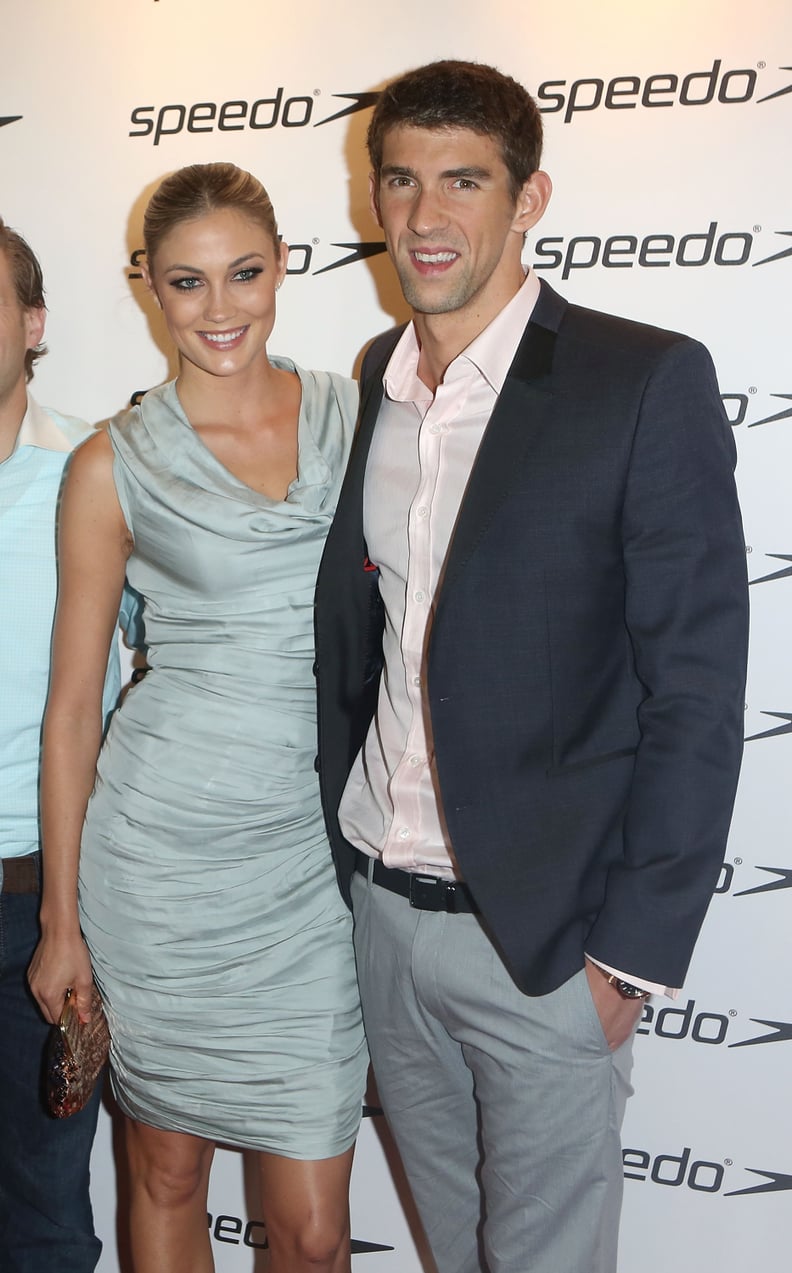 Megan Rossee
Michael's first major relationship in the spotlight was with model Megan Rossee, and though the two weren't linked until August 2012 — which is when they made their red carpet debut at a Speedo event — a source for E! News claimed the two started dating five months before that. "Megan and Michael have been taking things slow leading up to the Olympics, but they are excited to spend more time together outside of his training," the insider claimed at the time.
In December 2012, TMZ broke the news of the couple's split after less than a year of dating, and not long after, Michael seemingly confirmed the breakup himself on Twitter. "Things happen for a reason. #notme," he cryptically tweeted, while Megan shared a quote that read, "A woman's loyalty is tested when her man has nothing. A man's loyalty is tested when he has everything."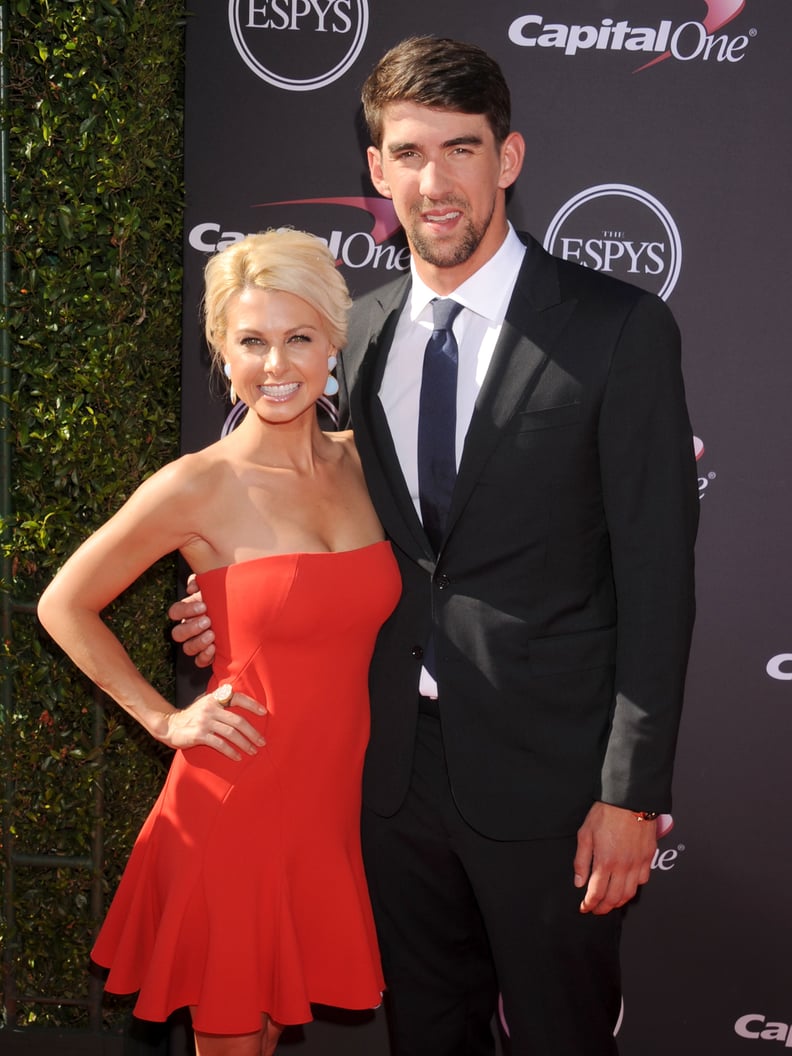 Win McMurry
The swimmer turned heads when he arrived at the 2013 ESPY Awards with Golf Channel reporter Win McMurry, and it wasn't long before a source for Us Weekly confirmed the two were an item. After a few other reported sightings, nothing else was heard about the maybe-couple, and neither Win nor Michael ever commented on their relationship.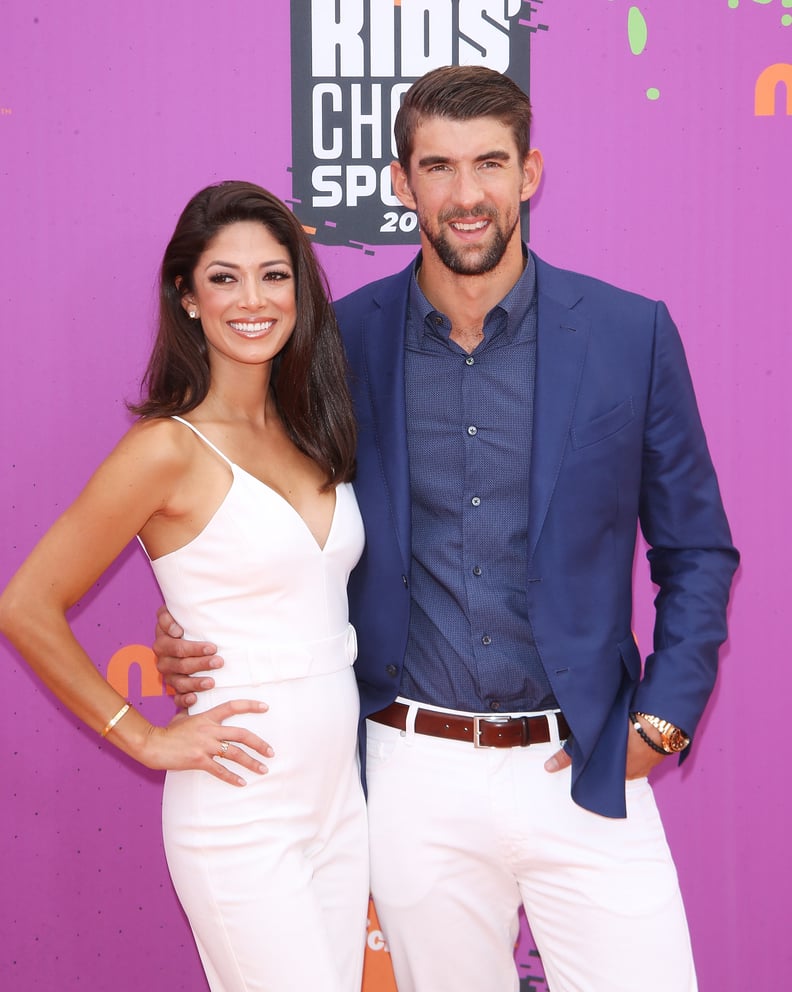 Nicole Johnson
Michael first met former Miss California Nicole Johnson at the 2007 ESPYs, and though little was known about their relationship at the time, the two quietly dated on and off for years before going their separate ways in late 2011. Luckily, they remained friends, and in 2014, Nicole and Michael decided to give their romance another try.
By February 2015, the couple were engaged, and Michael later opened up about their tumultuous relationship during an April 2015 interview with USA Today Sports. "Her and I have been on and off for eight years," he said. "It's been a long time. We've been through a lot. But I love her to death. We've been able to grow as a couple through everything we've been through, the positive changes I've made in my life. We're at a completely different level than we've ever been in our past relationships."
Six months after welcoming their first son in May 2016, Michael and Nicole tied the knot in Mexico, and since then, they've welcomed two other children together. Here's hoping this family of five have many happy memories ahead of them.