Singer-Songwriter Elena Rose Is Having Her Moment
Tell Me Más: How Elena Rose Went From a Hitmaker For Other Artists to a Rising Star Herself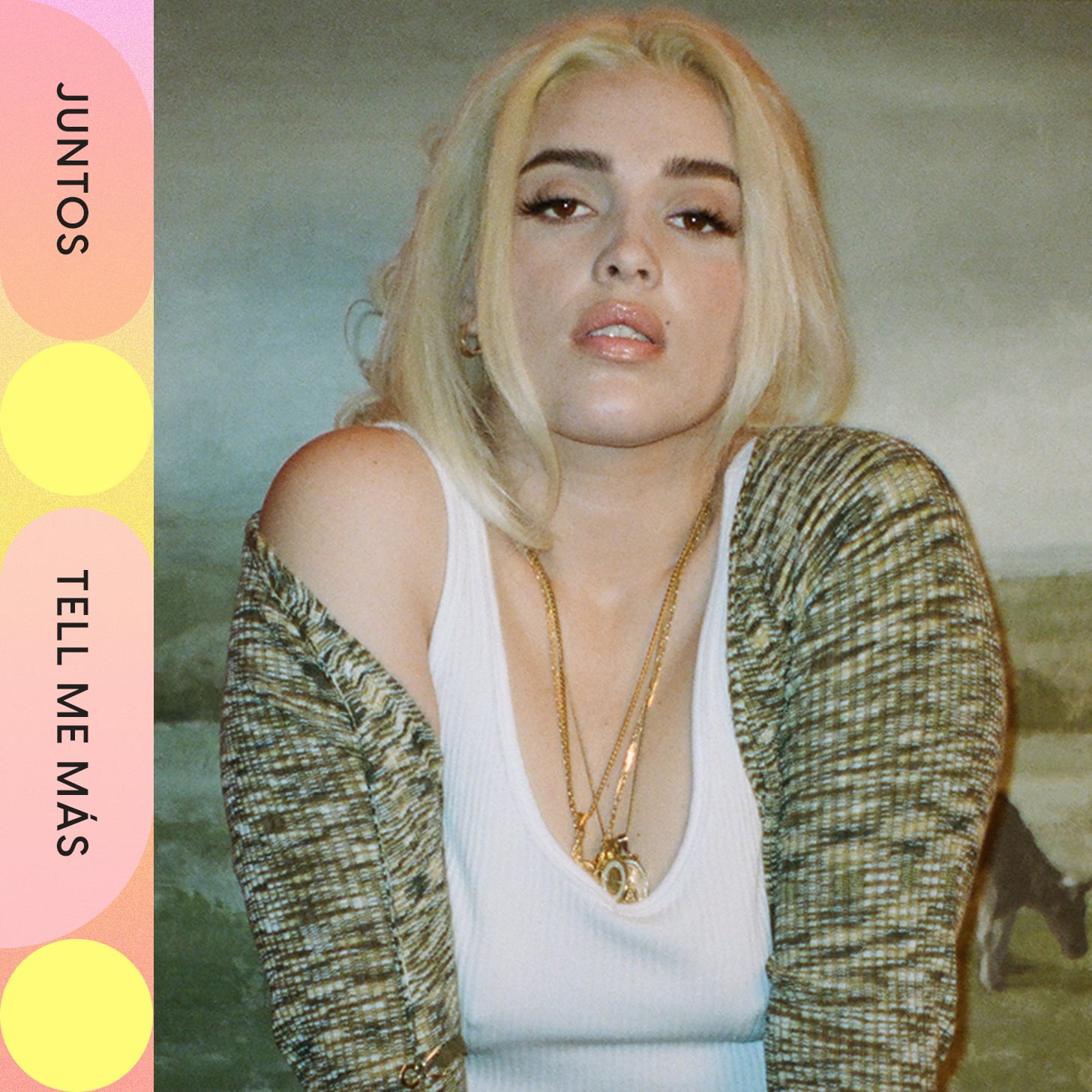 In our Q&A /feature series Tell Me Más, we ask some of our favorite Latinx artists to answer the questions only their BFFs know about them, revealing everything from their most recent read to the songs that get them hyped. This month, singer-songwriter Elena Rose takes the test, and we are all ears.
Before manifestation — or the laws of attraction — went mainstream, Venezuelan singer-songwriter Elena Rose, born Andrea Elena Mangiamarchi Hernández, was learning about the wisdom behind how to live intentionally from her "super-spiritual mom."
Ever since she was a little girl, Rose, now 27 years old, knew she wanted to be a singer. While she always trusted that she could manifest that dream into existence, she knew the first step was leaving Venezuela. So, at 19, Rose (who was born in Miami to a Venezuelan mother and Chilean father, but was raised between Puerto Rico and Venezuela) and her 16-year-old sister migrated to the States to start a whole new life.
"I felt like there was no way I was going to be able to be someone I'm proud of if I stayed there."
It was a "tough moment" politically, she tells POPSUGAR. And though her mom "was freaking out" that she was leaving home, she felt like everything around her was falling apart. "I felt like there was no way I was going to be able to be someone I'm proud of if I stayed there," she says.
After deciding to leave, Rose opened her iPad while lying in bed with her sister and told her that wherever her finger landed, that was where they were going to go live. Lo and behold, her finger landed on Hollywood, FL. Rose landed a waitressing job at the Hard Rock Live at Seminole Hard Rock Hotel & Casino Hollywood — the same venue where, years later, she'd go on to be awarded the La Musas Casals Award at the Latin Music Hall of Fame's 10th Annual La Musa Awards. Her sister, meanwhile, went on to pursue a career as a veterinarian after landing her first job cleaning at Bath & Body Works.
"When I talk about my story, it's also important to highlight the relationship that I have developed with the universe and God," Rose says. "And how everything has been very much OK, this is what I want. So how do I feel about that? Is that where I'm supposed to be going? And then, boom — suddenly — it's out of my hands, and then the next day something happens."
That's exactly how Rose's story goes. After three years of living in Florida, her sister moved up to northern Florida to study while Rose continued waitressing, working at a local crystal shop, and performing at bars at night. At the time, the only apartment she could afford on her own was a small space that was originally an office that an older Cuban woman hooked her up with for $1,000 a month.
"My bed was right in front of the door in the office, and there was this EXIT sign right above it," she says. "I drew a little O next to where it said EXIT so I would start reading EXITO every day, which means success." It was during this time that Rose took her spiritual practice up a notch. She started meditating frequently, following yogis and motivational speakers like Tony Robbins, working with crystals, and praying more.
"I've always been very close to God for as long as I can remember. My mom would always pray and light a candle for me, but during this time, it was just me," she says. "Now, I had to light my own candles."
Rose, whose mom is an angelologist, Reiki healer, and energy worker had encouraged her to take this time to focus on what it was she wanted to call into her life. Shortly after moving into the apartment, Rose landed the first gig that would set her on the path of becoming a music artist. After hearing her perform at Parrillada Familiar Da Silva in Doral, Florida, a producer reached out to Rose asking if she was interested in working with him, helping him record demos of the songs that he wrote for women.
So Rose headed over to the studio after her evening shows and recorded demos for him until 7 in the morning. She'd get paid $100 per song, and from the studio, she'd go directly to her job at the crystal shop. It was during these demo recordings in the studio that she started being exposed to artists' songwriting processes. She used these sessions as an opportunity to learn and train.
"These were rooms with hit writers from all over the world and the biggest ones in Miami," she says. "I was just there learning, and it was amazing . . . It showed me a passion that I am so devoted to that grew in me — which is writing for other people."
Rose's big break in songwriting came after writing Becky G's hit single "Dollar," which peaked at No. 27 on Billboard's Hot Latin songs. It was the session that essentially transformed her life.
"The thing about 'Dollar' is what it did for my life more than what it did for the world," Rose says. "I signed my first publishing deal, which hadn't been a deal that had been seen in the Latin music industry in so many years, especially being female and I had no songs out. I just had 'Dollar,' and it hadn't come out yet." It was in this session that she also met Becky G's manager, Ben Tischker, who eventually became Rose's manager, too.
"During this whole process, I remember Timbaland wanted to sign me, Ricardo Montaner wanted to sign me, and I met Ben," she says. "And my mom did a tarot reading for me and was like, this is the guy. We have a tarot card that looks just like Ben. When you meet him, when you see him, you're going to know."
So when Rose did meet him, she says, she immediately knew he was the guy: "He has been the man that has educated me, informed me, and just structured my life. Before that, I just lived day to day in survival mode." Shortly after getting published as a songwriter, Rose landed one of her biggest projects working on Selena Gomez's first Spanish language EP, "Revelación," which landed Gomez her first-ever Grammy nomination. Rose cowrote five out of the seven tracks on the EP. She worked on Rauw Alejandro and Camilo's "Tattoo," Becky G's "My Man," Marc Anthony and Daddy Yankee's first-ever collaboration "De Vuelta Pa' La Vuelta," the Jennifer Lopez and Maluma hit "Pa' Ti," which peaked at No. 9 on Billboard's Hot Latin Songs Chart October 2020, and so many more. But in 2020, Rose decided to start shifting the focus to her solo career as an artist.
"I think working with other people and writing for other artists really helped me look at myself with eyes of love."
"I think working with other people and writing for other artists really helped me look at myself with eyes of love. When you sit down and work from a place of service — because writing for other people when you are a creative, I see it as an act of service — there's an exchange of energy and conversations that I have to take to my grave," Rose says. "It's a big responsibility, but also an act of love. And I was like, I want that for myself. I want to be that person to myself."
Rose made her debut as a solo artist in 2020 releasing three singles: "Sandunga," "Fenomenal," and "La Ducha," which were followed later that year with "COCO," "No Voy a Cambiar," and "Santa Para Que Porfa." In 2021, she released several more back-to-back singles. Then, in 2022, she came out with her hitmaker "Bayamón," "Navidá," and the "La Ducha Remix" featuring Becky G and Tini.
Rose has a lot going on these days. Not only is she scheduled to perform at this year's Premio Lo Nuestro Awards on Feb, 23, but she's also nominated in two categories: Remix of the Year for "La Ducha (Remix)" featuring Maria Becerra, Greeicy, Becky G, and Tini and for Urban Female Artist of the Year.
"I'm very happy [and grateful for my team. Everybody has been working really hard, and we're all very invested in this new chapter of my life as being in front and it feels right," she says. "I love the fact that people and prominent awards are recognizing our work. It means a lot to me. 'La Ducha (Remix)' is a song that I made with my friends. They're my sisters — they're not just artists that I admire. It just felt like a family of girls gathering, so it was very exciting."
Rose's Premio Lo Nuestro performance will be her first-ever performance at an awards show. She shares that the opportunity is "a dream come true" and is super excited to give it her all. "I'm happy we're gonna be there with a very intimate moment with everyone that's going to be there and watching the performance," she says. "I want people to feel our love for what we do. I'm hoping people will experience and embrace the love that we want to give."
Rose plans on releasing a few singles soon along with her upcoming debut album that she's been working hard at. "The album is almost done and [all] I can share is that it has really cool collaborations not only on the music but on the videos, the art, [and] the creative side of it is a lot of fun," she says. "The team is very tight, and it feels good to at last put my music out. I'm very excited. I want people to see me as another friend. One that brings endless love, happiness, and transparency into their lives."
Read on to learn more about Elena Rose, the album she's obsessing over right now, and who she's rooting for at this year's Premio Lo Nuestro Awards.
POPSUGAR: What's the last movie or series you watched recently?
Elena Rose: "You People" on Netflix.
PS: What was the last book you read?
ER: "The Cat in the Hat."
PS: Whose album are you obsessing over right now?
ER: Fireboy DML's "Laughter, Tears & Goosebumps."
PS: How would you describe your personal style?
ER: Free!
PS: What are your favorite spirituals tools to use when you need to center?
ER: Prayer and palo santo.
PS: Who are you rooting for this year's Premio Lo Nuestro Awards?
ER: All the women nominated!
Image Source: Desiree Prieto