Taylor Lautner and Taylor Dome's Relationship Timeline Tells a Cute Love Story
While we have so many favorite celebrity couples, we especially have a soft spot for Taylor Lautner and Taylor Dome. The "Twilight" actor started dating the nurse sometime in 2018. They were together for three years before they got engaged in November 2021 and tied the knot a year later. Over the years, Lautner and Dome have made very few public appearances, so we've only ever seen glimpses of their relationship on social media. But whenever they do appear on each other's Instagrams, the stars are always smiling, hugging, and giving each other the biggest heart eyes.
Considering Lautner's relationship history reportedly includes A-listers like Taylor Swift and Selena Gomez, you might be wondering how he met Dome and how their relationship blossomed over the years. Get this: Dome was a huge "Twilight" fan like many of us. In a June 2022 Instagram video, Dome even reveals she used to have a crush on Edward Cullen (Robert Pattinson) from the films. Lautner, who played Jacob Black, adorably responded to Dome's video by commenting, "bout time I won something," referencing Edward and Jacob's love triangle with Bella Swan (Kristen Stewart) throughout the franchise.
Lautner and Dome's relationship timeline is seriously so cute. Keep reading to see their biggest relationship moments.
01
September 2018: Taylor Lautner and Taylor Dome Make Their Romance Instagram Official
Lautner's sister, Makena Moore, is quite the matchmaker. After meeting Dome at a church in Nashville and becoming friends with her, Moore helped set her up with Lautner. Clearly, Moore's matchmaking proved to be a success because in September 2018, Dome went Instagram official with the actor. "ITS WEDDING SZN (Not ours tho hehe)," she captioned their photo together, which showed Lautner planting a kiss on Dome's cheek.
02
October 2018: Taylor Lautner and Taylor Dome Wear a Couples' Costume For Halloween
A few weeks after Dome shared a photo with Lautner on Instagram, he debuted Dome on his own page just in time for Halloween. Once again, Lautner was pictured kissing Dome's cheek. As if that wasn't cute enough, the couple could also be seen wearing matching "Space Jam" costumes. "#tunesquad 🎯❤️," Lautner captioned his post.
03
December 2019: Taylor Lautner Supports Taylor Dome at Her Nursing School Graduation Ceremony
When Dome graduated from nursing school, she dedicated an Instagram post to Lautner to thank him for always being by her side when she needed him. She raved that Lautner was her biggest cheerleader because he would make meals for her during busy days, help her study for all her exams, and console her whenever she would have an anxiety attack. "Thank you for supporting me endlessly. You mean the world to me & I wouldn't be where I am today without you💝," Dome wrote.
04
March 2020: Taylor Lautner Shares a Heartfelt Instagram For Taylor Dome Amid the COVID-19 Pandemic
Days after the World Health Organization declared COVID-19 a pandemic, Lautner took a moment to show his appreciation for Dome on Instagram by sharing a photo with her along with the caption, "Hug the ones you love at this time. Hold em tight. Smile. Laugh. Feel thankful for every moment you live. No moment is taken for granted. LOVE is the greatest gift. Love as wildly as you possibly can. ❤️."
05
May 2020: Taylor Lautner and Taylor Dome Attend Makena Moore's Wedding
Lautner and Dome attended another wedding together, but this time, it was for none other than Lautner's younger sister, Moore, who also happens to be one of Dome's best friends. The couple traveled to Tennessee to watch Moore exchange vows with now-husband Jacob Moore. The ceremony took place in the midst of the pandemic, so Lautner said that although the day wasn't "exactly like they had imagined" it would be, it wasn't "any less special."
06
November 2021: Taylor Lautner and Taylor Dome Get Engaged
Lautner proposed to Dome in November 2021 after three years of dating. He shared the good news on Instagram by posting a photo of him getting down on knee. The picture showed the couple surrounded by rose petals in front of a fireplace that had the word "Lautner" written on top of it. "And just like that, all of my wishes came true," Lautner captioned the shot, referring to the date being Nov. 11. Dome posted the same photo on her own Instagram account. In her caption, she called Lautner her "absolute best friend" and told him, "I CANNOT WAIT TO SPEND FOREVER WITH YOU."
Shortly afterward, Lautner shared a photo with his new fiancée on Instagram that showed the couple casually celebrating their engagement on the beach. "Cannot wait to spend forever with you @taydome You love me unconditionally," Lautner wrote, adding that Dome pushes him to be "a better person."
07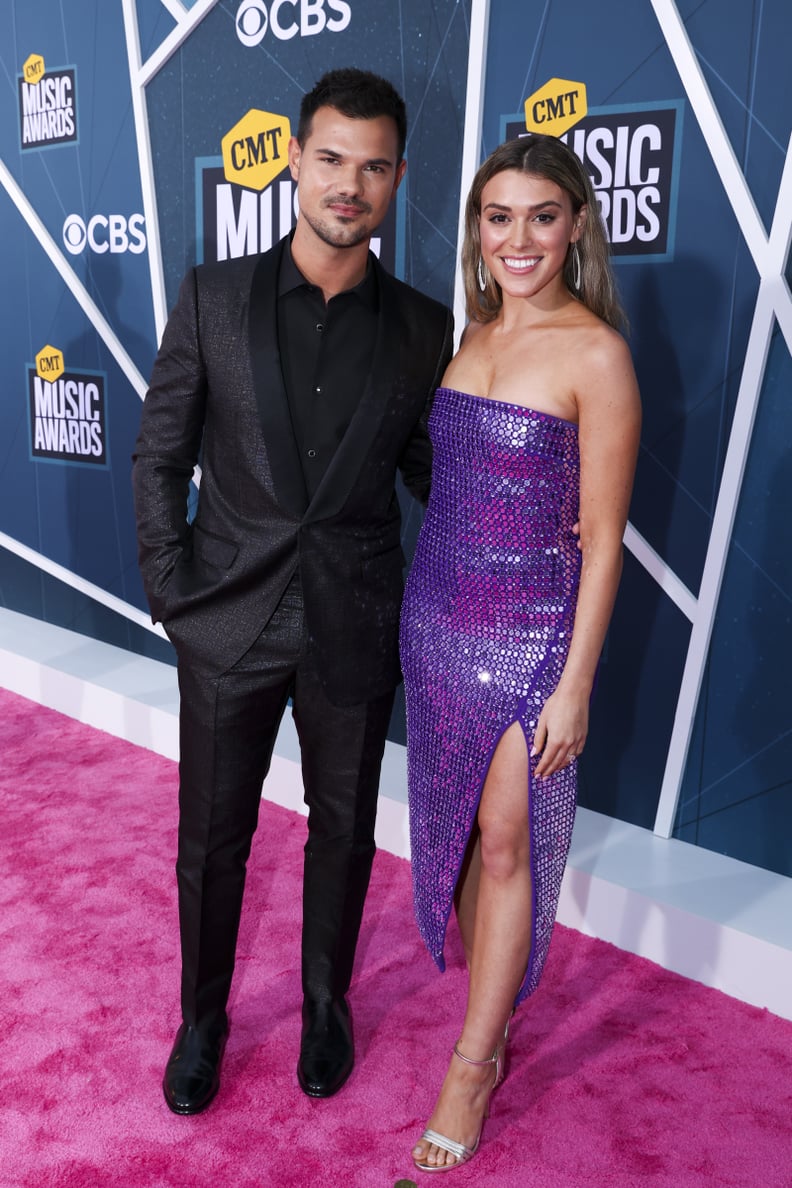 April 2022: Taylor Lautner and Taylor Dome Make Their Red Carpet Debut
Lautner and Dome attended the 2022 CMT Music Awards together. The appearance notably marked the couple's red carpet debut. Lautner wore a classic black suit for the event, while Dome wore a strapless purple dress.
08
August 2022: Taylor Lautner Confirms Taylor Dome Will Take His Last Name
Ever since fans discovered Lautner and Dome were engaged, they wondered whether she would take the actor's last name after getting married, which would make them both legally be named Taylor Lautner. Lautner confirmed he and Dome would share the same name while appearing on an episode of "The Kelly Clarkson Show," saying, "We're literally going to be the same person."
09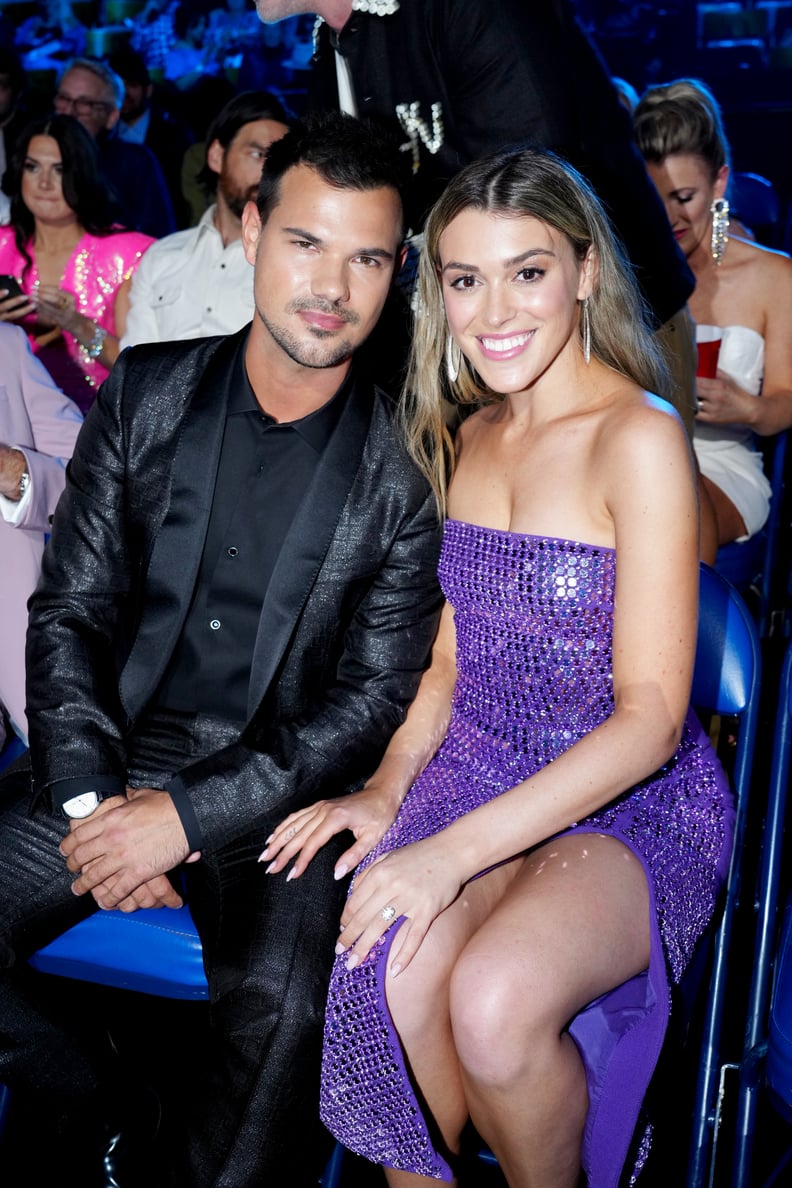 November 2022: Taylor Lautner and Taylor Dome Get Married
Exactly one year after getting engaged, Lautner and Dome wed at Epoch Estate Wines in Templeton, CA. Dome looked gorgeous in a white Winnie Couture dress. According to Vogue, Dome added butterfly symbols to her dress and veil to honor her family. "My nana's mom passed away at a young age, and she always told my nana she would come back as a white butterfly to watch over and protect her," she told the publication. "To this day, my nana and I always have white butterflies around."