Kim Kardashian's Complete Relationship History, From Nick Cannon to Pete Davidson
It's no secret that reality TV star, beauty mogul, and entrepreneur Kim Kardashian has had her fair share of romances in the past. Over the years, she has been linked to singer Ray J, Nick Cannon, and football player Reggie Bush, just to name a few. The "Kardashians" star has also been rumored to date several high-profile celebrities since rising to fame, including singer John Mayer, soccer superstar Cristiano Ronaldo, and even news correspondent Van Jones.
Outside of her boyfriends and suspected flings, Kardashian has also been married three times — to music producer Damon Thomas, basketball player Kris Humphries, and rapper Kanye West. Now, the 42-year-old seems to be back on the dating scene after a whirlwind relationship with comedian Pete Davidson. Earlier in the summer, the Skims cofounder hinted that she might have a little romance in her life in a June 8 episode of "The Kardashians"'s third season.
Still, she lamented in that same installment that having relationships as a public figure is difficult. During a conversation with family friend Scott Disick, Kardashian said that she has to date behind closed doors. "It's kind of awkward. And here's the thing, if you are seen with someone, then if it's starting to not work out you almost you have to try to make it work a little longer because you're so embarrassed that it was so quick," she explained. Kardashian also said she was open to putting herself out there, but "I just don't want to date one person."
On the Oct. 19 episode of "The Kardashians," Kardashian said that she is looking for someone more "age-appropriate" following her relationship with Davidson. "I need just a little more age appropriate. I need [someone in their] 40s," she said.
Of her current relationship status, she added: "I'm genuinely just okay with being by myself for a minute and the right situation will come my way."
From her first marriage in the early 2000s to what happened after her iconic red carpet moment at the 2022 Met Gala with Davidson, here is Kardashian's full dating history.
01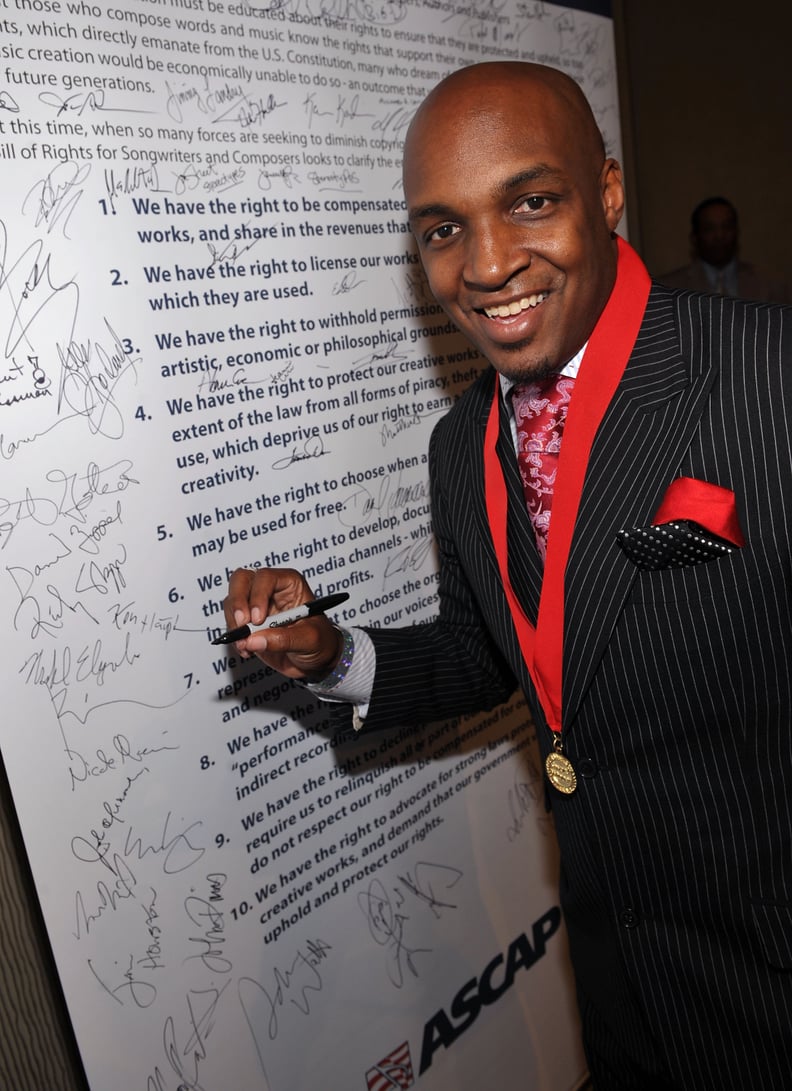 Kim Kardashian and Damon Thomas (2000-2003)
Kim Kardashian's first serious public relationship was with music producer Damon Thomas. The two eloped in 2000 when Kardashian was 19 years old and Thomas was 29 years old. Years later, in a 2018 episode of "Keeping Up With the Kardashians," the reality TV star revealed that she was on drugs when she got married to Thomas. "I was high on ecstasy when I got married the first time," she said on the show. From the start, their marriage was rocky, with Kardashian later claiming on "Keeping Up With the Kardashians" that Thomas was controlling and verbally abusive.
According to court documents obtained by the Daily Mail, Kardashian referred to her ex-husband as "the king of the castle" and claimed "Damon told me not to leave the house unless I first told him when and where I was going." Kardashian also claimed, "If Damon were not home, I was required to call him and ask permission to leave the house."
The couple's marriage lasted for three years, with the two separating in April 2003. According to court papers obtained by The Los Angeles Daily News, Kardashian claimed Thomas was also physically violent toward her, alleging he punched her and threw her against the wall while they were together. Thomas denied Kardashian's claims of abuse, calling them "absolutely not true," per New York Daily News. In their divorce settlement, Kardashian received $56,000 from Thomas. Their divorce was finalized in February 2004.
02
Kim Kardashian and Ray J (2005-2007)
Following her divorce from Thomas, Kardashian met singer Ray J through his sister, "Moesha" star and award-winning singer Brandy, as reported by ET Canada. At the time, Kardashian was working for Brandy as a personal assistant and started dating Ray J in 2005.
The two had an on-again, off-again relationship for two years, and officially broke up in 2007, which Ray J discussed in his book "Death of a Cheating Man: What Every Woman Must Know About Men Who Stray." In the book, he discusses a relationship with a woman named "KK" and said (via Page Six), "We'd known each other for a while before we dated and there was a mutual attraction, but she was married … She let me know she wanted to get with me. She left her husband for me as soon as we started having sex and things between us got intense really fast. After that, I felt obligated to be with her."
After their breakup, however, the two were thrust into a media frenzy when their sex tape was leaked. Vivid Entertainment, an adult-film production and distribution company, bought the sex tape for $1 million from an unnamed third party in February 2007, and soon "Kim Kardashian, Superstar" was all over the internet. Later that month, Kardashian sued Vivid Entertainment for distributing and selling the tape without her consent, but ultimately dropped the lawsuit in April 2007 and settled for $5 million, according to TMZ.
Ray J later released his 2013 song "I Hit It First," which blatantly shades his ex. In one line, he raps, "She might move on to rappers and ballplayers, but we all know I hit it first." Additionally, his love interest in the video strongly resembles Kardashian.
03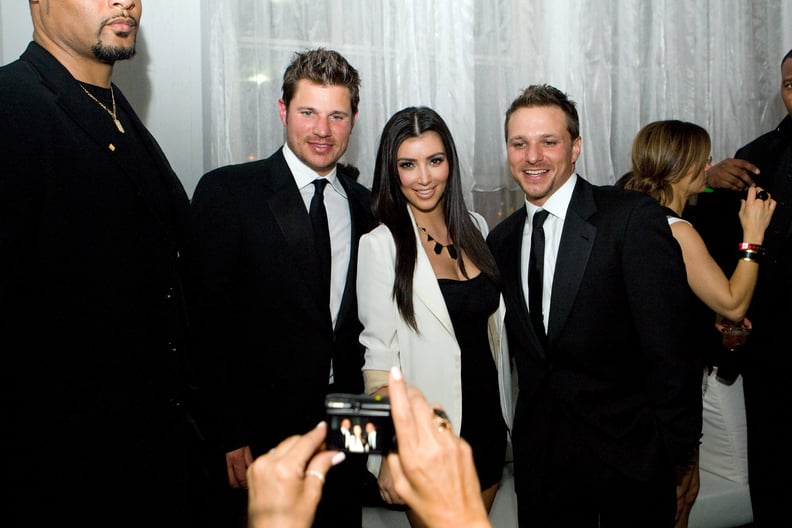 Kim Kardashian and Nick Lachey (2006)
Kardashian briefly dated "Love is Blind" host Nick Lachey back in 2006. According to People, the two went on a date to see "The DaVinci Code" six months after Lachey divorced Jessica Simpson. While Kardashian and Lachey only went on one date together, he alluded to Details Magazine in 2013 that he felt she was using him to climb up the Hollywood ladder. "Let's just say this: We went to a movie. No one followed us there. Somehow, mysteriously, when we left, there were 30 photographers waiting outside," Lachey told the outlet (via The Huffington Post).
In 2019, Lachey once again opened up about his brief date with the "Keeping Up With the Kardashians" star, telling Andy Cohen on "Watch What Happens Live" that the pair "had a great time" and she "couldn't be a nicer girl," but that they don't talk to one another.
04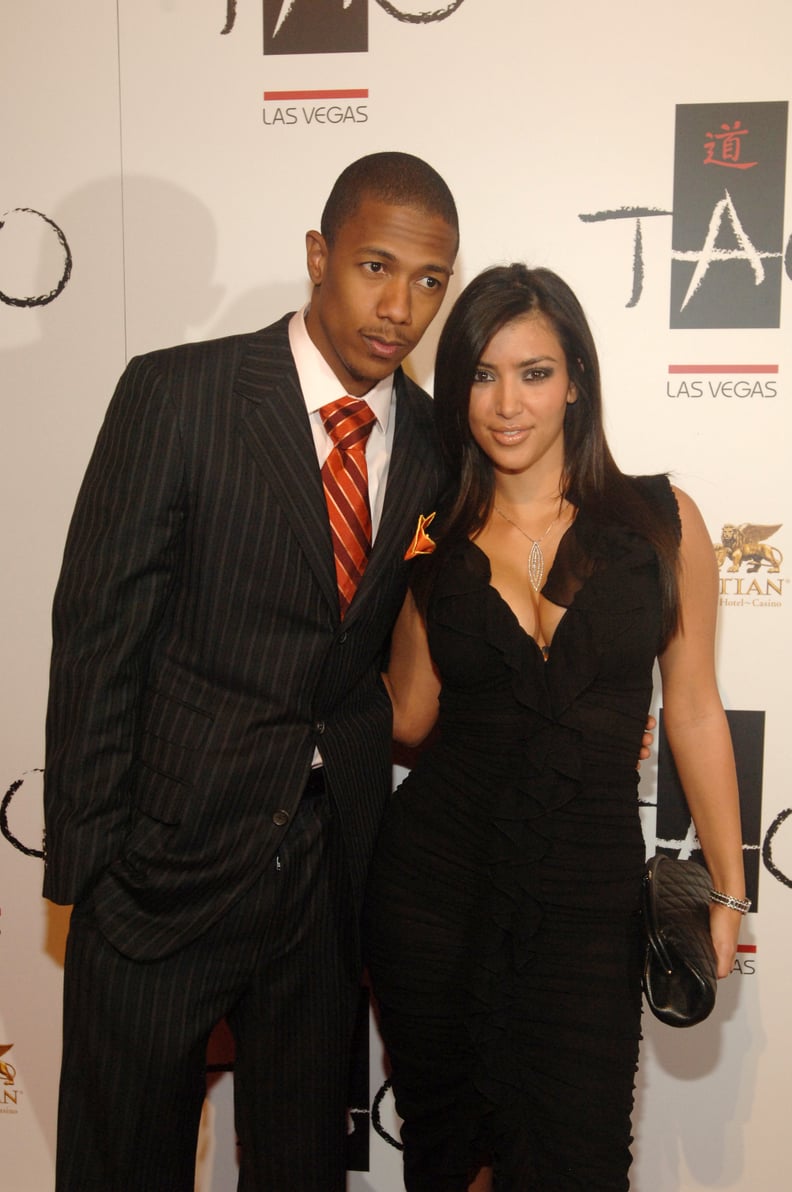 Kim Kardashian and Nick Cannon (September 2006-January 2007)
Following her one date with Nick Lachey, Kardashian allegedly dated Nick Cannon from September 2006 to January 2007, according to The Daily Mail. While Kardashian and Cannon shared a connection during this time, the pair view that time together differently.
In a 2007 interview with Complex, the SKIMS founder told the outlet, "He was someone who I enjoyed spending my time with, but we were never really a couple. And I think it fizzled out way before that even happened." Cannon, on the other hand, had this to day on the "Drink Champs" podcast in October 2021: "Long story short, we were getting pretty serious back then … It was getting serious … I was hanging out with the family."
The former Nickelodeon star previously opened up about what led to his breakup with Kardashian on "The Howard Stern Show" in 2012, saying (via The Huffington Post), "This was my issue. We talked about this tape… And she told me there was no tape. If she might have been honest with me I might have tried to hold her down and be like 'That was before me' because she is a great girl… But the fact that she lied and told me that there was no tape?"
05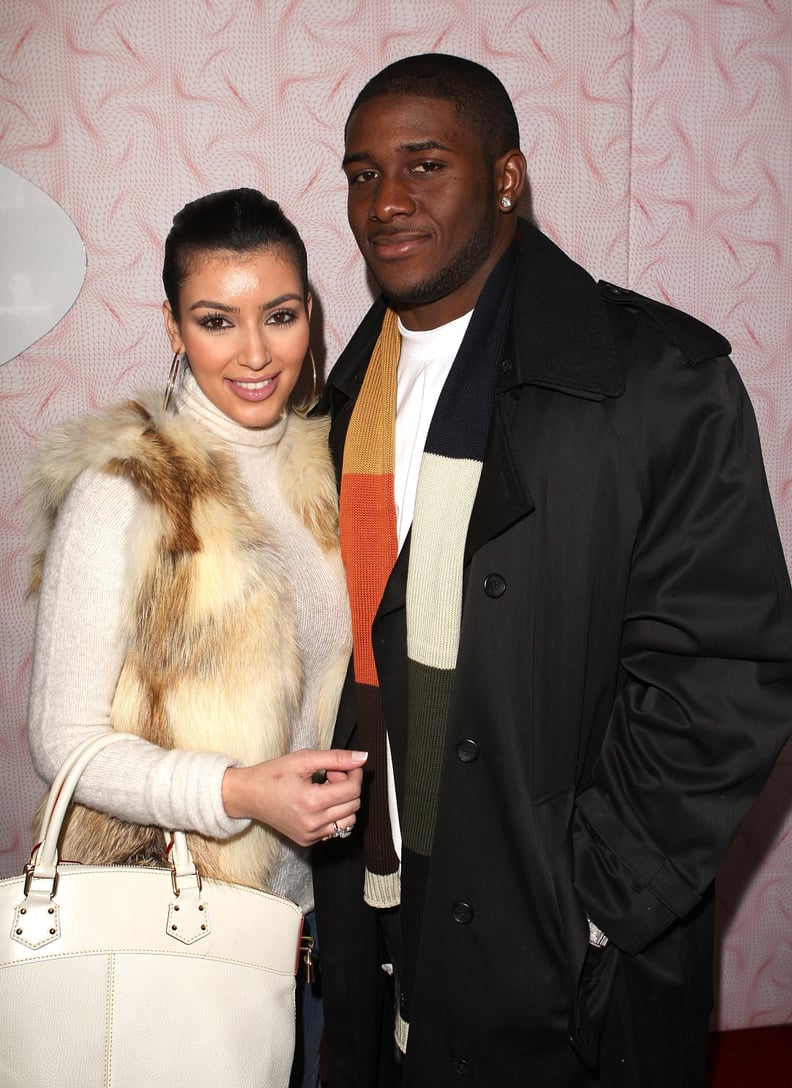 Kim Kardashian and Reggie Bush (2007-2010)
Kardashian dated NFL running back Reggie Bush on and off from 2007 to 2010. The two initially met at the ESPY Awards in 2007 and started a relationship not long after, as reported by In Style. As "Keeping Up With the Kardashians" was in its first season, much of the couple's relationship ups and downs were documented on the show.
Kardashian and Bush first broke up in June 2009, citing the busyness of their careers as a reason for the split. A source at the time told E! News, "They love each other a lot and hope someday they can make it work. But for now, he starts his football season this week and Kim starts filming season four of Keeping Up With the Kardashians, and they just need this time apart."
The two briefly reconciled in 2010, only to break up again that same year. A source close to Bush told Us Weekly that the athlete split from Kardashian because "her fame is just a little too much for him to handle."
Later in 2014, Bush touched on his relationship with the reality-TV star on ESPN, and said that while the intense media attention was ugly at points, "I wouldn't change anything because it helped mold and shape who I am today and I'm a better man for it."
06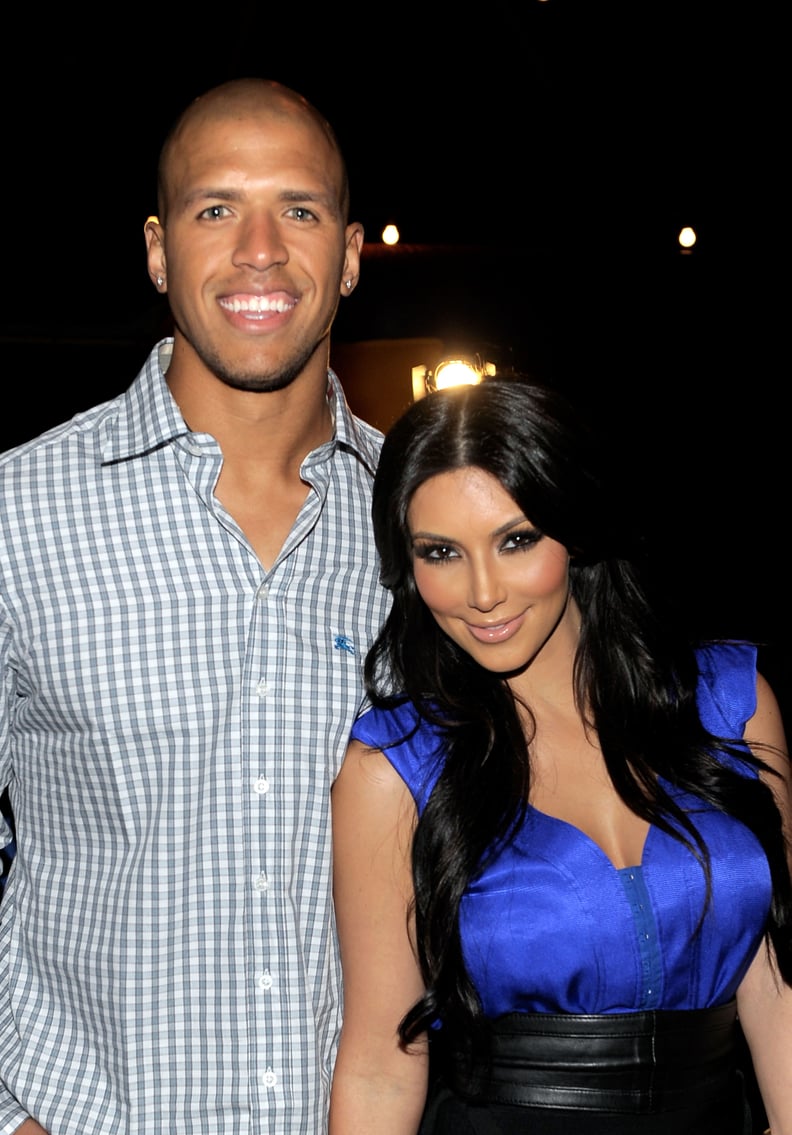 Kim Kardashian and Miles Austin (June 2010-September 2010)
Just a few months after her split from Reggie Bush, Kardashian started dating NFL wide receiver Miles Austin in June 2010, per People. According to a source close to Kardashian, "They met at a restaurant in L.A. a few months ago and exchanged numbers and have been talking ever since." At the time, the two had only gone on a handful of dates and were taking it slow, but by September 2010, the pair broke up.
Like some of her previous romances, Kardashian's breakup from Austin was attributed to the fact that both were so busy with their respective careers at the time. "There's no huge reason except their distance apart," a source told People. "With his season and Kim's filming [Keeping Up with the Kardashians] it just slowly split them apart."
07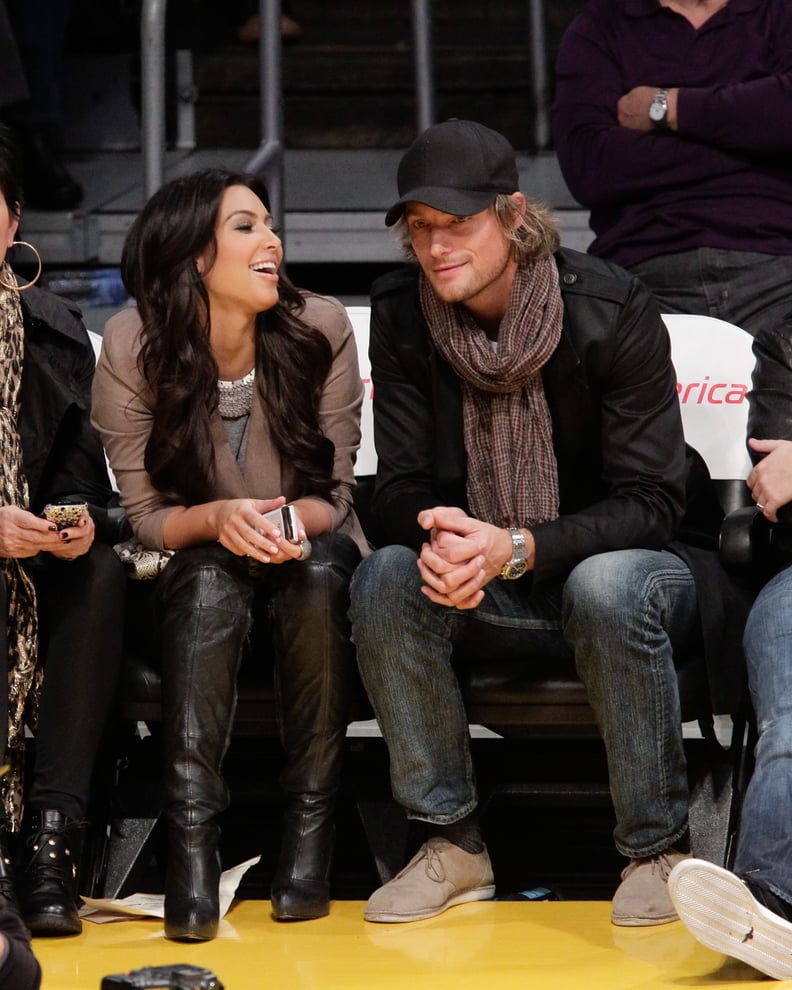 Kim Kardashian and Gabriel Aubry (November 2010)
Kardashian quickly bounced back from her split from Miles Austin and briefly dated model Gabriel Aubry in November 2010. Us Weekly reported at the time that the two met through mutual friends and had been dating for "a few weeks."
The pair were seen on several dates together, including an LA Lakers Game, but soon called their romance quits after a month of dating, allegedly due to Aubry's famous ex-wife and mother of his daughter, Halle Berry. A source told People shortly after the split that "[Berry] did not want a reality star in Nahla's life. She was very aggravated." Regarding their split, a source revealed to People that, "They were getting to know each other, but realized they might be better off just being friendly."
08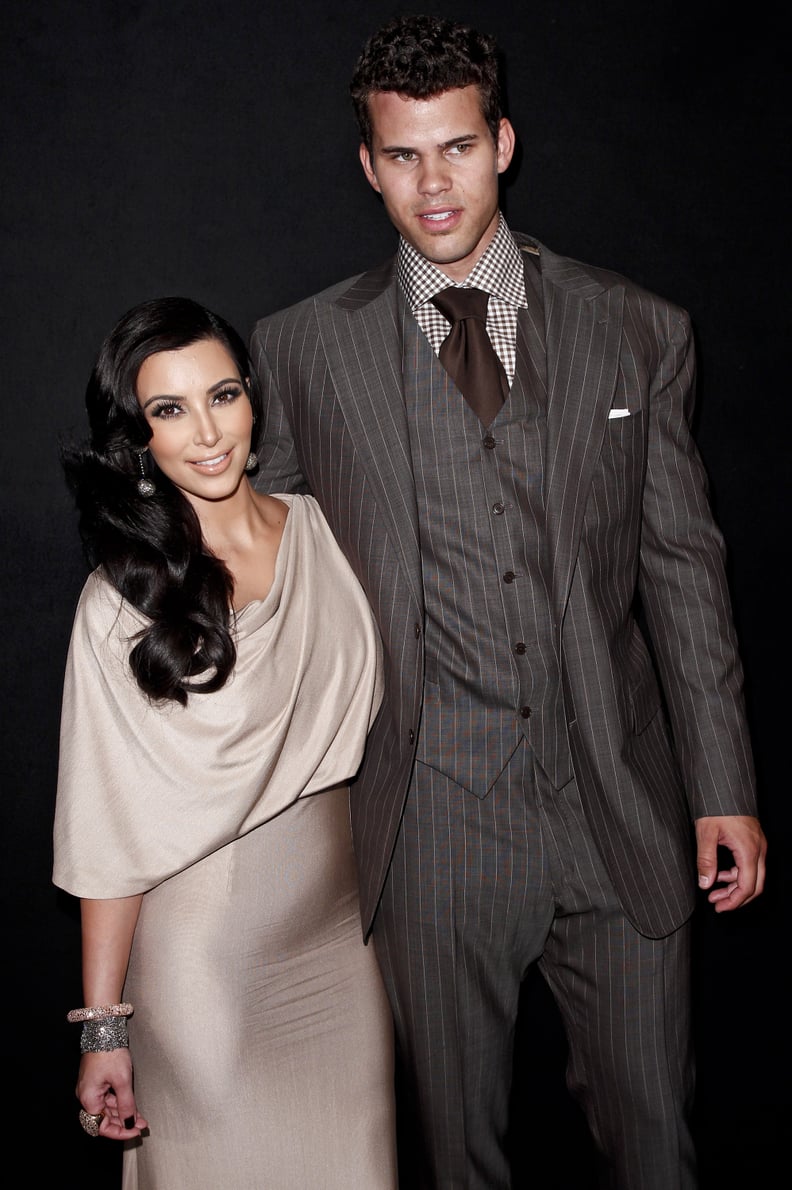 Kim Kardashian and Kris Humphries (December 2010-October 2011)
Just one month after her break-up from Gabriel Aubry, Kardashian was introduced to NBA star Kris Humphries through a mutual friend in the fall of 2010. The two were officially dating by December 2010, with a source telling The New York Post, "They've been taking it slow, but they have so much fun together."
Kardashian and Humphries did anything but take their relationship slow, however. Just four months after they started dating, Humphries proposed on an episode of "Keeping Up With the Kardashians" while vacationing with the Kardashian/Jenner family in Bora Bora, per Us Weekly. The two got married on August 20, 2011, in the presence of friends, family, and an E! Entertainment camera crew.
According to The New York Post, the Kardashian-Humphries wedding was a formal, black-and-white affair, which cost upwards of $10 million, from floral arrangements to the wedding cake. On the surface, the two seemed enthusiastic to be together, but behind the scenes, their relationship was different.
On Oct. 31, 2011, just 72 days after getting married, Kardashian filed for divorce from Humphries, citing irreconcilable differences. "I hope everyone understands this was not an easy decision. I had hoped this marriage was forever, but sometimes things don't work out as planned. We remain friends and wish each other the best," Kardashian said in a statement about the divorce to E! News.
Humphries on the other hand, was determined to try and work it out initially, telling E! News, "I love my wife and am devastated to learn she filed for divorce. I'm committed to this marriage and everything this covenant represents. I'm willing to do whatever it takes to make it work." By November 2011, however, Humphries filed for an annulment from Kardashian, alleging that their union was fraudulent, but ultimately settled with her in 2013.
Kardashian's infamous 72-day marriage arguably had a significant impact on her reputation. She later revealed on "Watch What Happens Live" with Andy Cohen that she had regrets about how her relationship with Humphries played out. "I was so nervous to break up with someone. I handled it totally the wrong way," she said (via Page Six). "I fully broke up with him in the worst way and I couldn't… I just didn't know how to deal. I learned so much from it."
09
Kim Kardashian and Kanye West (2012-2021)
Kardashian initially met Kanye West in the early 2000s when West was an and up-and-coming producer and rapper. "I met him I think in 2002 or 2003," she said on the "Keeping Up With the Kardashians" 10th anniversary special in 2017. "He was recording a song with Brandy, and I was her friend. I vividly remember hanging out with him, and then they did a video together, so I'd see him a few times. He was asking his friends: 'Who is this Kim Kardajan?' He didn't know what my name was.'"
Over the years, the two remained close friends, with West supporting Kardashian through her marriage and subsequent divorce from Kris Humphries. In April 2012, however, the pair's relationship turned romantic and they made their relationship public.
Months later in December 2012, Kardashian announced on her website that she was pregnant and she and West were starting a family together. "It's true!! Kanye and I are expecting a baby… Looking forward to great new beginnings in 2013 and to starting a family," she wrote (via The Hollywood Reporter). Seven months later, the couple's first child, North West, was born in June 2013.
By May 2014, Kardashian and West officially tied the knot in a private ceremony surrounded by family and friends in Florence, Italy. The two had three more children throughout their relationship: Saint (born December 2015), Chicago (born January 2018), and Psalm (born May 2019).
While Kardashian and West's relationship started off strong, the two grew apart in the later years. From campaigning to run for president in 2020 to Twitter tirades against Kardashian and her family, West's very public and controversial actions amplified the spotlight on their relationship and added strain to what was already rocky behind the scenes.
In February 2021,Kardashian filed for divorce from the rapper, citing irreconcilable differences as the reason for the split. In the season finale of "Keeping Up With the Kardashians," the reality-TV star revealed some of the factors that influenced her decision to separate from her husband of seven years, saying, "Why am I still in this, like, place where I'm stuck for years? Like, he goes and moves to a different state, every year, I have to be together so I can raise the kids, you know?" She continued to note that she thinks he "deserves someone that can go support his every move," while she simply wants little things like someone to work out with or watch the same TV shows.
Despite her divorce from West — which was officially settled in Nov. 2022 — her troubles with her ex-husband were far from over, as he was openly critical about her relationship with comedian Pete Davidson. In the April 27 trailer for season three of the family's Hulu series, Kardashian lamented that West "has made up the most insane narrative," calling out "all the lies" while maintaining that she puts on a good face for their children.
10
Kim Kardashian and Pete Davidson (Fall 2021-August 2022)
Kardashian met "SNL" comedian Pete Davidson August 2021. She told the "Not Skinny But Not Fat" podcast that Davidson had talked to her about hosting "SNL." The two grew closer, when Kardashian hosted "Saturday Night Live" in October 2021 and they appeared in a skit parodying "Aladdin" together. In the skit, the SKIMS founder shared a brief kiss with Davidson, and later that evening, the two hit it off immediately and exchanged phone numbers, according to Us Weekly.
Kardashian and Davidson did not confirm or deny their romantic relationship for months despite several public appearances at the end of 2021, ranging from a pumpkin patch trip with Kourtney Kardashian and Travis Barker to dining at one of Davidson's favorite restaurants in Staten Island. The two took their relationship to a more serious level in January 2022 and kicked off the new year by vacationing together in the Bahamas.
The early months of 2022 were a particularly eventful time for the couple, as Davidson's beef with Kanye West was at an all-time high. The rapper openly shared his negative opinions about his ex-wife's new beau on social media, from releasing a list of people he had beef with (which included Oprah, Barack Obama, and the entire cast of "SNL") to sharing a graphic music video, which showed West kidnapping and burying Davidson alive. This all added a significant layer of drama to Kardashian's fresh relationship. Despite all this, Davidson reportedly defended his new girlfriend to West in several leaked text messages to the rapper and even encouraged a sit-down between the two, according to a report by "Today".
Outside of the drama with West, Kardashian and Davidson were seemingly happy together and even made public appearances at the 2022 Met Gala and White House Correspondents' Dinner. In March 2022, the "Keeping Up With the Kardashians" star gushed about Davidson on "The Ellen DeGeneres Show," saying, "It feels good. . . . I think it's just in life, like no matter what it is . . . I encourage my friends and the people that I love just to be happy, and I went for it." In the same interview, Kardashian revealed that Davidson had "a few tattoos" of her, and she thought it was "so cute."
Ultimately, the two called it quits on their romance last summer. News of the couple's split broke on Aug. 5, 2022, with sources citing the pairs' demanding schedules. Davidson has since moved on with Chase Sui Wonders.
During the June 8 episode of "The Kardashians," Kardashian hinted at what might have gone awry with Davidson. "You obviously learn from every situation and the one thing I learned from my last situation was like the media made me feel like I was in a very serious relationship so quickly," she explained.
11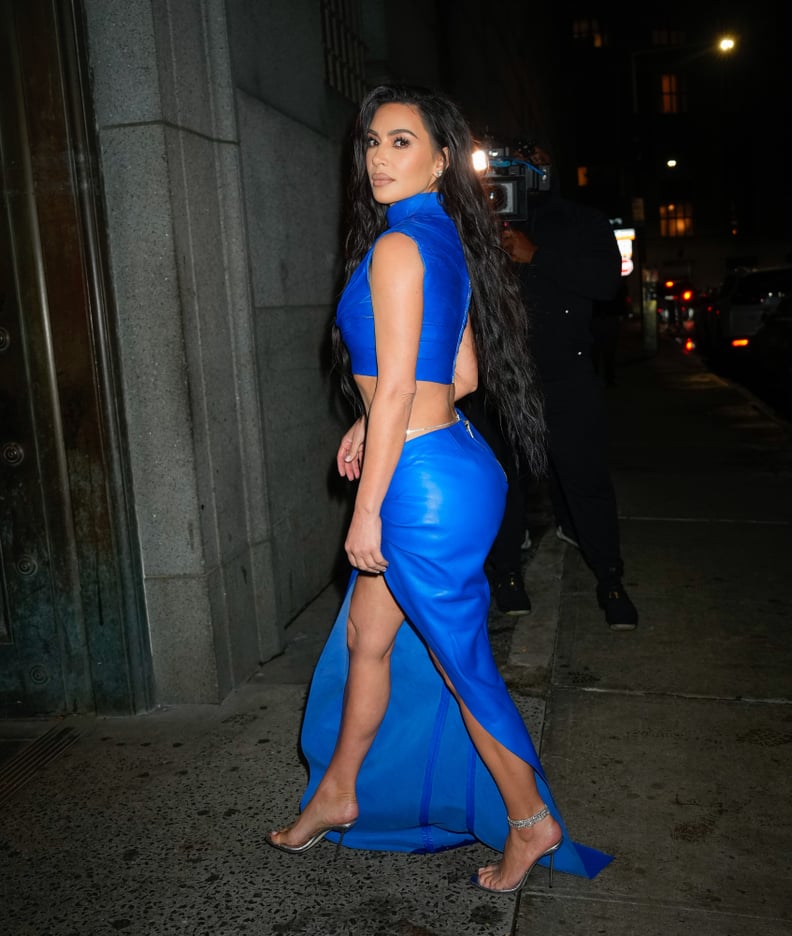 Kim Kardashian and "Fred" (2023)
Episode three of the third season of "The Kardashians" teased a mystery man in Kardashian's life. She mentioned to Disick, "My friends wanted me to meet someone," hinting at a potential romance. She didn't reveal his identity, so Disick suggested, "Let's call this guy 'Fred,'" adding, "Does he meet the standards?" And with no hesitation, Kardashian responded, "Oh, so meets the standards." In a confessional scene, Kardashian is seen texting someone, and when a producer asked, "Is that Fred?" she simply replied, "Yep."
On May 30, Us Weekly reported that a source said: "Kim isn't officially dating anybody, but there is somebody who she's interested in. So far, there have only been subtle flirtations between them, but they haven't gone out yet."
The source claimed that Kardashian "wants to keep it under the radar" for now. "She's not ready to be seen out on a date with anybody for the time being because she doesn't want to make it a big deal," the insider explained. "She knows once she's seen on a date then things get blown out of proportion quickly, but there is somebody special she has her eye on so she's excited about where things could go."
12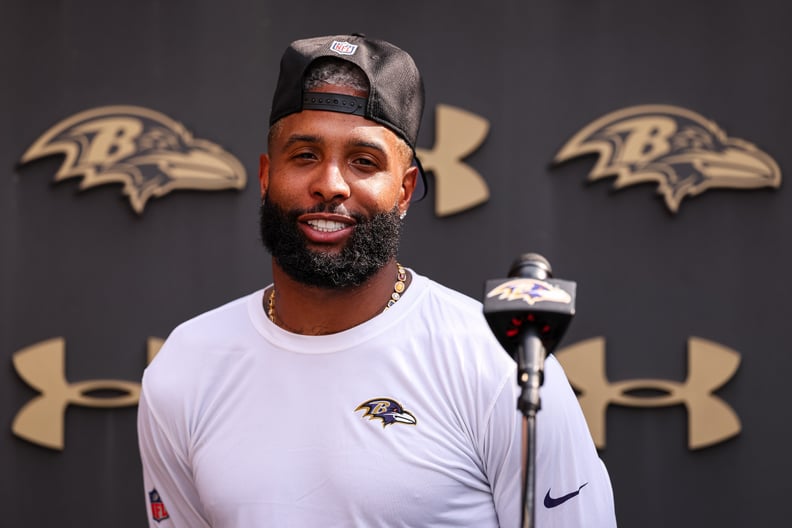 Kim Kardashian and Odell Beckham Jr. (2023)
On Sept. 19, a source told People that Kardashian and NFL pro Odell Beckham Jr. had been spending time together, sparking immediate dating rumors. Multiple sources also told the outlet that Beckham had split from his girlfriend Lauren Wood, with whom he shares a son named Zydn.
The following day, sources told E! News that romance isn't at the top of Kardashian's mind at the moment. "Kim and Odell are friends and have a lot of mutual friends in common," the insiders said. "She's not seriously dating anyone at the moment but open to finding love again if she meets the right person. Right now her main focus is on her kids and her businesses."
That same day, though, a source told Us Weekly that the pair had embarked on a casual fling. "Their connection was mutual and grew flirtatious pretty quickly. They're dating, but things are still fairly casual," the source said. "There's nothing official so they're both allowed to date other people. Although they're not committed, Kim usually dates one guy at a time, so she's not seeing anybody else."
The insider also added that the pair had "known each other for a while." "[Odell has] also spent time with most of the Kardashian family over the years at events like the Met Gala [and] the White Party," they continued. "Neither one necessarily initiated things, but Odell did invite her to his birthday party last year . . . They have great chemistry and Kim's family fully approves." Reps for Kardashian and Beckham did not respond to POPSUGAR's requests for comment.