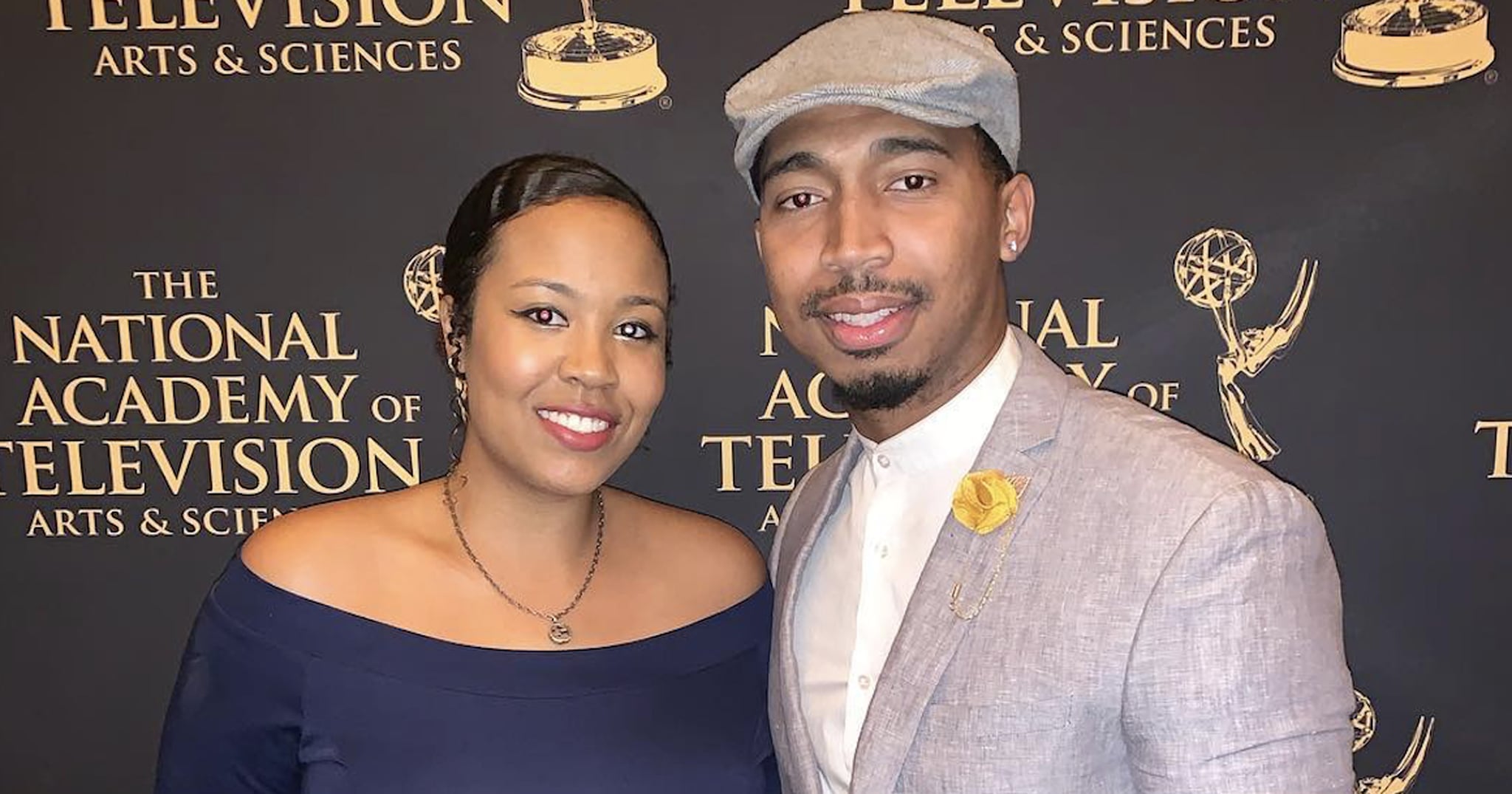 Image Source: Courtesy of Noel Braham
Surprisingly, Micheaux Film Festival cofounders Noel Braham and Courtney L. Branch don't remember ever crossing paths when they attended Georgia State University together from 2009 to 2011. Braham, a 30-year-old director and producer, majored in film and video production and speech communication, while Branch, a 28-year-old producer, earned a bachelor's degree in telecommunications. But in 2017, their worlds collided when they met through a mutual friend in Los Angeles.
At the time, Braham was running his company, Noel Braham Entertainment, and Branch was working as a co-producer on Dr. Phil. But it seemed as though their paths were meant to converge. As two people of color in the entertainment industry, they found common ground in their desire to advocate for more diversity and representation in the field. Braham had been mulling over the idea of creating a multicultural film festival for a while, and Branch seemed like the perfect partner to make it happen. So he approached her with the idea of starting one inspired by Oscar Micheaux, a trailblazing black director known for films like 1920's Within Our Gates, 1925's Body and Soul, and 1935's Murder in Harlem.
"Micheaux was able to bridge so many different polarizing worlds," Braham told POPSUGAR over the phone on Oct. 3. "So I said, in the same vein as Micheaux, let's create a festival that encompassed all backgrounds, all walks of life, all orientations, all cultures and experiences."
The festival made its debut in December 2018, featuring projects from creatives, including producers Joenique C. Rose, E.G. Bailey, and Ryan Stevens Harris. Currently, Braham and Branch are planning the next event, which will take place in LA from Feb. 21 to Feb. 23, 2020. They're accepting submissions for categories such as animation short, narrative short, documentary short, web series, and music video until Dec. 6, while making other preparations to ensure the festival is bigger and better than the first. Braham and Branch spoke with POPSUGAR about their journey and the cultural impact they hope to make by unifying fellow creators with the festival. This year's theme? "Revenge of the Dreamers."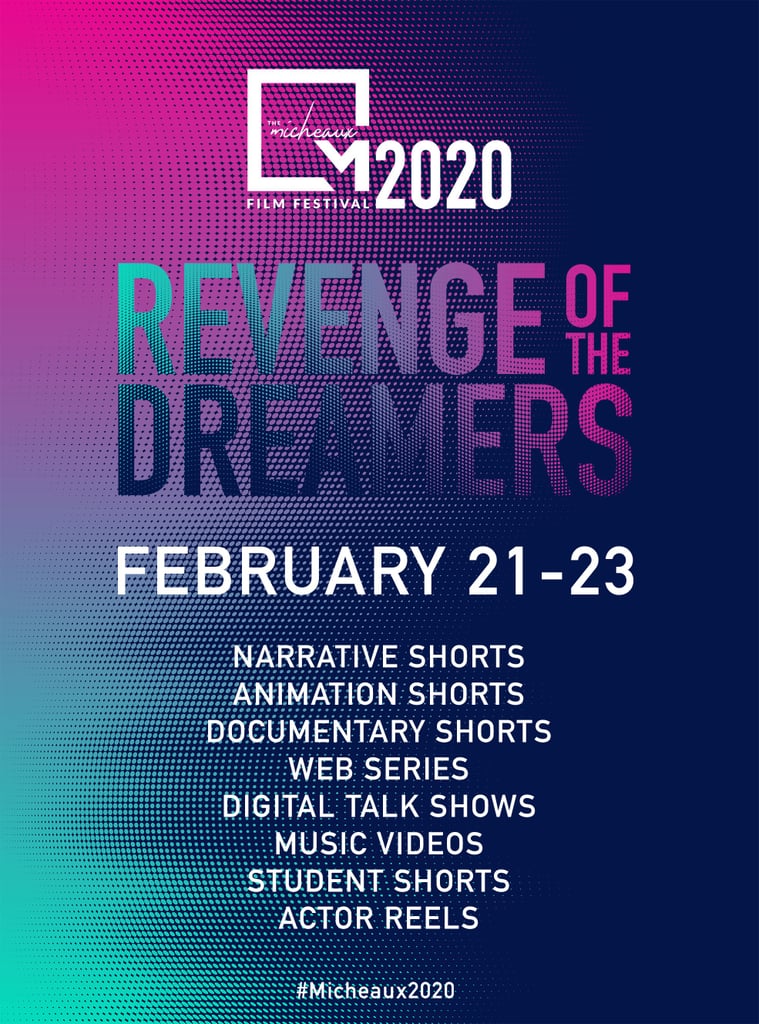 Image Source: Courtesy of Noel Braham
POPSUGAR: When you two had this vision of starting a multicultural film festival, how did you begin the process of making it happen?
Courtney L. Branch: A lot of it was breaking things down. Starting with a venue — finding a place that's going to work with us and hold as many people as we want it to so they can network. It was just categorizing the things that we needed, going after it, and being diligent about it. If we were told "no," we just went on to the next, or we may have circled back and asked again and sometimes it worked. We had this vision, and we knew that it was going to be great for the filmmaker community, so we couldn't just let it fall by the wayside.
PS: As business partners forging this new idea, what kind of mentality guides your work ethic?
Noel Braham: In our partnership, we value excellence and use what we call the Obama Standard when executing tasks. So if we wouldn't turn it in to Barack Obama himself, then we're not going to hand it over to one another.
PS: How do you choose which creatives to feature?
NB: We send out messages and reach out to people whose works we've seen. Obviously, with being new, the challenge is people taking it seriously. It's important to find quality projects. After a successful event [last year], we now use FilmFreeway as the official medium to collect work from filmmakers.
The early deadline just passed, and now we have the regular deadline open for submission, and we've been getting people coming in left and right. The idea of using the first year as a proof of concept has served to be successful because now people are aware, and we're growing. We're still in need of support, and we need those in the community not only to continue to submit but help with any form of sponsorship. [Courtney and I], being the two agents that are leading all of this, want to take things to the next level.

PS: How did you come up with the "Revenge of the Dreamers" theme?
CB: "Revenge of the Dreamers" was a way to dedicate the festival to those who didn't stop with just a dream or idea, but were able to persevere and make that dream come to life in the form of their film. Noel came up with the theme as a big Star Wars fan (it's a parallel to Star Wars: Episode III – Revenge of the Sith). We wanted a theme that encompassed the efforts and sacrifices of independent filmmakers, like Micheaux, who have no form of commercial backing but are able to produce quality, entertaining, and thought-provoking content.
PS: What's in store for the festival this time around?
CB: This year, we have it laid out as a multiday festival. We're planning a welcome mixer the first night to get everyone acquainted. The next day will be for screenings. We have categories, and we're doing shorts for everything. We have narrative shorts, animation, documentary, digital talk shows, web series. Last year, we had narrative music videos, and we're doing that again.
This year, we're also accepting students' shorts and actor reels, because the point is to connect people. If we have all of these talented filmmakers there, why not showcase the great actors? From there, we'll have an award show and award the best actor, best short, best cinematography, etc. And then we'll conclude with another networking mixer.
NB: The theme of it being "Revenge of the Dreamers," we're creating this fun, energetic environment with installments that will bring together creators and locals. We're also incorporating a digital networking lab that's going to give filmmakers and artists the ability to communicate through a program we're implementing. We're going to designate meeting rooms as a networking hub so people can sit down and chat — talk about current projects, goals, and aspirations. It's providing a platform for all people of color and experiences and cultures and backgrounds to be able to collaborate effectively.
In our partnership, we value excellence and use what we call the Obama Standard when executing tasks. So if we wouldn't turn it in to Barack Obama himself, then we're not going to hand it over to one another.
PS: What sort of stories and narratives really stick with you?

CB: Last year, the films that I was most drawn to were the ones that dealt with social action. There was one with a black family moving into a white neighborhood, and the mom went around with pictures of her son, telling everyone in the neighborhood, "Just in case something happens, we're one of you. We're part of your community." I thought that was very impactful.
And then there's Noel's project, Watchtower (nominated for two 2019 Daytime Emmy Awards, in the categories outstanding directing and outstanding special class – short format daytime), which focuses on the homeless community. Those are the things that draw me. Yes, it's entertainment, but it also has a great message, and it's a call to action. I love content that is more than just entertainment; there's a thought-provoking message that comes with it.
NB: I'm drawn to projects that have an intimate perspective and look at the characters. Recently, I saw Ad Astra with Brad Pitt. I thought it was phenomenal because it was a character-driven piece. You got an in-depth look into the character and his ideology and the way that he approached certain things. For the festival, we're very invested in filmmakers that are creating characters with layered and nuanced aspects about why they do what they do.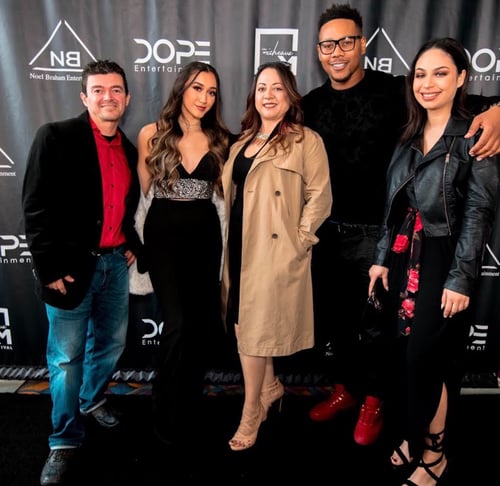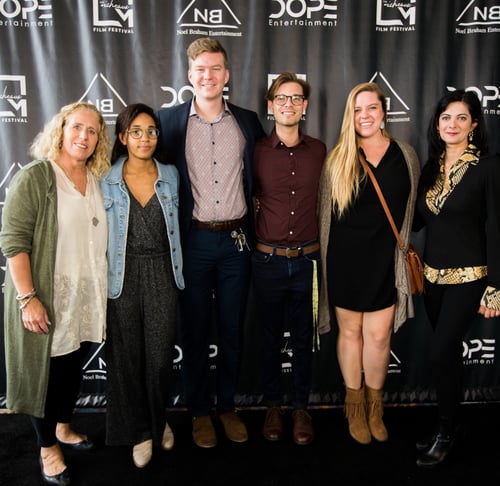 Image Source: Courtesy of Noel Braham
PS: Sometimes, when brands and companies talk about diversity and representation, it feels a bit vapid — like they're just following a trend rather than seeking a real call to action. How can you tell the difference between those things?
CB: The real difference is the sincerity behind it. You can feel the difference between someone trying to meet a quota versus an open-door policy where it's like, "We want it all." This is a conversation we had amongst ourselves with starting this festival. We could've made it a black festival, but there are tons of black festivals. Let's open it up, let's make it a multicultural festival. Let's have people from India submit their work and people from Palestine submit their work. And we have that.
It's about really opening it up to everyone and actually being inclusive. Instead of saying, "If we get one person from here and one person from there, then that's good and now we're multicultural." No, we're going to take everything. We are still looking for quality content at the end of the day. And that's what we want. We want quality, multicultural content, and we want everyone to feel like their work is valued because of the time, sweat, and tears that go into it. Some people don't even get the platform to show their work just because there is no festival for them. We want everyone to feel like this is a place that they can come and have their work seen.
NB: I've always been very skeptical of how Hollywood, in some capacities, uses diversity as a mechanism of propaganda and capitalism. But when you really dive in, I think even from a statistical standpoint, there were still reports showing less people of color behind the scenes, on set. Even if you hit pause while watching the Emmys, when they pan to a wide shot of the audience, you'll see nothing but white faces.
We're in this interesting time where [diversity and representation] are not only becoming somewhat of a trend, but companies are using them to keep people off of their backs so they can say, "We're diverse. Look who's in front of us." But when you dive into what's taking place, you see very quickly that much of it is nothing but a device to continue to capitalize off of something and to stay away from any form of heat. We need to be committed to diversity, hiring black women to executive positions, having people from different backgrounds as showrunners and producing. All of this is an integral process in telling the story that's being shown to the world.
We want to instill the sense that no matter what background you come from, you can manifest the vision that has been placed inside of you.
PS: Right, it makes a huge difference if the people working behind the scenes also come from different backgrounds and experiences.

NB: I've actually served as a judge for the Daytime Emmys. Last year, I judged performers and digital content. Most of it was me doing it on my own, but there was also a portion when we were sitting inside of a room with other judges. Outside of myself and one other woman, who was Latina, the majority of the judges were white. And the majority of nominees in those categories were white. So part of it is the lack of diversity within the [Television] Academy. If I'm a young black male or a young black woman trying to tell the story about my particular community or my particular background, then it's difficult to necessarily connect to someone who's completely outside of my culture.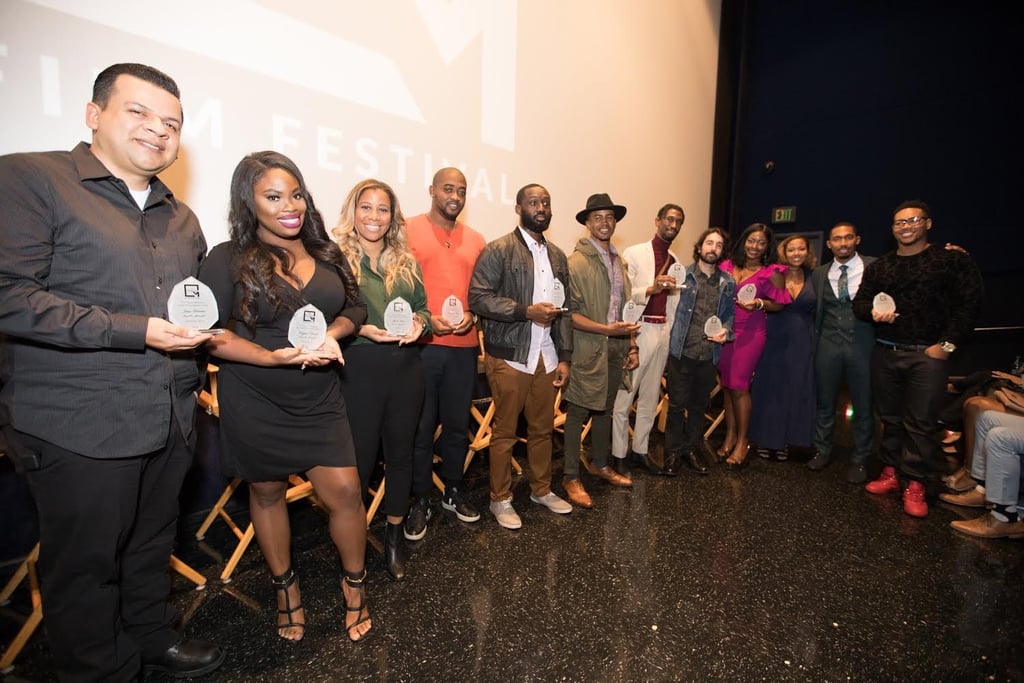 Image Source: Courtesy of Noel Braham
But also pay attention to when projects [from people of color] are nominated. It tends to center around the fact that we're going through something as it relates to our color where white stories or general stories don't. Fleabag, an example, is about a woman who deals with sexual addiction, but when we tell those kinds of stories that aren't so race- or politically driven, we tend to be shunned even more. There's still that gap of when can we cross the Rubicon and find a space where we're just telling general stories with our culture embedded, as opposed to the culture and race being the driving force behind the topic.

PS: What takeaways do you want the festivalgoers to leave with?
CB: We want them to know that their work and the stories they're telling are valued. Just because you did it on a smaller budget without mainstream backing, or you didn't have major talent signed to it, doesn't mean it's not important. It's worth being seen by an audience in a beautiful facility. It's worth getting dressed up for and telling all your friends to come out. It's still worth everything that you put into it.
That's one of the beautiful things about our festival. We strive to put the filmmaker first. A lot of the mainstream festivals now are so celebrity-driven. If you don't have a big-name director or actor, you're not getting in. For us, it's about taking the time to go see the quality that's behind smaller independent films.
NB: We want to instill a sense of inspiration. We want to instill the sense that no matter what background you come from, you can manifest the vision that has been placed inside of you. That's why we're really harping on different cultures connecting and understanding that the dreams that they have are valuable. We often see how people who have an idea quickly turn away from it because they don't think themselves worthy enough to do it. But we want people to understand that they have a vision for a reason, that they have to protect it, that they have to value it. No different than Micheaux, who valued the dream he had.
If you're interested in showing your work at the Micheaux Film Festival, submit your project here. The regular deadline is Oct. 27, and the late deadline is Dec. 6.