Does Freddie Highmore Have a Golden Globe?
Why Freddie Highmore's Golden Globe Nomination Has Been a Long Time Coming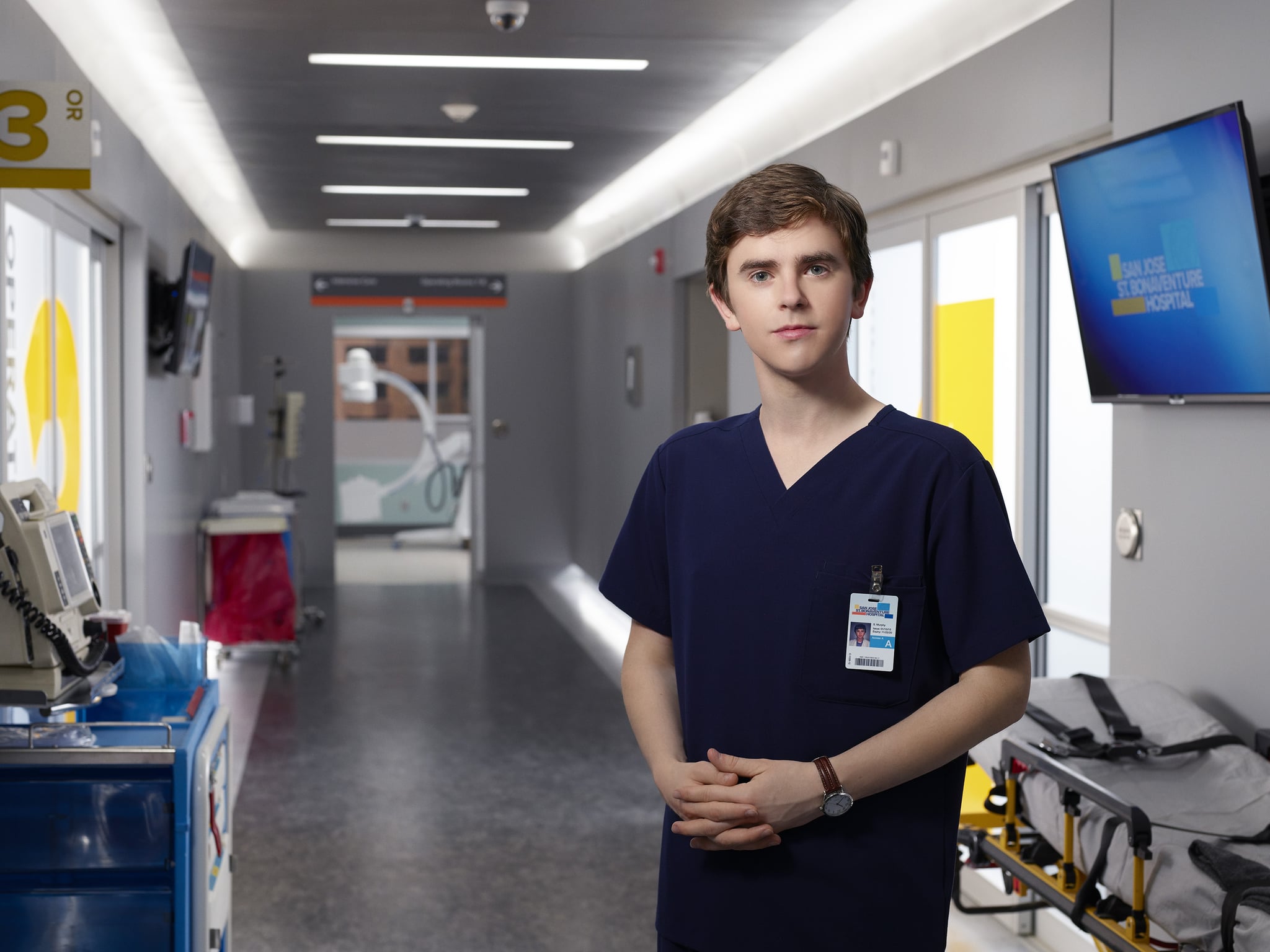 The Golden Globe nominations were unveiled on Monday, and while there are a few snubs on the list, for once, Freddie Highmore is not among them. After years of getting passed over for recognition of his performance as Norman Bates on Bates Motel, the talented 25-year-old earned his first Golden Globe nomination for best actor in a drama series for his role on The Good Doctor.
It only took one episode to get me hooked on the ABC medical drama, and that is largely due to Highmore's standout performance as Dr. Shaun Murphy, a surgical resident with autism. While the show's first episode sets the scene by showcasing Shaun's incredible mind and the prejudices he faces for being a doctor with autism, it is Highmore's final scene that really makes me sob uncontrollably.
After applying for residency at San Jose St. Bonaventure Hospital, Shaun meets with a room full of skeptical board members to prove why he deserves this just as much as anyone else. With his hands crossed and face flushed, Shaun reveals how he watched his brother and pet bunny "go to heaven" right before his eyes when he was younger. "I couldn't save them," he says. "It's sad." But he does have the chance to save many other lives, if only given the opportunity to do so. While the writing in itself makes the speech incredibly heartbreaking, it's Highmore's spectacular portrayal of Shaun that really makes you root for him. In that moment, he's not just playing the character, he's becoming the character.
It has been nearly three months since that emotional episode premiered, and The Good Doctor has already made a huge impression on audiences. In fact, the series, which has been deemed this season's No. 1 new show, managed to bring in 9.4 million viewers for its Winter finale alone. Aside from the incredible writing and heartfelt storylines, The Good Doctor is bringing awareness to autism. Not only does Highmore portray Shaun with great attention to detail, but he also brings such a warmth to the character. He makes fans laugh, he makes fans cry, and more importantly, his character proves that you can do anything you set your mind to.
Of course, The Good Doctor isn't the only time Highmore has blown audiences away with his incredible acting. Aside from his chilling role on Bates Motel, Highmore has a résumé most actors could only dream of. In 1999, he got his start by playing Helena Bonham Carter's onscreen son in Women Talking Dirty, and his career took off shortly after. After starring alongside Johnny Depp in Finding Neverland and Charlie and the Chocolate Factory, Highmore won over fans with his role as a young musical prodigy in August Rush (which is streaming on Netflix).
Even if Highmore doesn't take home the Golden Globe next January (although, I really hope he does), it's exciting to see him get the recognition he deserves regardless. As you prep for the award ceremony, do yourself a favor by watching The Good Doctor. Believe me when I say you won't regret it.